DiDog
DiDog is a small company with only a few products and a limited description on Amazon, so I wasn't sure what to expect from this harness, especially for this price. I have to say it was a positive surprise!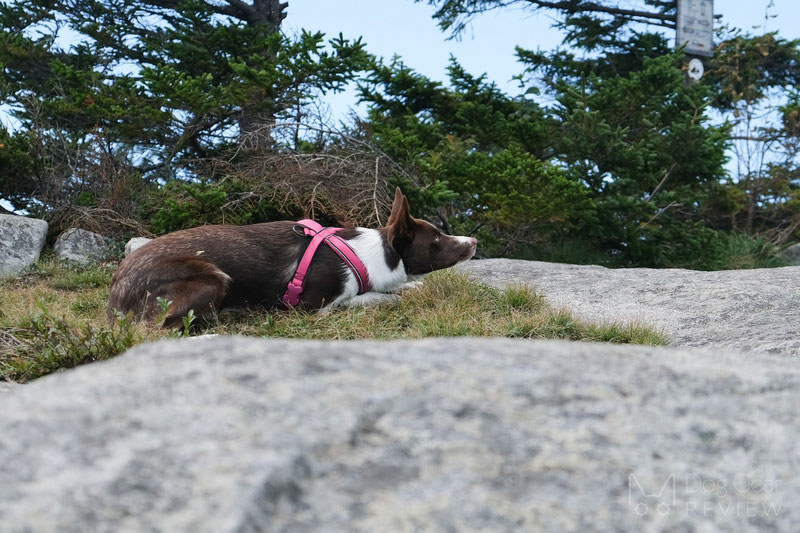 About the harness in general
This is a simple harness that actually works well. If you start looking into the details, you will see that it's not as well designed as other, more expensive products on the market, but it provides the same functionality.
This harness comes in 4 sizes and 3 colors and has a soft, mesh material.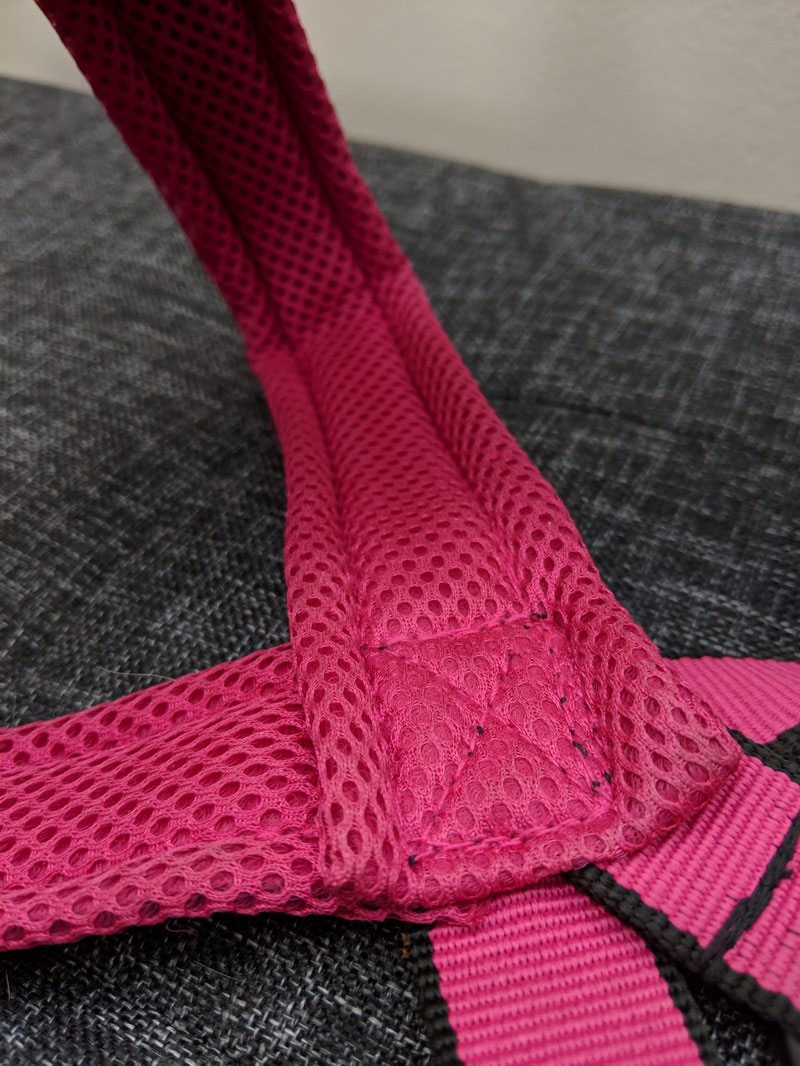 There is one ring attachment point on the back and only one buckle on the right size of the harness.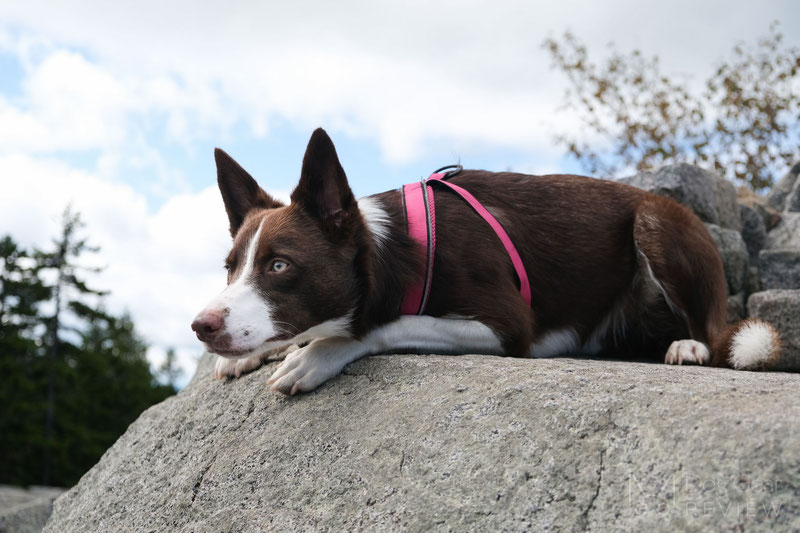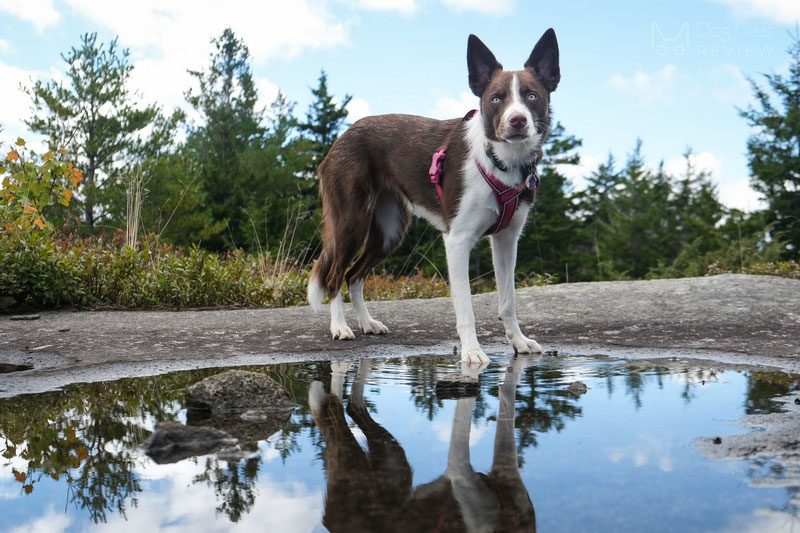 Didog Y-Front Harness Review
As you see it on the pictures, the only adjustable part is the chest strap. This makes it a little hard to find the perfect fit because the neck part has to work for your dog's body type and head size. Fortunately, it's perfect for Mia, but this varies by each dog. The other result of having only one buckle is that you have to lift one leg to put the dog in the harness, which can be an issue for some dogs/owners.
We like how this harness is not sliding up on her neck when pulling forward neither to the side when walking on a leash but it's not too close to her armpits. This type of harnesses will never leave much room behind the armpits but it is just enough not to rub Mia's leg.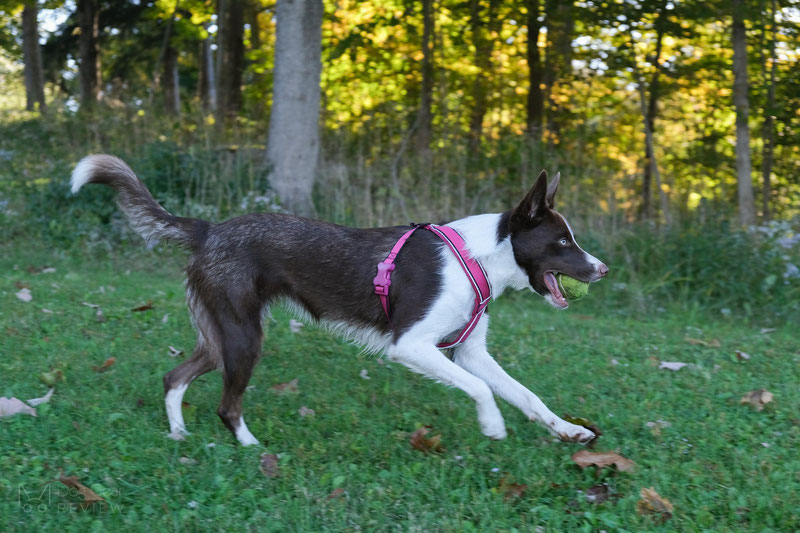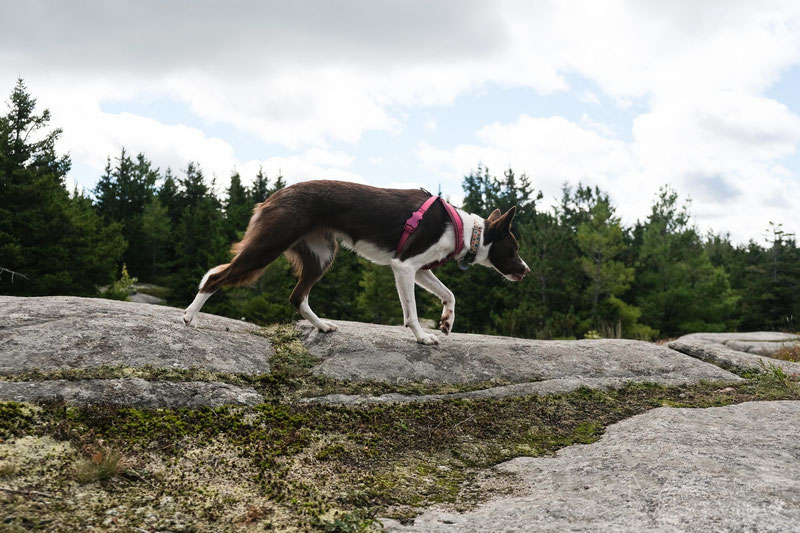 The small design issues I mentioned previously are, e.g., the angle of the back straps connect on the top. I can't imagine a dog type where this would lay flat on the dog's back, but this is not an issue in practice unless it makes the fabric wear out faster.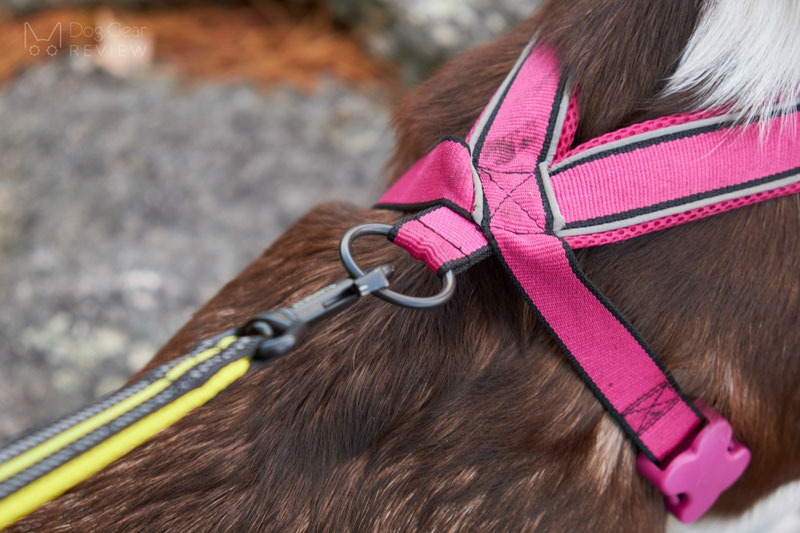 I was more worried about the bone-shaped, weak-looking plastic buckle on the chest strap. I haven't had any problems with it so far, but I'm glad our life is not depending on it. This big buckle can also cause some issues if it is close to the dog's armpits making bigger steps uncomfortable for the dog.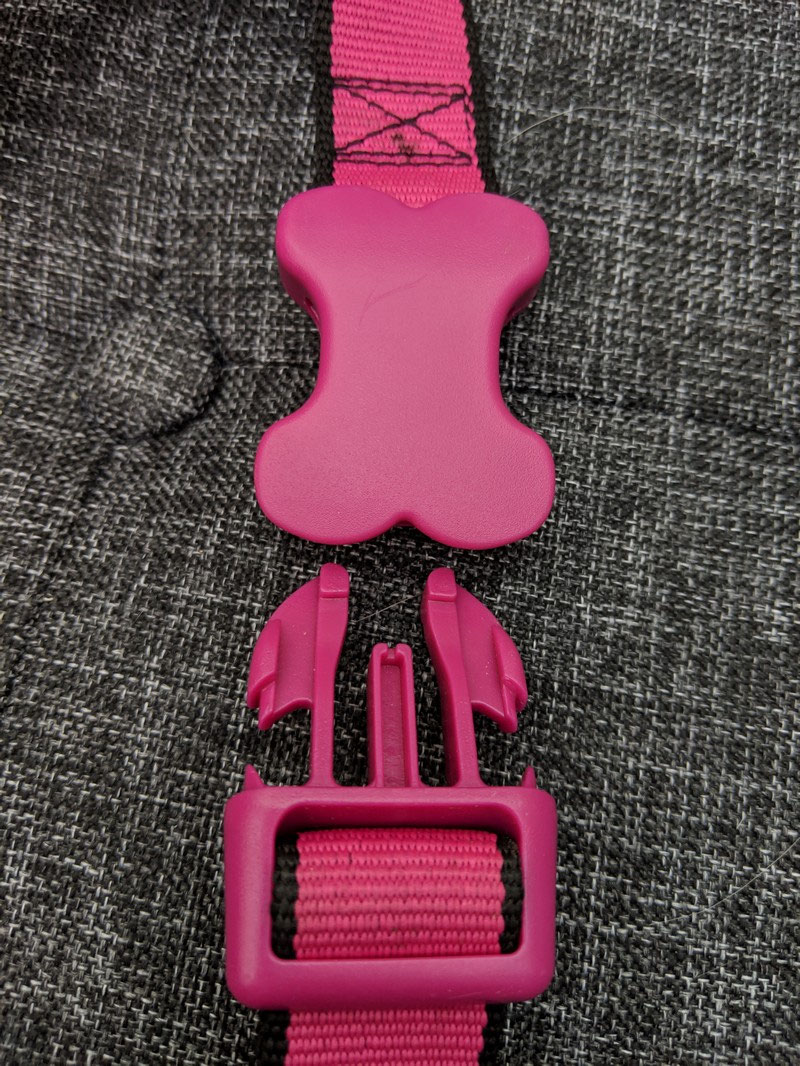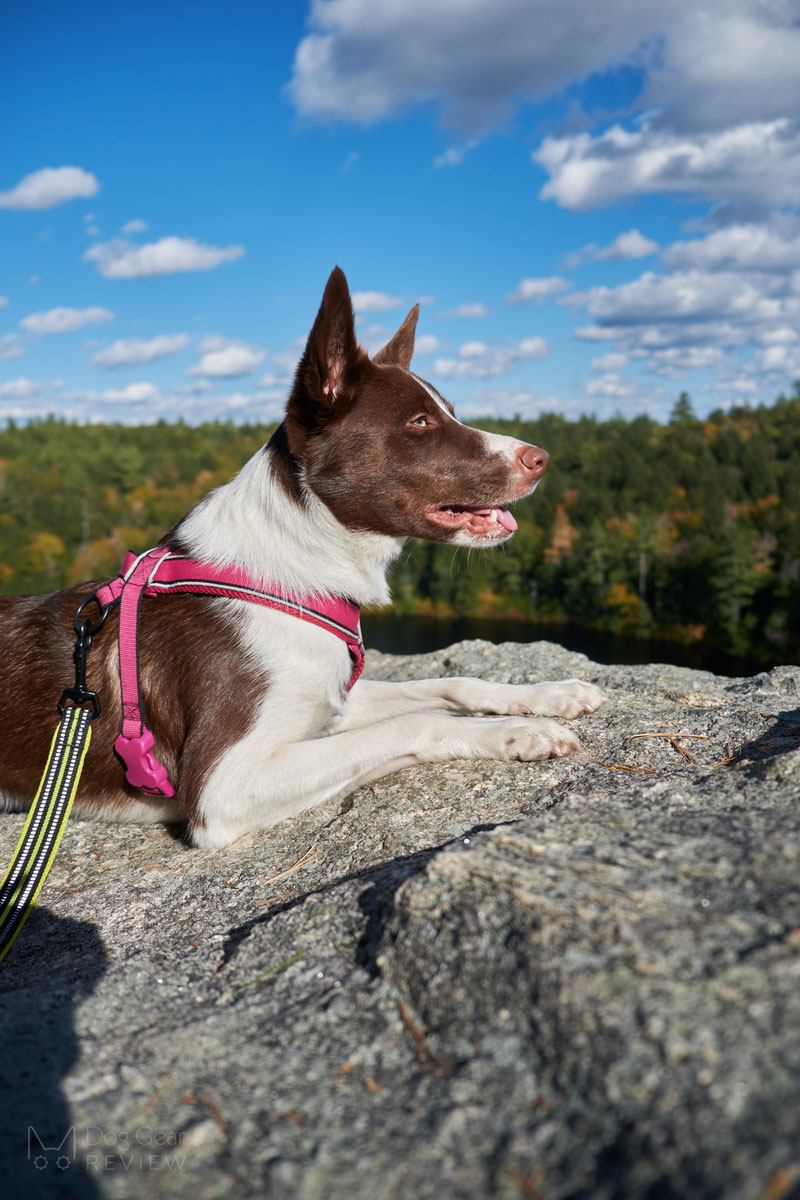 Functionality Review
No-pull: Nope, does not have a no-pull ring.

Running/biking (as an irregular hobby, buy specific equipment if you want to get into it seriously): I would prefer a harness with wider straps and more padded parts also with the back ring attached farther back on the dog, but I guess you can use it to give running/biking with your dog a try before deciding to buy a more suitable gear.

Hiking: I like it, it doesn't restrict Mia's movement, and it's visible. It only has thin straps so dries quite fast, although the mesh material soaks in the water and mud. It is also easy to put it under a coat, which has a hole above the shoulder for the back ring of the harness. If your dog is a strong puller on hikes, I would go with a more padded harness or with one which has wider straps. Something to consider is that it doesn't have any handle to help your dog up or just quickly grab her if you have to.

City walk: It works pretty well for city walks for the same reason I describe above. The only downside is that it takes time to get the dog in the harness so, after the first few days of excitement over this harness, I ended up not using it for shorter walks.

Easy to put on/adjust: wouldn't say it is easy to put on (have to lift up a leg), and it does not have too many options for adjustments.

Visibility: Good; it has bright colors and reflective parts on the neck part.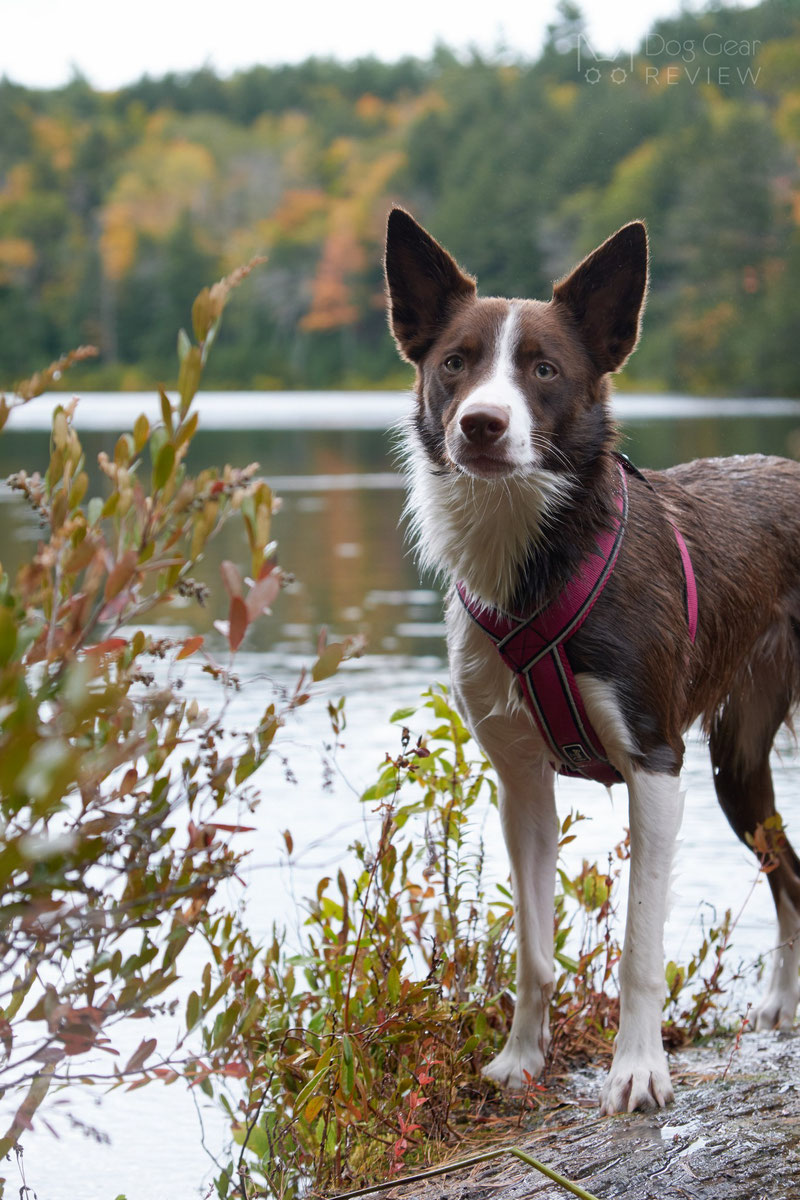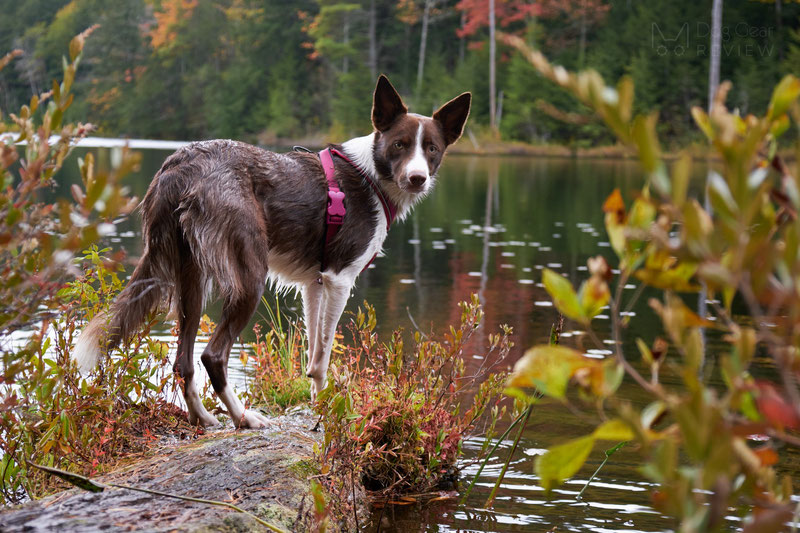 Summary
We are surprisingly happy with this product, it just feels good to use, stays in place nicely: doesn't slide, doesn't cut in behind her legs, but it's close enough to be stable. While we had to realize Mia's color is not matching this pink, I like the bright colors and the simple design.
We haven't had any quality issues so far but the mesh padding does look a little worn after a few months of testing. No issues with tearing.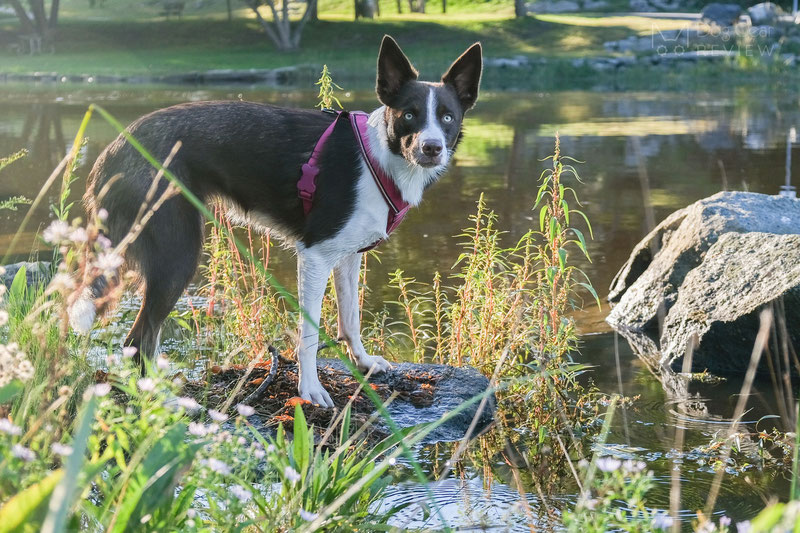 Where to buy
Update: in 2023 this product doesn't seem to be available anymore.
Mia's measurements
Many of you asked Mia's measurements to better understand the different products' fit. Your best chance of finding a good fitting gear is always to measure (and remeasure) your dog. Even we grab the measuring tape before getting a new product - even though we tested a lot of them, and have a good feeling of her size by now.
I share her measurements below, but don't go ahead and order the same size just because your dog is similar to Mia ;)
Shoulder height: 19.5 inches (50 cm)

Weight: 37-44 pounds (17-20 kg)

Widest chest circumference (where the most harness would have the chest strap): 25-26 inches (63-65 cm)

Neck circumference for collars: 15-16 inches (38-40 cm)

Back lengths: 22 inches (56 cm)