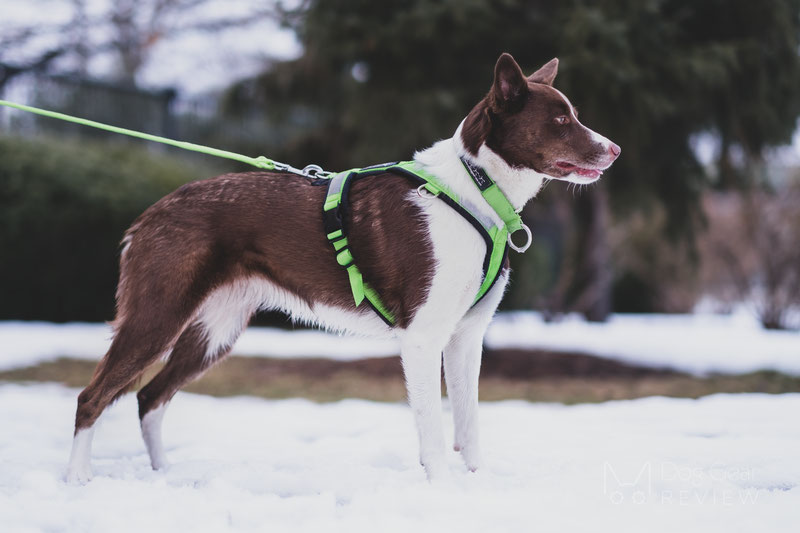 CTC Dog Gear USA 1-Dog Starter Kit Review
About CTC Dog Gear
CTC Doggear was founded by Andre & Natalie van der Merwe in South Africa based on consumer need for locally manufactured, quality dog exercise gear. After years of improving their designs based on experiences gained during dryland sledding, they moved to the US, and now they continue offering their high-quality dog gear there. We had the opportunity to test and review their Starter Kit for pulling sports and a few other of their products, and we are excited to share our experiences with you!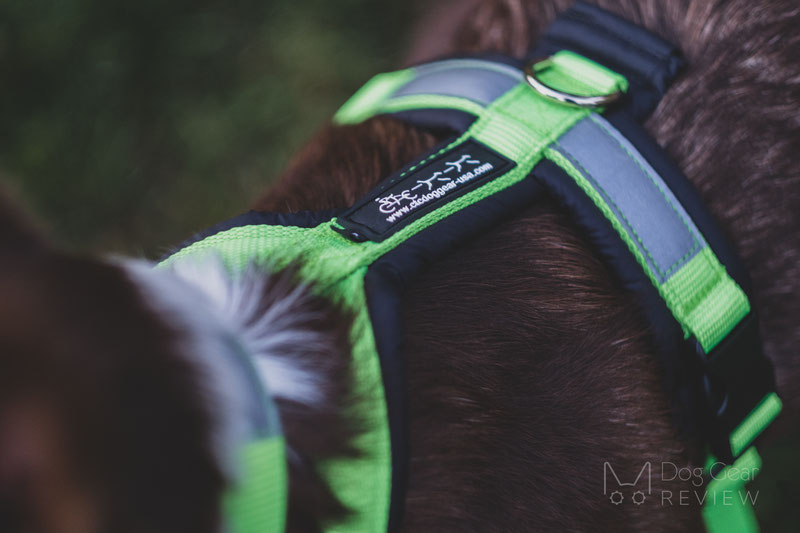 About the CTC 1-Dog Starter Kit
The CTC 1-Dog Starter Kit includes:
• a Shoulder Harness
• a Bungee Lead with either 4ft or 6ft lengths (we got a 6feet line)
• a Hip Belt (for humans :) )
We also received a matching Limited Slip Collar and their Quick Heel to test and review.
We used these for almost five months, so we took them for many walks, hikes, and runs when the weather permitted.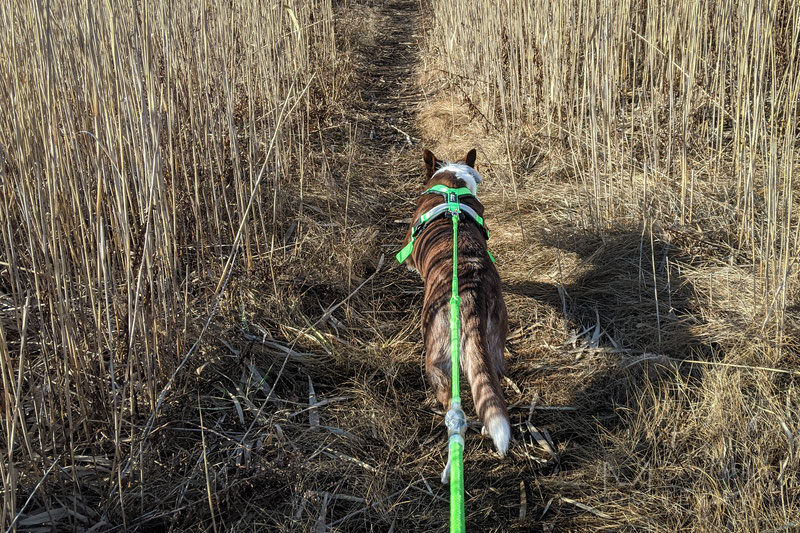 CTC Dog Gear Shoulder Harness Review
The Shoulder harness is made with 3500 Lb strength nylon webbing, which comes in many colors and patterns. The chest strap is adjustable on both sides and has plastic buckles. The neck-straps are not adjustable, but if your dog wouldn't fit in their standard sizes, they also offer custom-made harnesses!
The harness is padded with 300 weight fleece, which is covered with a waterproof nylon ripstop. This gives a harness thickness, and it feels more "rigid," it doesn't slide around on the dog much.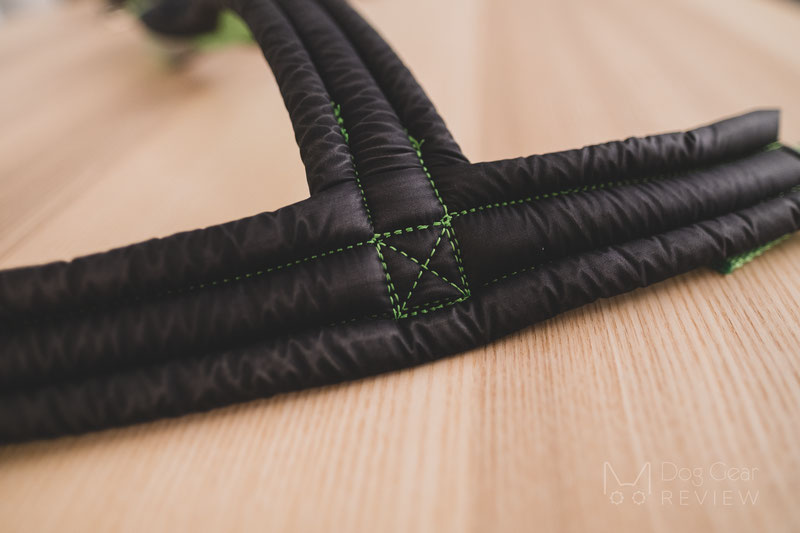 There are three leash attachment points: one on the back and one on each side. All these are strong rings, very securely attached to the material.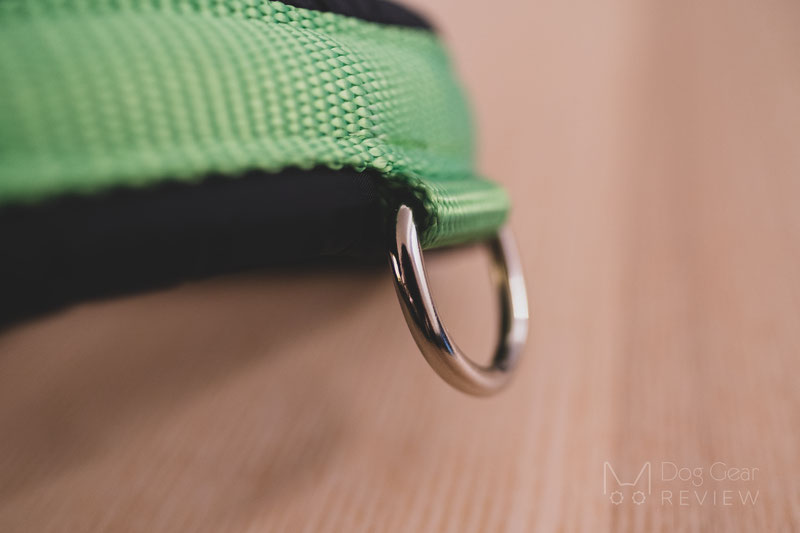 There are reflective sections on the back and on the neck-straps to make it more visible at night. I also like the extra material under the ring to protect the dog's fur.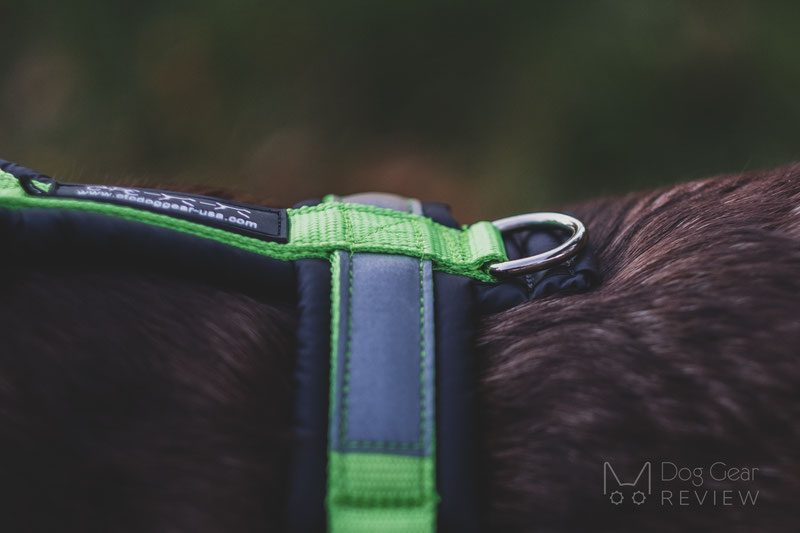 This harness was designed for activities with a higher pulling point, like bikejoring or canicrossing. It is a great starter harness because it doesn't slide around on the dog, gives you reasonable control, and it stays in place even if the dog suddenly stops.
When using it for canicross, Mia was comfortable to lean in and pull. I preferred to use this one whenever we were running on busier trails due to the excellent control. We had the same experience as with other short harnesses: it puts some pressure on Mia's lower neck when she pulls very strongly at the beginning. This is a barely noticeable difference, but after trying out a few different harnesses, it's easy for me to hear the slight difference in breathing. This is a trade-off between having a versatile harness that gives excellent control for a starter dog vs. having a long harness only meant to be used for running with a more experienced dog where physical control is less critical.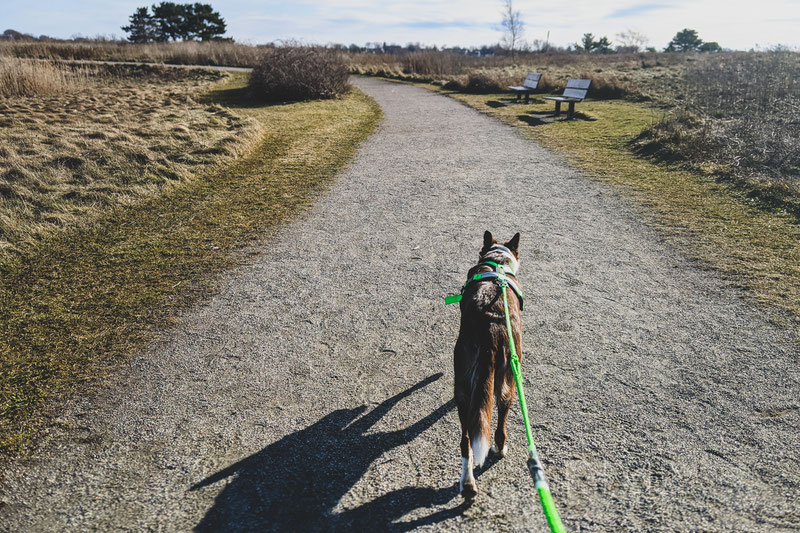 We also used the harness for many hikes and walks. It is a versatile harness for sure! I like that it leaves room behind the front legs, so it doesn't rub or chafe the armpits/back of the legs even on a long hike. It's also great that while it is padded, it doesn't absorb much water. After months of using it, I wouldn't say it is entirely waterproof, some water does go through it, but it's not a significant amount.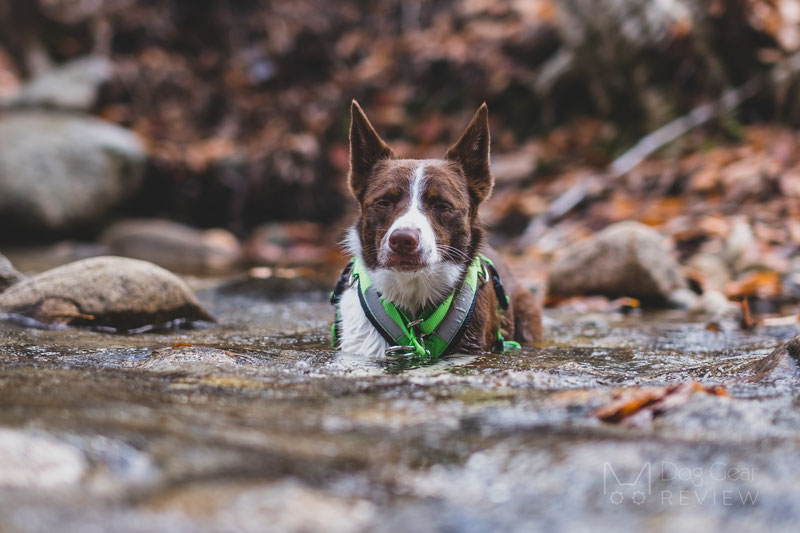 Over hikes where Mia took her time soaking in streams, the harness's chest piece got a little heavier with the water soaked in. This would be hard to see in real-time, but it's easy to notice on photos. If the harness leaves room for the front legs to move freely, it also means that the section between the front legs will have some excess material when the dog's head is down. The low-hanging chest piece isn't a design issue in this case, instead a sign of a comfortable design.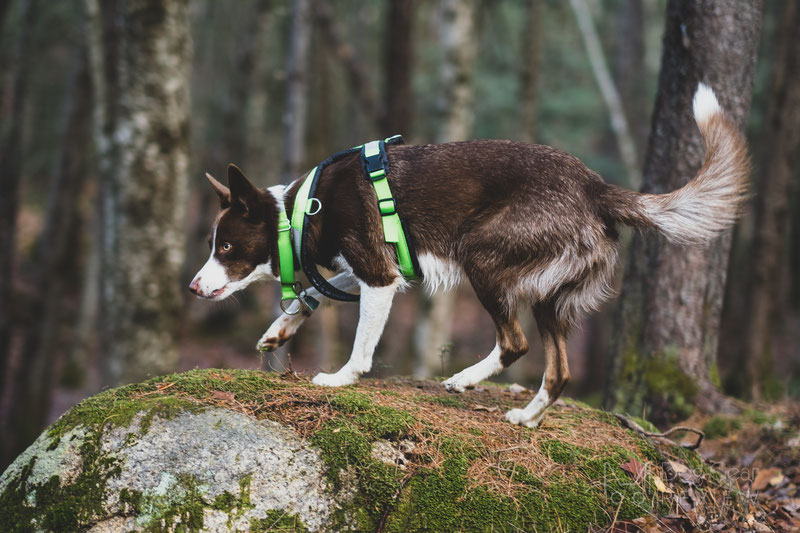 We had some issues with the chest strap loosening up when we started using it, but we never noticed it after the first weeks. I can imagine it might have something to do with the "slippery" surface of the straps that got significantly less slippery as we used it. The strap was slowly coming through the slider as Mia moved - letting the harness loosen up around the ribs when Mia was running. It was never a significant amount, just enough to make the harness "hang" on her chest, so I had to re-adjust it 3-4 times. Again, we used it for months, and this never came back after the first few weeks.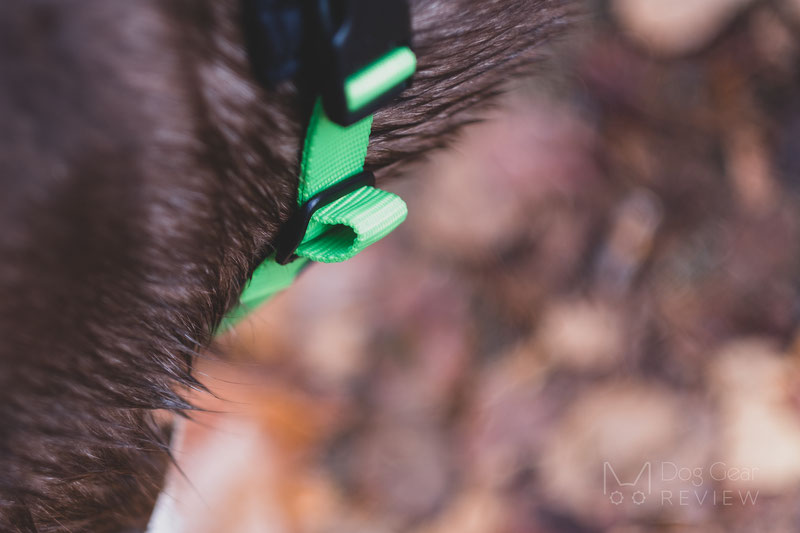 The nylon webbing does get dirty and used looking after a while, but you can easily wash the harness on a gentle cycle and make it look new again. Don't forget to air dry it at the end, don't ever put it in the dryer!
CTC Dog Gear Limited Slip Collar Review
You can also get a matching Limited Slip collar to your harness! It is made of nylon webbing with 5000Lb break strength and has a reflective section as well.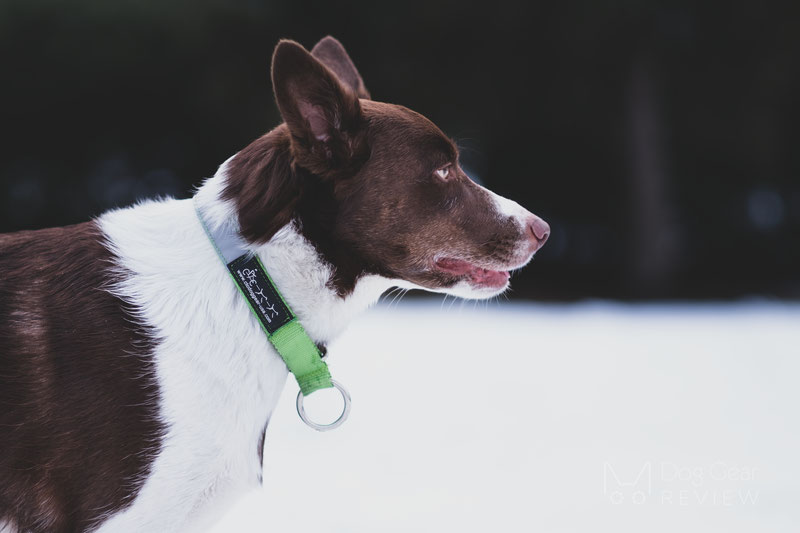 A limited-slip design is simple: there is an extra loop, allowing the collar to tighten-loosen in a limited range based on the leash pressure.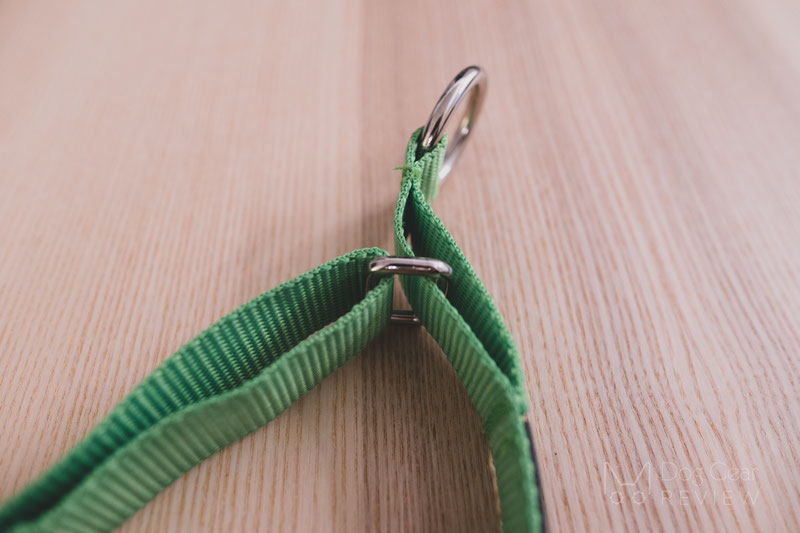 When adjusting it, you want to be sure that it can go over the dog's head when loose but not choking them when tightened. I did play around with the adjustments for a while to be sure I got it right. The first photo showed the final, ideal fit, while it is still a little too loose on the picture below. Not tightening enough allows the dog to back out from the collar and makes it easier to snag on something in the woods.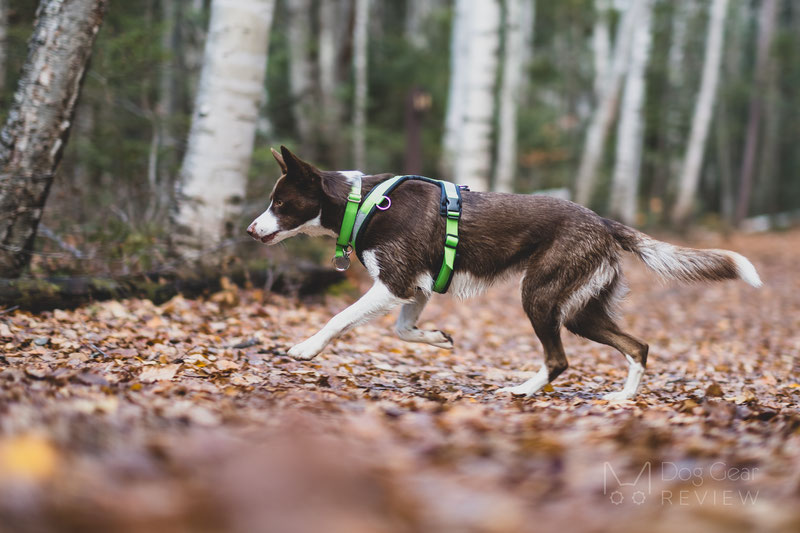 Since the big ring sticks out more than usual, be careful with attaching tags to it. If they hang low, they can easily get caught on something when the dog sniffs or runs through a dense forest. I ended up attaching the tag to the steel slider on the webbing loop instead of the ring itself, keeping it much closer to the neck.
The big and sturdy ring made it very easy to use with any leash. It was beneficial during the winter when I had to find the ring under a coat with frozen fingers. I have never considered needing a bigger ring on a collar until we tried it, but now I would prefer oversized rings over the smaller ones.
(Photo below still shows a too loose collar setting, you don't want it to hang like this if the dog's head allows further tightening)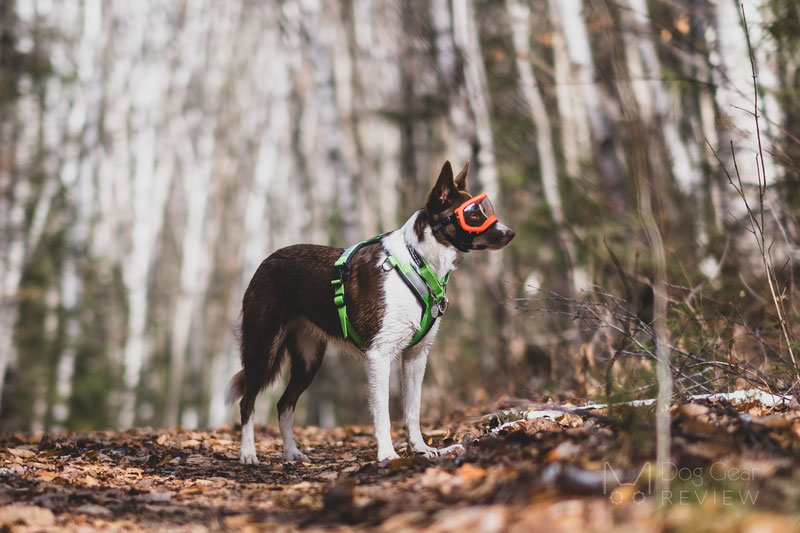 CTC Dog Gear Quick Heel Review
The "Quick Heel" is a leash tab. The name comes from the use case when you want to quickly get the dog in a heel position to pass by someone on a trail or just walk to/from the car.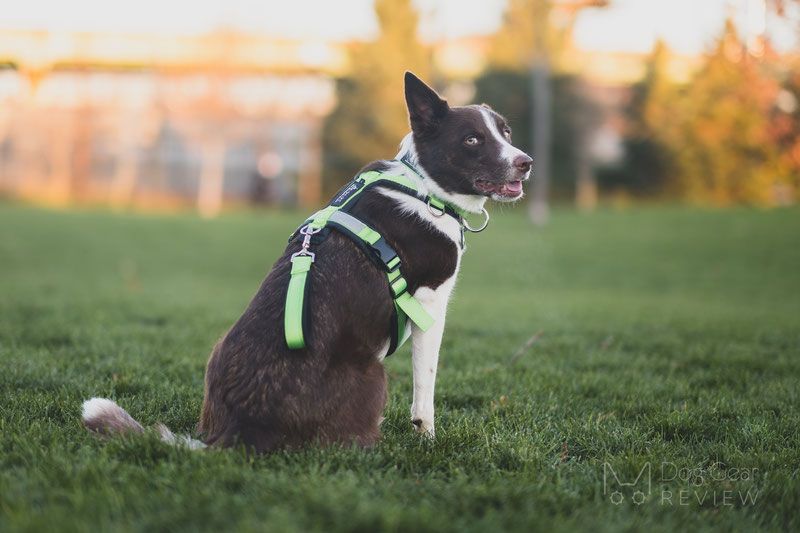 We also found the Quick Heel very practical for obedience training. They provide control when you want to have the leash in hand to manage the dog's position, but you don't have to worry about getting tangled in it. This setup makes it much easier to switch between on and off-leash exercises since I don't have to keep attaching and detaching the leash; it's just there to grab if needed but doesn't bother Mia when not used.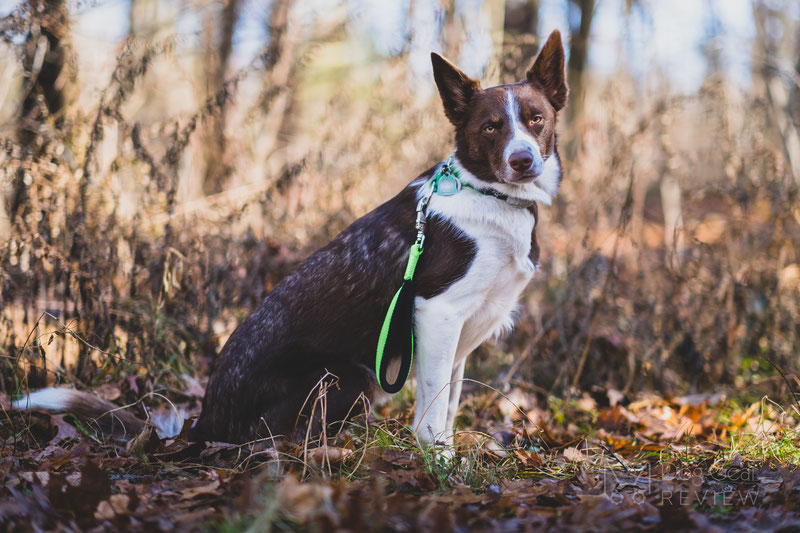 The Quick Heel has soft padding and a big, strong carabiner. It's effortless to quickly attach to the harness or collar but can be a little harder to detach, especially when wearing gloves during the winter.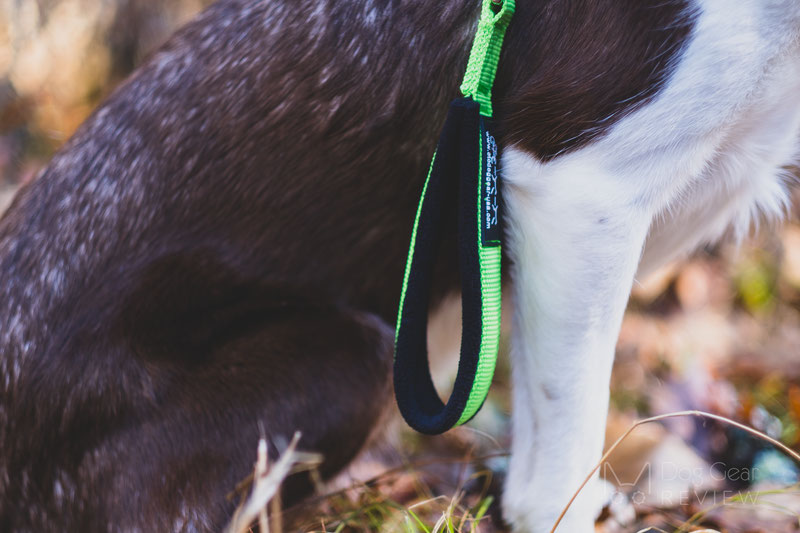 CTC Dog Gear 1-Dog 6 feet Bungee Line Review
This Bungee line was the first continuous lead we have tried: it has no stitching or joins at all! It has an integral elastic mid-section and static sections on both ends. The 6 feet version is recommended for bikejoring and canicross, while the 4 feet is ideal for hiking.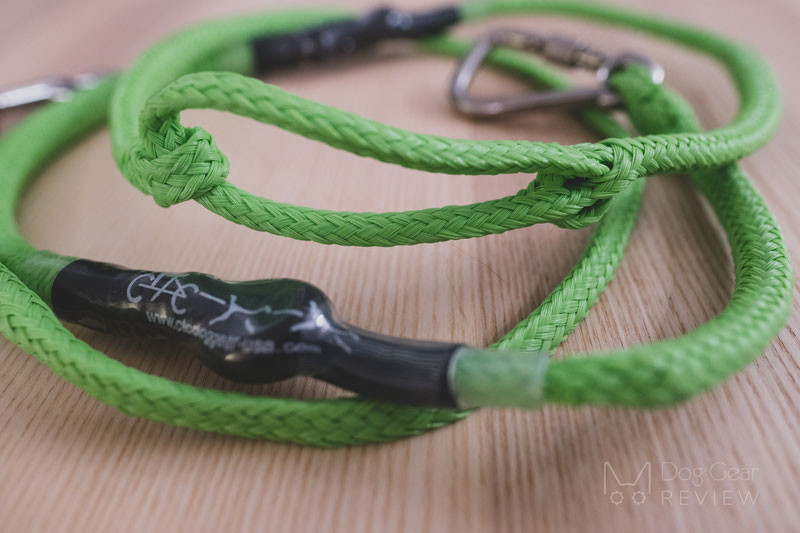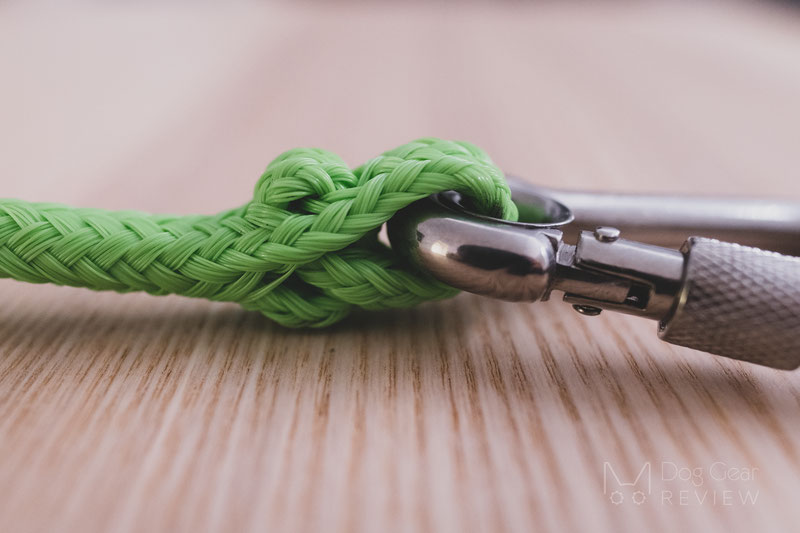 It has two stainless steel carabiner on the ends: the locking carabiner with rope eyelet connects the bungee lead to the hip belt while the stainless steel snap goes on the harness.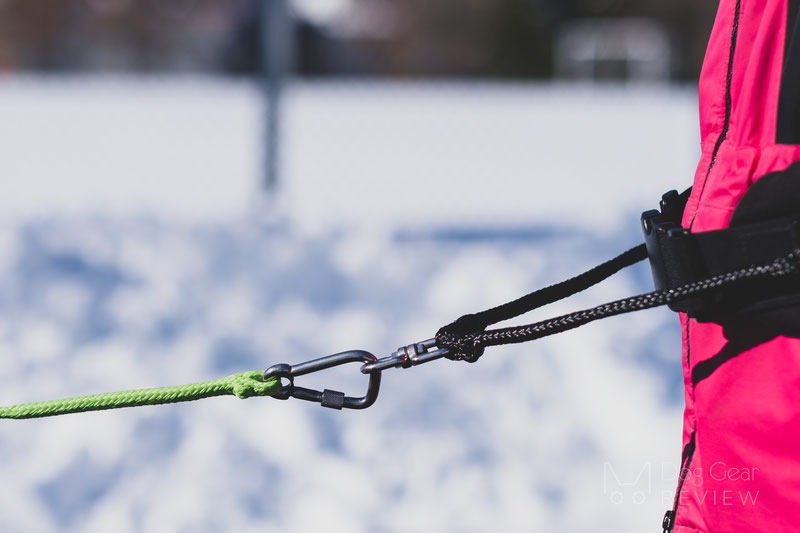 Even though this line only has an elastic middle section, it entirely absorbed the tugging while running with Mia, who takes pulling VERY seriously. I am impressed with the slim and streamlined designed of this line while it also performed flawlessly.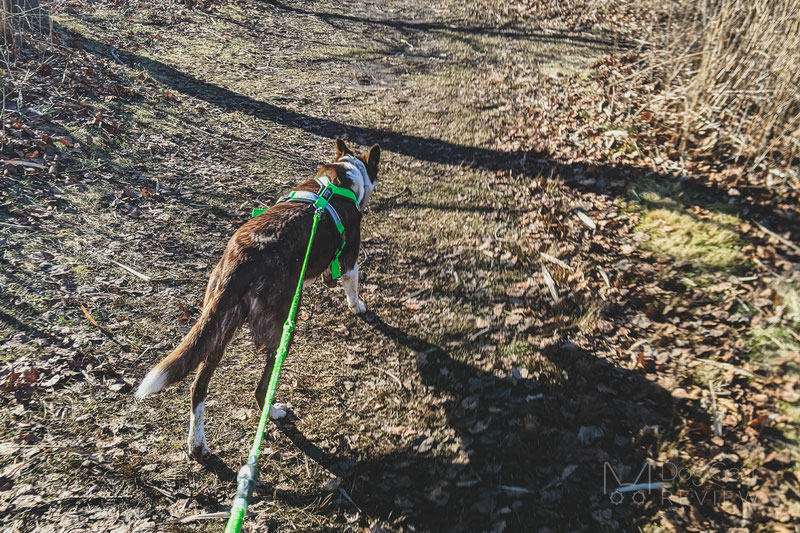 CTC Dog Gear Hip Belt Review
This Hip Belt is an exceptionally padded, wide belt. It meant to sit on the hips, but it doesn't have loops that would go around your legs to keep it in position. It has a Stainless steel swivel and a 16 strand polyethylene nylon rope on the front to attach to the line.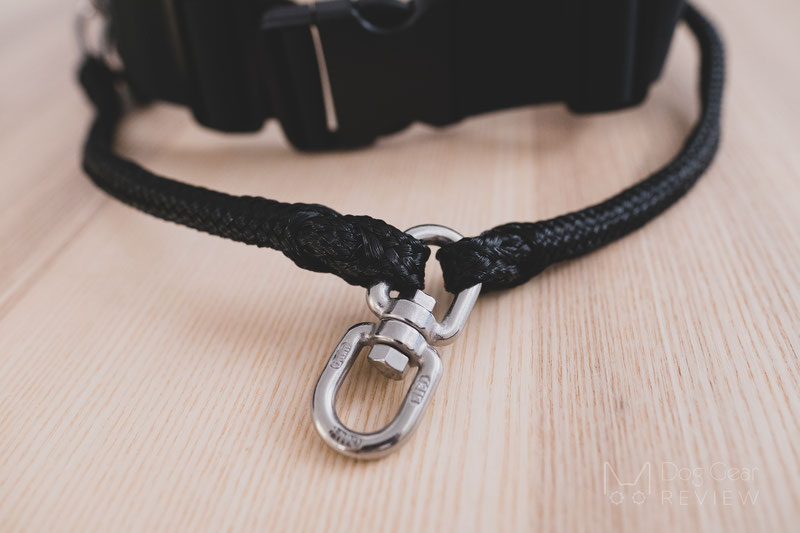 There is a stainless steel locking carabiner on each side attaching the line to the O-rings. This makes it easy to take off the belt and eliminates the rope rubbing/wearing on metal o-rings.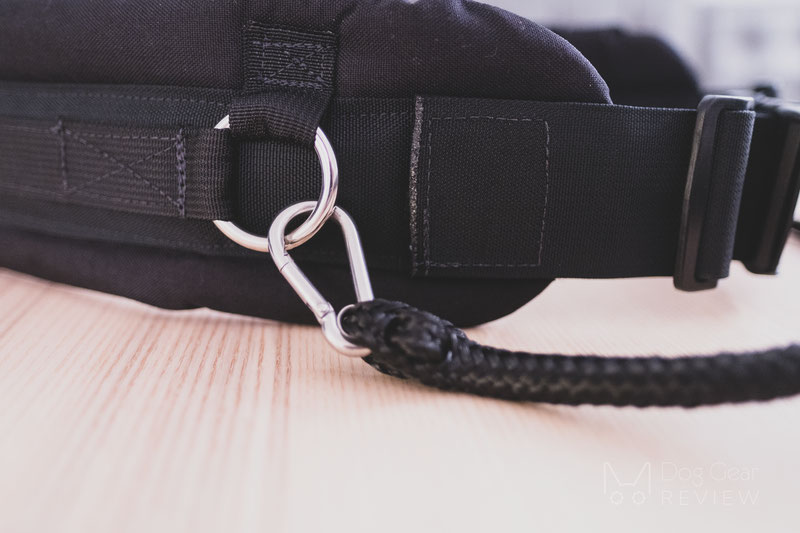 There is a big plastic buckle on the front and a slider to give you some room for adjustment.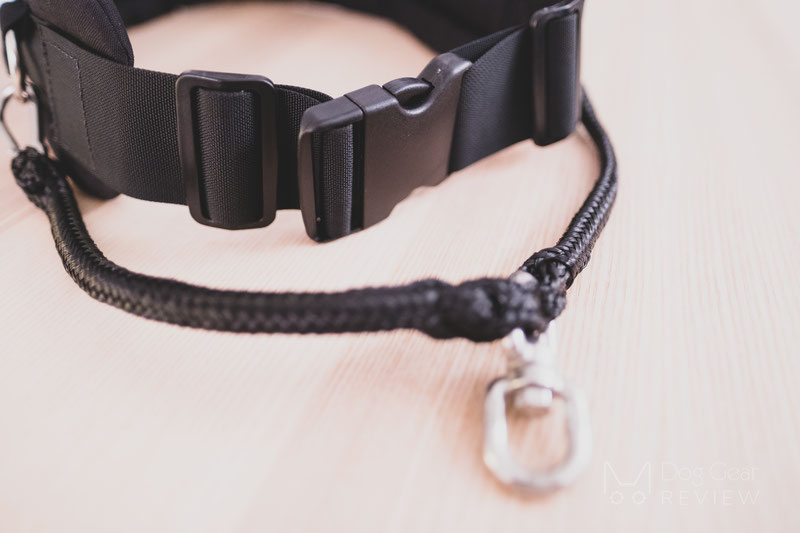 The padding and the belt's width made it very comfortable to use - both when used over winter clothing or fall/spring running clothes.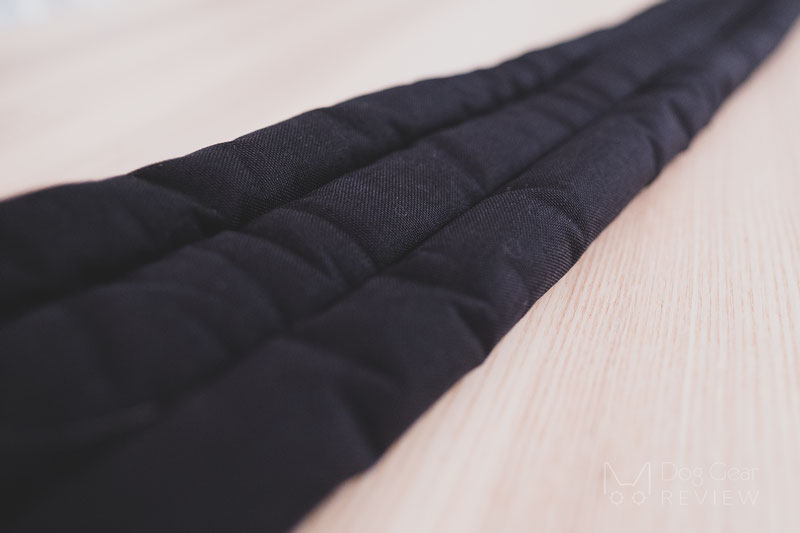 The only problem I run into was that it kept sliding up on my back, and after 5-10 minutes, it was usually sitting on my waits rather than the hips. This might result from my running technique, Mia's pulling style, or something else because I had the same problem with all belts that haven't had a loop to go around the legs. It is a very well-made belt which was designed with attention to all details.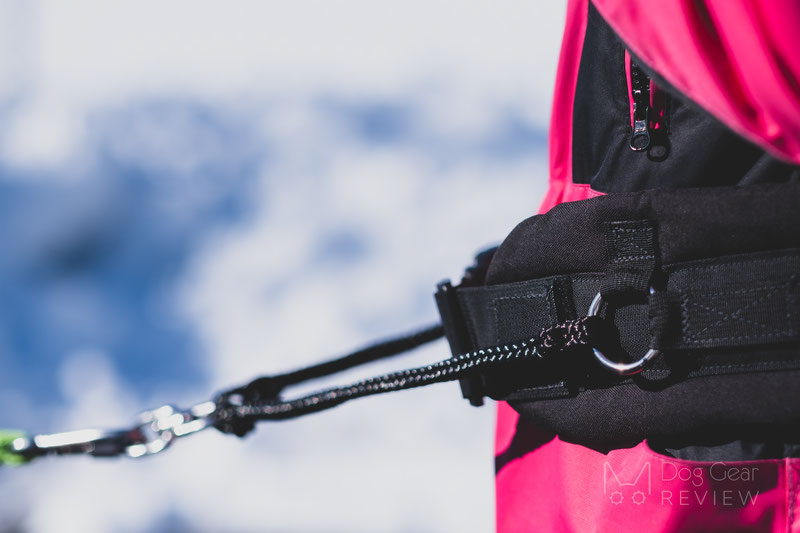 Summary
Altogether this is a great set: every piece of the kit is well-made, strong, and durable. They are padded where needed but kept simple and streamlined otherwise, making it easy to keep them clean. They come in many colors and patterns, and CTC also offers custom sizing to ensure the ideal fit.
I like that you can mix and match all these items as needed and use them for training sessions, hiking, canicross, nose work, or whatever else you have in mind. It is a truly versatile set and is an excellent choice if you want to start your dog in multiple activities but don't want to invest in a specific gear until you get more serious about one of them. Would I say these are the best option for serious hiking/canicross etc.? Probably not because there are specific traits I would like to see in any serious gear targeting only one of these activities. But are all these products ideal to do a wide variety of activities without having x different products on hand? Perfectly.
They all fit Mia very well; the Shoulder harness isn't restrictive; it's well-padded without Mia getting hot under it. The Limited Slip Collar is super easy to slide on and off, and the Quick Heel is handy for getting the dog into a heel position next to you. The Hip Belt is comfortable both for hand-free hiking and running. The Bungee Line is thin but durable and absorbs all the tugging as you would expect.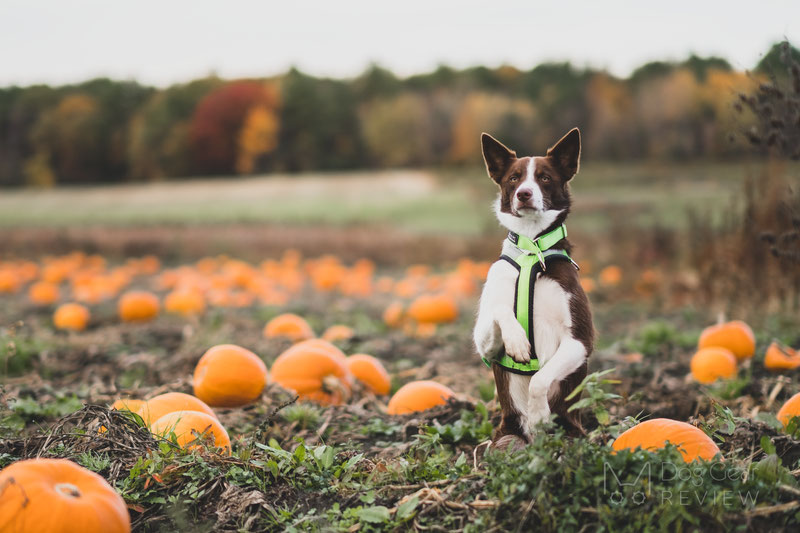 Where to buy
You can buy all their products on their website and even order custom sizes from the product pages. As a reference, Mia needed a Small Harness, and our Line was 6 feet.
As always, be sure the harness is a good fit for YOUR dog. If you need help deciding, read our article on harness fitting.
Mia's measurements
Many of you asked Mia's measurements to better understand the different products' fit. Your best chance of finding a good fitting gear is always to measure (and remeasure) your dog. Even we grab the measuring tape before getting a new product - even though we tested a lot of them, and have a good feeling of her size by now.
I share her measurements below, but don't go ahead and order the same size just because your dog is similar to Mia ;)
• Shoulder height: 19.5 inches (50 cm)
• Weight: 37-44 pounds (17-20 kg)
• Widest chest circumference (where the most harness would have the chest strap): 25-26 inches (63-65 cm)
• Neck circumference for collars: 15-16 inches (38-40 cm)
• Back lengths: 22 inches (56 cm)