What is a Coyote Vest? How does it protect a dog?
We have another article going into detail on why a dog would need a coyote vest and how it can protect a dog, but I wanted to have a summary here as well.
Coyotes typically stay away from people and dogs, but our town has a serious problem with coyotes who were born in the town and are not afraid of cars, people, or even big dogs. Over the summer, they killed multiple leashed dogs by their owners. They mainly attacked small dogs, but they also jumped a fence and attacked a lab in their backyard.
Since we frequently see them around our house, I wanted to find something that would add extra protection for the dogs while we walk on a leash in the dark.
The Coyote Vest - Body Armor has stab-resistant vests and offers different accessories to add more protection in the form of whiskers or spikes. You can also mix and match the vests with their spiked collars or harnesses to create a larger coverage if needed.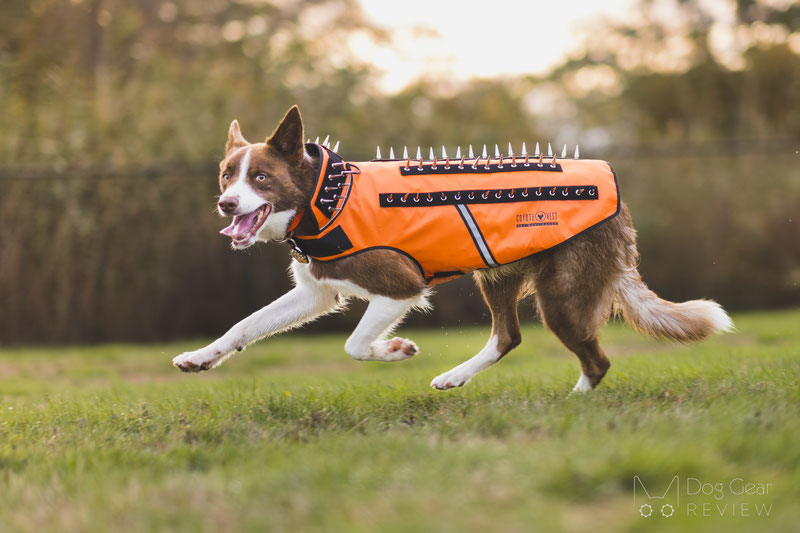 Coyote Vest - Body Armor's Mission
Coyote Vest - Body Armor started designing and selling protective pet vests after their dog, Buffy, was killed by a coyote. Their mission is to create vests and accessories that help keep pets safe from coyotes, hawks, and other animals.
About the SpikeVest
The SpikeVest is made with a combination of specially coated ballistic nylon (Cordura) and Kevlar. The neck and chest straps are adjustable and are secured with military-grade velcro. It comes in bright colors and has reflective stripes on both sides.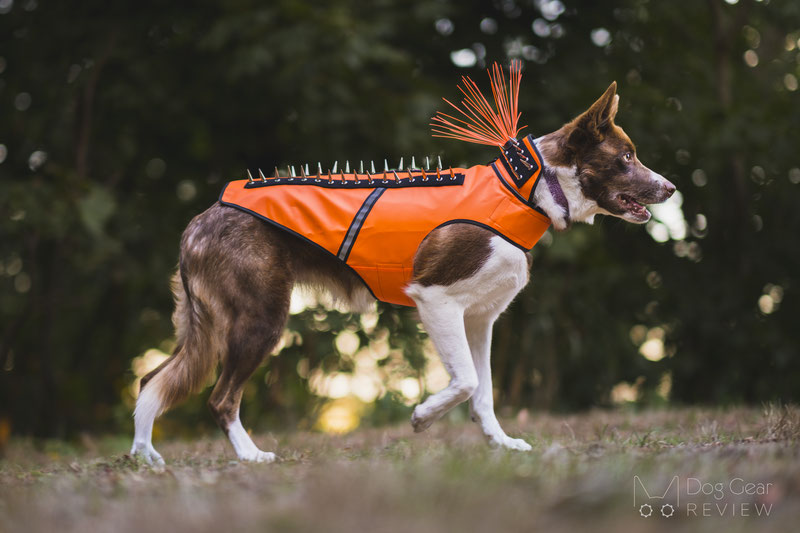 The SpikeVest is easy to remove and clean. It provides bigger coverage on the throat and chest area than the CoyoteVest sold by the same company. We wrote a separate article comparing these two vests and going through when to choose one over the other that you can check out if interested.
All the accessories are modular: you can put whiskers (more helpful for bird attacks but makes them look bigger and scarier in general) along the spine and on the neck, or use spikes only. They are held in place by a strong velcro, so they can be easily removed before hand washing.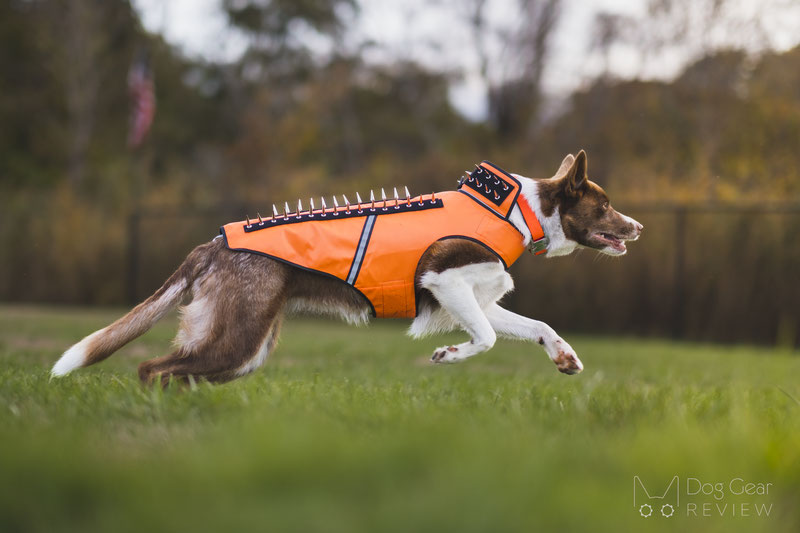 SpikeVest Review
The SpikeVest is a great middle ground between protecting and keeping the dog comfortable while walking. It covers the main areas where coyotes would grab them during the initial attack, but it still leaves enough surface uncovered to prevent overheating during summer nights.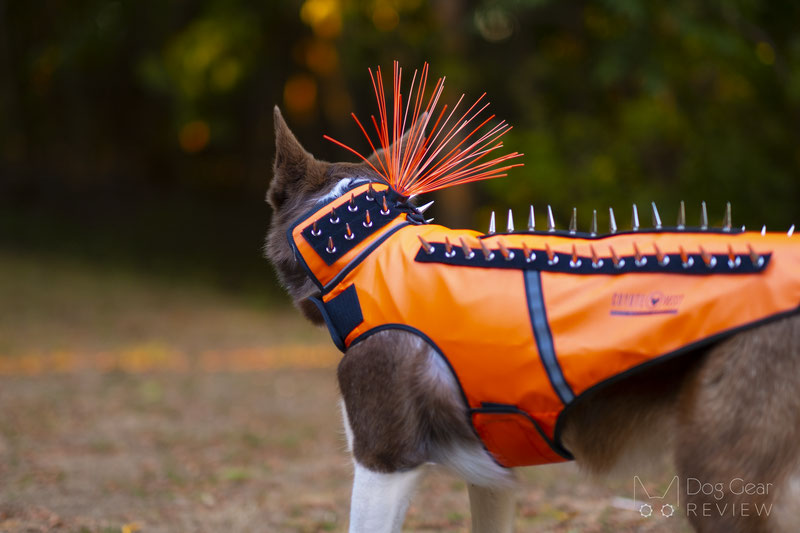 It was not designed to give enough protection for off-leash time since the belly and some neck areas are still exposed, but you can always add additional products (like a SpikeCollar) for more safety. The modular elements also allow you to customize the vest based on your needs and the danger in your area.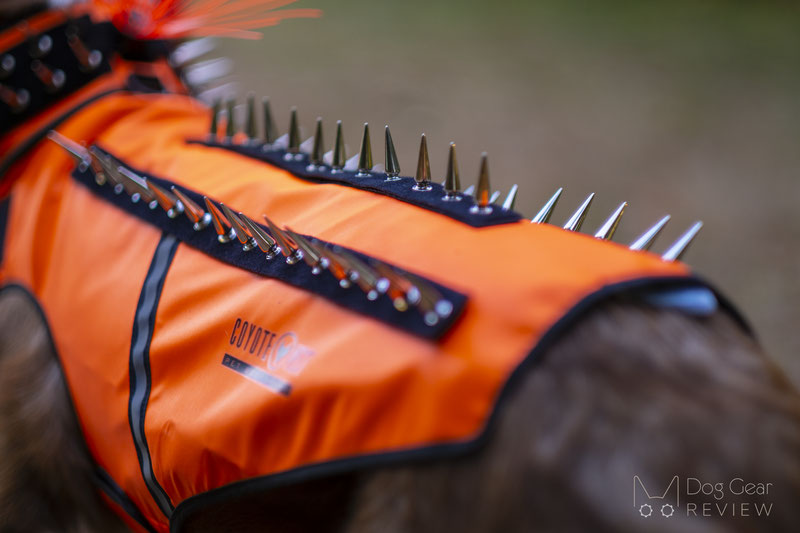 The vest has a plastic clip behind the neck that can be used as a leash attachment point. This is helpful because the leash constantly gets tangled in the spikes and in the collar section of the vest when used with a regular collar. However, keep in mind that the velcro might weaken over time, and the dog might be able to get free when the leash is only attached to the vest. Also, ensure that the dog cannot back out of the vest if you want to clip the leash to it!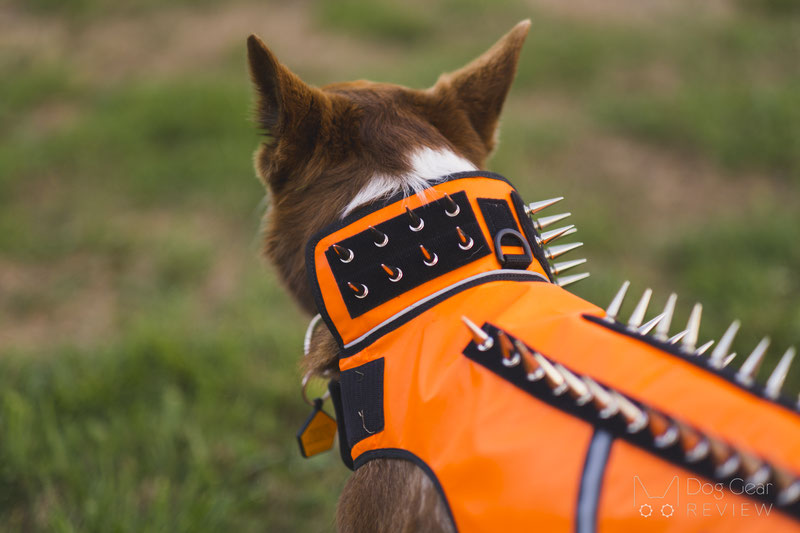 The photo below shows the "rigidness" of the jacket well. It is a thicker but lightweight vest, and some dogs need time to get used to the restrictive feeling when turning or running around since this is not a stretchy, form-fitting material.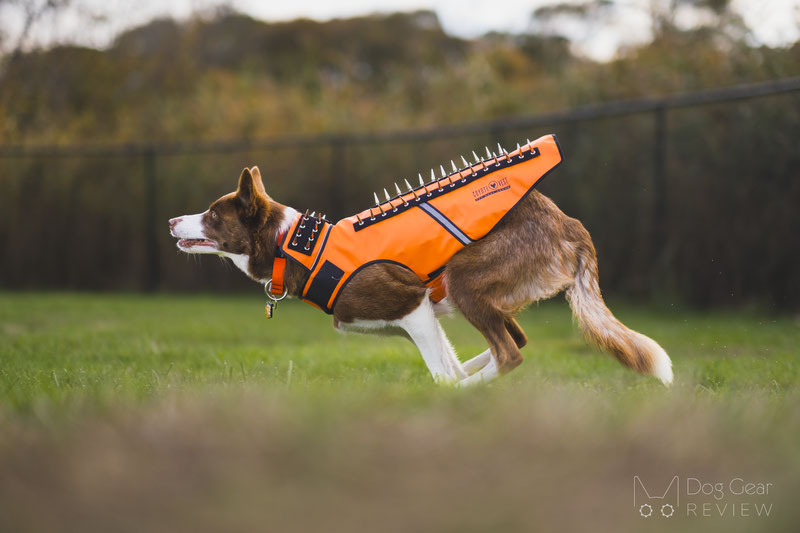 Review Summary
I cannot emphasize enough that this is not meant to provide 100% protection and might not be enough to save your dog's life if they are alone in the backyard or if you have a small dog off-leash around you, although they still have a better chance than without it.
This is a great vest that we utilize a lot more now that we need to walk in the dark after work. It is easy to put on, clean, and visible. It gives me peace of mind knowing Mia is more protected. It covers as much as possible without being restrictive or potentially chafing the dog when used daily.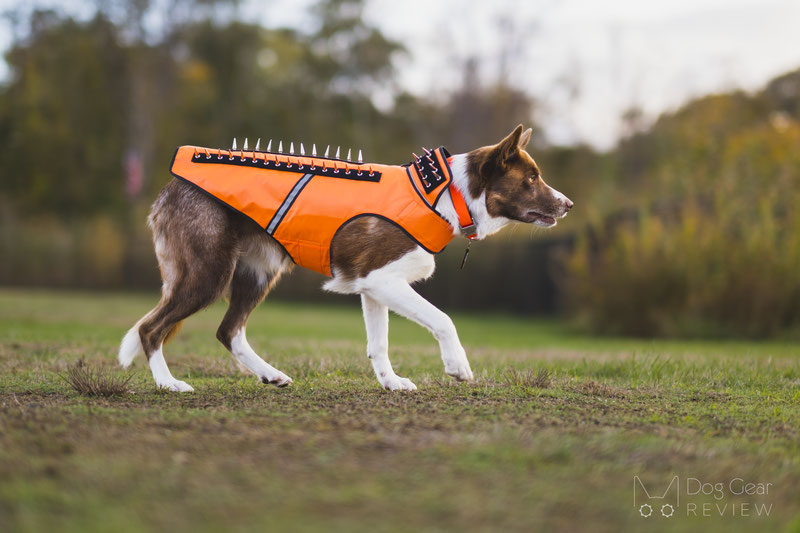 Where to buy
You can find this vest on their website. For reference, Mia is wearing a large SpikeVest in fluorescent orange!
Mia's measurements
Many of you asked Mia's measurements to better understand the different products' fit. Your best chance of finding a good fitting gear is always to measure (and remeasure) your dog. Even we grab the measuring tape before getting a new product - even though we tested a lot of them and have a good feeling of her size by now.
I share her measurements below, but don't go ahead and order the same size just because your dog is similar to Mia ;)
Shoulder height: 19.5 inches (50 cm)

Weight: 37-44 pounds (17-20 kg)

Widest chest circumference (where the most harness would have the chest strap): 25-26 inches (63-65 cm)

Neck circumference for collars: 15-16 inches (38-40 cm)

Back lengths: 22 inches (56 cm)