What is a Coyote Vest? How does it protect a dog?
We have another article going into detail on why a dog would need a coyote vest and how it can protect a dog, but I wanted to have a summary here as well.
Coyotes typically stay away from people and dogs, but our town has a serious problem with coyotes who were born in the town and are not afraid of cars, people, or even big dogs. Over the summer, they killed multiple leashed dogs by their owners. They mainly attacked small dogs, but they also jumped a fence and attacked a lab in their backyard.
Since we frequently see them around our house, I wanted to find something that would add extra protection for the dogs while we walk on a leash in the dark.
The Coyote Vest - Body Armor sells stab-resistant vests and offers different accessories to add more protection in the form of whiskers or spikes. You can also mix and match the vests with their spiked collars or harnesses to create a larger coverage if needed.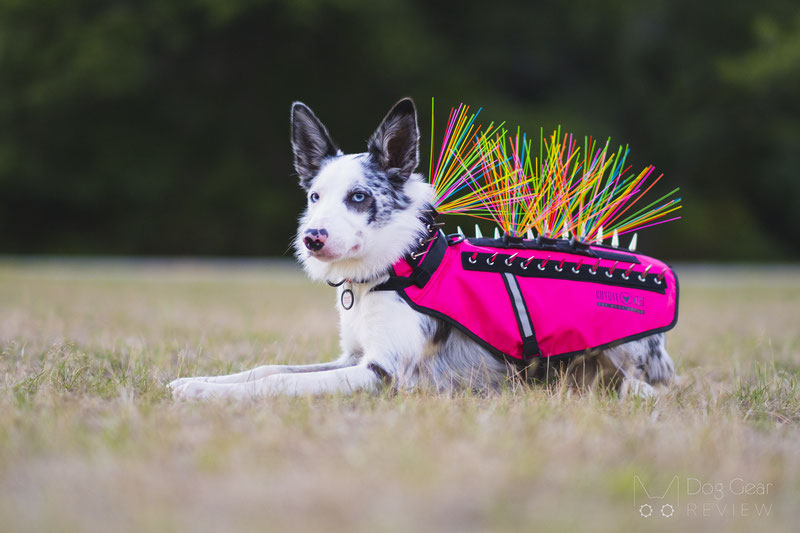 Coyote Vest - Body Armor's Mission
Coyote Vest - Body Armor started designing and selling protective pet vests after their dog, Buffy, was killed by a coyote. Their mission is to create vests and accessories that help keep pets safe from coyotes, hawks, and other animals.
About the CoyoteVest
The CoyoteVest has two highly adjustable straps with plastic buckles. It protects the back and neck of the dog from an attack coming from above.
It is lightweight but stab resistant and has Kevlar side panels and a collar, while the other parts are made of special weave Cordura. It comes in bright colors and has reflective stripes on both sides.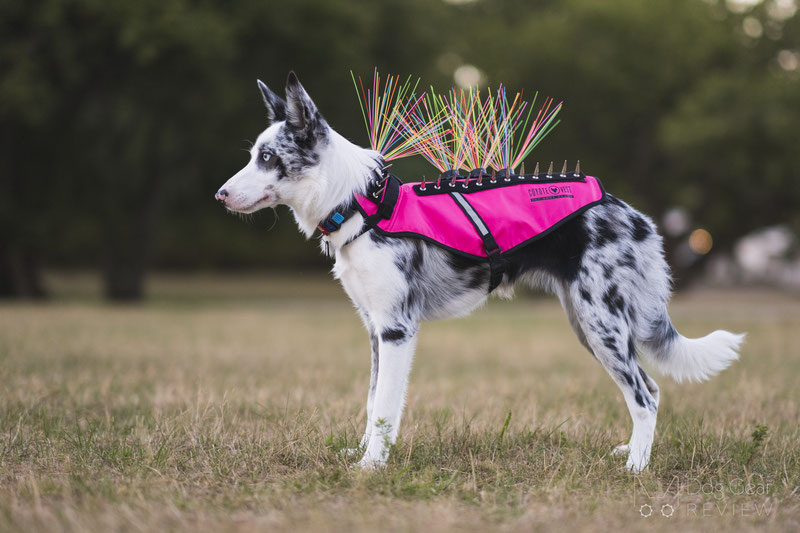 The CoyoteVest is easy to remove and clean since it doesn't soak in the water. It is ideal for hot days when you try to limit the coverage to prevent overheating but still need some protection on the dog. You can place it over a coat or fleece underlayer for colder days.
All the accessories are modular: you can put whiskers (more helpful for bird attacks but makes them look bigger and scarier in general) along the spine and on the neck, or use spikes only. They are held in place by a strong velcro so that they can be easily removed before hand washing.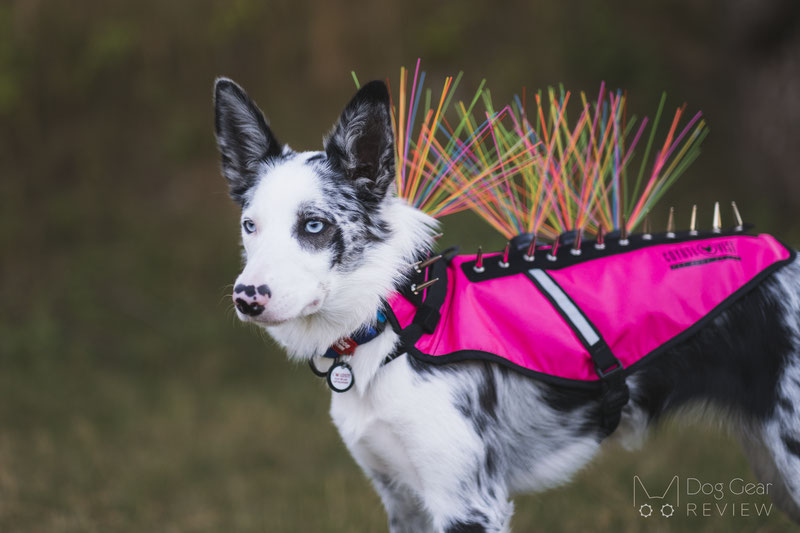 CoyoteVest - Pet Body Armor Review
Since this design doesn't protect the throat and the chest/belly area, it's ideal for smaller dogs who are more likely to be attacked from the top. Coyotes tend just to run in and pick up a small dog and kill them by shaking while running away with them, so there isn't an actual fight where the dog's underside would be attacked.
Adding the whiskers help protect small dogs from hawks or other birds. Zulu had difficulty getting used to the rigid material of the vest paired with the whiskers since they kept touching her ears when she turned, so I eventually removed the whiskers and kept the spikes. This also made walking on a leash easier since the leash doesn't get tangled up in the whiskers.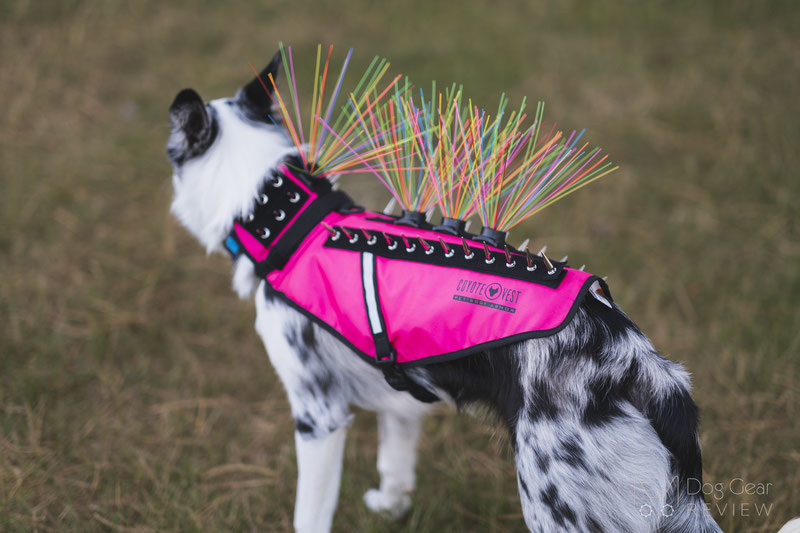 While using this vest with Zulu, I run into two problems.
First, this vest is somewhat rigid, so it sticks out when the dog turns or sniffs. This also causes the vest to shift and rotate somewhat. The neckpiece will hold it in place, but it can annoy gear-shy dogs when it slides to one side. This will be especially annoying if you try to use it with a collar because the leash will always get stuck in the neck section of the vest.
Some harnesses can fit over the vest, which can be a good solution to keep it in position. The neck section also has a plastic ring on the back that can be used to attach the leash but be sure your dog cannot slide out of the vest and that the plastic buckles are in good shape to handle your dog's weight if they suddenly lunge at something.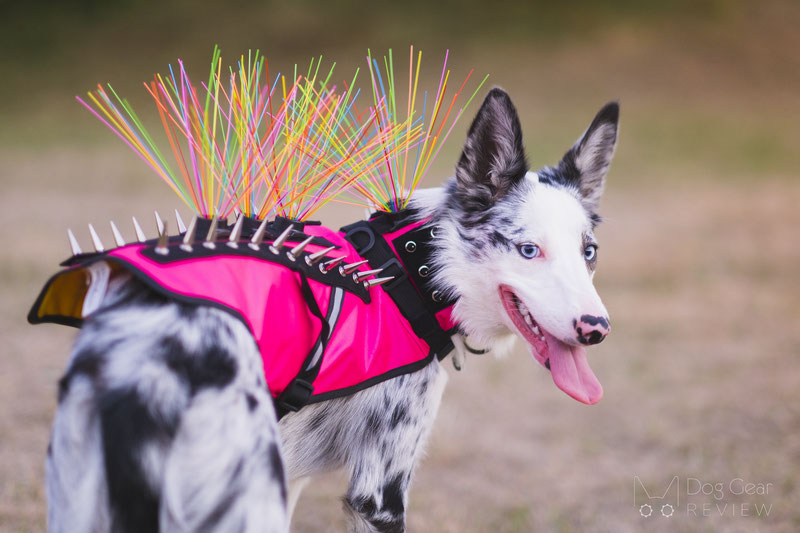 The other problem we faced was that the chest strap is angled backward instead of going down in a straight line behind the front legs.
This is good because it leaves plenty of room for free shoulder movement without chafing in the armpits. Also, securing the vest farther back keeps it in position better. However, to ensure the vest is not sliding, you must tighten it well. As shown in the photo below, Zulu has a well-defined tuck and a deep chest. The chest strap is positioned right above the soft tissue/stomach area, which is not a problem while she is walking, or trotting, but if she runs or sniffs, the vest will be pulled forward and puts pressure on that area which is not comfortable for her.
This will be less of a problem for dogs with no significant tuck, and many dogs don't care about any gear on them but be careful when tightening it and check the fit regularly in case your dog is gaining weight and getting uncomfortable with the strap's adjustment when moving.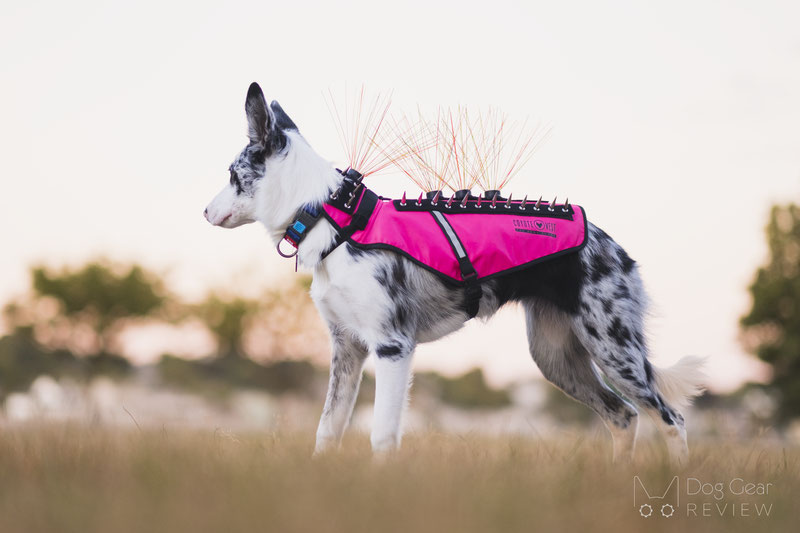 Review Summary
I cannot emphasize enough that this is not meant to provide 100% protection, and it is not enough to save your dog's life if they are alone in the backyard or if you have a small dog off-leash around you - although they still have a better chance than without it.
This is a great vest that we utilize a lot more now that we need to walk in the dark after work. It is easy to put on, easy to clean, very visible and gives me peace of mind knowing Zulu more protected.
Where to buy
You can find this vest on their website. For reference, Zulu is wearing a medium CoyoteVest in neon pink!
Zulu's measurements when getting the vest
Many of you asked for the dogs's measurements in reviews to better understand the different products' fit. I share Zulu's measurements below, but always double-check your pup's measurements before ordering!
Shoulder height: 18 inches (46 cm)

Weight: 25 pounds (11 kg)

Widest chest circumference: 22 inches (55 cm)

Neck circumference for collars: 12 inches (30 cm)

Back lengths: 16 inches (40 cm)