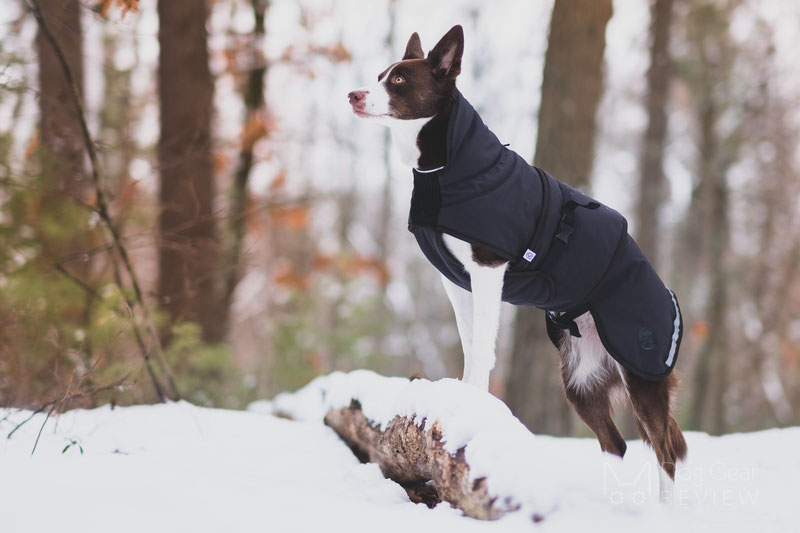 Canelana Thermo Coat Review
About Canelana
Canelana has a wide range of products from (human) training vests, mittens, wool sweaters, and jackets to wool dog coats, beds, and mattresses. All of the products we received were very well-made, high-quality and their customer support also made working with them a great experience!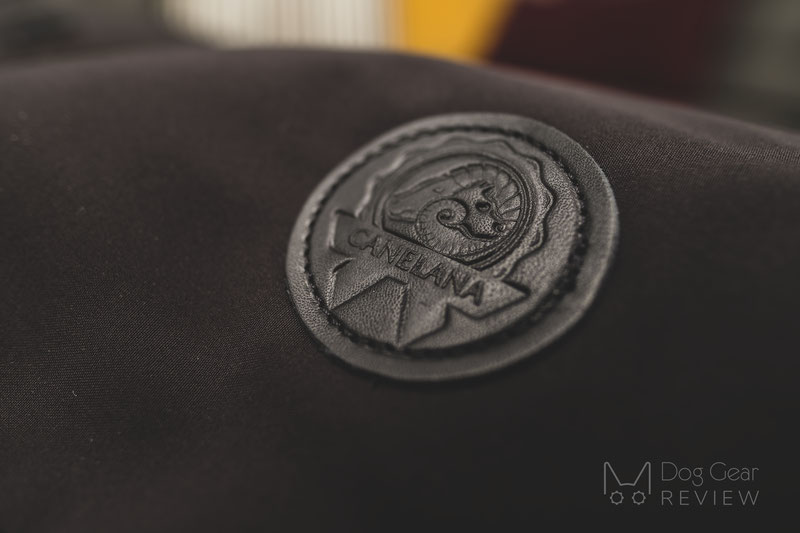 The details of the Canelana Thermo Coat
The Thermo coat is a well-fitting and thick coat. The inner lining is made of merino wool, while the outer layer is breathable but waterproof softshell. The coat's design is the same as their Ambassador Wool Coat that we reviewed before.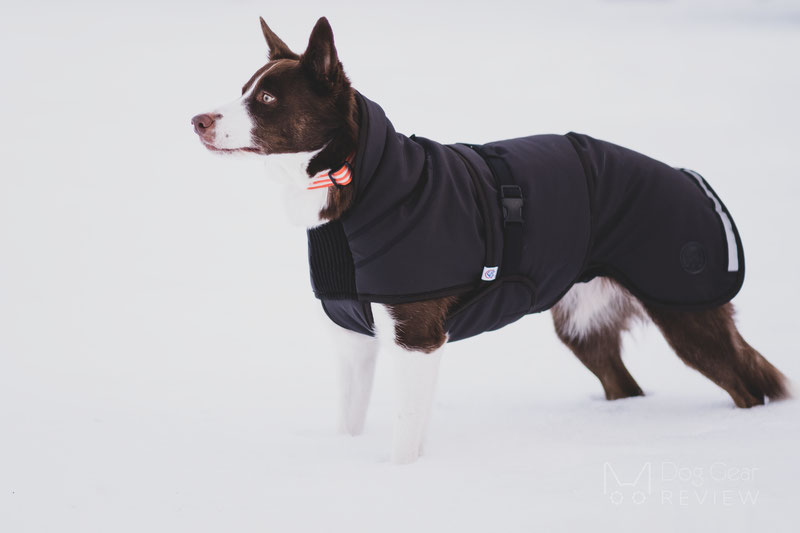 The wide belly strap that wraps all around the chest has a wide velcro. The design of the velcro panels gives you some room for finding the ideal fit.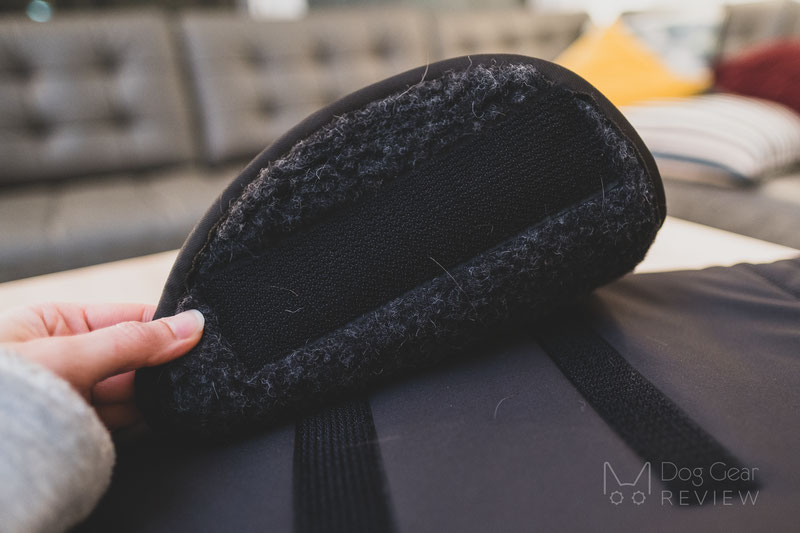 The details of this coat are very well-made and thought-throw. This is not a particularly lightweight or packable coat, it's more on the bulky side when trying to fit in your backpack, but this also makes it possible to keep your dog warm on those truly freezing days.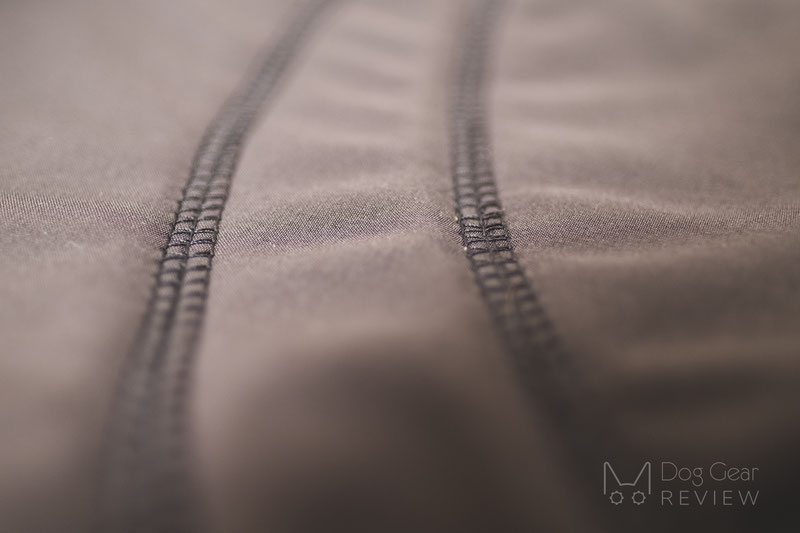 The Thermo coat snugly covers the chest area and the torso where dogs tend to lose the most heat. To counter this coverage, it has a somewhat elastic section on the front (the square-shaped material above the chest bone) that provides flexibility and freedom of movement.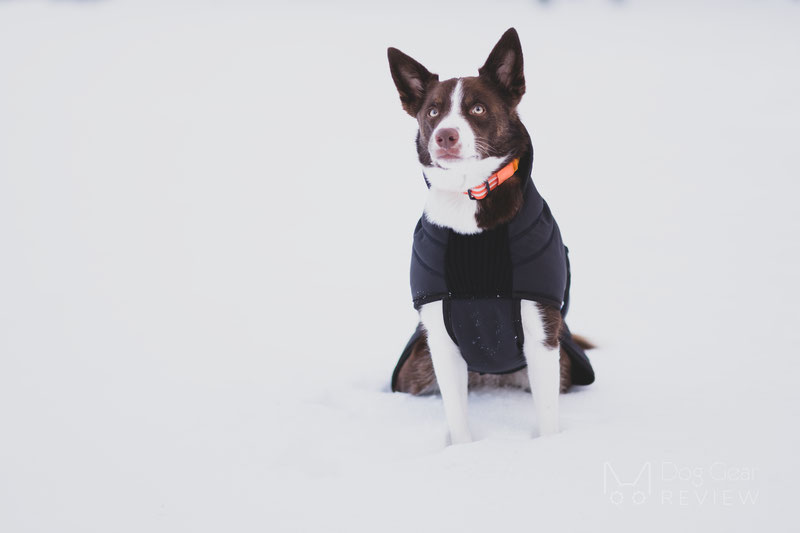 The multiple adjustment points ensure that the coat fits the dog nicely. Using the elastic band for adjustments makes it possible that the coat wraps around the dog's hips and tights very nicely.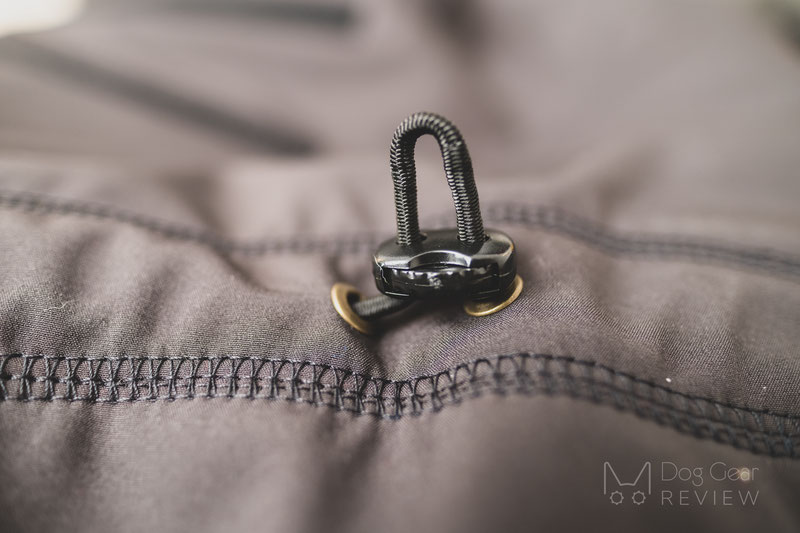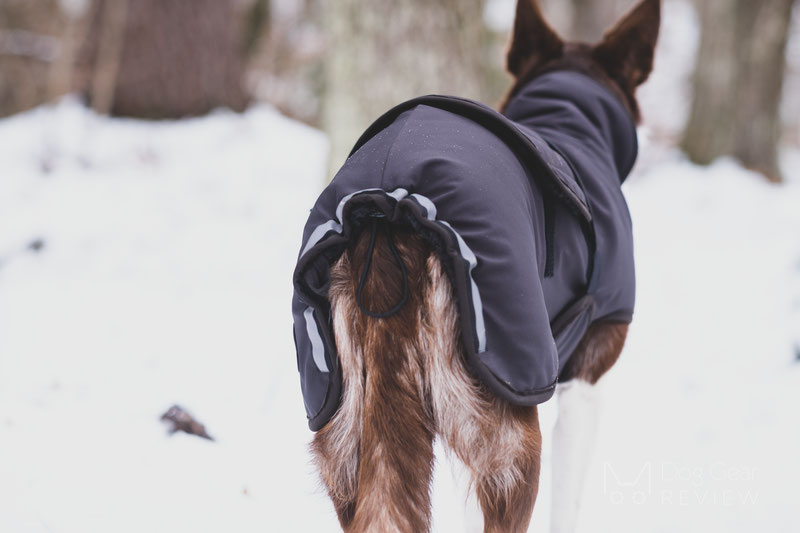 The coat has two elastic buckles as well. One goes all around the chest area as an extra piece to backup the hoop and loop fasteners. Another one attaches under the dog's tummy, and it holds down the back of the coat even in strong winds.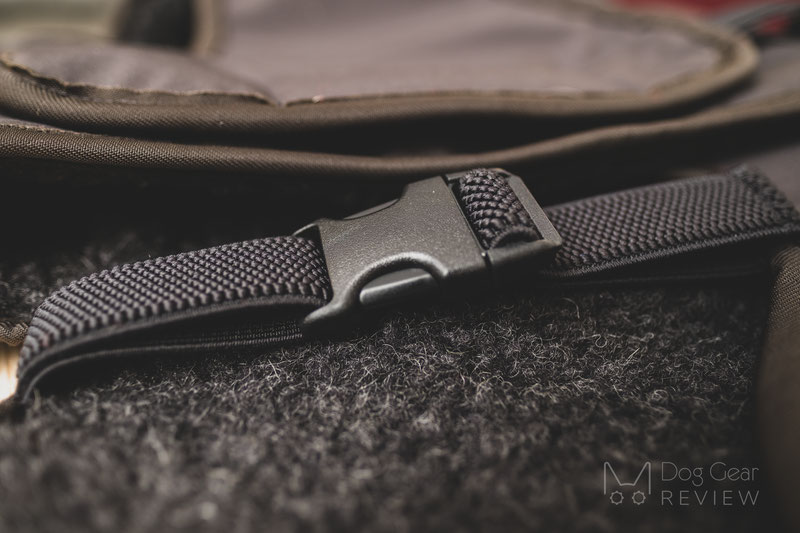 Canelana Thermo Coat Review
I am genuinely impressed with the quality of this coat. The outer material is very durable, and this coat is best suited for freezing days from all the jackets we tested so far. This is mostly because it insulates very evenly and provides excellent coverage on the chest and around the torso while very nicely covering the dog's end. We had a few days with freezing temps and strong wind as well, and the heavier, "more rigid" material of this coat stayed in place perfectly. This is a problem with many coats: although they cover the dog's back nicely, a strong wind can flip up the end or blow under the jacket and lift it like a sail making it much less effective against the cold.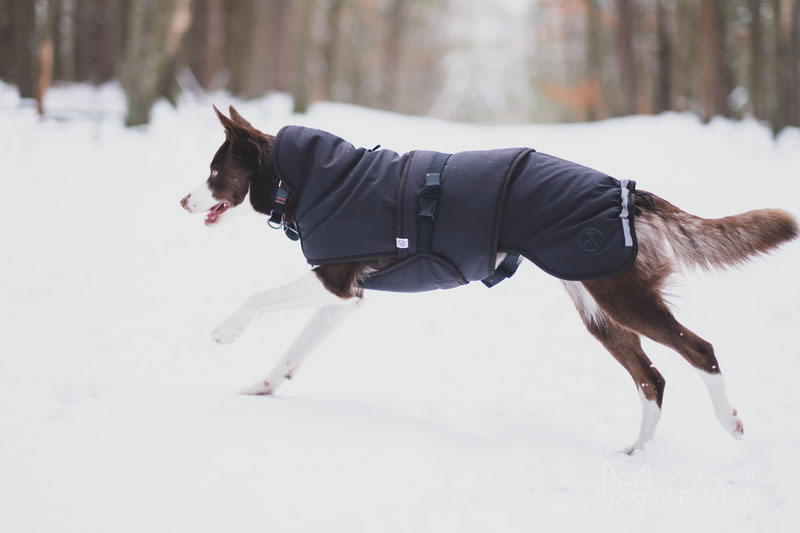 If your dog is running through dense vegetation with this coat on, you might want to tighten the top elastic strap a little more. While the outer layer is streamlined and does very well while running through bushes, the elastic strap could have a chance of getting caught on something. I usually didn't fasten it much since the velcro holds the coat in place well; I just used it as a backup, but it did get snagged on a branch once, so I learned the lesson.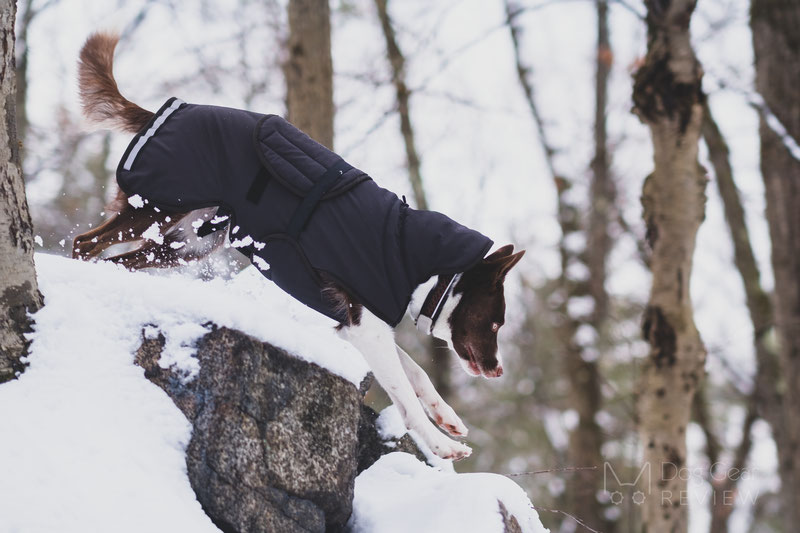 The top part of the neck section has a little "flap" that you can either leave covering the neck or fold it down. I noticed that Mia got annoyed with it touching her ears when she was running or sniffing, so I kept it folded down most of the time. I still think it could be an excellent addition for dogs with floppy ears, though.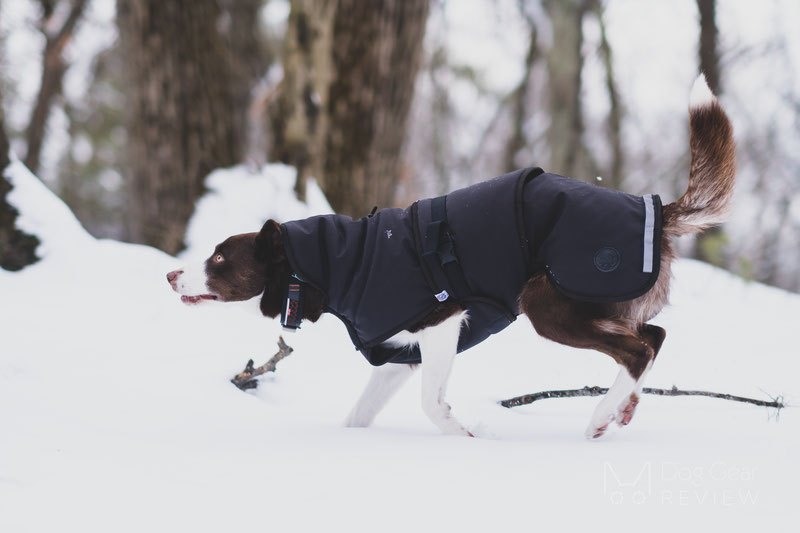 While the coat didn't seem to restrict Mia anyway, it does get very thick around the torso with multiple layers over the dog. Mia is the most sensitive dog in this sense, so this is probably not something that most dogs would even notice, but she was a little more hesitant to jump in and out of the car or laying down comfortably while wearing the coat.
Another thing to keep in mind is that the part between the front legs is quite broad. If you have a dog whose legs get chafed easily, this design might not be ideal for them.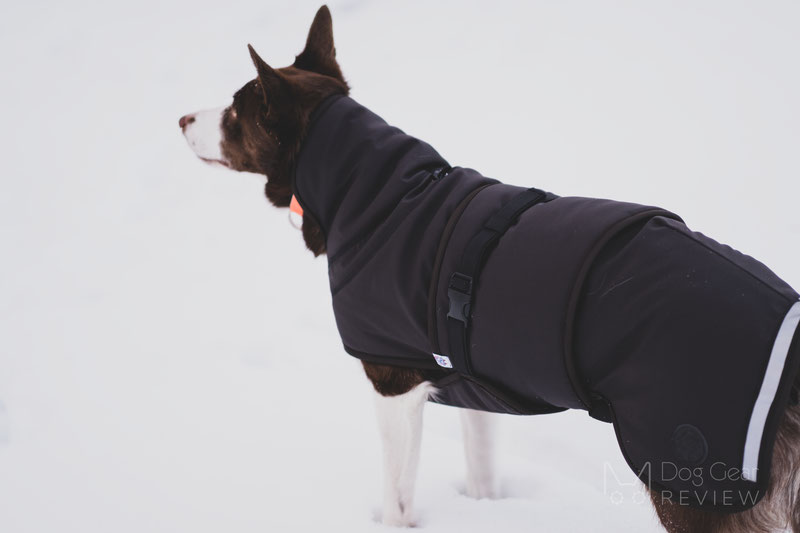 The wool lining's advantage is that it keeps the dog warm and cozy even if it gets wet. It has tiny air pockets that create a thermal barrier. Wool also has excellent breathability that helps regulate body temperature. It's also non-static, which is ideal because sparks tend to be an issue for us when taking the coat off on dry winter days. Being non-static also helps to keep some of the dog hair from sticking to it. The ones that still do, you can remove by using a crumpled-up tape, a vacuum cleaner, or a lint roller.
The only con of wool is that it can only be washed with a Wool program using a wool fabric softener.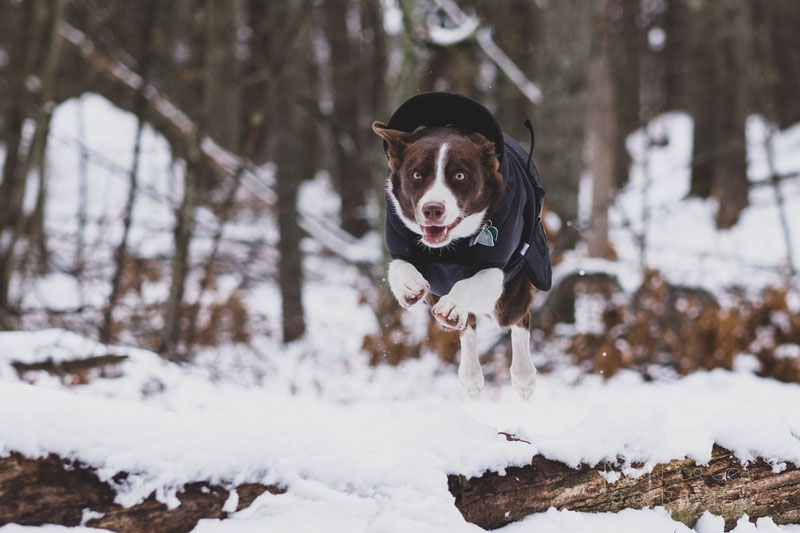 Sizing Tips
As a sizing reference, Mia's coat is M/L, recommended for back lengths of 48 cm measured by Canelana's guide. As a note to help you pick the right size: in this case, 48 cm is not the full length of the coat – it is from the closing around the neck to THE MIDDLE of the incision back. The end of the jacket is 10 cm longer, so do measure the back lengths based on their graphics! Mia's back is around 55-56 cm, so I almost went with the bigger size. Luckily the Canelana Team helped out with sizing, and the coat fits Mia perfectly!
Another note on sizing: since it has a broad belly band, if your MALE dog is between sizes, you might want to consider going with the smaller size to make sure it fits well all around ;) For females, it's better to be a little too long than too short.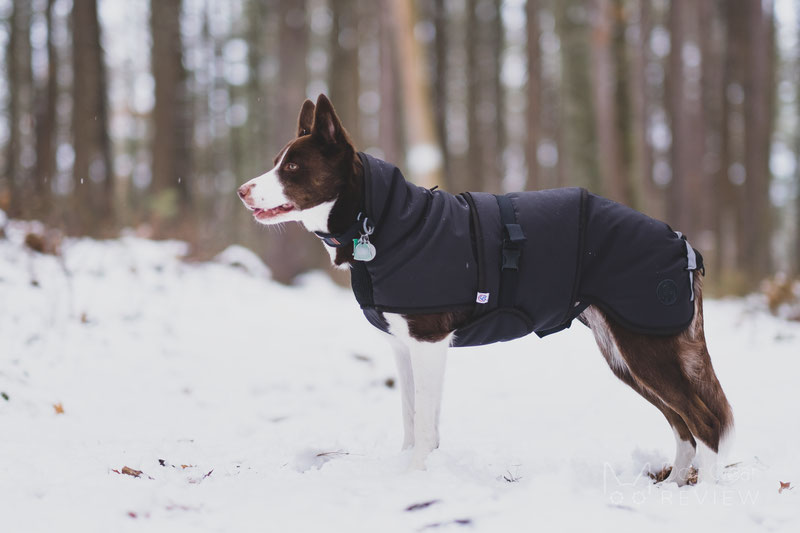 Checking Dog Coats with a Thermal Camera
We wrote an article checking 12 coats (including this one) with a thermal camera to see the insulation capabilities of different materials and coat designs. If you want to learn more about our findings, click here to read the article!
Thoughts on Wool
Since we started testing Canelana's products, I also spent some time looking into the advantages and concerns around using wool to get the full picture.⁠ ⁠ I believe that wool is an excellent material to move towards in the clothing industry since it is renewable and biodegradable. Our society creates an incredible amount of waste by using synthetic materials, so I believe cutting that wherever we can is a great idea.⁠ ⁠ When buying wool products, the biggest concern is how the wool is sourced and how the animals were kept and treated. Canelana produces all its products in Poland, and the wool is bought from various sources: mainly from Germany, Poland, and Estonia. Their supplier also indirectly buys New Zealand and South American wool from a German broker. All of these countries are EU members and under EU laws and regulations for all aspects of production, including animal welfare.⁠ As a note to address the primary concern of most, as far as I know, Australia is the only country where mulesing is used, and Canelana does not use wool from a source where this is accepted. ⁠ ⁠ I know animal farms' reality is still far from a happy sheep's ideal life, and I will not pretend that this isn't a problem. On the other hand, using synthetic materials and contributing to the microplastic pollution isn't ideal either.⁠ While we could debate this much longer, I just wanted to point out that making environmentally friendly and ethical buying decisions is never as easy as one would think before looking into all aspects of a product.
We just want to give you as much information on Canelana's products as we can, so you can make an informed decision based on all the facts on hand.
Here is some additional information about the dyeing process from Canelana's supplier:
"We buy wool after washing or sweating, which we further wash and dye in the process. The company that performs these services has certificates and also uses appropriate agents and dyes that are friendly to the environment and to humans because of the direct contact of woolen products with human skin, but also in contact with animals. Production takes place at two carding departments where the woolen tape is prepared and knitting where the material is produced. These processes are mechanical, and no chemicals are used. Only the stabilization process in the final stage requires gluing the fabric "stiffening" with textile glue. The dyeing process is absolutely non-toxic, and the dyes used by the service provider do not contain harmful substances."
Review Summary
The Thermo coat is a very well-made, serious winter coat. This is not something that I would use for a chilly fall morning because Mia doesn't need this level of protection on most days, but it was a lifesaver during those truly freezing and windy days when the cold hurts. Being windproof, thick, and snugly fitting were all features that made me grab this coat on the coldest day of this winter.
The elastic section on the chest seems to give enough flexibility to the material not to restrict her shoulders, but the coat's design is very closed all around. This is great to keep the cold out but might cause some rubbing/chafing for some sensitive dogs if worn on off-leash, long hikes over consecutive days. It is still a soft coat, not something with rough edges, so this shouldn't be an issue for 99% of the dogs, but it's something to consider if you think your dog is in that 1%.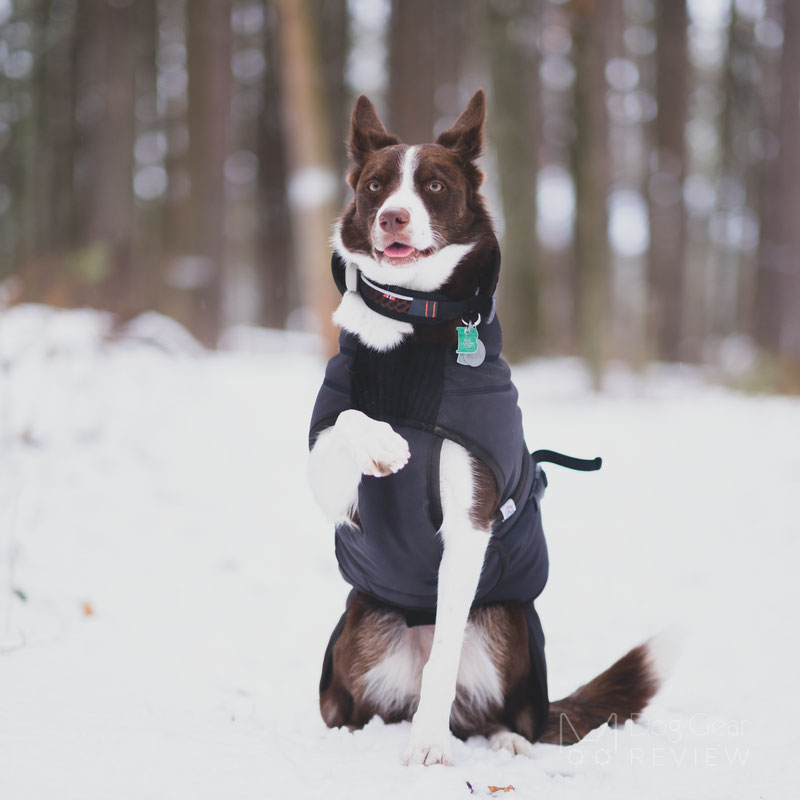 Where to buy
You can buy all their products on their website. The coat comes in many sizes, and they even have special sizing for Dachshunds and terriers(with an opening for the tail)!
This coat currently comes in solid black and solid red, and also in blue/purple/grey with paw patterns. All variants have black wool lining and black details.
If you like the design, but this coat isn't exactly what you are looking for, Canelana has two other versions of the same design. The Lana Wool Coat is made from a thinner layer of wool, while the Ambassador Coat a thick wool coat, both is without the softshell outer layer.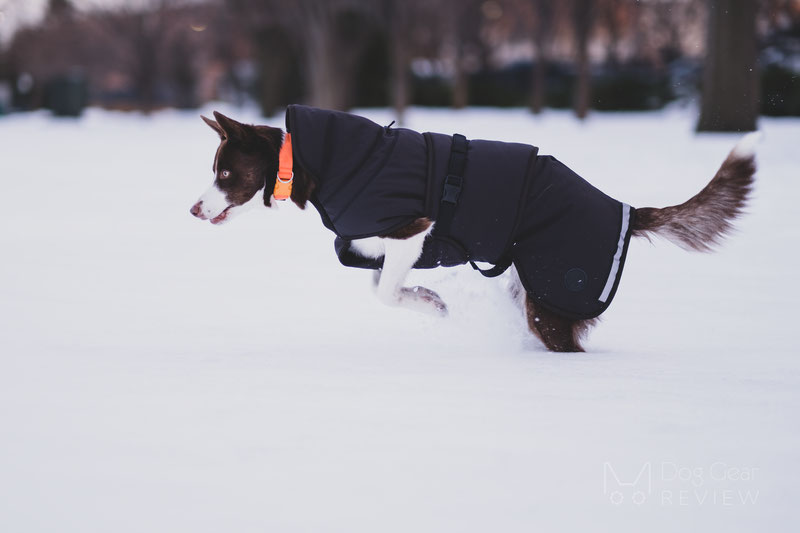 Mia's measurements
Many of you asked Mia's measurements to understand the different products' fit better. Your best chance of finding an excellent fitting gear is always to measure (and remeasure) your dog. Even we grab the measuring tape before getting a new product - even though we tested a lot of them and have a good feeling of her size by now.
I share her measurements below, but don't go ahead and order the same size just because your dog is similar to Mia ;)
• Shoulder height: 19.5 inches (50 cm)
• Weight: 37-44 pounds (17-20 kg)
• Widest chest circumference (where the most harness would have the chest strap): 25-26 inches (63-65 cm)
• Neck circumference for collars: 15-16 inches (38-40 cm)
• Back lengths: 22 inches (56 cm)