About Canelana
Canelana is a Norwegian company that specializes in producing premium wool products for both humans and dogs. Their product range includes wool sweaters, jackets, mittens, and training vests for humans, as well as wool dog coats and beds.
At Canelana, quality is of utmost importance. All of their products are crafted using only the finest wool materials, ensuring durability, comfort, and longevity. Moreover, their commitment to ethical and sustainable wool production makes them a responsible and conscious choice for customers who care about the environment.
Canelana's dedication to customer satisfaction is evident through their exceptional customer support, which makes working with them a great experience. They ship to many countries so don't hesitate to contact them for shipping options and costs.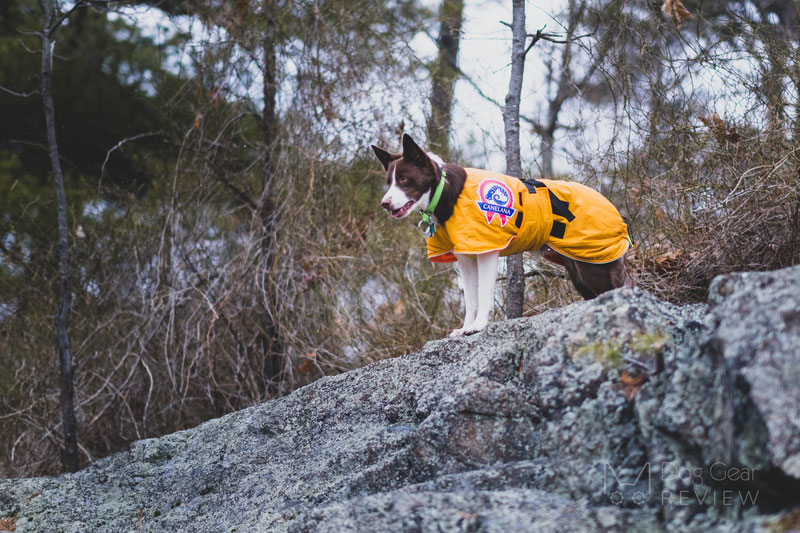 The details of the Canelana Sporting Coat
The Canelana Sporting Coat is a new model based on their Racing Coat design, which also had a flap protecting the genitalia in extreme cold. The Sporting Coat is made with active dogs in mind who need a little extra protection. It is a lightweight coat that provides excellent coverage of the main muscle groups.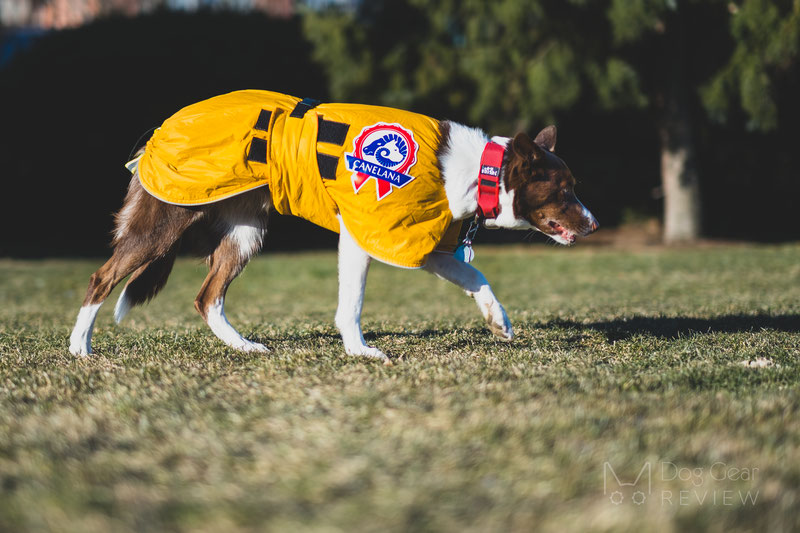 The coat's outer layer is made of a wind-proof and water-repellant light ripstop material, while the inside layer is a breathable mesh. Between these two layers, there is a merino wool insulation layer.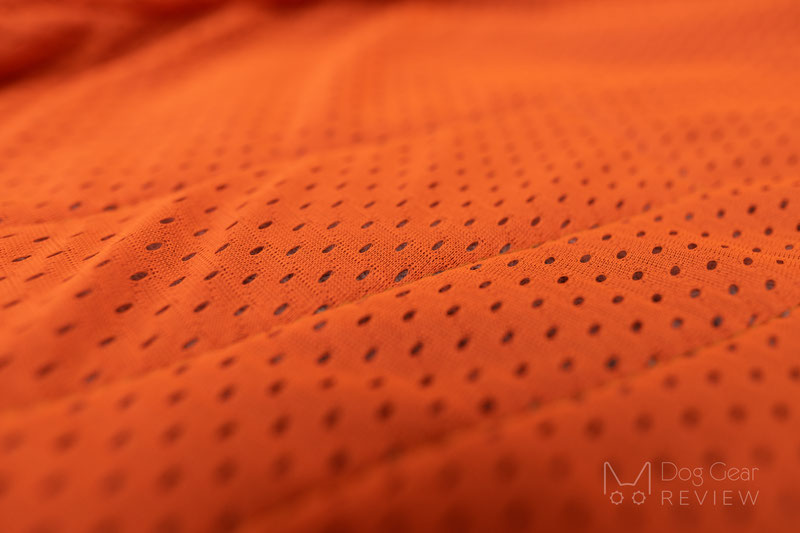 The inside of the coat has pockets for inserting heat bags over the shoulders and back/hip of dogs that need extra warmth over the joints. This was originally added for long-distance sleddogs who benefit from warmth treatment while resting at checkpoints.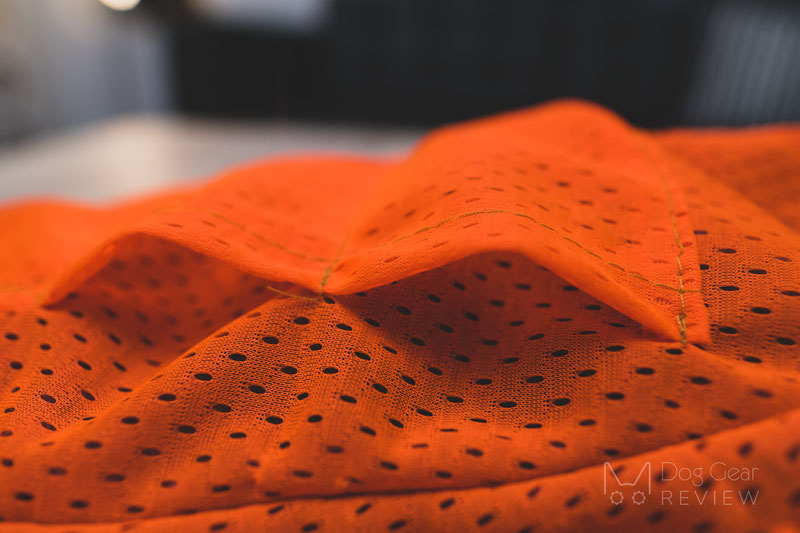 There are broad velcro panels to make it easy to fit the coat both for skinnier and deeper chested dogs.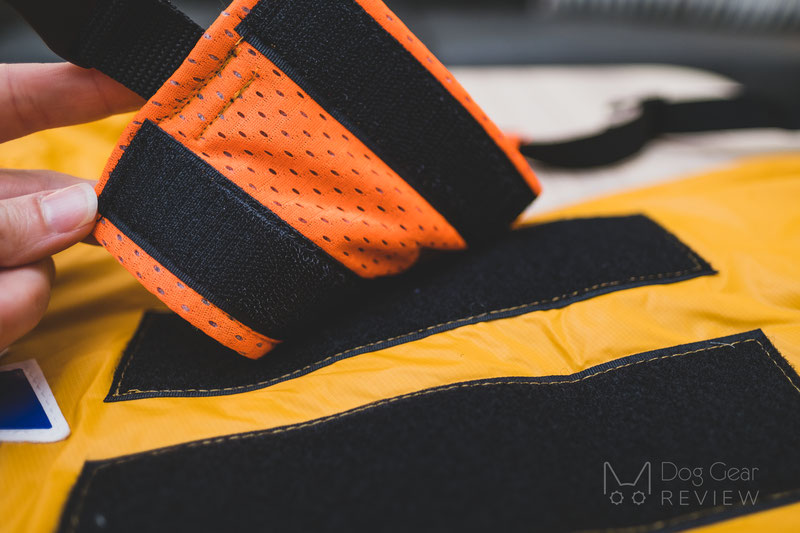 The front of the coat is a looser design to provide plenty of room for shoulder movement.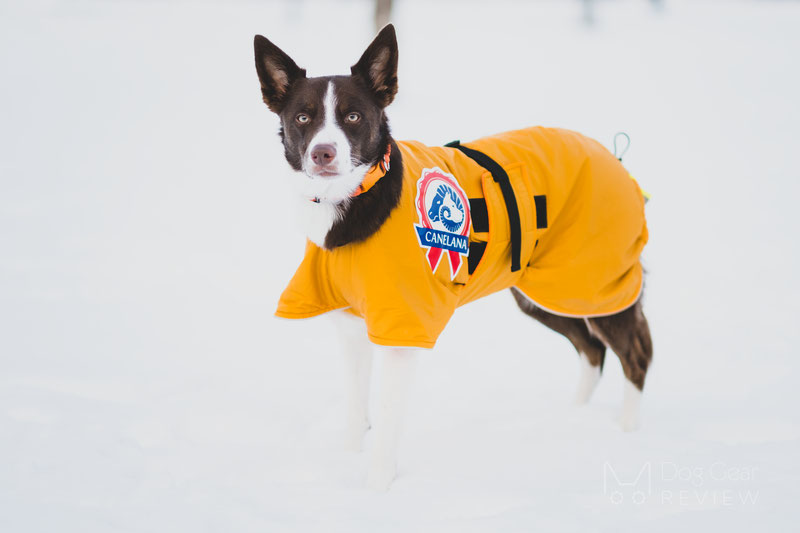 The coat's end is adjustable with an elastic loop to nicely cover the hips and back legs. There is also a big loop (the bright yellow on the photos) for the pulling line to go through. This is not a leash attachment point; it's only there to hold the coat down if the dog is wearing a pulling harness under it.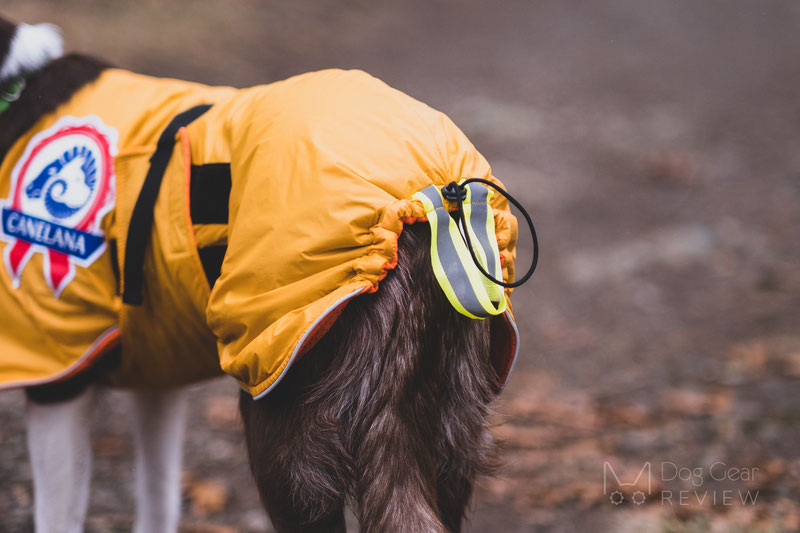 Canelana Sporting Coat Review
The Sporting coat is a lightweight, packable coat on the thinner side that still insulates surprisingly well. It's quick and easy to put on the dog with the velcros and the one buckle on top, and it stays in place perfectly.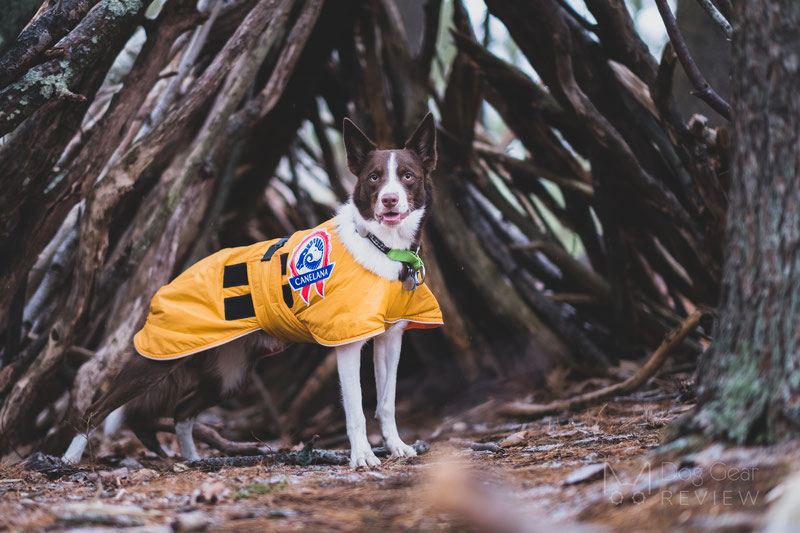 While the extra room on the front generally provides plenty of room for the shoulders, they tend to pull up the coat slightly when the dog runs. Since the jacket isn't attached to the back legs and it isn't fixed in any way, I wouldn't say it restricts the movement. The coat can easily slide forward when more room is needed for the shoulders, so while this might look weird on some photos, I wouldn't worry about it.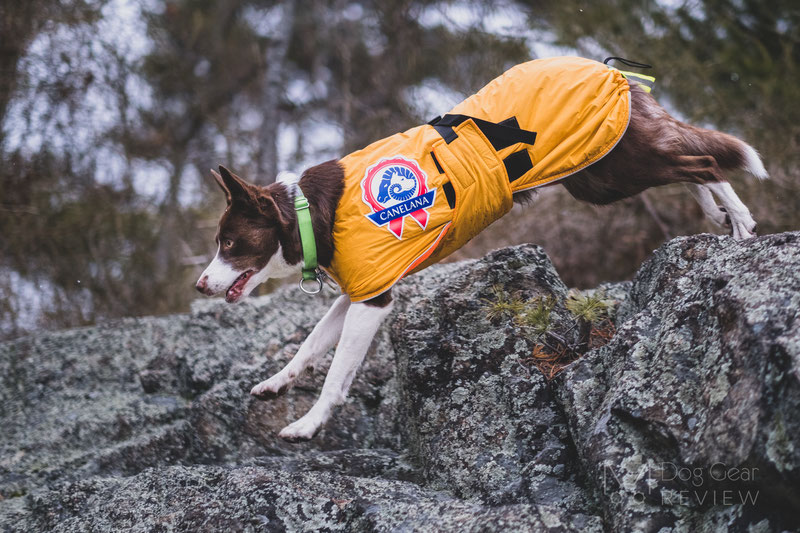 I really liked the all-around coverage that this jacket provides. It protects the dog's front and chest area very nicely from the cold and wind, where they usually lose the most heat.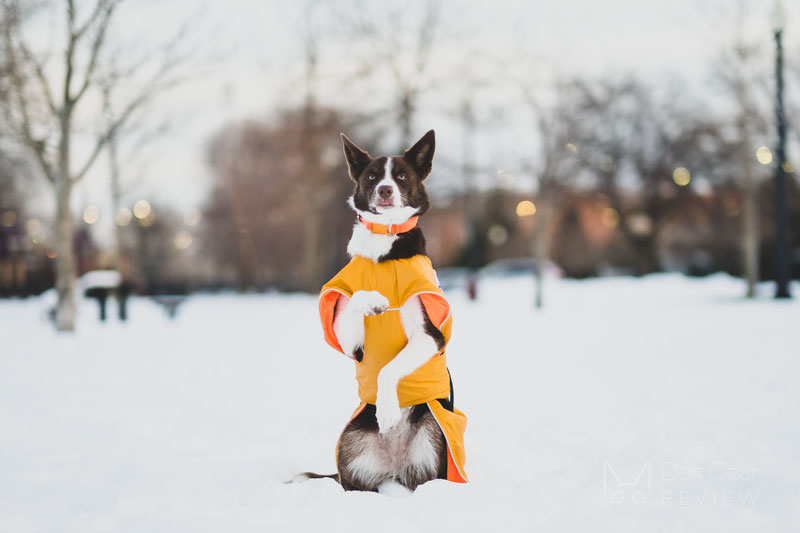 The only significant problem we run into was the durability of the ripstop outer layer. We wanted to use this coat for off-leash hikes, but the outer material cannot seem to handle bushes and thorns. It is still ripstop, so once the material is damaged, it doesn't suppose to continue to rip through the coat, but we got a few small holes and ripped sections on the fabric after our first hour in the forest. We have only had it on Mia for that one hour in the woods and used it for on-leash walks after that. I also have to say that Mia tends to run around at full speed, so if your dog is more chill, it might work for you just keep in mind that this is not the most resistant material.
We talked to Canelana about this problem, and they are currently exploring some options with their manufacturer to improve the strengths of the outer layer in the future.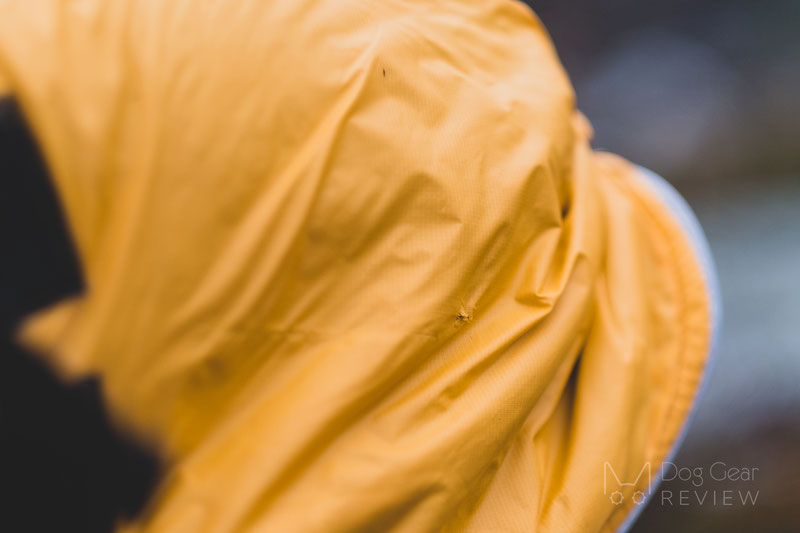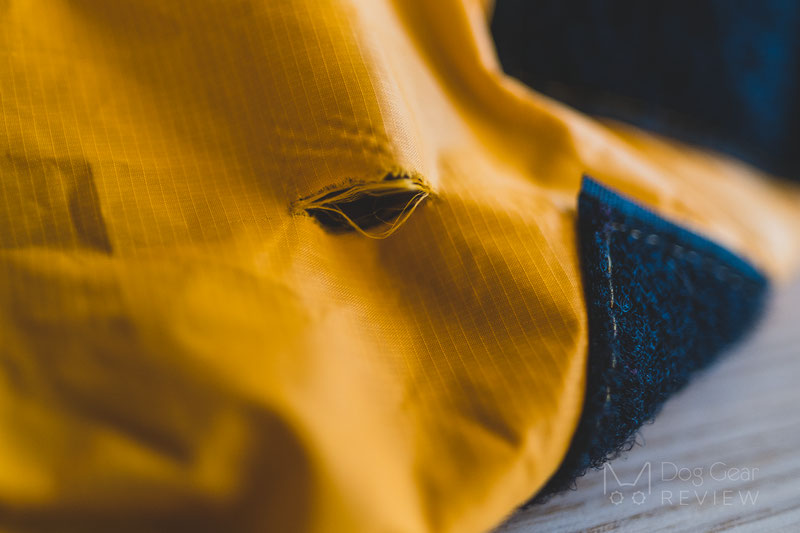 The water-repellent layer protects from some rain, but I wouldn't say that this jacket is ideal for rainy days. If the dog goes through mud and puddles, the mesh inner layer will start to soak through here and there. The inner wool layer also absorbs some of that muddy water after a while and the jacket gets heavier after some time of trotting around. Wool still insulates well even when wet, so it's not that you shouldn't use it in the rain, but I personally prefer something for a rainy day that doesn't absorb the water so I don't have to worry much about it and it's easier to keep clean/dry.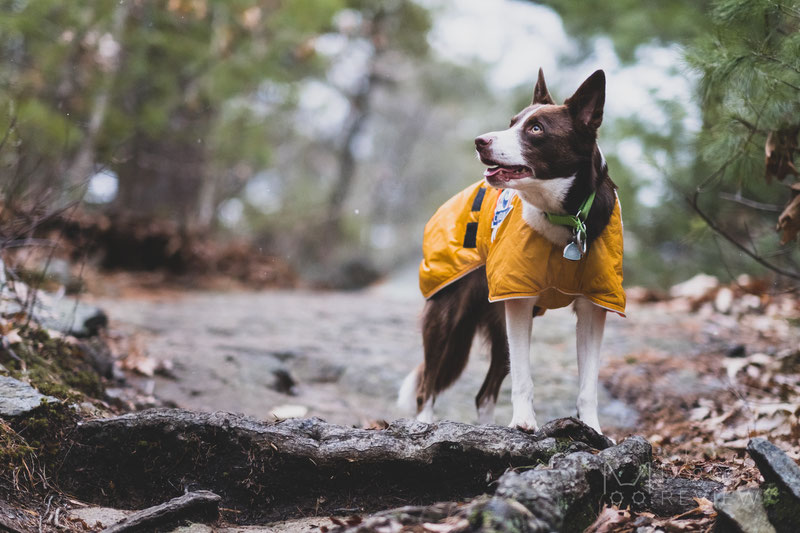 Another note is that the lightweight, thin material also means that this is not a "rigid" coat. It lays nice and flat once on the dog, but when you take it off, the velcro tends to stick back to the mesh material or the other velcro, so unless you neatly pack it, you will always have a bundle of coat next time you want to grab it.
Checking Dog Coats with a Thermal Camera
We wrote an article checking 12 coats (including this one) with a thermal camera to see the insulation capabilities of different materials and coat designs. The Sporting Coat insulated surprisingly well compared to how thin it is, which I believe is due to the inner wool layer.
If you want to learn more about our findings, click here to read the article!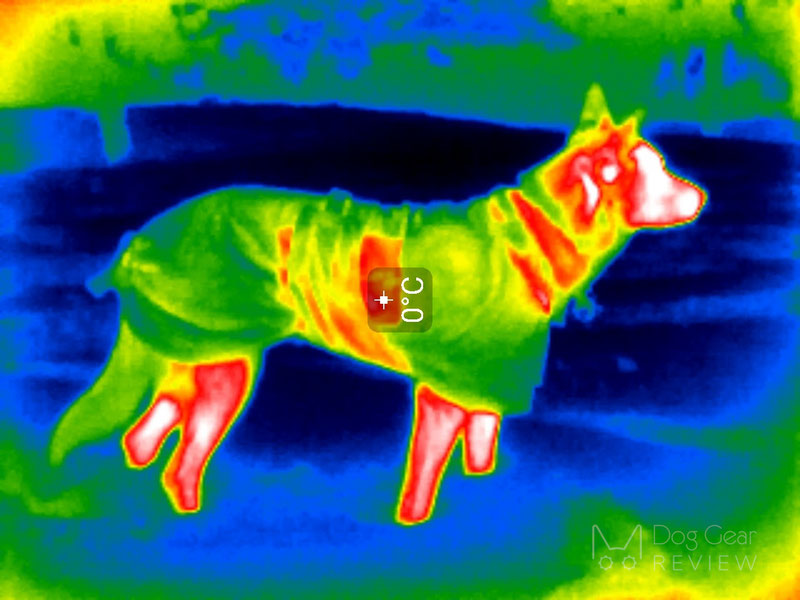 Thoughts on Wool
As we tested Canelana's wool products, we also took the time to research the benefits and concerns associated with using wool in clothing. Wool is a renewable and biodegradable material, making it a great option for reducing waste from synthetic materials in the fashion industry.
When purchasing wool products, it is important to consider how the wool is sourced and the treatment of the animals. Canelana produces all of its products in Poland, sourcing wool from various countries, including Germany, Poland, Estonia, New Zealand, and South America. These countries adhere to the EU's strict regulations on all aspects of production, including animal welfare.
It's worth noting that mulesing, a controversial practice in which skin is removed from a sheep's hindquarters to prevent flystrike, is only prevalent in Australia, and Canelana does not source wool from such a place.
While we acknowledge that the reality of animal farms may not align with the idealized image of happy sheep, using synthetic materials and contributing to microplastic pollution is not an optimal solution either. Ultimately, making ethical and environmentally responsible purchasing decisions requires taking all aspects of a product into account.
We aim to provide you with all the relevant information on Canelana's products so that you can make an informed decision based on the facts at hand.
Here is some additional information about the dyeing process from Canelana's supplier:
"We buy wool after washing or sweating, which we further wash and dye in the process. The company that performs these services has certificates and also uses appropriate agents and dyes that are friendly to the environment and to humans because of the direct contact of woolen products with human skin, but also in contact with animals. Production takes place at two carding departments where the woolen tape is prepared and knitting where the material is produced. These processes are mechanical, and no chemicals are used. Only the stabilization process in the final stage requires gluing the fabric "stiffening" with textile glue. The dyeing process is absolutely non-toxic, and the dyes used by the service provider do not contain harmful substances."
Review Summary
The Sporting Coat is a thin but warm coat that keeps the dog cozy during adventures. It is not their thickest or warmest coat, and it isn't completely waterproof either. Still, it's a versatile coat that can come in handy during training, hiking, working, and many other activities. It was designed to add a little extra protection for healthy and active dogs when it is just as important not to make them too hot as keeping their muscles warm to prevent injuries.
The problems with the durability of the outer layers might be a dealbreaker for some, so I hope they will soon upgrade it. I sure would grab this coat more often if I wouldn't need to worry about Mia ruining the coat while running off-leash. Being lightweight and packable is still a big advantage in my mind - I can just have it in the backpack in case the weather turns, or we are taking a longer break on a cold day.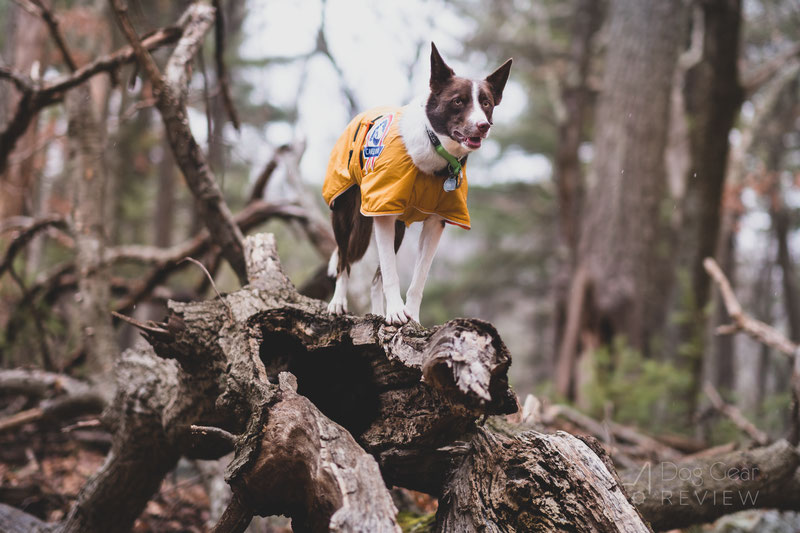 Where to buy
You can buy all their products on their website. The coat comes in eight sizes and two colors.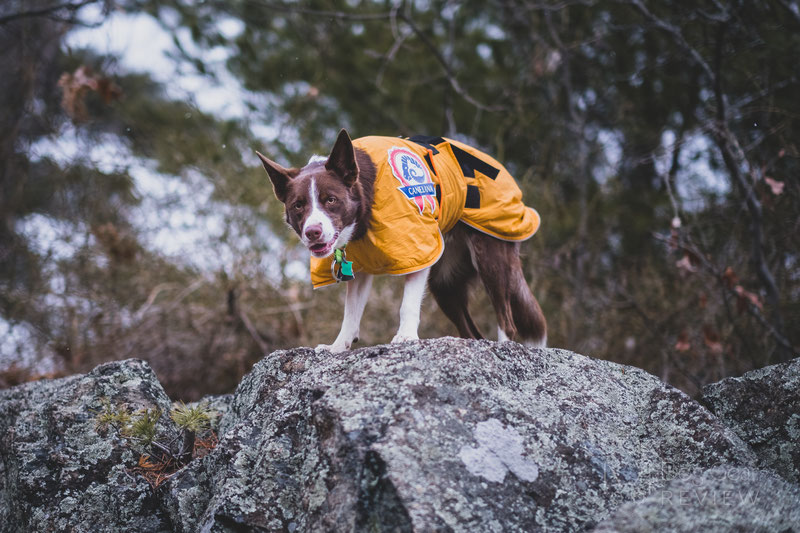 Mia's measurements
Many of you asked Mia's measurements to understand the different products' fit better. Your best chance of finding an excellent fitting gear is always to measure (and remeasure) your dog. Even we grab the measuring tape before getting a new product - even though we tested a lot of them and have a good feeling of her size by now.
I share her measurements below, but don't go ahead and order the same size just because your dog is similar to Mia ;)
Shoulder height: 19.5 inches (50 cm)

Weight: 37-44 pounds (17-20 kg)

Widest chest circumference (where the most harness would have the chest strap): 25-26 inches (63-65 cm)

Neck circumference for collars: 15-16 inches (38-40 cm)

Back lengths: 22 inches (56 cm)