Canelana is a Norwegian company specializing in producing premium wool products for humans and dogs. Their product range includes wool sweaters, jackets, and mittens for humans, as well as wool dog coats and beds. Canelana focuses on quality, ensuring durability, comfort, and longevity. Moreover, their commitment to ethical and sustainable wool production makes them a responsible and conscious choice.
Canelana's dedication to customer satisfaction is evident through their exceptional customer support, which makes working with them a great experience. They ship to many countries, so don't hesitate to contact them for shipping options and costs.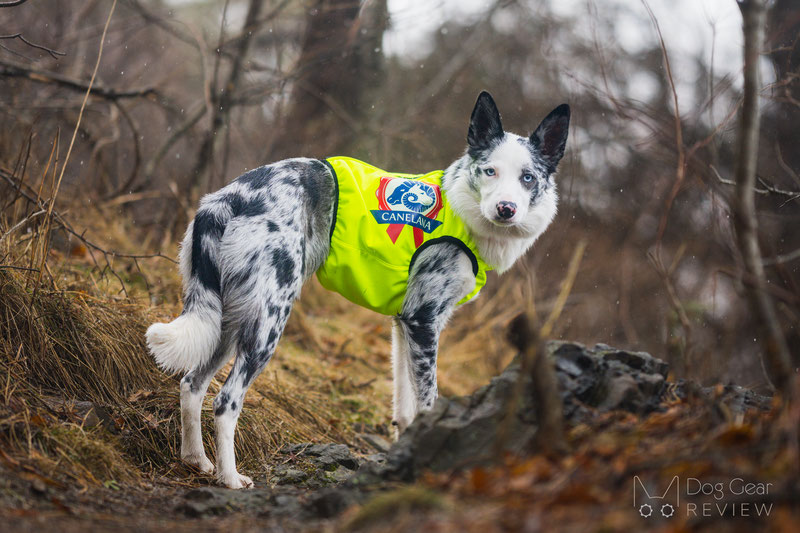 The details of the Canelana NEON Protection Vest
The Canelana NEON is a versatile vest designed for hunting dogs and other thin-coated dogs for cold days. It provides warmth, protection, and visibility without limiting movement, making it suitable for training, walks, and competitions; however, it's not recommended for running in deep snow.
The vest features a 3-layer sandwich model: the outer layer is made of a wind-proof and water-repelling soft shell, the inner lining is mesh, and the middle layer is a 100% wool felt layer.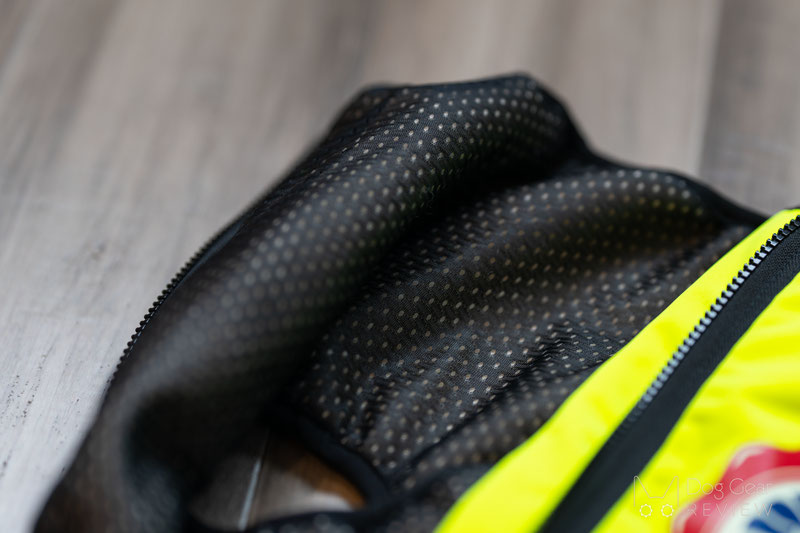 The vest has a big zipper running all the way on the back, making it easy to put on and take off after pulling the legs through the leg holes.
It comes in one color and five sizes ranging from 2xs to L.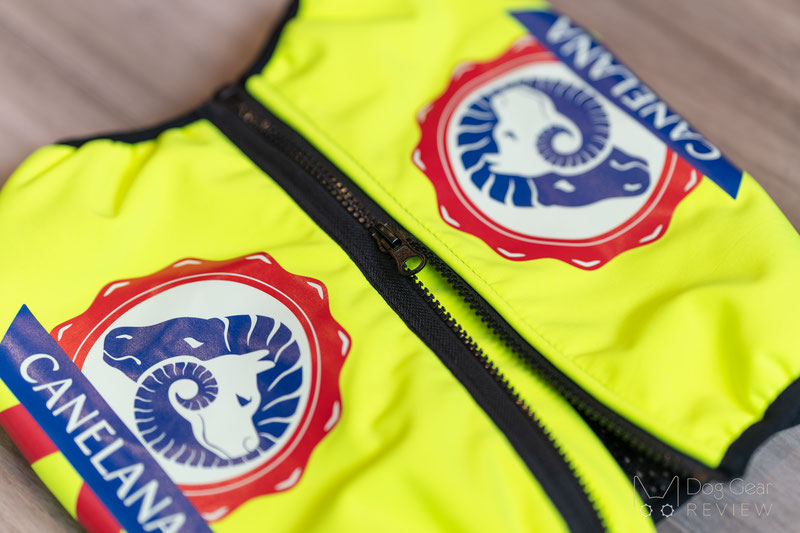 Canelana NEON Protection Vest Review
The Canelana NEON Protection Vest is a soft, non-restrictive vest. It allows the dog to move freely even though it has a small shoulder hole since the coat and the material moves with the dog. This design helps to keep most of the front warm and protects the dog's chest and underside while running through bushes.
So far, the outer material handled Zulu's off-leash adventures without tears, and the mud was easy to wipe off from the underside. However, the inside fabric and the wool would soak in water if the dog runs through puddles or is outside in heavy rain for extended periods. While the insulation properties of the wool material still work well even when wet, the coat can drip at home and takes some time to dry.
If you require a waterproof option, Canelana offers various coat designs for different weather conditions.
The vest easily handled some rain during our walks. It kept Zu dry and was the perfect layer for active outings when she needed a little extra protection but not a full winter coat. The vest's puffy coat-like structure also creates insulating air layer between the materials that helps to add warmth without being heavy.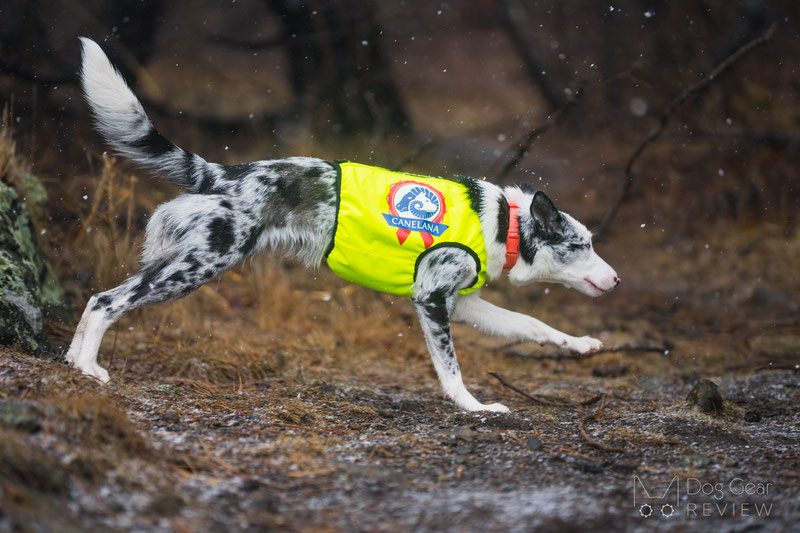 Putting both legs through, then pulling up the vest around the body and zipping it on the back might be tricky if you have a dog who cannot stay still for the process. The big zipper makes this process as easy as possible, and the extra fold under it prevents the dog's hair from getting stuck in it even if they move around.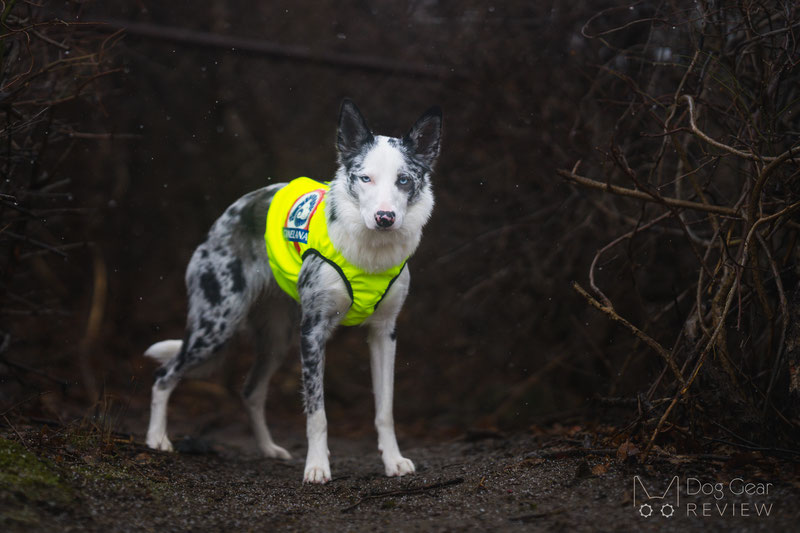 I was surprised that the Medium size fit Zulu since vests like this don't leave much room for individual fit - it's always a hit or miss - and it only came in 5 sizes.
Zulu has a deep chest, small neck, and narrow body, which makes her hard to fit in most harnesses or vests. Still, this vest covered her core well without being tight, fit around her neck, and the narrowing design between her front legs prevented discomfort or chafing on the inside of the legs.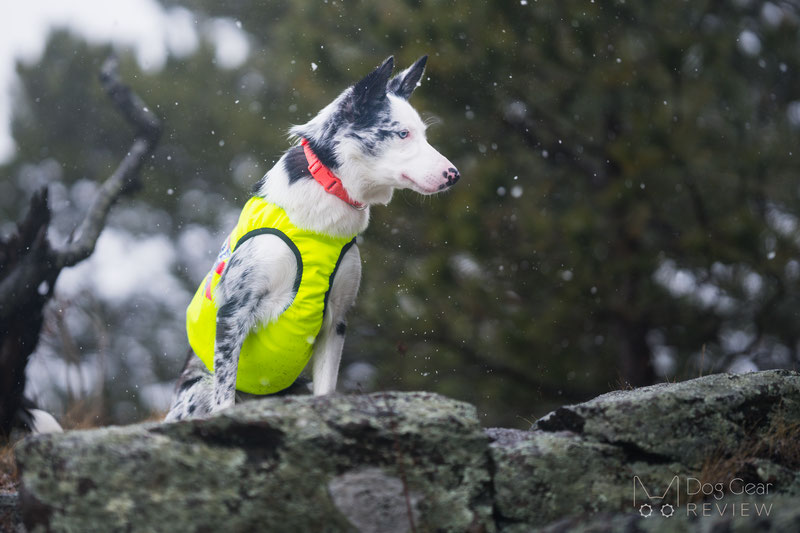 Thoughts on Wool
As we tested Canelana's wool products, we also took the time to research the benefits and concerns associated with using wool in clothing. Wool is a renewable and biodegradable material, making it a great option for reducing waste from synthetic materials in the fashion industry.
When purchasing wool products, it is important to consider how the wool is sourced and the treatment of the animals. Canelana produces all of its products in Poland, sourcing wool from various countries, including Germany, Poland, Estonia, New Zealand, and South America. These countries adhere to the EU's strict regulations on all aspects of production, including animal welfare.
It's worth noting that mulesing, a controversial practice in which skin is removed from a sheep's hindquarters to prevent flystrike, is only prevalent in Australia, and Canelana does not source wool from such a place.
While we acknowledge that the reality of animal farms may not align with the idealized image of happy sheep, using synthetic materials and contributing to microplastic pollution is not an optimal solution either. Ultimately, making ethical and environmentally responsible purchasing decisions requires taking all aspects of a product into account.
We aim to provide you with all the relevant information on Canelana's products so that you can make an informed decision based on the facts at hand.
Here is some additional information about the dyeing process from Canelana's supplier:
"We buy wool after washing or sweating, which we further wash and dye in the process. The company that performs these services has certificates and also uses appropriate agents and dyes that are friendly to the environment and to humans because of the direct contact of woolen products with human skin, but also in contact with animals. Production takes place at two carding departments where the woolen tape is prepared and knitting where the material is produced. These processes are mechanical, and no chemicals are used. Only the stabilization process in the final stage requires gluing the fabric "stiffening" with textile glue. The dyeing process is absolutely non-toxic, and the dyes used by the service provider do not contain harmful substances."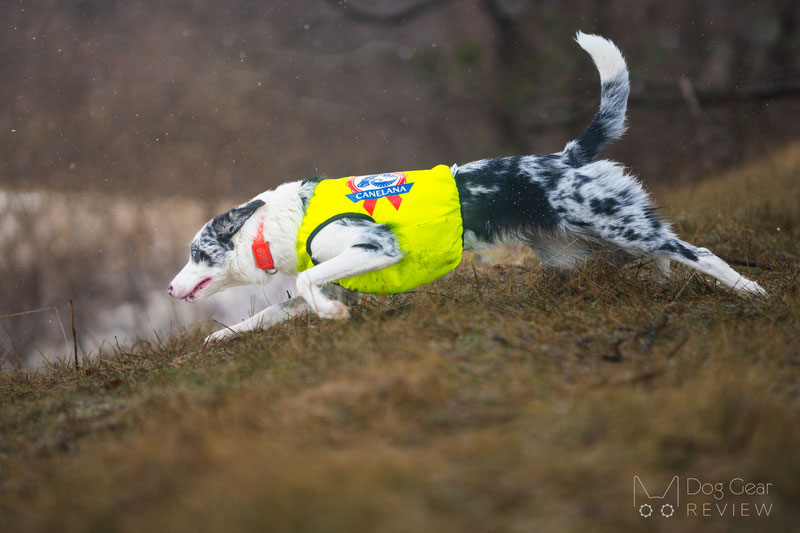 Review Summary
The Canelana NEON vest provides warmth and protection for dogs during cold weather without limiting their movement. It's not recommended for prolonged exposure to rain or deep snow but can be the perfect layer for active dogs on any other day.
Its visibility is unbeatable, which comes in handy on dark days or when your dog is in the distance.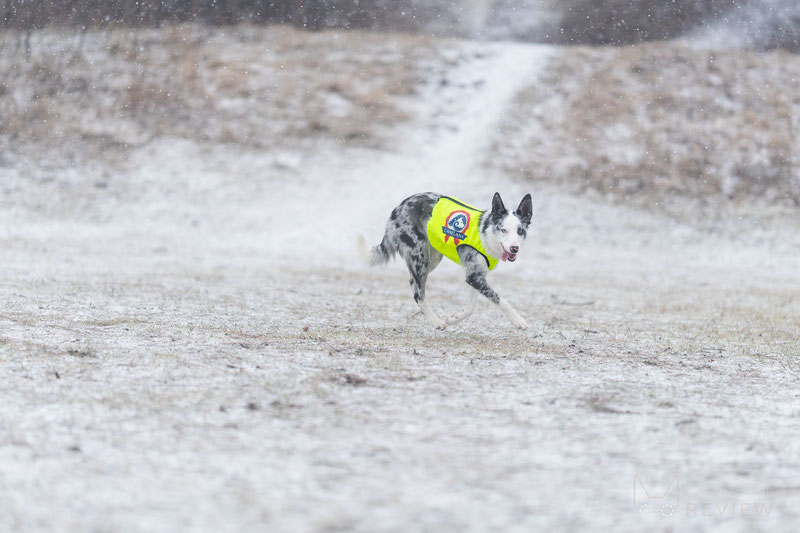 Where to buy
You can buy Canelana's products on their website. They ship to many countries, so don't hesitate to contact them for shipping options and costs.
Zulu's measurements when using this jacket
Many of you asked for the dogs's measurements in reviews to better understand the different products' fit. I share Zulu's measurements below, but always double-check your pup's measurements before ordering!
• Shoulder height: 18 inches (46 cm)
• Weight: 28 pounds (12.5 kg)
• Widest chest circumference: 24 inches (60 cm)
• Neck circumference for collars: 13 inches (33 cm)
• Back lengths: 18 inches (45 cm)