Canelana is a Norwegian company that specializes in producing premium wool products for both humans and dogs. Their product range includes wool sweaters, jackets, mittens, and training vests for humans, as well as wool dog coats and beds.
At Canelana, quality is of utmost importance. All of their products are crafted using only the finest wool materials, ensuring durability, comfort, and longevity. Moreover, their commitment to ethical and sustainable wool production makes them a responsible and conscious choice for customers who care about the environment.
Canelana's dedication to customer satisfaction is evident through its exceptional customer support, which makes working with them a great experience. They ship to most countries so don't hesitate to contact them for shipping options and costs.
The details of the Canelana Canelana Cover Wind/Rain Coat
The Canelana Cover is designed to protect dogs from windy and rainy conditions during outdoor activities. It is made of a lightweight, waterproof, and breathable material that allows moisture to escape while keeping the dog dry and warm.
The Cover coat's design is identical to Canelana's Touring Coat that we have reviewed before. The difference is that the Touring Coat also has a wool lining to add extra warmth while the Cover is a lighter version.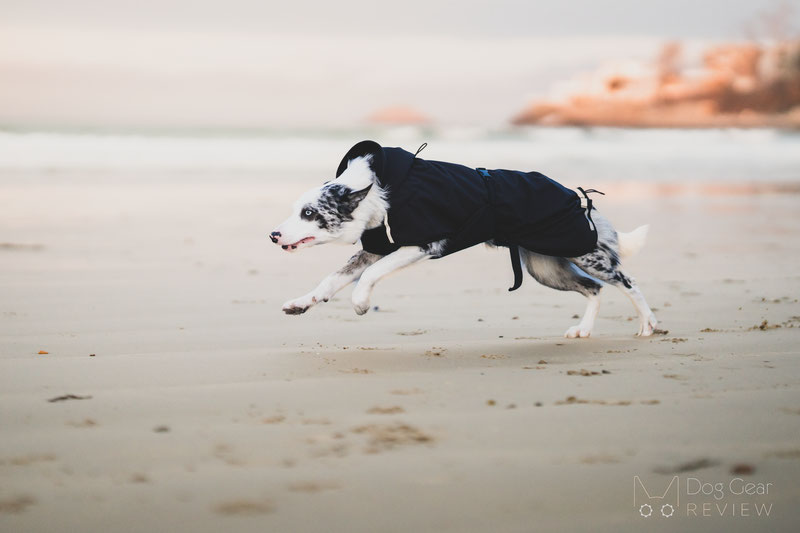 The coat features adjustable elastic straps around the chest/stomach while it also has two additional adjustment points around the neck and at the very end to create a snug fit. The back and front of the coat feature reflective details for added visibility in low-light conditions.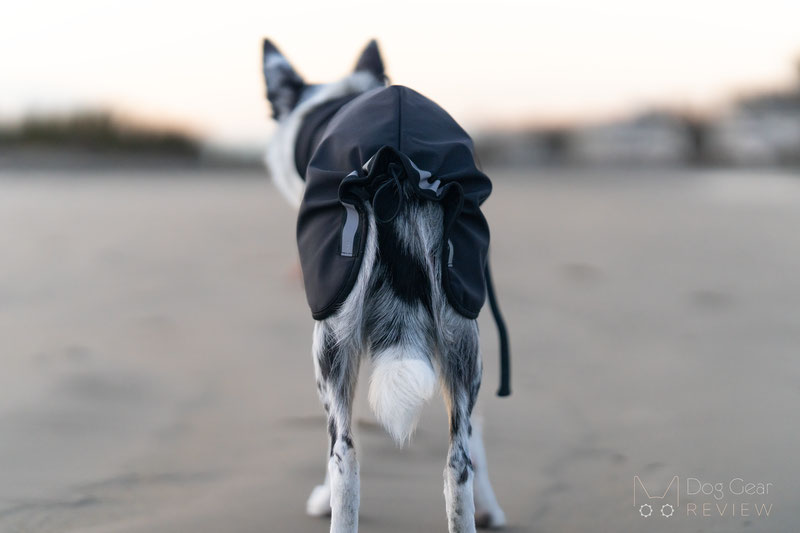 The elastic strap is conveniently secured around the dog's body with a plastic buckle, while an additional elastic strap on the underside of the coat keeps it in place even during the most rigorous outdoor activities. The coat is easy to put on and take off by pulling it over the dog's head and attaching that one buckle.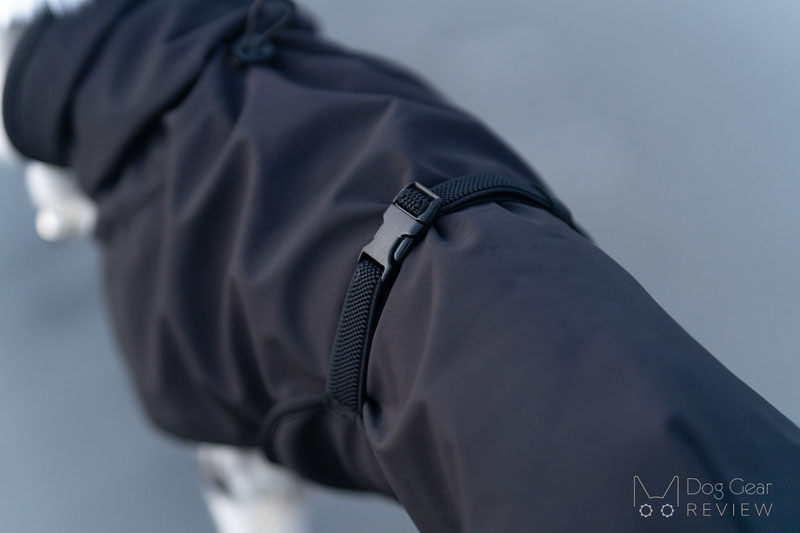 Canelana Cover Coat Review
The Cover coat by Canelana is a great solution for keeping dogs protected during chilly spring or autumn walks. Unlike traditional dog coats that can be too warm with a wool or fleece lining, the Cover coat is designed to provide snug-fitting coverage without any added bulk or fluff. This lightweight coat is waterproof and windproof, ensuring the dog stays dry and comfortable even during rainy walks.
For those looking for a multi-functional solution, the Cover coat can be paired with one of Canelana's wool coats as a base layer to add extra warmth. This unique layering system ensures that your dog stays warm and cozy even on cold days.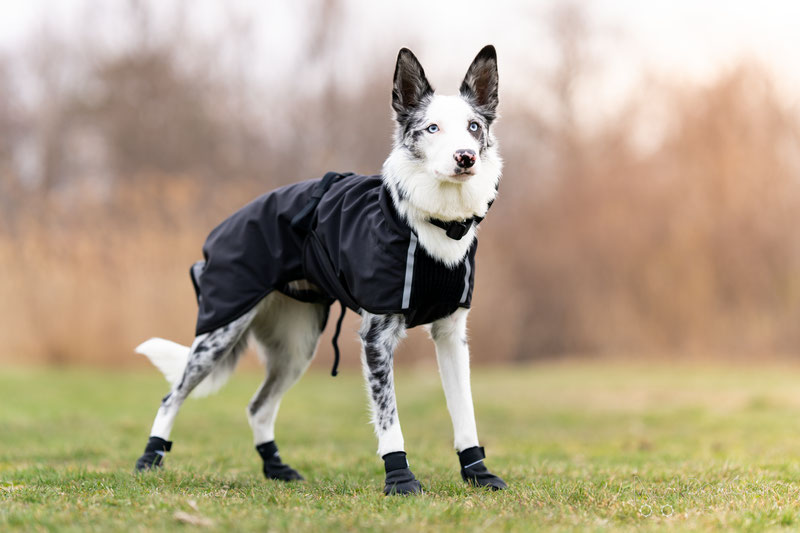 The Canelana Cover provides excellent protection against both rain and high winds. Thanks to its thoughtful design (with the additional elastic strap under the dog and the snug fit), the coat stays in place even during strong winds.
One of the key features of the Canelana Cover is the elastic strap located under the belly area. This strap helps to keep the back of the coat in place, even during the most intense winds. Additionally, the adjustment point at the end of the coat ensures that it provides snug coverage to keep the dog dry in the rain, while also protecting their hip area from cold winds that can be uncomfortable, especially for dogs with joint pain.
The Canelana Cover stays in place perfectly even when the dog is playing fetch and making sudden changes in direction without the addition of leg loops.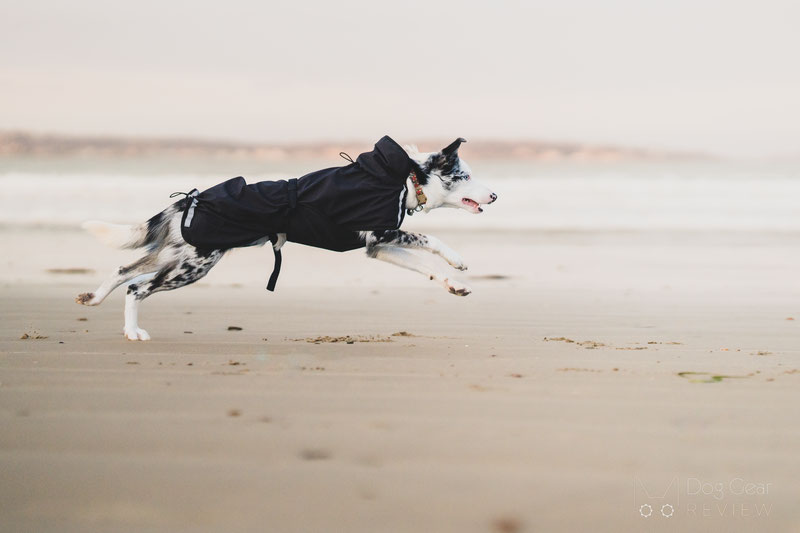 The straps are fairly long and since they are elastic, they tend to fly free after a while even if I try to tuck them away when putting in the coat. It is not a functional problem but it would give the coat a more streamlined look if the straps would come with a little velcro loop to hold the excess straps so they are not flopping around.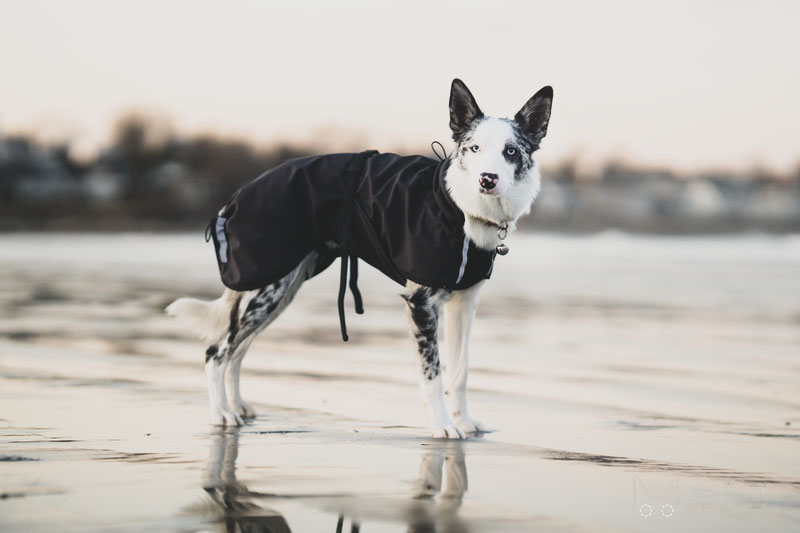 As with all Canelana coats (and most other coats) the Cover was also a bit too wide for Zu between the front legs. She is a very narrow dog so it is common for coats and vests to be too wide there. The Cover coat is made of soft materials so chafing on the inside of the front legs isn't really a concern and I haven't seen any problems on that front. That being said, if you have a dog with particularly sensitive skin, it's worth keeping this in mind.
Although the front of the coat covers the shoulder area, the section between the two reflective lines is made from elastic materials, which allows it to move with your dog's natural gait, rather than restricting their movement like a rigid harness might.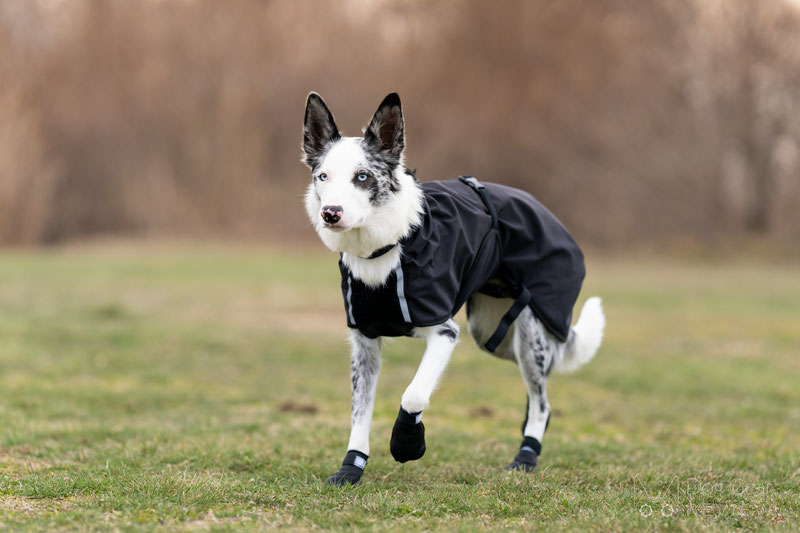 Sizing Tips
As a sizing reference, Zulu's coat is M, recommended for back lengths of 45 cm by Canelana's guide.
When ordering the Canelana Cover Coat, it is important to note that the sizing is based on the length from the neck to the middle of the incision back, not the full length of the coat. To ensure a proper fit, measure your dog's back length and refer to the sizing chart provided by Canelana.
If you are unsure about which size to choose, you can reach out to the Canelana team for assistance. In my case, I measured Zu's back length (42-44cm) and shared the measurement photos with the Canelana team, who recommended the M over the S/M size I was originally considering and the coat fits her perfectly!
As she grows over winter, it is getting a tad bit short so maybe she will outgrow it for the next season but it worked well for this one.
Another note on sizing: since it has a broad belly band and an elastic strap going across in front of the back legs, if your MALE dog is between sizes, you might want to consider going with the smaller size to make sure it fits comfortably. :) For females, it's better to be a little too long than too short.
Review Summary
The Canelana Cover is a great dog coat that fits really well and is tough enough to handle whatever the outdoors can throw at it. It's perfect for going out in bad weather and will keep your dog warm and dry. It's also great for active dogs on colder days because it provides some protection without making them too hot while they play.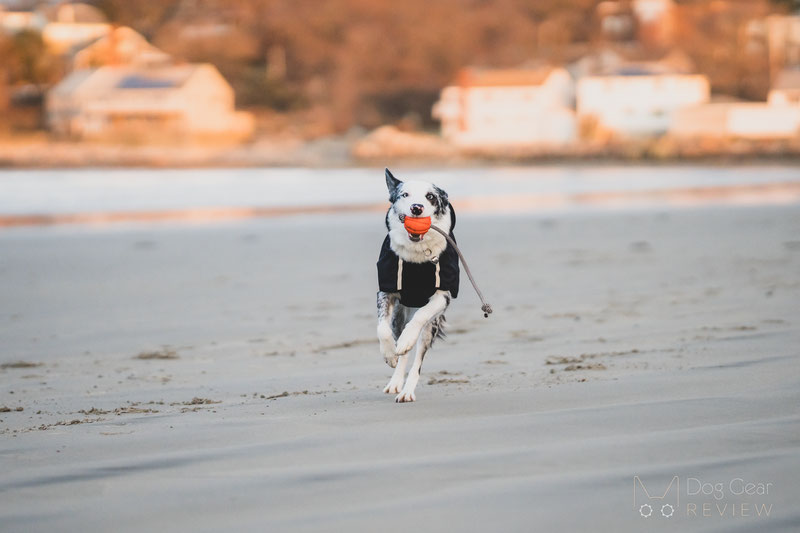 Where to buy
You can buy all their products on their website. The coat comes in many sizes, and they even have special sizing for Dachshunds and terriers(with an opening for the tail)! They ship to almost all countries for reasonable prices so don't hesitate to contact them!
This coat currently comes in solid black and red.
If you like the design, but this coat isn't exactly what you are looking for, Canelana has other versions of the same design. The Lana Wool Coat is made from a thin layer of wool, while the Ambassador Coat a thick wool coat, both is without the softshell outer layer. We already mentioned their Touring Coat and you can also check out the Thermo Coat which is a thicker, warmer version.
Zulu's measurements when using this jacket
Many of you asked for Zu's measurements in reviews to better understand the different products' fit. I share Zulu's measurements below, but always double-check your pup's measurements before ordering!
Shoulder height: 18 inches (46 cm)

Weight: 28 pounds (12.5 kg)

Widest chest circumference: 24 inches (60 cm)

Neck circumference for collars: 13 inches (33 cm)

Back lengths: 18 inches (45 cm)