Canelana is a Norwegian company that specializes in producing premium wool products for both humans and dogs. Their product range includes wool sweaters, jackets, mittens, and training vests for humans, as well as wool dog coats and beds.
At Canelana, quality is of utmost importance. All of their products are crafted using only the finest wool materials, ensuring durability, comfort, and longevity. Moreover, their commitment to ethical and sustainable wool production makes them a responsible and conscious choice for customers who care about the environment.
Canelana's dedication to customer satisfaction is evident through its exceptional customer support, which makes working with them a great experience. They ship to many countries so don't hesitate to contact them for shipping options and costs.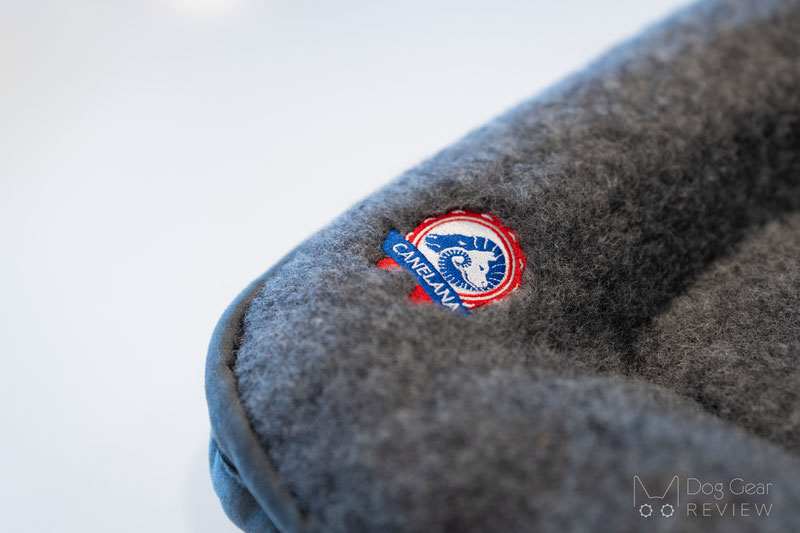 About the Canelana Dog Cage Wool Mattress
Canelana offers a few different beds for different scenarios. The Canelana Dog Wool Crate Mattress is designed to be used in crates - either at home or in the car. It is very similar to their Wool Bed with Raised Edges but this one is designed to fit standard cage measurements and the underside is a water-repellent textile.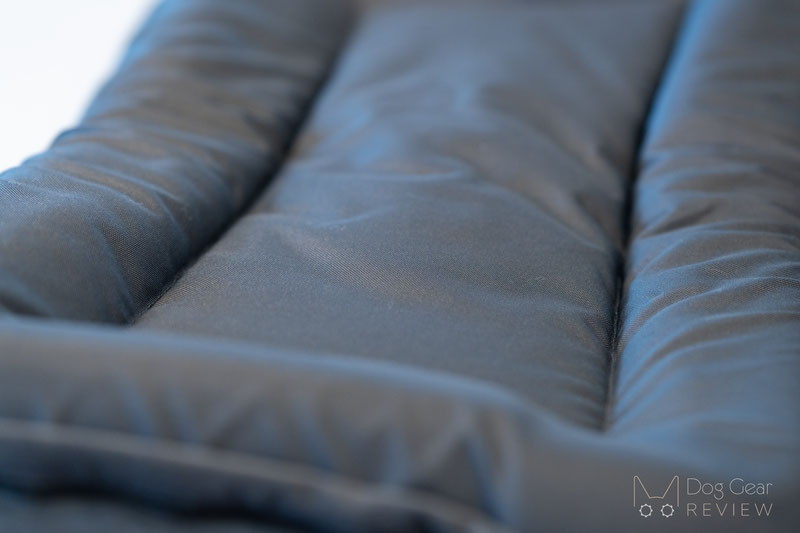 The Canelana dog cage 100% wool mattress is a high-quality bedding that features a merino wool top layer. The mattress is padded with foam and has lightly elevated edges for extra comfort.
The cover can be removed via a zipper for washing with wool detergent. The mattress comes in four sizes, ranging from 40/60 to 67/103 - where the numbers are referring to the length of the sides in cm.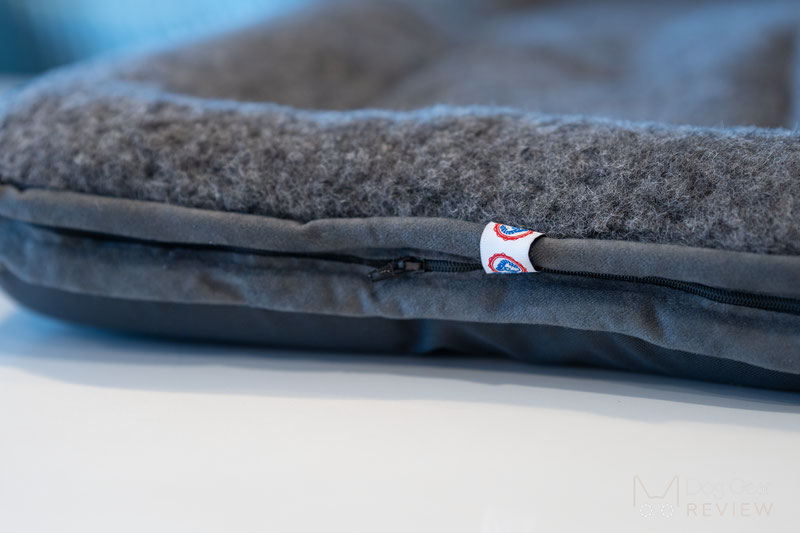 Thoughts on Wool
As we tested Canelana's wool products, we also took the time to research the benefits and concerns associated with using wool in clothing. Wool is a renewable and biodegradable material, making it a great option for reducing waste from synthetic materials in the fashion industry.
When purchasing wool products, it is important to consider how the wool is sourced and the treatment of the animals. Canelana produces all of its products in Poland, sourcing wool from various countries, including Germany, Poland, Estonia, New Zealand, and South America. These countries adhere to the EU's strict regulations on all aspects of production, including animal welfare.
It's worth noting that mulesing, a controversial practice in which skin is removed from a sheep's hindquarters to prevent flystrike, is only prevalent in Australia, and Canelana does not source wool from such a place.
While we acknowledge that the reality of animal farms may not align with the idealized image of happy sheep, using synthetic materials and contributing to microplastic pollution is not an optimal solution either. Ultimately, making ethical and environmentally responsible purchasing decisions requires taking all aspects of a product into account.
We aim to provide you with all the relevant information on Canelana's products so that you can make an informed decision based on the facts at hand.
Here is some additional information about the dyeing process from Canelana's supplier:
"We buy wool after washing or sweating, which we further wash and dye in the process. The company that performs these services has certificates and also uses appropriate agents and dyes that are friendly to the environment and to humans because of the direct contact of woolen products with human skin, but also in contact with animals. Production takes place at two carding departments where the woolen tape is prepared and knitting where the material is produced. These processes are mechanical, and no chemicals are used. Only the stabilization process in the final stage requires gluing the fabric "stiffening" with textile glue. The dyeing process is absolutely non-toxic, and the dyes used by the service provider do not contain harmful substances."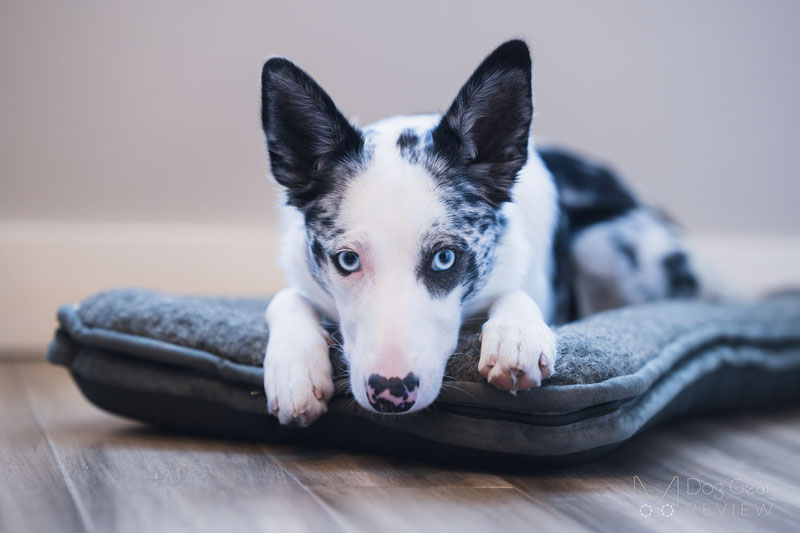 Canelana Dog Wool Crate Mattress Review
The Canelana dog cage mattress is a lightweight yet sturdy bed with elevated edges that provide a comfortable headrest for dogs without taking up too much space in the crate. The wool surface gives a good grip to the dogs to prevent sliding while in transit, although the itslef mattress may shift if it doesn't fit the crate perfectly due to the lack of non-slip features on the textile bottom.
Despite many people's concerns that wool is difficult to keep clean, the mattress is odor-resistant, and most of the dirt is easy to shake off. Wool is also non-static, making it easier to remove dog hair. However, there is no waterproof liner covering the inner foam, which may become a problem if it regularly gets wet unnoticed.
This mattress was sized to fit Zulu's car crate and we used it there over the winter. It dried surprisingly fast even when the wet and muddy Zulu was sleeping on it on our way home. The wool surface is great at pulling the moisture away from the surface and the great airflow within the material also helps with drying. These features also help to keep the dog dry and comfortable.
On warm days, the mattress basically dried (even the inner foam) by the time we arrived home, but on cold days, I made sure to remove it from the crate let it dry on room temperature.
Overall, the Canelana Dog Cage Mattress is a high-quality and comfortable option for dogs, with the wool surface providing many benefits while the raised edges provide a comfortable headrest.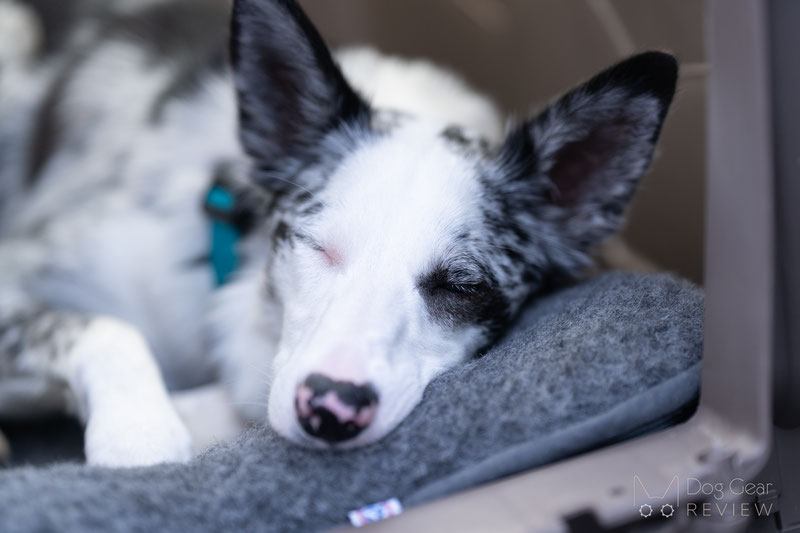 Where to buy?
You can buy all their products on their website. For reference, Zulu's mattress was size 45/75.