About Blue-9
The Blue-9 products are designed by dog people who know how big difference a well-designed product can make. The company is based in Iowa, and its focus is on creating excellent quality dog training accessories. Their first product was the today well-known Klimb platform, which was released in 2014.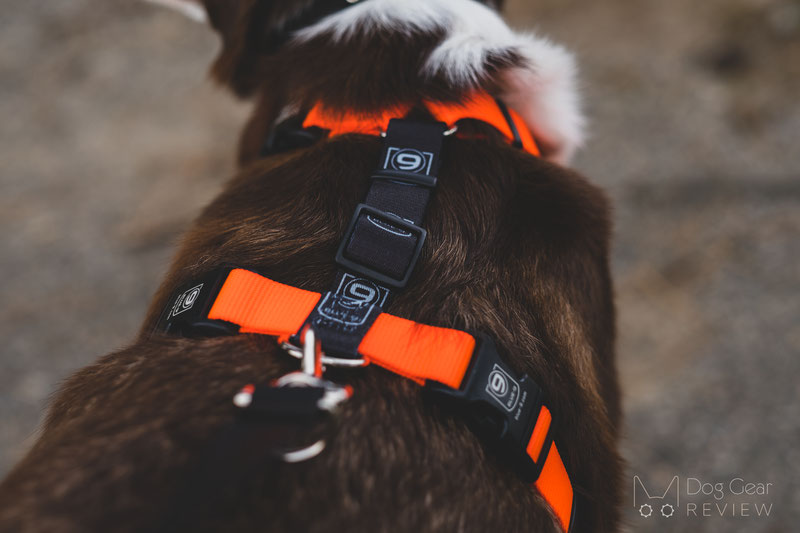 Using a No-Pull Harness
While there are many ways to teach a dog not to pull on a leash, if you decide to go with a no-pull harness, it's crucial to find one that's safe and effective. This harness's adjustability and H-design make it an excellent and unique no-pull option on the market!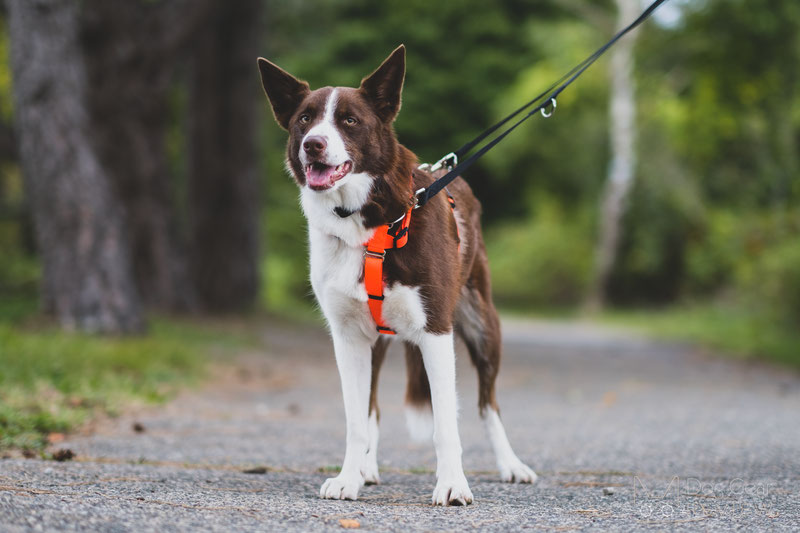 No-pull harnesses are not a bandage solution that's meant to be used on every outing for the rest of the dog's life as a solution. Most dogs soon learn to pull the same way with a front clip as they did before if training is not involved. They need to be taught what leash pressure means and what is expected from them.
We must keep in mind that any no-pull gear will only change the dog's leash manners if paired with training. The goal when using a tool is not to temporarily suppress a behavior but to teach a new one.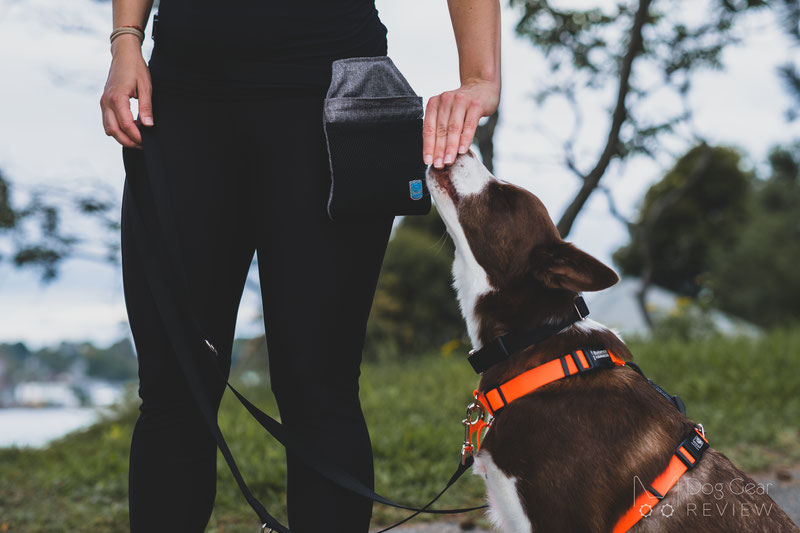 About the Blue-9 Balance Harness
The Balance harness is an all-strap harness; it doesn't have any padding or panels. Its most significant feature is the six adjustment points to create a perfect fit for every dog and every need! It can be adjusted more snugly behind the front legs, offering excellent control for no-pull training, while you can loosen up the strap between the front legs to push the girth straps farther back and create a truly free range of motion for long hikes.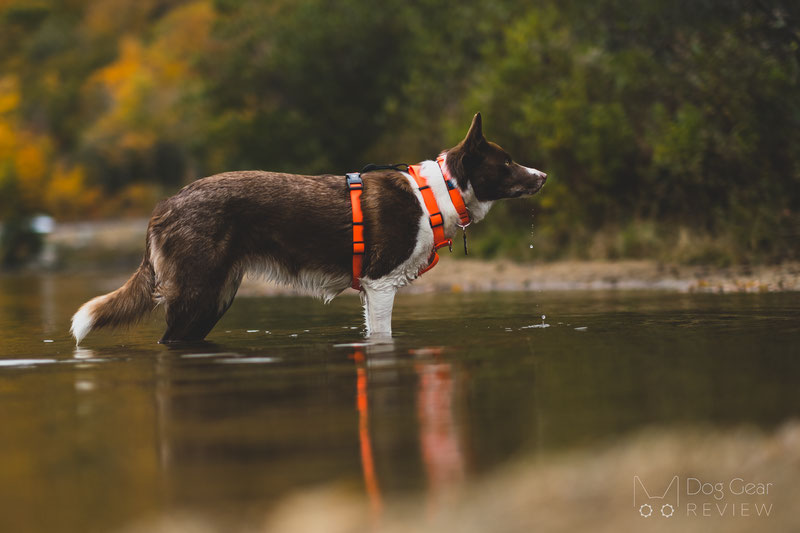 There are two leash attachment rings: one on the front and one on the back. Blue-9 also offers a double-ended Multi-Function Leash to use both rings at the same time for added security. The harness has two buckles on the chest straps and one on the left neck strap, making it a lot easier to put it on shy dogs.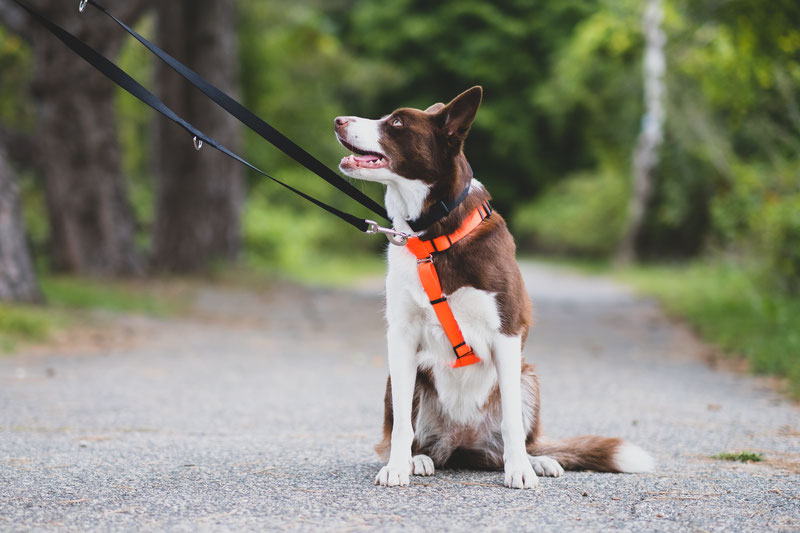 Another great option is their Tab Leash that can help with on-leash off-leash transitions. It is also beneficial to use during obedience training when you quickly want to switch between stay, recall, and position changes. It prevents the dog from getting tangled in a long leash while giving you an easy option for control if needed.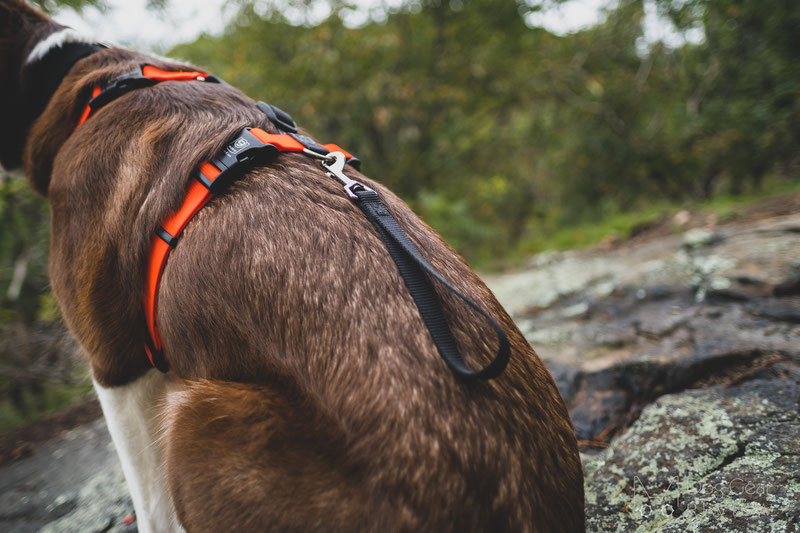 Blue-9 Balance Harness Review
Surprisingly, the Balance harness proved very controversial when I asked our followers about it. People either love or hate it, which surprised me since all the adjustment options should make it an excellent fit for almost all dogs. However, after reaching out and talking to them, I quickly realized the main issue: although having all the adjustment points is great, it also takes multiple rounds to set it up ideally.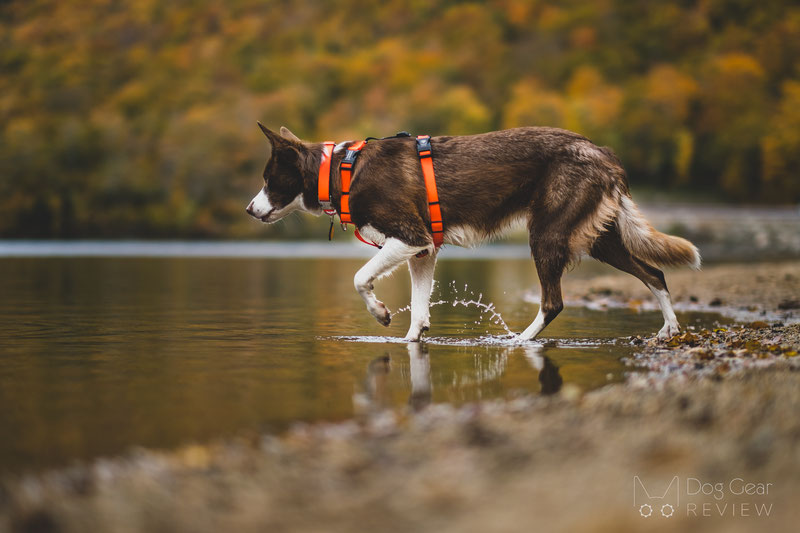 This harness is only made of straps which makes cleaning very easy, but on the other hand, it is not a rigid harness at all - which was a weird experience for some. This harness will rotate and somewhat slide up when pulled to the side or forward, which is expected since there is no wide padding between the legs or on the back that would prevent this. This solution leaves room for a wide adjustment range which is ideal for dogs who are still growing. Keeping the design simple is also ideal for hot days since the heat doesn't get stuck under it.
It stays in place when the dog is off-leash or pulls forward; however, less material always makes the harness less "stable."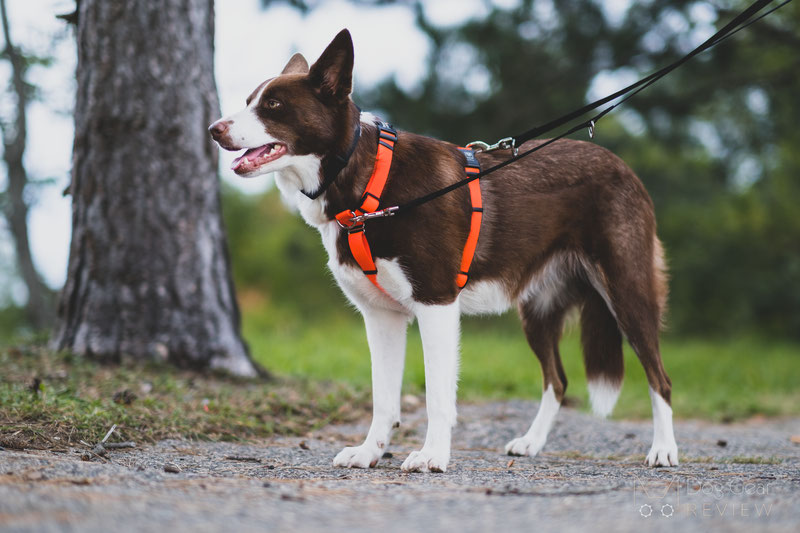 The other controversial feature is the angle of the neck strap. Most harnesses come with a Y-front these days, while the Balance harness has an H-design, making the fit different than most people are used to. The neck straps fit like a low-sitting collar, and there is no angle where the straps meet. The front ring is also attached above the meeting point of the straps, placing the pulling point higher than the chest bone.
The Balance harness had the highest turning point among all the harnesses with no-pull rings that we have tested so far. In practice, this creates a different pressure when the dog pulls. Harnesses with low-sitting no-pull rings tend to put the most pressure on one of the front legs dragging that to the side when the dog pulls. Here the neck section behaves more like a loose collar, although the other straps hold it in place so it cannot rotate as much as a collar would.
As a result, the dog is mainly turned by their lower neck - the pressure being on the opposite side of the neck than the leash. This protects the trachea on the front of the neck while also being more gentle on the front legs and their joints than the harnesses with low turning points. The strap between the front legs will still be pushed against the inside of a leg to stop the harness from rotating, but a lot less than it would with a lower sitting chest ring.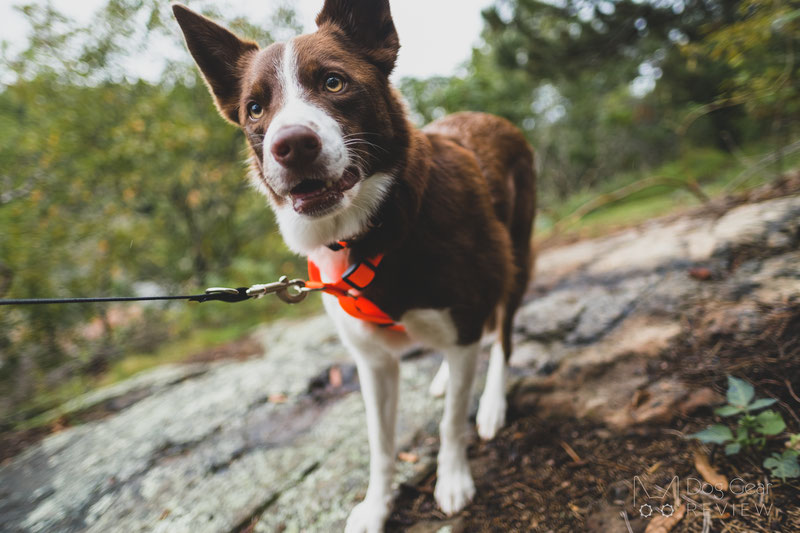 These design choices make the user experience very different than most people are used to - both with no-pull harnesses and other, more rigid, padded Y-harnesses. At the same time, this also gives you a lot more options to create an ideal fit! Even the length of the back section is adjustable to set the angle of the girth straps.
I can see how the Balance harness would be a nightmare to set up if this is someone's first harness and they are unsure how it should be positioned, how snug it should be, etc., but it can be a lifesaver for hard-to-fit dogs. After figuring out the ideal length of each strap (which will take multiple tries), I still changed them depending on whether we did a structured city walk using the front clip or if we went for a hike.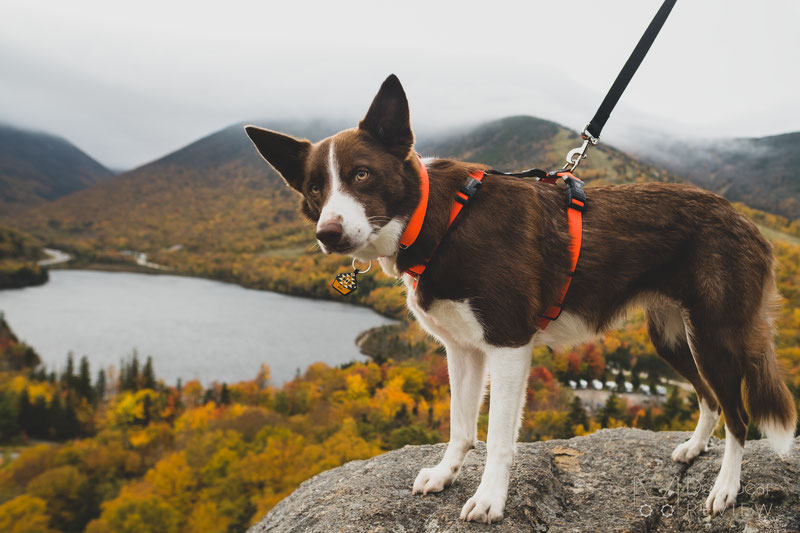 The Balance harness is a truly versatile harness that you can use for many different activities. In addition, its low profile helps avoid chafing, hotspots and makes cleaning very easy.
The only problem we run into is that the girth straps loosen up somewhat when Mia runs off-leash for a longer time. This seems to be her special skill because we had the same experience with many popular harnesses. When we head out for an adventure, I adjust it up so 2-3 fingers can fit under the girth strap, but after playing fetch or hiking off-leash for some time, I can easily fit my palm under it. This is not a huge issue but can be annoying if you need to repeatedly re-adjust the straps. This never happened while she was on a leash.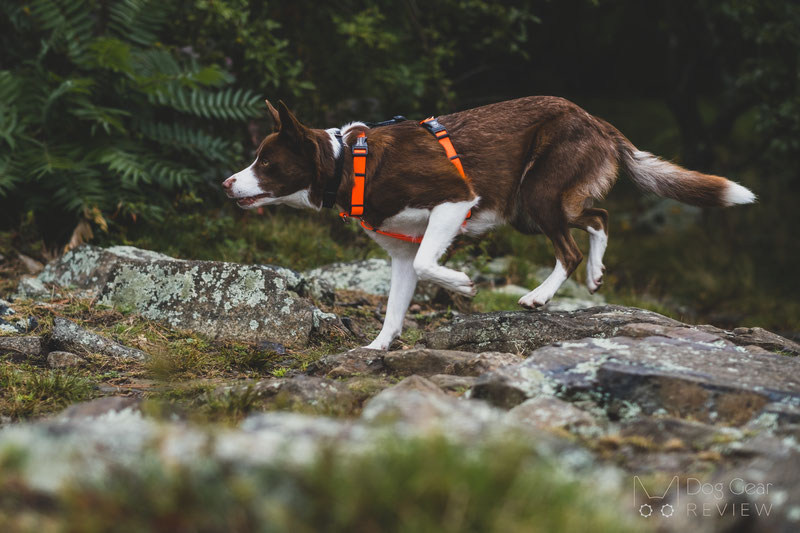 Functionality Review of the Blue-9 Balance harness
No-pull correction: Great as we discussed above, although it has a higher turning point, creating a different experience both for you and the dog.

Running/Biking (as an irregular hobby, buy specific equipment if you want to get into it seriously): It doesn't have any padding, so it's not recommended if the dog pulls even a little bit. It can be a good option if the dog just runs next to you and the harness is fitted to provide a free range of motion without chafing the armpits.

Hiking: Great! Easy to clean, light, not restrictive.

City walk: Works well, especially for structured walks.

Easy to put on/adjust: it has three buckles, so you don't even need to pull it over the dog's head or lift any of the legs.

Visibility: this orange version is very visible, but most of their color options come with a black-base color, with only the back strap being colored.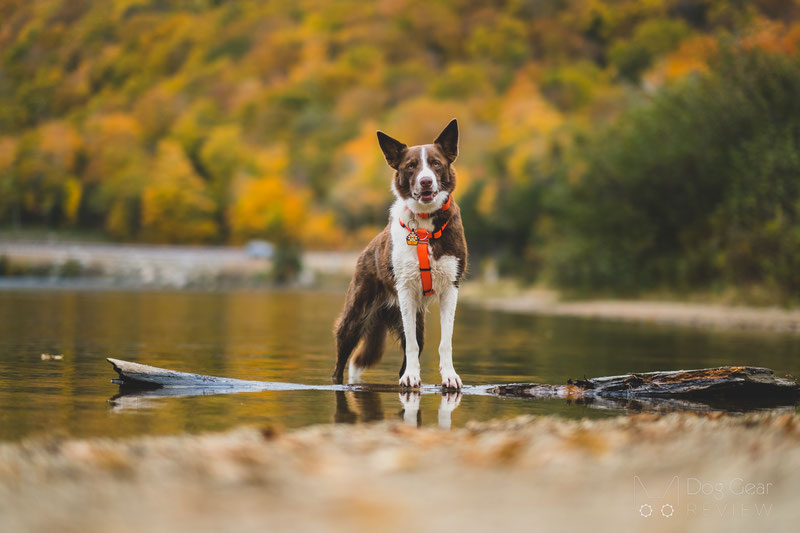 Summary
The Balance harness is a well-fitting and lightweight strap harness. Not having padding makes it less rigid and ideal for hot days; however, it doesn't provide any buffer to prevent the harness from rotating and sliding. This is not a functionality issue but can be unusual for someone who is used to harnesses providing more extensive coverage.
It is a well-made and designed no-pull harness that's still versatile and can be used for many other activities.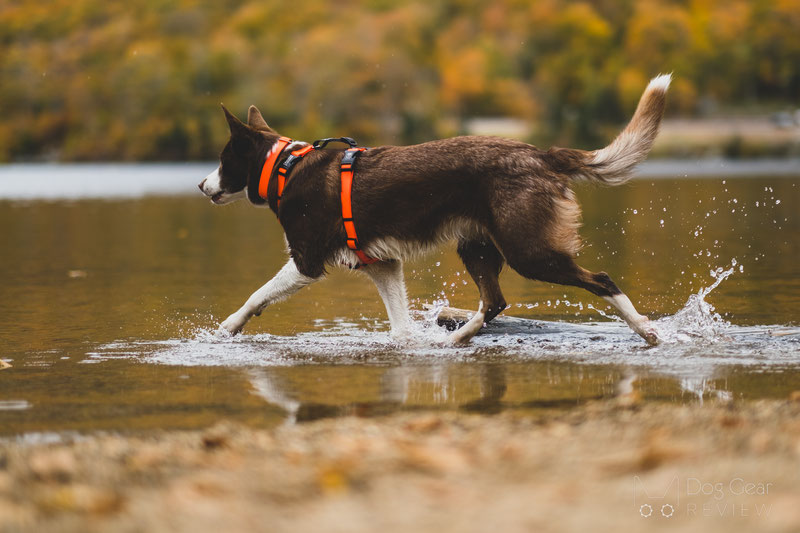 Where to Buy
You can buy the Balance harness on their website or through Amazon. It comes in five sizes and nine colors! For reference, Mia's harness is M/L size.
Disclaimer: this review contains an affiliate link, which supports Dog Gear Review if you purchase the product after clicking on it without costing you anything extra. Using affiliate links will never compromise us writing unbiased, honest reviews!
Mia's measurements
Many of you asked Mia's measurements to better understand the different products' fit. Your best chance of finding a good fitting gear is always to measure (and remeasure) your dog. Even we grab the measuring tape before getting a new product - even though we tested a lot of them, and have a good feeling of her size by now.
I share her measurements below, but don't go ahead and order the same size just because your dog is similar to Mia ;)
Shoulder height: 19.5 inches (50 cm)

Weight: 37-44 pounds (17-20 kg)

Widest chest circumference (where the most harness would have the chest strap): 26-27 inches (66-68 cm)

Neck circumference for collars: 15-16 inches (38-40 cm)

Back lengths: 22 inches (56 cm)