About BELLA & PAL
BELLA & PAL is an outdoor dog gear brand under Pallas Information Limited, a company based in Hong Kong. BELLA & PAL's mission is to launch well-designed products with exceptional quality and affordable prices.
About the Smart Pro No Pull Harness
The Smart Pro No Pull Harness is a Y-shaped harness with four adjustment points. It has two metal D-rings with a 234 kg (515 pounds) breaking load, and the neck straps are also reinforced with a metal attachment under the chest panel for extra strength. The harness has been strength tested as: Size S: 77.16 lbs (35 KG), Size M: 198.41 lbs (90 kg), Size L: 330.7 lbs (150 KG), Size XL 551.16 lbs (250 KG).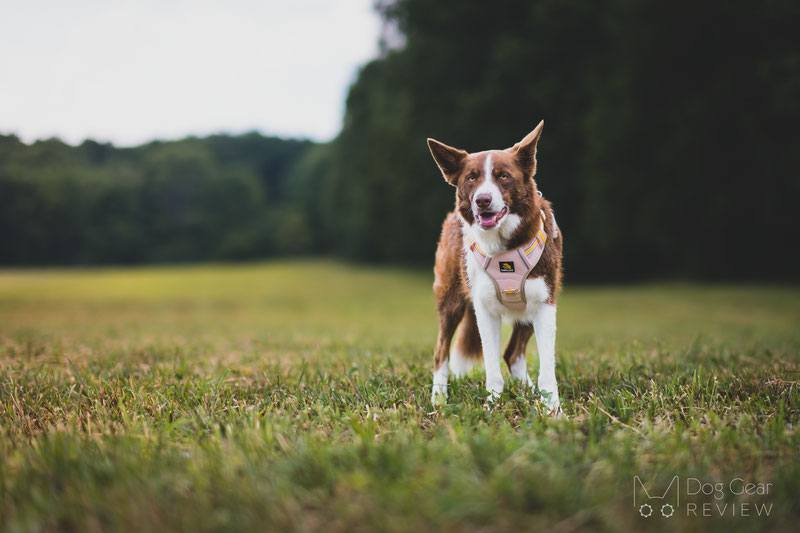 There are two Acetal Plastic buckles on the chest straps which is a stronger and more durable material than the most commonly used plastic buckles. The harness also has a small padded handle on the back for easy control. The chest and back panels are foam-padded and lined with a breathable mesh material which helps with cooling and drying faster. There are also reflective edges and lines around the harness, so it is visible from all angles.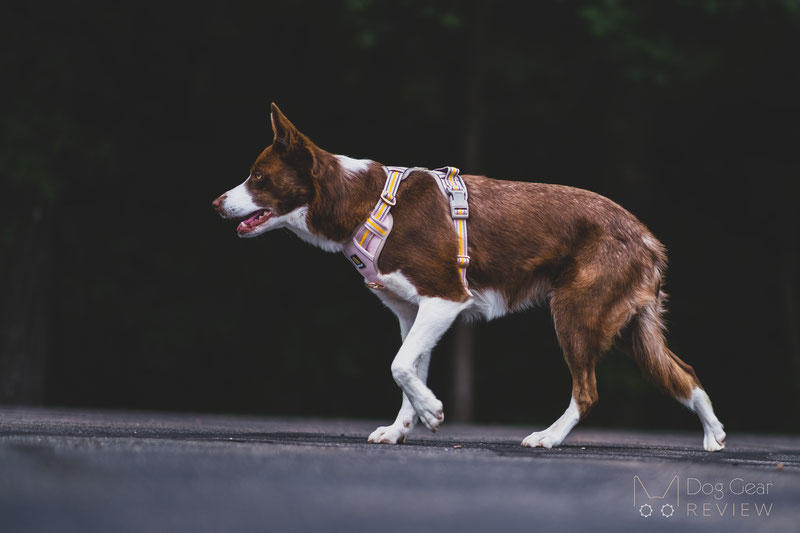 BELLA & PAL Smart Pro No Pull Harness Review
The stylish Smart Pro Harness comes in five colors with matching hardware, rings, and buckles. When writing this review, it comes in three sizes, and each offers a great adjustment range. I assume they are coming out with a Small size soon since they strength tested that as well, but it is not currently available on their website.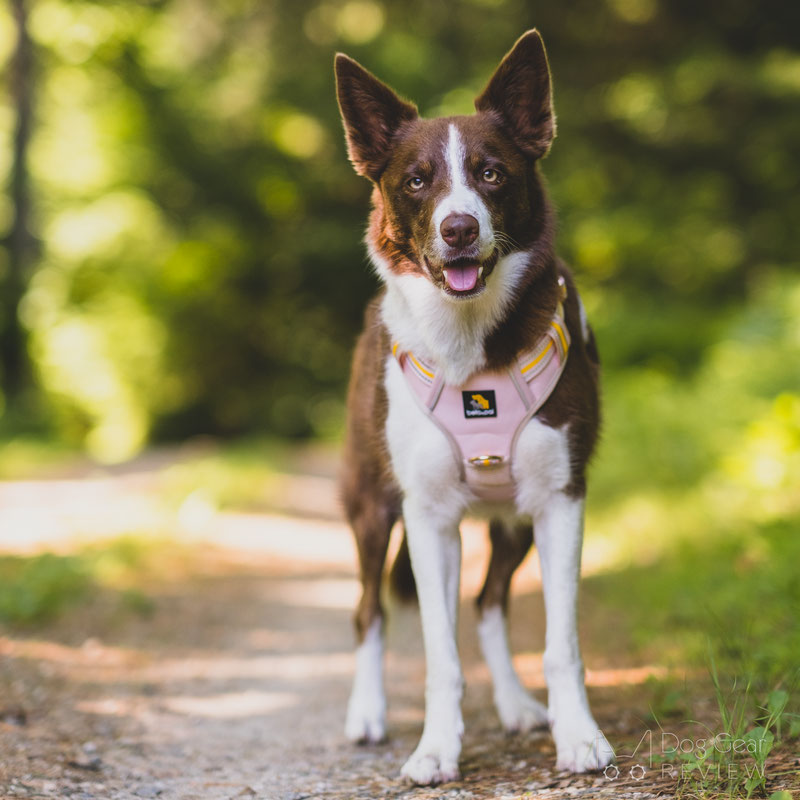 While testing this harness, we got many questions about it since it is such a cool-looking harness that piques people's interest. It is a well-made, sturdy harness; however, we also want to point out a few cons that might or might not be a concern for your dog.
Firstly we run into the problem of how this harness fits Mia. Unfortunately, the chest plate going back between the front legs isn't long enough to give a completely free range of motion for her shoulders. It is an okay fit for her for shorter outings, but if you have a dog with sensitive skin, it can cause chafing and rubbing in the armpits if used for long walks.
This usually indicates that the harness better fits wider, deeper chested dogs since you choose size based on the chest and neck circumference. Mia is hard to fit, and we run into this problem with many harnesses, which doesn't mean it will be a problem for all dogs. If you want to read more on how a well-fitting Y-harness looks on a dog, you can check out our article on the topic.
What I appreciate with this brand is that they included the length of both the top and bottom panel on their website. This way, you can better imagine where the chest straps will be positioned on your dog before buying.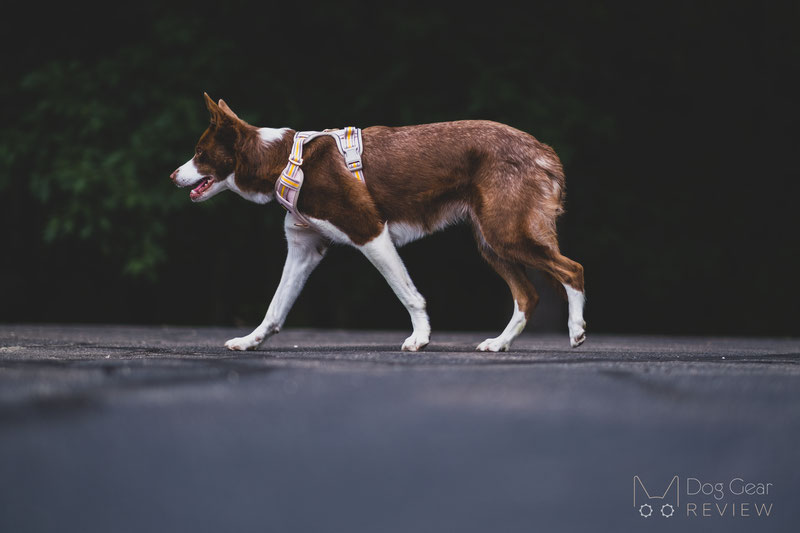 The good news is that the width of the part between the front legs fits Mia very nicely, which is usually another problem we run into since she is a very narrow dog. This harness didn't rub against the inside of her front legs, which is another crucial factor when looking for a comfortable harness.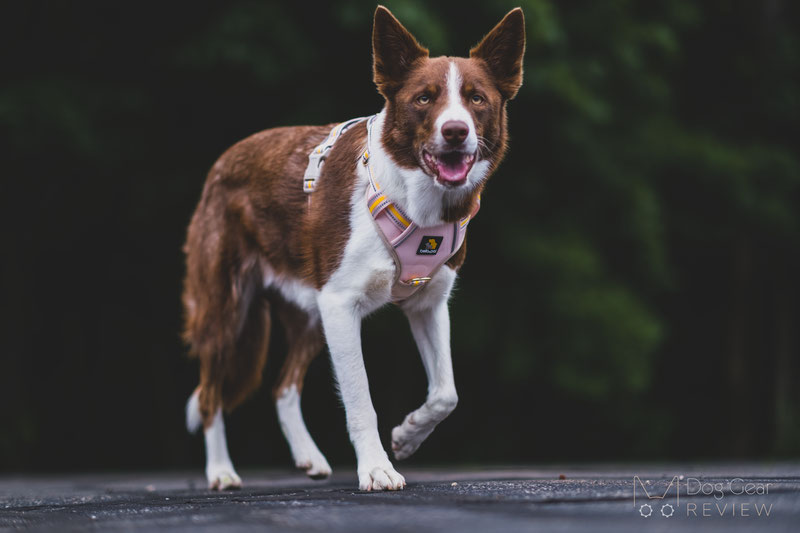 Another thing to note is that the front no-pull ring is positioned too low to turn the dog effectively. Ideally, the ring sits over the chest bone, close to where the two neck straps meet. Otherwise, it just rotates and pulls up the harness, so most of the pulling force is on the inside of one of the front legs instead of the dog's chest/side of the neck. Again, this would be slightly different on dogs with a different build but will not be perfect.
It's only an aesthetical issue, but you can see on all photos that the chest panel "breaks in" above the front ring after the first use when the harness is bunched up.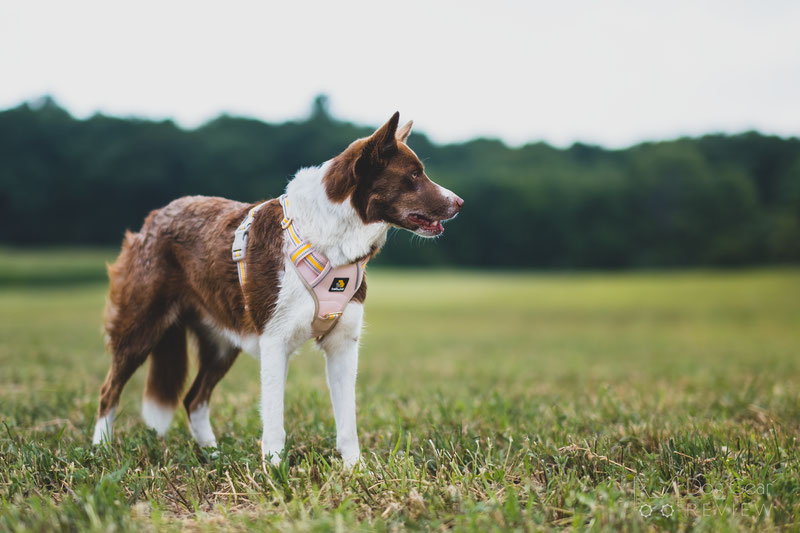 A last small note on functionality regards the position of the leash attachment on the back panel. Having the leash attachment point on the middle of the back panel provides good control; however, it causes uneven weight distribution and results in the harness shifting up on the neck when there is pressure on the leash.
If you want to read more on the role of the leash attachment point on harnesses, we have a separate [article](/article/leash attachment/) discussing it.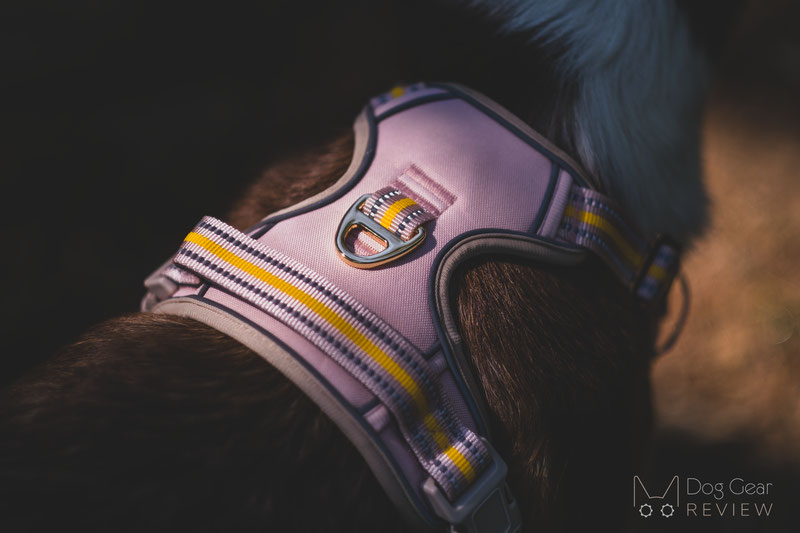 Functionality Review
No-pull: The front D-ring can be used for no-pull training, but it is positioned a little too low to be an effective tool.

Running/biking: It is not designed for pulling activities but can be used to try running and biking with the dog if correctly adjusted and fits the dog well. For pulling sports, it is recommended to use a harness with the back ring attached farther back on the dog and one that offers more room behind the front legs, but you can use it to give running/biking a try before deciding to buy a more suitable gear.

Hiking: It is a good option for hiking if it fits your dog well: it has a handle to help the dog if needed and comes in visible colors, but the padding can soak in mud and water, making the harness heavy and the mesh material can be hard to clean after a muddy hike.

City walk: works pretty well for city walks; the two rings offer good control for busy areas.

Easy to put on/adjust: All straps are adjustable. The neck straps do not have buckles, so the harness must go over the head; then, you can use the two buckles on the chest strap to fix the harness.

Visibility: The harness has reflective edges and lines, so it is visible from all angles.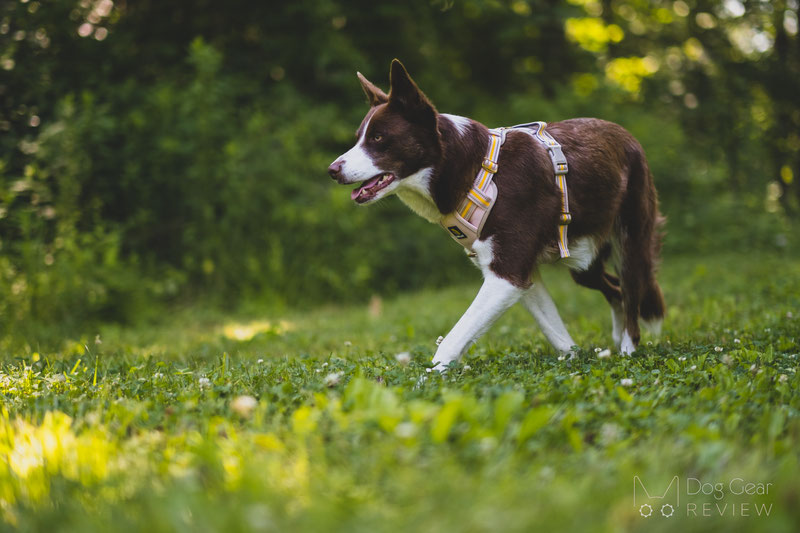 Review Summary
The BELLA & PAL Smart Pro No Pull Harness is a great quality harness, especially in its price range. The no-pull ring isn't its most robust feature, but the colors, matching hardware, and the reflective elements make it stand out. It is a well-made harness with materials that feel durable.
The reinforced neck straps, using break-tested rings, and strength testing of the harness all show that they emphasize safety and durability while designing this harness.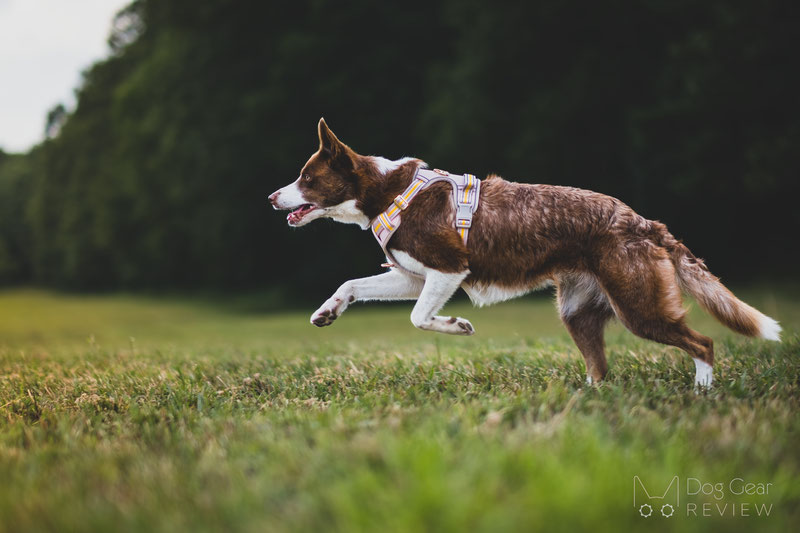 Where to buy
The Smart Pro No Pull Dog Harness is available through their website or on Amazon.
Mia needed their Large harness.
Disclaimer: this review contains an affiliate link, which supports Dog Gear Review if you purchase the product after clicking on it without costing you anything extra. Using affiliate links will never compromise us writing unbiased, honest reviews!
Mia's measurements
Many of you asked Mia's measurements to better understand the different products' fit. Your best chance of finding a good fitting gear is always to measure (and remeasure) your dog. Even we grab the measuring tape before getting a new product - even though we tested a lot of them and have a good feeling of her size by now.
I share her measurements below, but don't go ahead and order the same size just because your dog is similar to Mia ;)
Shoulder height: 19.5 inches (50 cm)

Weight: 37-44 pounds (17-20 kg)

Widest chest circumference (where the most harness would have the chest strap): 25-26 inches (63-65 cm)

Neck circumference for collars: 15-16 inches (38-40 cm)

Back lengths: 22 inches (56 cm)