Bedsure started as a bed linen company and is now known for its exceptional range of human products dedicated to enhancing comfort and style in every home. In addition to its human-centric offerings, Bedsure extends its expertise to pet beds and blankets.
About the Bedsure Elevated Dog Cot Bed
Introducing the Elevated Dog Cot Bed with Breathable Mesh by Bedsure. Crafted with attention to detail and using high-quality materials, this bed combines comfort, durability, and style to create an ideal resting spot for dogs.
One of the standout features of this bed is its breathable mesh cover. The mesh fabric promotes optimal airflow, allowing for ventilation and preventing your dog from overheating on hot summer days. Many dogs prefer to sleep on the floor over the summer to cool down, but the elevated design combined with the mesh surface combines the joint support of traditional dog beds while it's also an ideal place to cool down.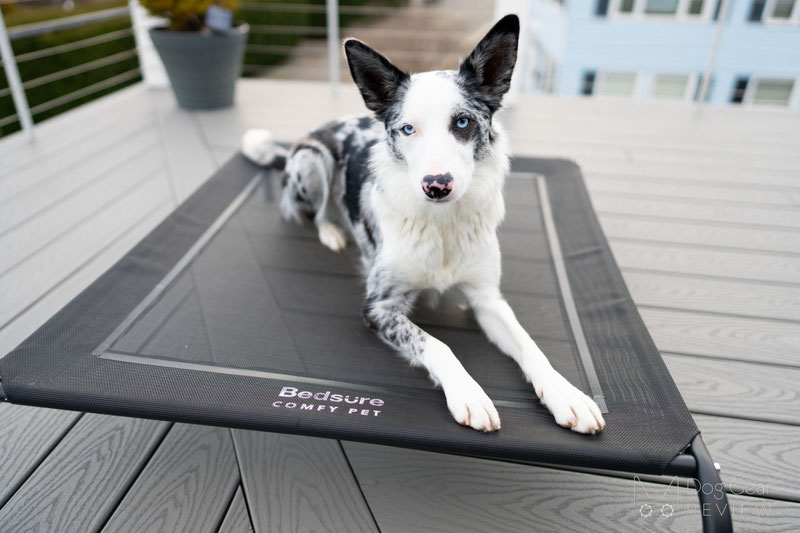 Whether you prefer to use it indoors or outdoors, this bed is a perfect fit for various environments. It's a great choice for indoor use, as it helps keep the dog off the cold or hot floors while also serving as a cozy spot for them to lounge. However, the durable construction and weather-resistant materials also make it suitable for outdoor use - even while camping/RVing.
This Bedsure Elevated bed currently comes in four sizes and a few different colors.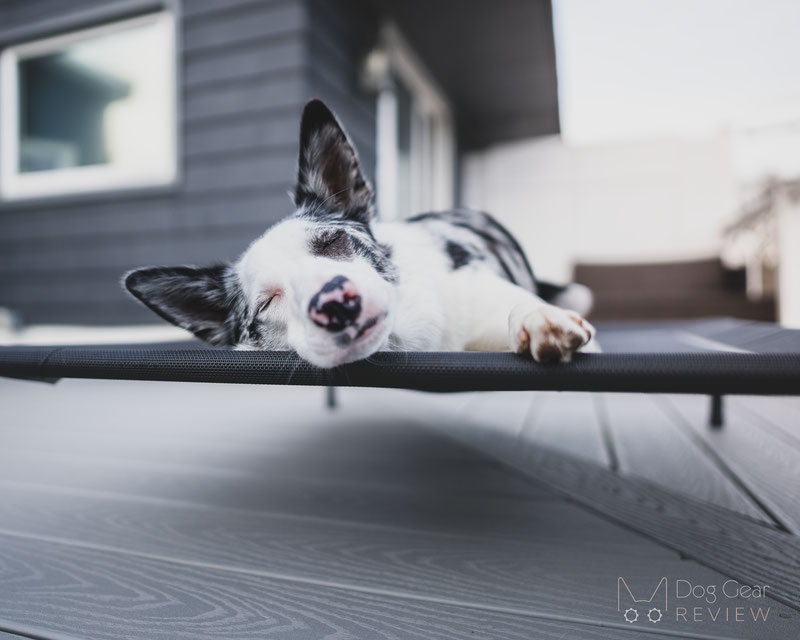 Bedsure Elevated Dog Cot Bed Review
Zulu has been using her medium-sized Elevated Dog Cot Bed for months, and it's a big success so far!
Firstly, despite being outside 24/7 and enduring Zu's crazy jumping and zooming sessions, there's no rust or fraying on the mesh or frame. Secondly, since we have this elevated bed, Zu is choosing to nap on this instead of jumping on our outdoor furniture, which used to be a point of conflict. :)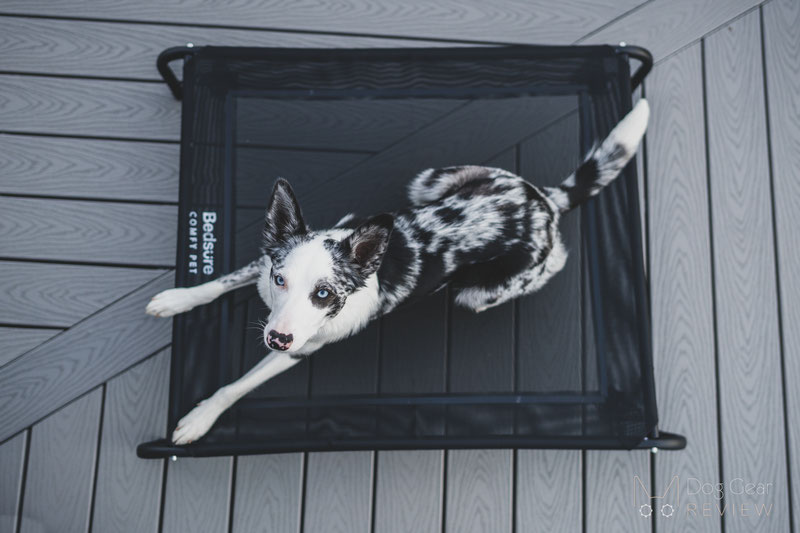 This is a simple but great and versatile product. With the elevated design, dogs are lifted off the cold or wet ground while camping, and it also creates a cool and clean resting spot with the breathable mesh. The sturdy frame ensures stability, while the mesh is easy to clean even after a muddy dog. It also helps wet dogs to dry fast since they are lying on a waterproof mesh surface with great airflow.
The elevated surface can also be helpful when teaching a dog to stay in place since its boundaries are easy to understand.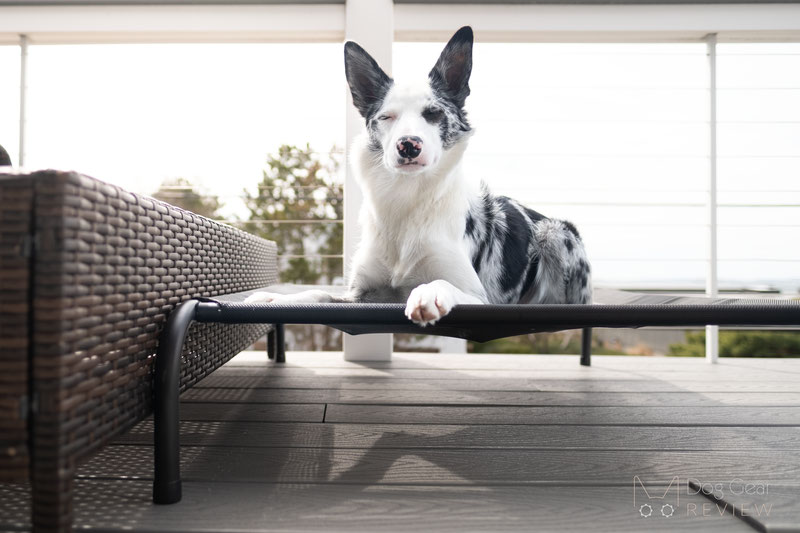 Another great feature of the Elevated Dog Cot Bed is that it can be easily disassembled and stored flat when not used or packed in the car for an adventure. Assembling isn't difficult either and can be done in 5 minutes following their assembly guide.
While the bed's no-slip feet protect the floor from scratches, it's worth noting that they don't entirely prevent the bed from sliding if the dog jumps on it with some speed or force. To mitigate movement and minimize the risk of accidents, it's best to position the bed against a corner or wall to add stability.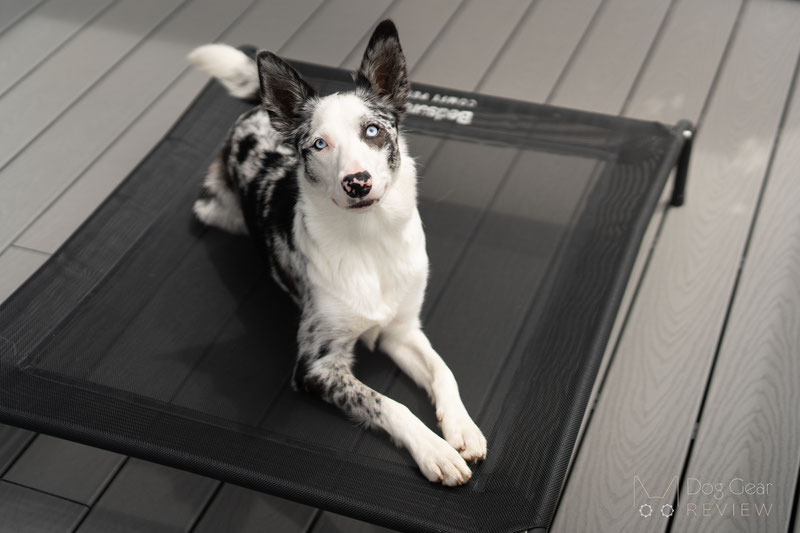 Review Summary
In conclusion, the Bedsure Elevated Dog Cot Bed surpasses expectations with its durability and versatility. The bed's sturdy construction and rust-resistant materials make it a great option for many different scenarios. The elevated design provides comfort and protection from both cold and heat.
With its easy assembly and disassembly, breathable mesh, and no-slip feet, this bed offers a practical and cozy resting spot for dogs indoors and outdoors.
Where to buy?
You can buy all their products on their website or through Amazon. For reference, Zulu's elevated bed was size medium (43"L x 26"W ).