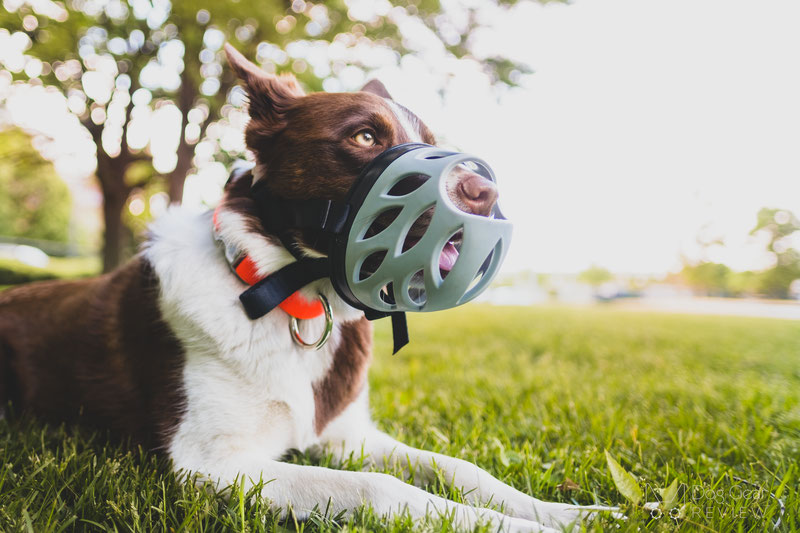 Barkless Blue Silicone Muzzle Review
About the different reasons for muzzling
Since this is a more complex topic, we wrote an article about the different reasons for muzzling and why muzzling isn't cruel for those interested in reading more on the topic. Our "What to do around muzzled dogs" poster is also available on this link for downloading.
While there are many different reasons for muzzling, some shouldn't be among these - like using a muzzle to avoid barking. Unfortunately, there are still many muzzles out there using barking as a selling point, like the one we are reviewing now. We feel it is essential to clarify that muzzles shouldn't be used to prevent barking; it is a dangerous and ineffective way to address this problem. If you want to learn more, check out our article on why not use a muzzle to stop barking.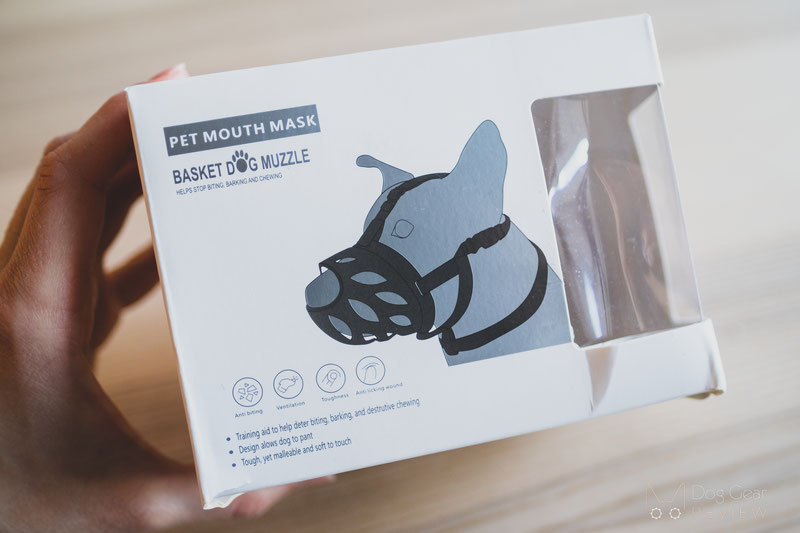 How to find the right size muzzle for your dog?
There are different opinions on how much room the dog should have in the muzzle. The only thing that everyone agrees on is that the dog should be able to pant to cool down while wearing it. However, what pant room means can generate great arguments.
Suppose you are looking for an agitation muzzle, or the muzzle will only be used for short periods. In that case, you are okay with a muzzle that provides enough room for a half-pant, but in return, it stays on more securely without adding extra clips or attachments. At the same time, if you use the muzzle for hikes or canicross, it is essential to have enough room for a comfortable full-pant.
The other tricky thing with sizing is that although there are great Facebook groups to help with fitting, different photos could make the muzzle look much bigger or smaller, so be careful to judge the size based on a few pictures.
Below are two photos of the size 4 muzzle, making very different impressions.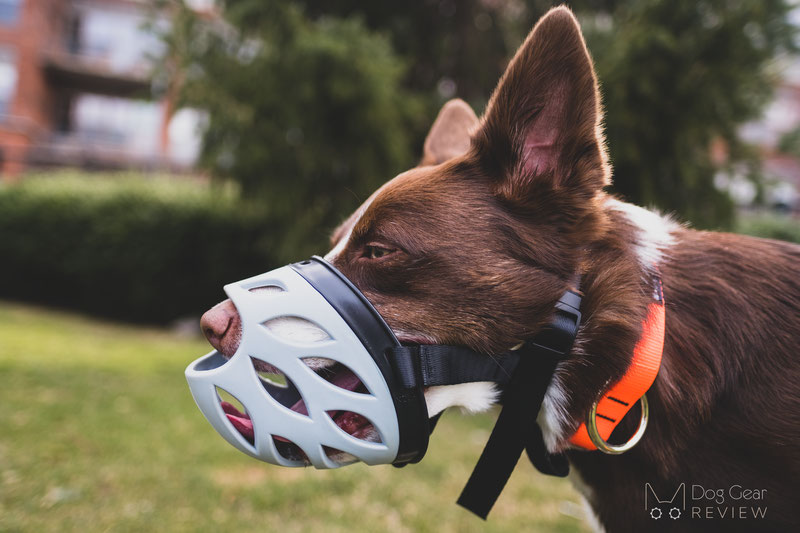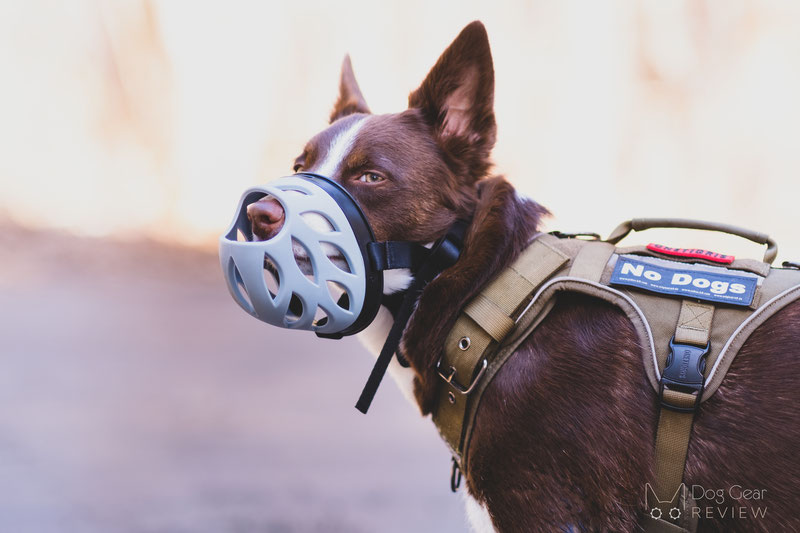 The sizing of the Barkless Silicone muzzle
Since Mia was between two sizes, we received both to write about the size difference. The one on the left photo is a size 3, which would be Mia's size based on the size chart. The one on the right is size 4, which I would be more comfortable using for a more extended period. However, if we would do canicross or any more serious exercise with a muzzle on, it would still be too small.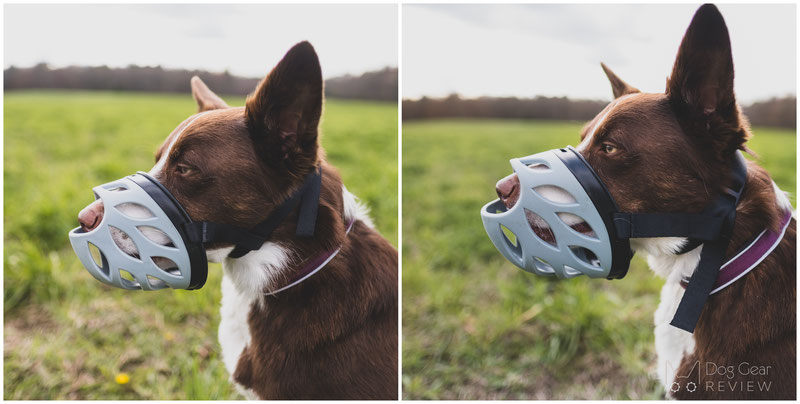 After many years of regularly seeing way too small muzzles on dogs, lately, there is a trend to get an oversized muzzle with the good intent of thinking that it will be more comfortable for the dog while it provides the same level of safety.
A few brands offer different sizes where you can upsize in height without changing the other measurements of the muzzle. These might require you to use multiple carabiners to secure a bigger muzzle to the collar for safety, but altogether there isn't a problem with it. The only con is that it might be inconvenient for the dog that a huge muzzle bumps around on their head when they run.
The problem is with the cheaper, easily accessible muzzles that are the most popular. They usually only come in a few sizes, so in this case upsizing means that the muzzle is also getting significantly longer and the straps on the sides are also longer. This makes it easier for the muzzle to slide off even if their neck strap is secured to the collar.
If someone would size up from these brands to allow more pant room, they easily end up with the muzzle falling off. You can see the difference between sizes 3 and 4 below.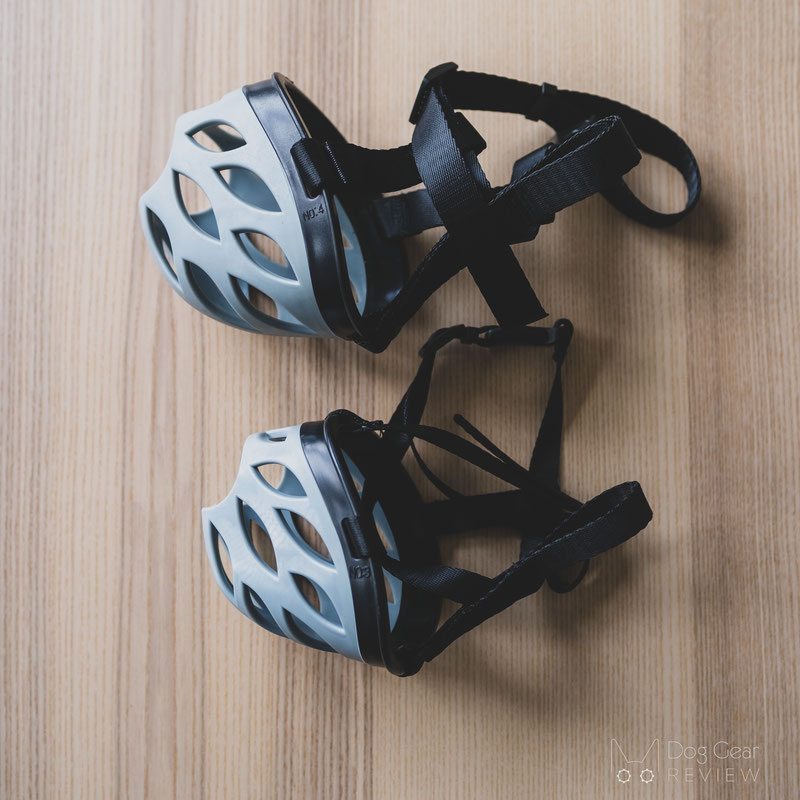 The below images both show the size 4 muzzle. I pushed the muzzle a little up and tightened the neck-straps on the left image, but it usually ended up sitting like on the second image after a little while. It's easy to see in the right photo that I could grab the muzzle and pull it off. A forehead strap can help with this, and we also had trouble with the neck strap that caused this problem; and we will talk about these more later. With this image, I just wanted to show that the pant room is only one aspect of the fit of a muzzle.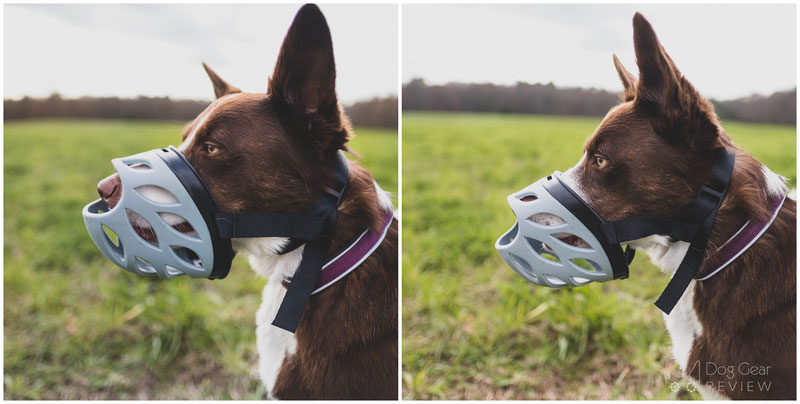 We only muzzle Mia for a few minutes at a time, so for this use case, both sizes could work. If I would want to size up even more with this brand, the size 5 muzzle would probably fall off from Mia's nose. This is a great example when sizing up wouldn't be a solution unless you are great in DIY strap modifications.
When you receive the muzzle, checking the pant room is an important step but not the only one. After adjusting it, try pulling it off your dog: move it around, drag it to the sides and forward, try tipping it, etc., to see if there is any chance it could fall off in a real situation.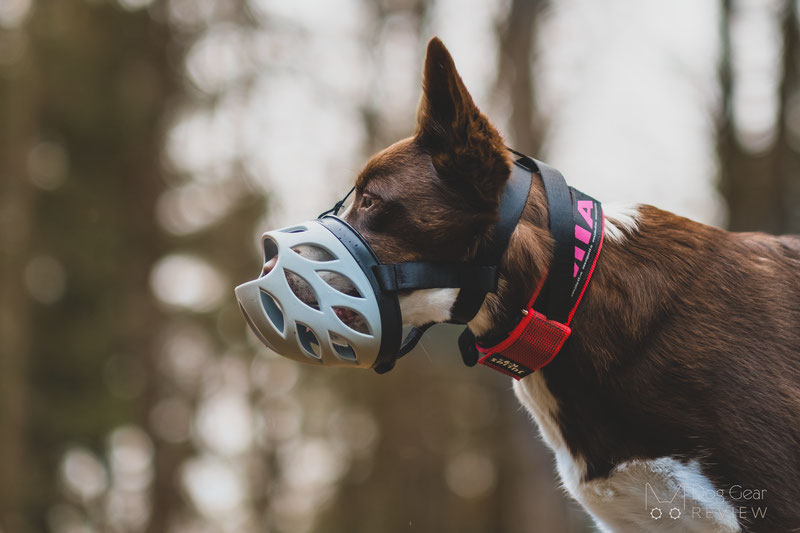 With or without the overhead strap, that is the question
Overhead straps can add security by preventing the muzzle from accidentally falling off. If the dog is appropriately conditioned wearing a muzzle, they shouldn't try getting it off, but it could still happen if they get into a fight or play rough with other dogs. Generally, this is a more significant risk for short-nosed dogs because they would have an easier time getting the muzzle off, while a longer snout would "get stuck" in the muzzle if it is properly adjusted and is the right fit.
Another thing to consider is if your dog is a determined biter. In this case, you want to have an overhead strap even for a longer snout, to say on the safe side - although plastic (and especially silicone!) basket muzzles are not recommended for high bite-risk dogs.
The Barkless muzzle comes with an overhead strap that attaches to the neck strap with a simple loop and a slider to adjust the length.
We ended up removing the overhead strap because it always slid to one side and was across an eye that Mia hated. Since the overhead strap only loops through the neck strap, it slides around a lot unless the dog has a deep stop and broad head (which Mia doesn't). Unfortunately, this strap cannot be unbuckled to remove and put it back if needed because the part which goes through the muzzle is sewed together.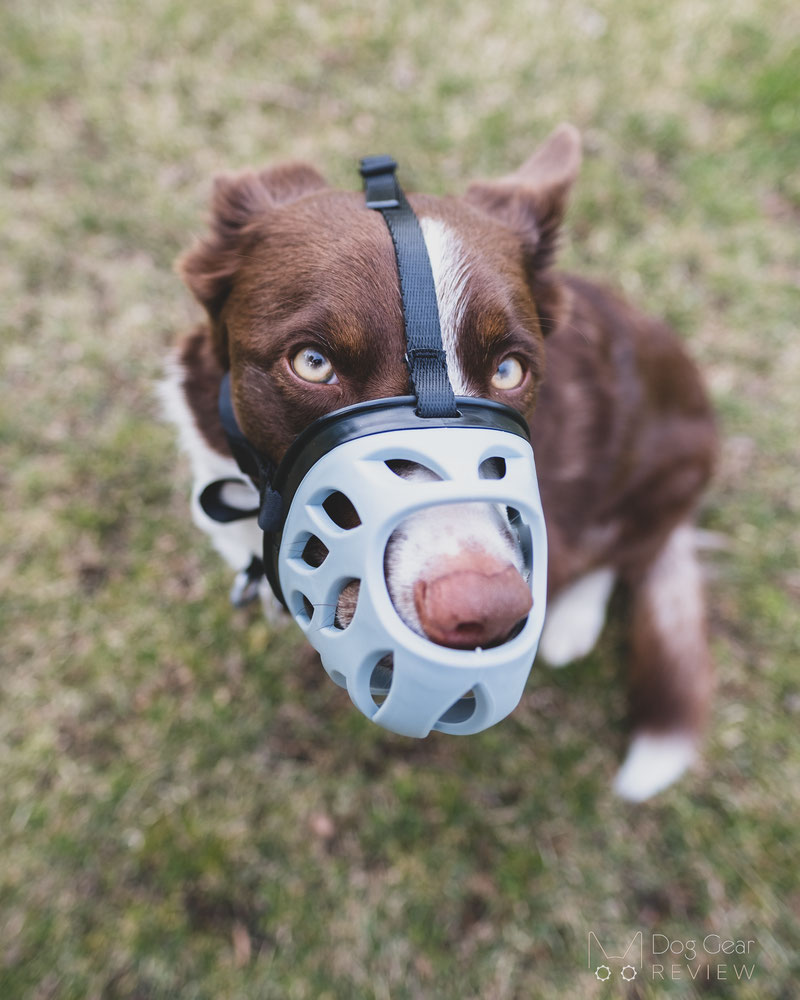 Barkless Silicone Muzzle Review
When we started using this muzzle, I struggled a lot with adjustment. The problem that you can see in the photo below is that the top of the muzzle is not lying flat on the snout.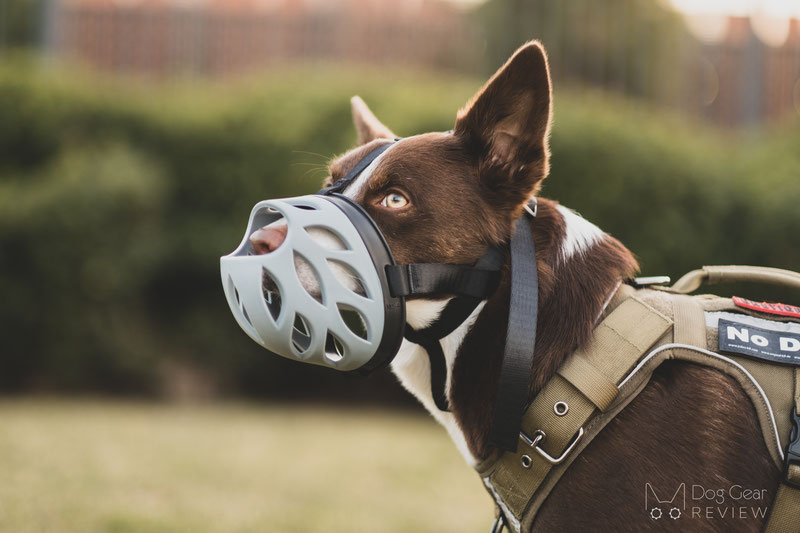 This is usually solved by loosening the overhead strap, but it was still not laying flat even when I cut the overhead strap when Mia moved around. I believe this was just due to how the muzzle's weight is balanced/distributed and maybe also the long bottom strap (under the chin) pushing the bottom side of the muzzle forward.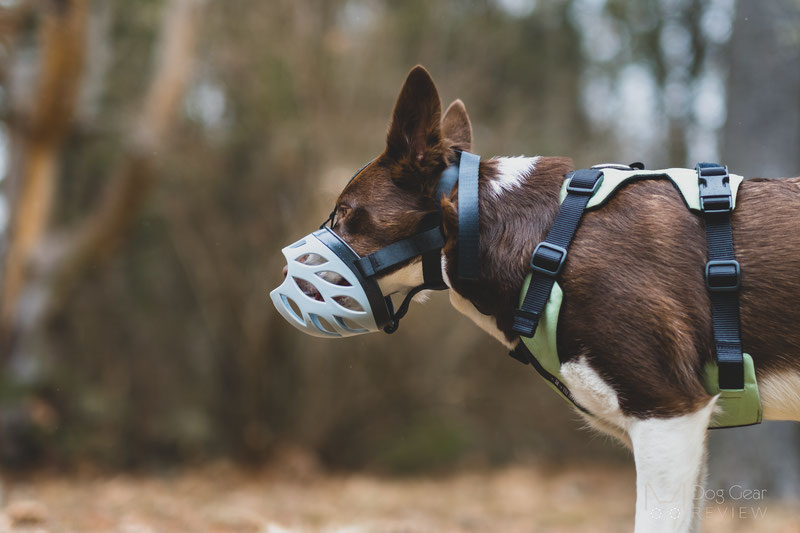 The design of the muzzle is pretty cool. It is closed enough to provide reasonable protection from nipping or eating up things on walks, but it still has a small opening on the front that allowed me to give traits to Mia.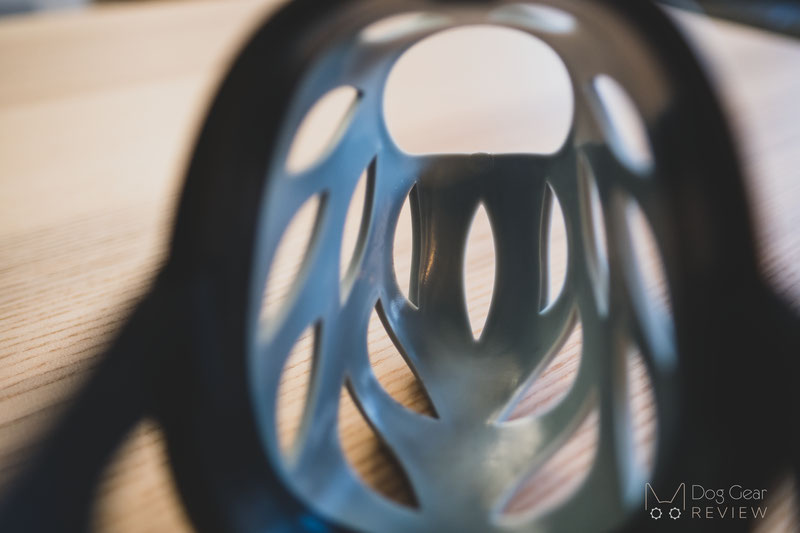 The black edges on the muzzle are made from a stronger, more rigid plastic. This stabilizes the shape of the muzzle much better than in the case of their original silicone muzzle. The blue part of the muzzle is still made of the same foldable silicone material. Although the silicone basket is comfortable for the dog, it also results that a determined biter can easily fold it and bite through it. With the more closed design, they would have a much harder time doing much damage, but technically they could still grab a smaller dog or someone's hand with the muzzle on.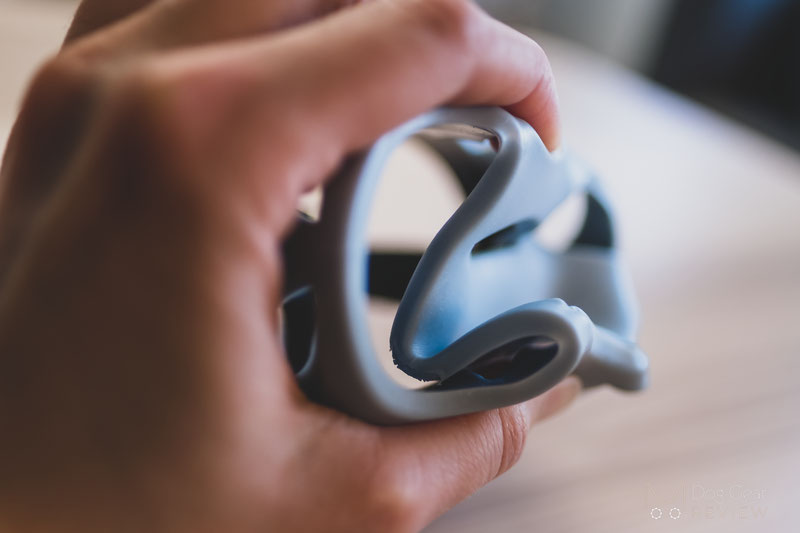 This muzzle is secured with a plastic buckle around the dog's neck, and there is a slider to adjust the lengths of the neck strap. I had two issues with this particular design.
First, the neck-straps kept loosening as we used them. This was one of the problems why the size 4 muzzle kept sliding down on Mia's snout. When I adjusted the neck-strap properly (tight but still comfortable), it was sitting fine, but 15 minutes later, the neck strap was loose, and the muzzle was sliding down. If I did not re-adjust the neck strap, I could easily remove the muzzle by just pulling it over Mia's head instead of using the buckle, which is not a great indication of safety. Not sure if this is a problem with the slider or the buckle or both. I did see this happening with many harnesses as well, where they used the same type of shiny strap material.
See below a photo with the loose neck strap letting the muzzle slide down on the snout.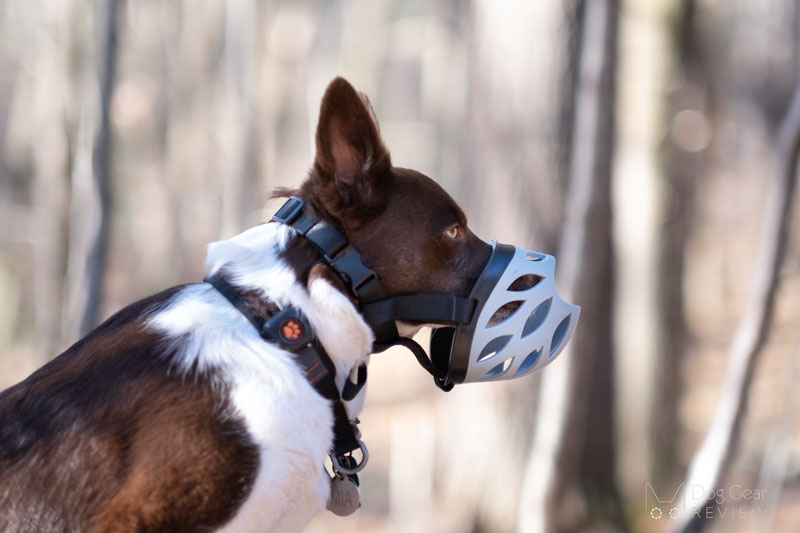 The other problem I faced is that the buckles were tough to open on both sizes. Many times I had to struggle minutes to push it in enough for them to finally open. This wasn't even happening on cold days, so I'm unsure why the buckle itself has malfunctioned. The opposite also happened a few times with the size 3 muzzle: I pushed the buckle together to secure the muzzle, but it didn't click in safely and slid free. No need to say this can cause dangerous situations. If you use this muzzle, check the buckles after closing to confirm they clicked in and hold when there is pressure on the straps.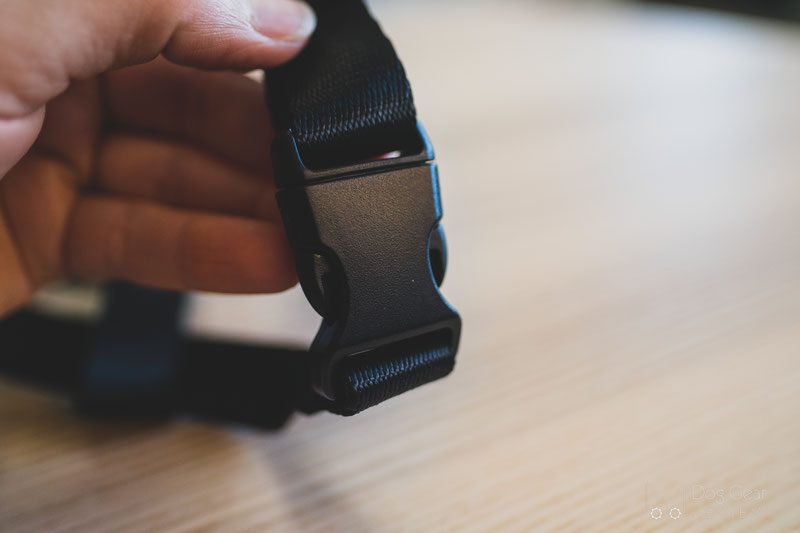 Altogether this is a comfortable basket muzzle that allows plenty of airflow while preventing the dog from getting things in its mouth. The big opening for the nose allows a better sniffing experience and decreases the chance of rubbing against the nose, which annoys many dogs. It is a lightweight muzzle that could be great for dogs who eat up things outdoors.
It can also be an excellent starter muzzle for conditioning a dog to wear one because some dogs prefer this less rigid, light material on their face. It is also less likely to cause chafing on the snout. At the same time, a silicone muzzle will never be recommended for dogs who are determined to bite because it will not provide enough protection for that.
We feel the issues with the buckle/straps mentioned above should be addressed for safety, so we reached out to the company to let them know about our findings. They are investigating the problems we mentioned and planning to come out with an updated design!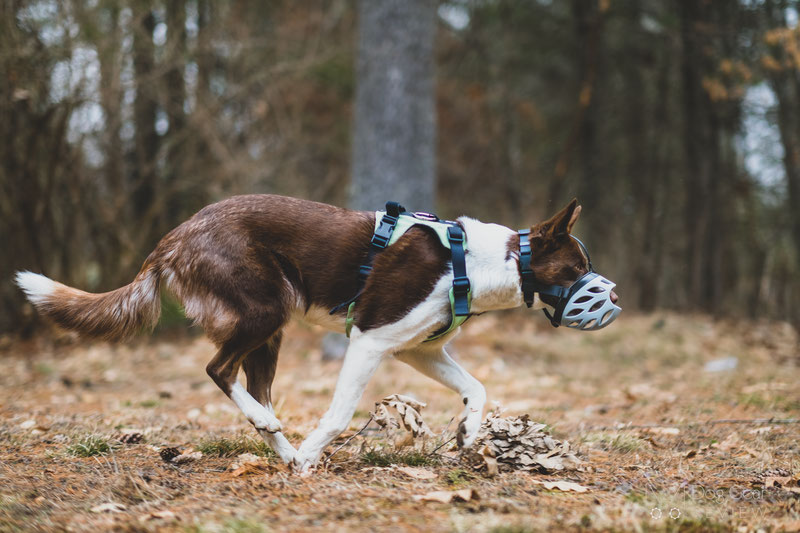 Summary
• Bite-proof factor: basket muzzles are generally not the best if a dog is high bite-risk, but the soft silicone material makes this even less suitable for determined dogs. It is enough to prevent a nip but nothing more; they can bend/fold the material and grab something while wearing the muzzle.
• Prevent the dog from eating things from the ground: The more closed design is great to stop the dog from picking up objects. Without getting into it more, I just want to mention that a determined poop eater would still be able to eat some through the holes.
• Safety collar loop: It has a loop at the bottom that you can attach to a collar for extra safety.
• Overhead security strap: it has one, but it slides around freely on the neck strap, so it's hard to keep it in the middle on a dog with a longer snout.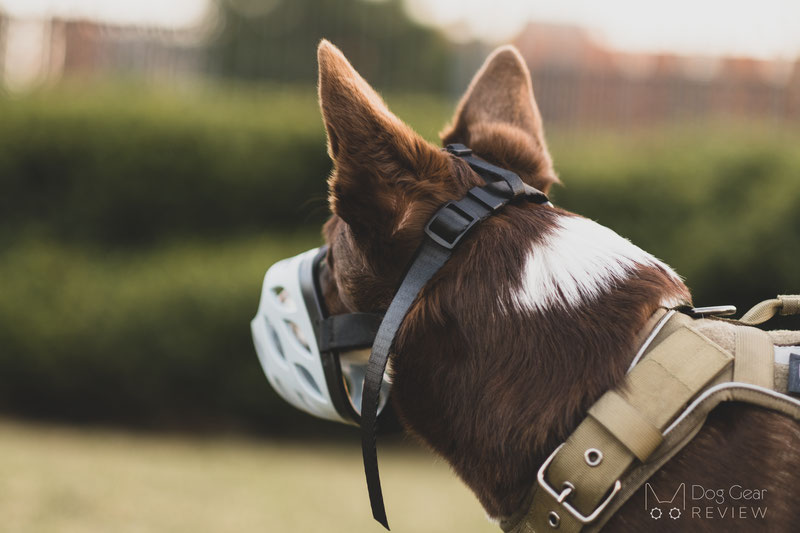 Where to buy
You can buy the muzzle through Amazon. It comes in six sizes and two colors (black and blue).
Disclaimer: this review contains an affiliate link, which supports Dog Gear Review if you purchase the product after clicking on it without costing you anything extra. However, using affiliate links will never compromise us writing unbiased, honest reviews!
Additional resources
If you want to learn more about muzzles, you can join amazing groups on Facebook, like Muzzle Up, Pup!, or follow The Muzzle Up Project. You can also check out the Muzzle Training and Tips website, browse our articles, where we discussed many muzzle-related topics.