Update on 10/23/2023: Wilderwear seems to be out of business at the moment. You can try purchasing it through AlphaIcon or ask them about resellers in your country.
Wilderwear is the official distributor and reseller of AlphaIcon products in Canada and the United States. Based in Canada, Wilderwear was founded in 2021 with the goal of introducing high-quality, full-coverage dog jackets to the North American market.
AlphaIcon, a Japanese company based in Sapporo, is known for its exceptional quality and design. Their products are crafted with care and attention to detail, making them a top choice for those seeking functional and stylish dog coats. By partnering with AlphaIcon, Wilderwear is able to offer its customers a range of top-of-the-line coats for different weather conditions.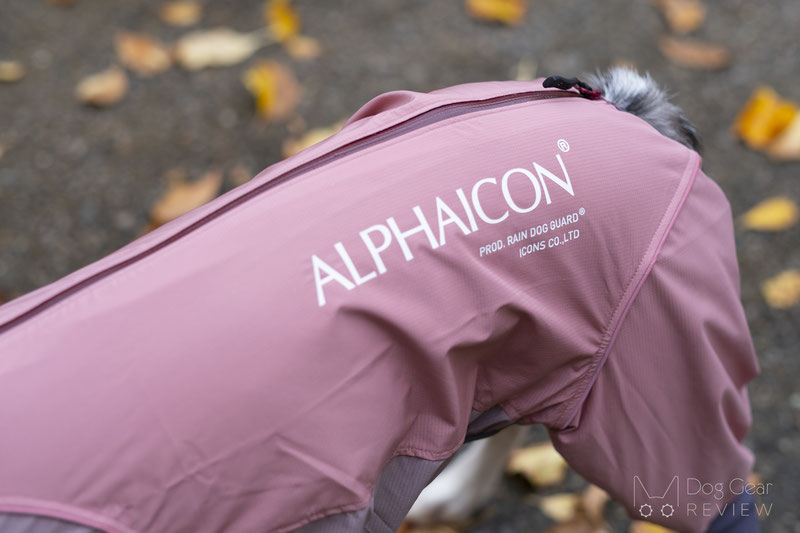 The Details of the AlphaIcon Technical Rain Guard
The AlphaIcon Technical Rain Guard is a light dog coat that protects from rain, high winds, slush, and dirt.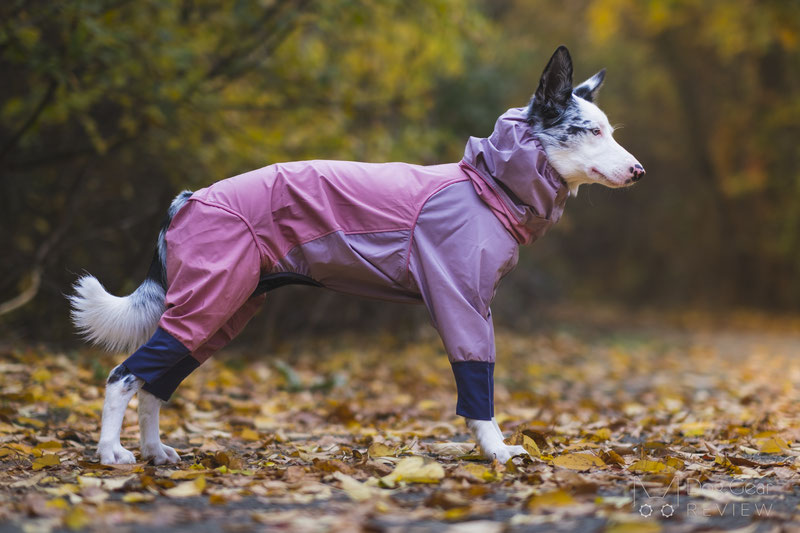 The thin coat is surprisingly durable and well-made! It has three layers: the outer is 100% Polyester (100%), the inner material is a moisture-permeable film, and the coat is lined with Nylon. The sleeves are a combination of Polyester (82%) and Polyurethane (18%).
Using these different materials made it possible to create a protective coat that's water- and windproof while it's still breathable to prevent moisture build-up under it.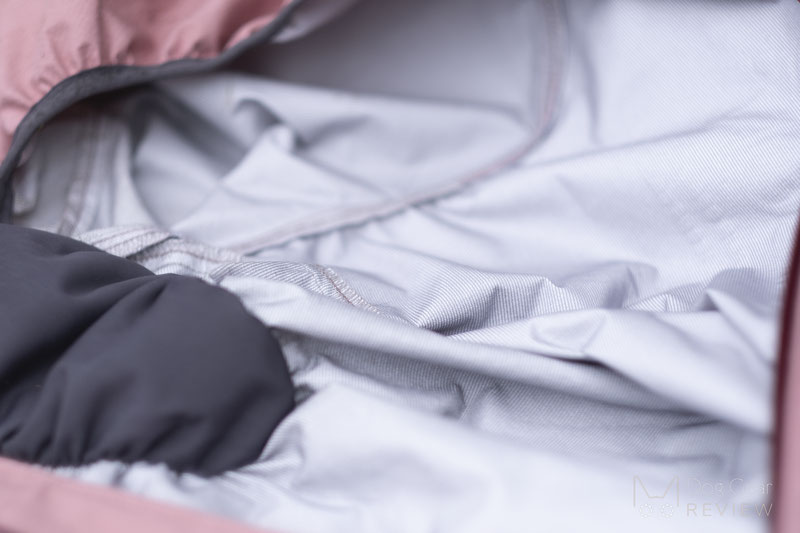 It has a zipper running along the back with an extra layer under it to prevent the hair from getting caught in the zipper.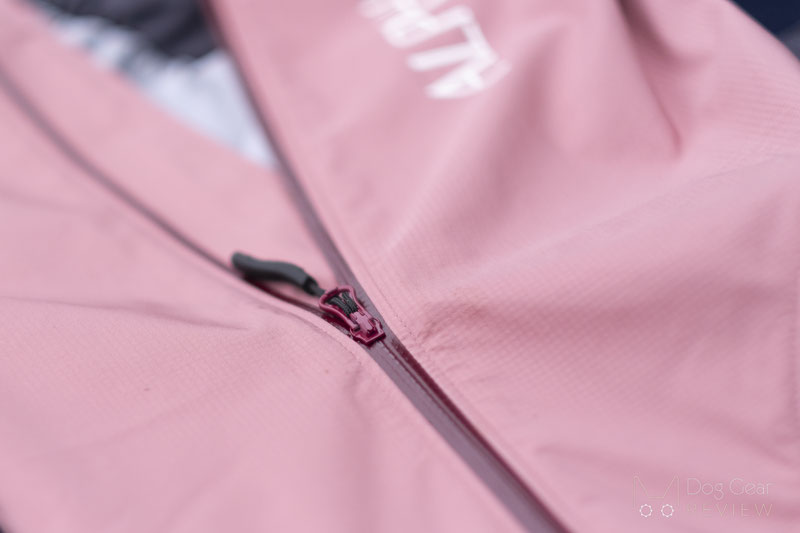 The hood can be pulled up over the ears if your dog's ears are sensitive to cold wind or just pulled behind the ears to protect the neck but keep the ears free.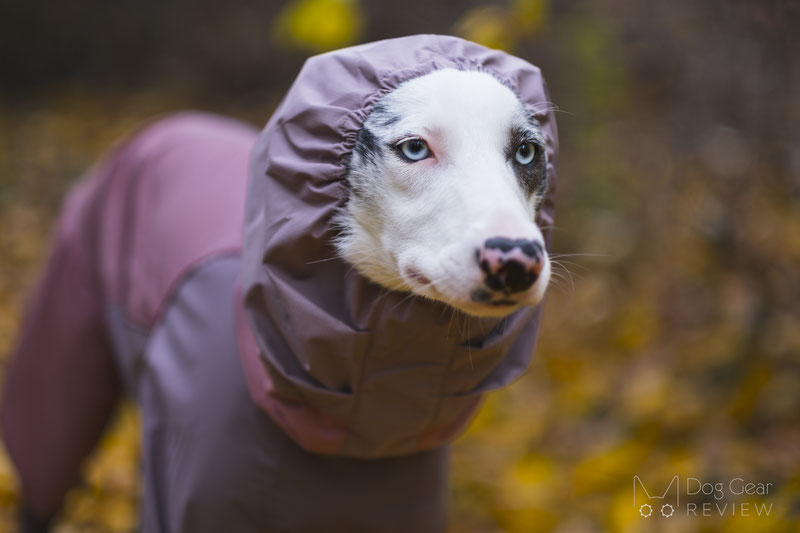 This coat was designed to allow free motion and comfort even when the dog runs off-leash. It comes in 14 sizes and even has sizes for Dachshunds and French Bulldogs to ensure you can find one that fits your dog well.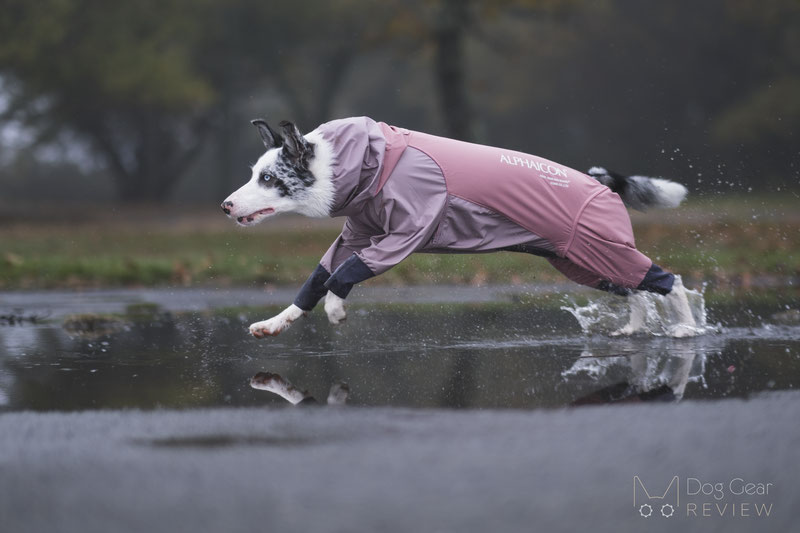 AlphaIcon Technical Rain Guard Review
Zulu strongly dislikes any gear with big coverage - even a harness or a vest so I was curious to know what she would think about this rain suit. Surprisingly, she got used to it in a few minutes and didn't mind wearing it at all after that!
Putting it on the dog can be an involved process since you have to pull all legs through the somewhat tight sleeves while ensuring they stay still, so the sleeves stay on all legs. Once all legs are in, you can zip the coat on the back.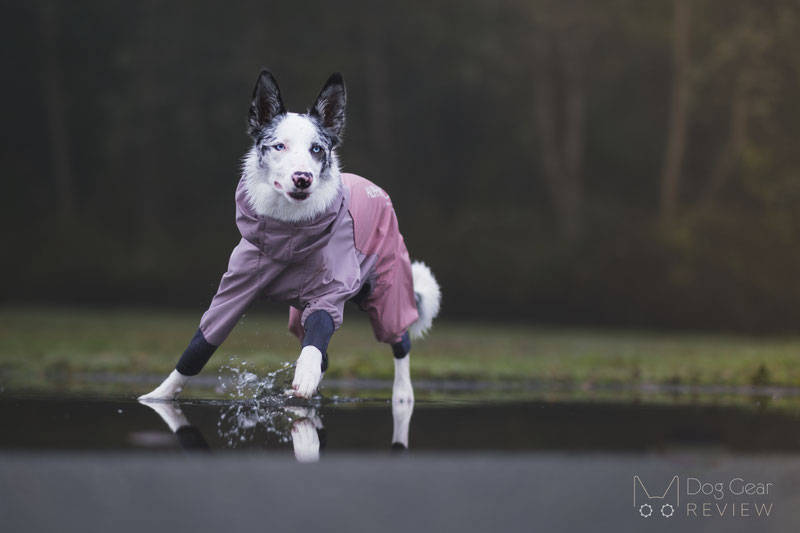 Zulu has awkward ratios, which makes it hard to find a well-fitting harness for her, not to talk about a full-body suit. Since she is still growing, I used her back length as the main parameter to determine her sizing. She is wearing a 3L which still provides enough room for her body to fill in. The sleeves could be a little shorter on her, but it doesn't bother her; mostly just visible in the photos how they slide a little too low when she is running.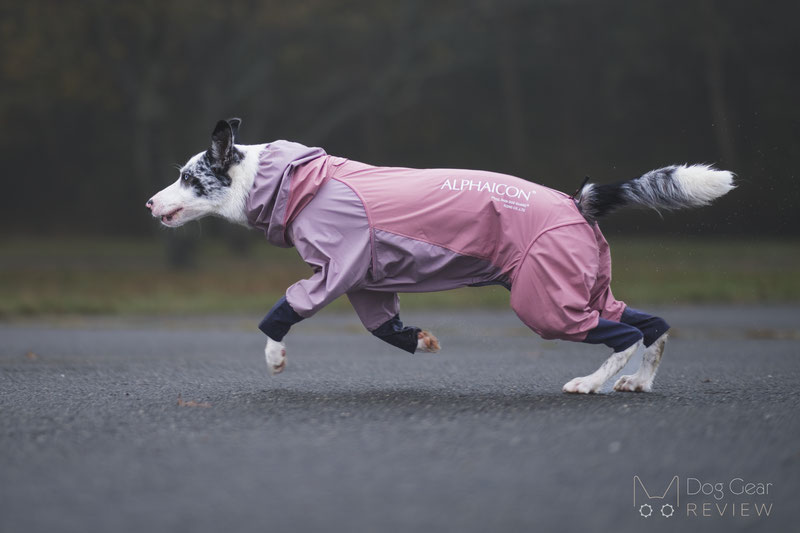 I was surprised at how light and packable the Rain Guard is. I was worried it also meant that Zulu would rip it when running through the first bush, but the material handled our adventures well so far!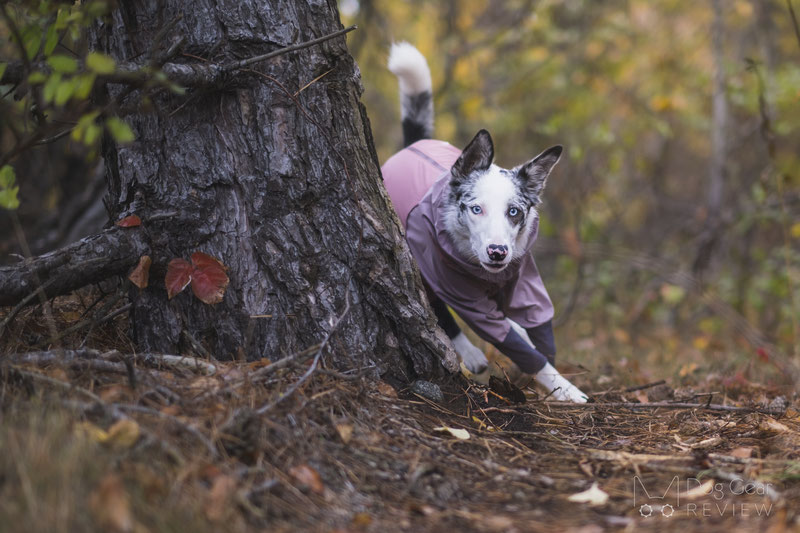 While this is not a warm jacket, it is a great outer layer to keep the dog dry. AlphaIcon has warmer suits/coats with a similar design if that's what you are looking for, or you can add a base layer under this for extra warmth. Be sure to check their sizing chart in detail because the same size will fit dogs with different ratios very differently. They even include info on male dogs sizing to ensure the position of the opening around their private parts will also be a good fit.
They mainly target small and medium dogs, but the Rain Guard can also fit some larger dogs depending on their ratios.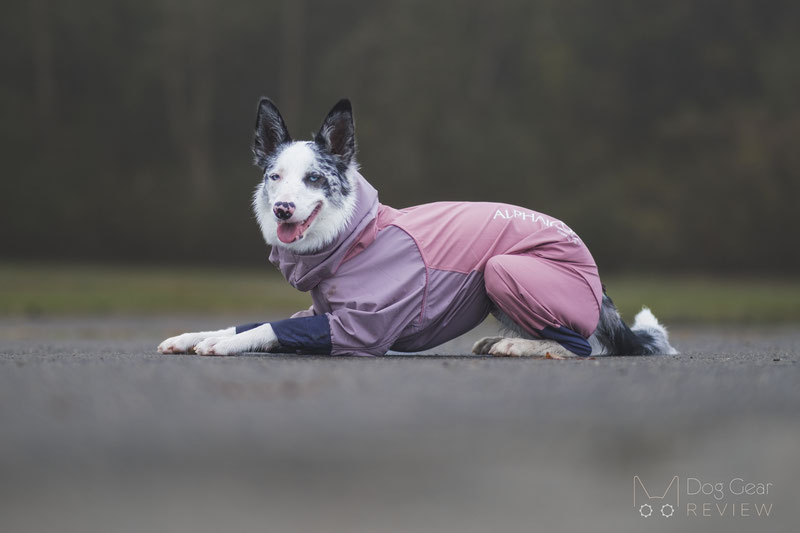 This rain suit is also super low maintenance: you can just rinse the dirt off, hang it to dry, and it will be ready to go for your next walk. It doesn't absorb water and mud, so it's great for autumn/early spring adventures! Since it packs up incredibly small, it's also easy to keep it in your backpack for hikes in case the weather turns, and the pup needs a little extra protection from the elements.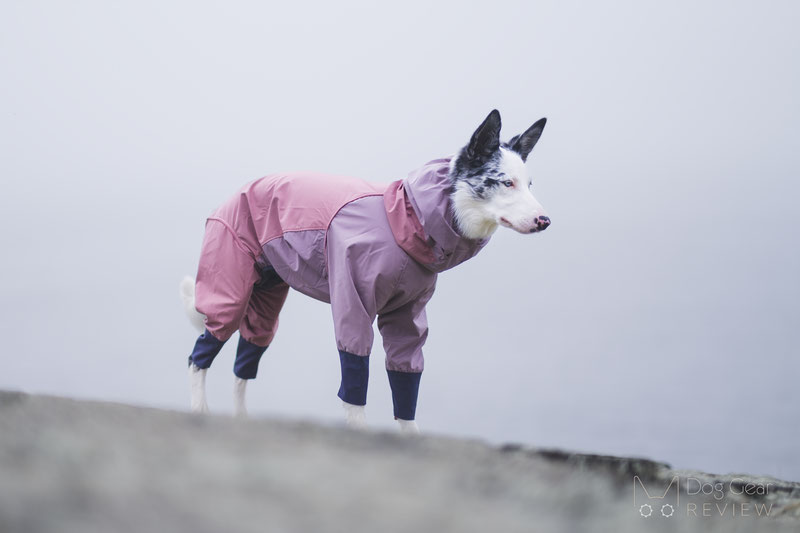 Review Summary
The AlphaIcon Technical Rain Guard is a well-made, high-quality rain suit for dogs. It can be used to protect the dogs from wind and keep them dry while even active dogs will not get hot under it. It not only made Zulu more comfortable on chilly rainy days but also made keeping the house clean so much easier since Zulu loves running through puddles and mud, and this way, most of her coat stayed clean and dry.
This is a rain suit that can handle hikes but is stylish enough for city walks as well.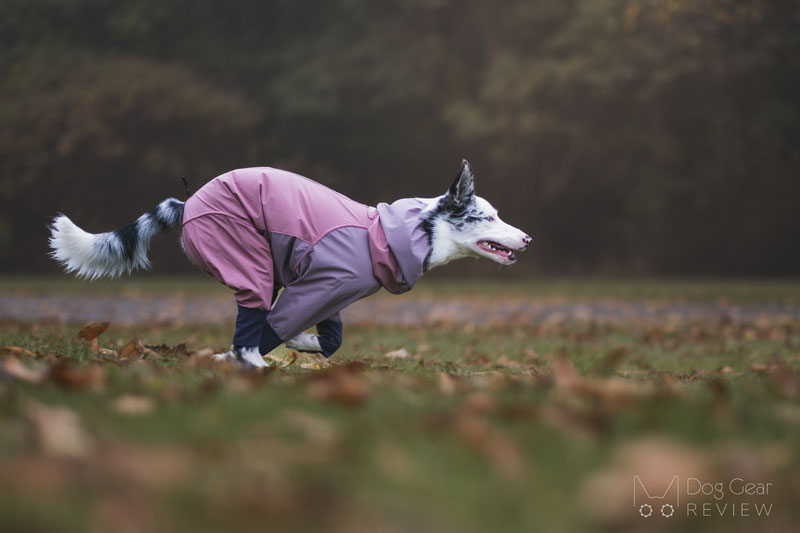 Where to buy (Updated)
In Canada, this was sold through Wilderwear's website but now you can only purchase it from AlphaIcon in Japan.
For reference, Zulu is wearing a 3L size.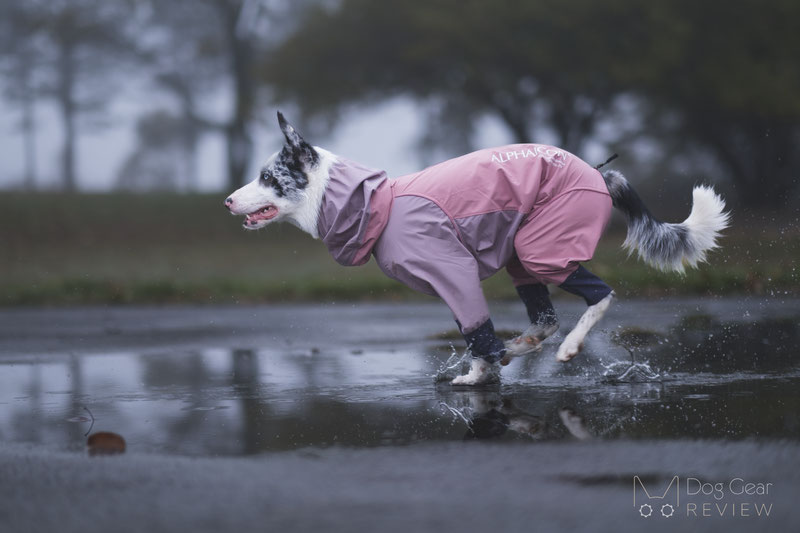 Zulu's measurements when using this jacket
I share Zulu's measurements below so you can better understand the different products' fit.
Shoulder height: 18 inches (46 cm)

Weight: 28 pounds (12.5 kg)

Widest chest circumference: 24 inches (60 cm)

Neck circumference for collars: 13 inches (33 cm)

Back lengths: 18 inches (45 cm)