When going on summer hikes with our dogs, it's crucial to prioritize their comfort and safety. As the weather gets warmer and we explore the outdoors, it's essential for dog owners to choose a harness that's suitable for the season's specific challenges.
What do you need in a good dog harness for summer hikes?
In this article, we explore the key features and qualities to consider when selecting a dog harness for summer hikes.
The three main features to keep in mind when choosing a harness for a summer hike:
Optimal Fit and Unrestricted Movement: One of the primary factors to prioritize when choosing a dog harness for long hikes is ensuring a good fit that minimizes the risk of chafing or rubbing. A properly fitted harness should sit snugly against the dog's body without causing discomfort or restricting movement. Additionally, it should allow for unhindered shoulder mobility, enabling the dog to walk with their natural stride.

Minimal Coverage and Enhanced Breathability: As the summer sun beats down, it is crucial to select a dog harness that offers minimal coverage and excellent breathability. Dogs are more prone to overheating than humans due to their limited ability to regulate body temperature effectively. Therefore, a harness that provides adequate airflow can help to prevent excessive heat buildup under the harness. Look for designs that incorporate breathable fabrics or mesh panels strategically placed to promote air circulation and help regulate your dog's body temperature, minimizing the risk of heat-related issues.

Quick-Drying, Waterproof/Breathable Material: When choosing routes for summer hikes, it's always nice to encounter water bodies such as rivers, streams, or lakes so the dogs can cool down. In such cases, a dog harness made from waterproof or quick-drying materials is highly desirable. These features enable the harness to dry swiftly and prevent discomfort and potential skin irritation caused by prolonged dampness.

Handle/Ability to grab the harness easily: While exploring rugged terrains or encountering steep sections on the trail, a handle on the harness can provide added support and control over your dog's movement. However, it is crucial to choose a handle design that is functional yet streamlined, minimizing the chances of it getting caught in bushes or branches while your dog explores. Opt for a low-profile handle that allows for easy grabbing without compromising your dog's safety.
Our 5 Favorite Dog Hiking Harnesses
Ruffwear Flagline Harness
The Ruffwear Flagline harness is ideal for summer hikes due to its light and thin materials, allowing your dog to stay cool and comfortable during hot weather adventures. The harness features a chest and belly panel, distributing the weight evenly if they need a lift on a steep section.
Designed with six adjustable straps, this harness ensures a secure and snug fit for your dog, while the third strap minimizes the chance that the dog can slide out when lifted or spooked.
With its integrated handle, the Flagline harness offers convenient assistance during tricky terrains, but it is streamlined enough to prevent the dog from getting caught in dense undergrowth.
If your dog prefers minimal coverage, check out the Ruffwear Hi and Light Harness, which is the "short" version of this one. If you want to combine a three-strap harness with a cooling vest - the Ruffwear Swamp Cooler Dog Cooling Harness offers just that!
You can check out our review of the Ruffwear Flagline Harness for more information.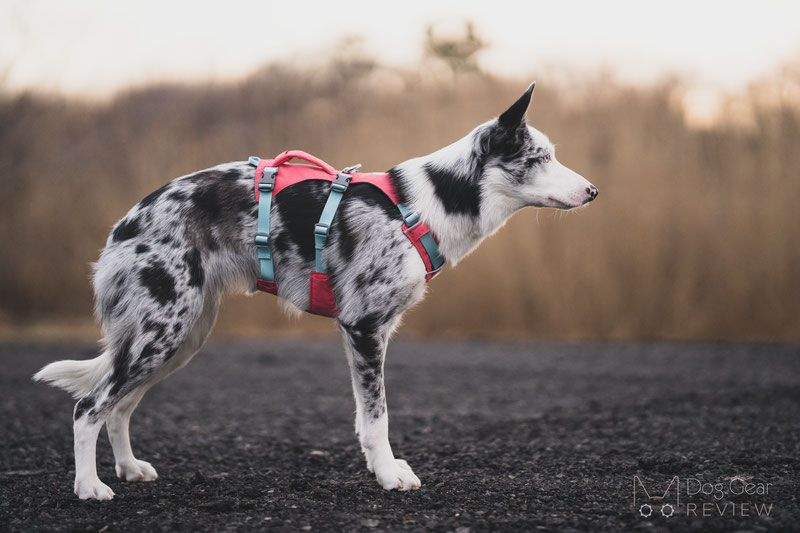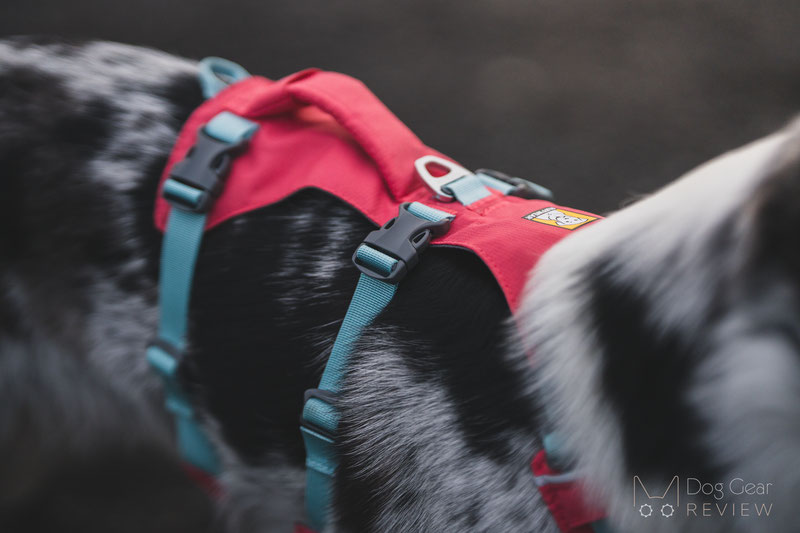 OneTigris X-Commander Harness
Although a black harness is not ideal for summertime, the OneTigris X-Commander Harness's back panel is made of a thin, mesh material that makes this harness very light and breathable. Featuring a Molle system, the harness offers ample attachment points for gear and accessories, and it even has a velcro section for adding patches.
If your dog is gear-shy or if you need to add the harness over a GPS collar - you will appreciate that this harness has buckles on the neck-straps making this process a lot smoother.
The OneTigris X-Commander Harness review is coming soon!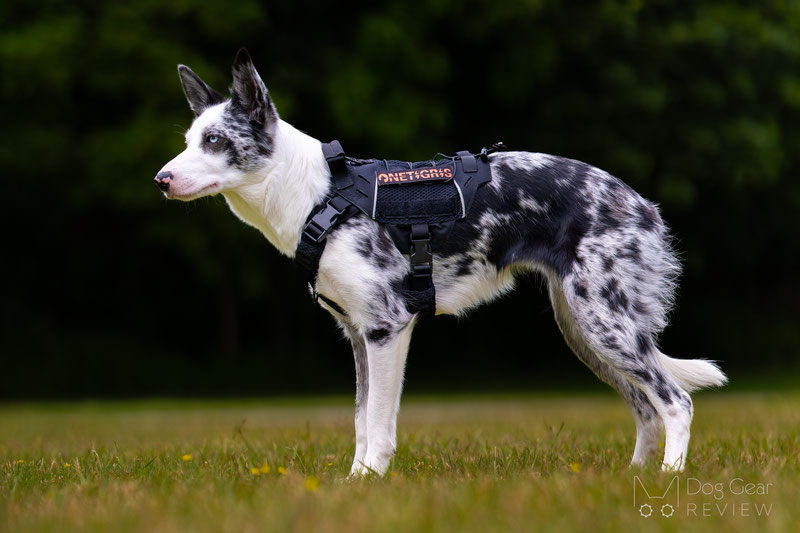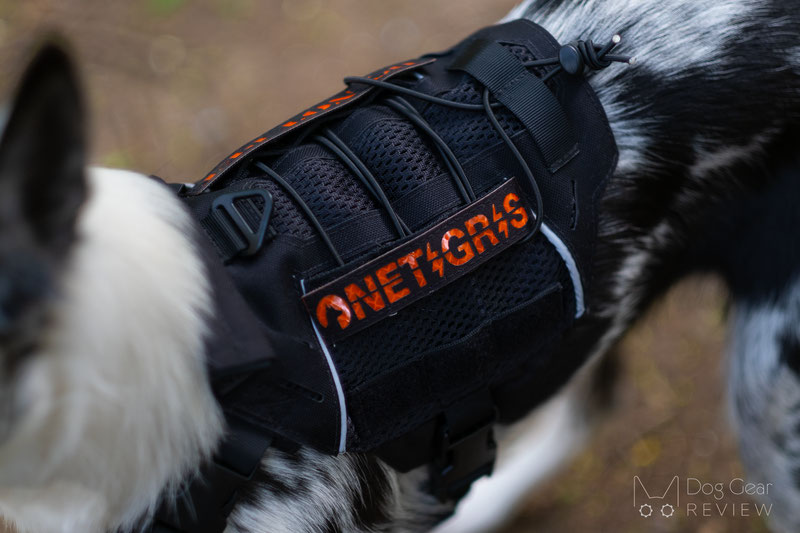 Julius-K9 Longwalk Harness
The Julius-K9 IDC Longwalk Harness is a great choice for summer hikes, thanks to its ergonomic design, high adjustability, and durable materials. The low-profile handle and leash attachment points are also great additions for walks in the woods.
What sets it apart is the incorporation of unique DuoFlex elements, featuring elastic sections that effectively absorb the micro tugging of the leash. This innovative feature reduces strain on both you and your dog, ensuring a comfortable and enjoyable on-leash hiking experience, especially on uneven terrains or during unexpected movements.
You can check out our review of the Julius-K9 Longwalk Harness for more information.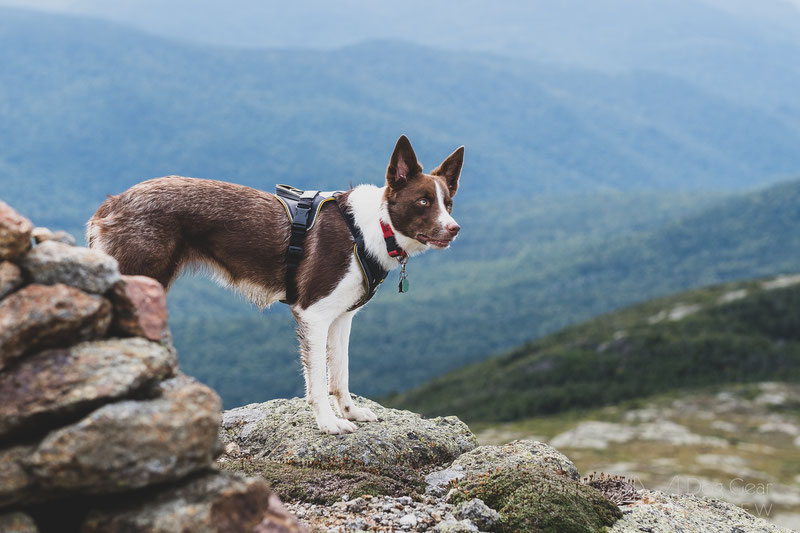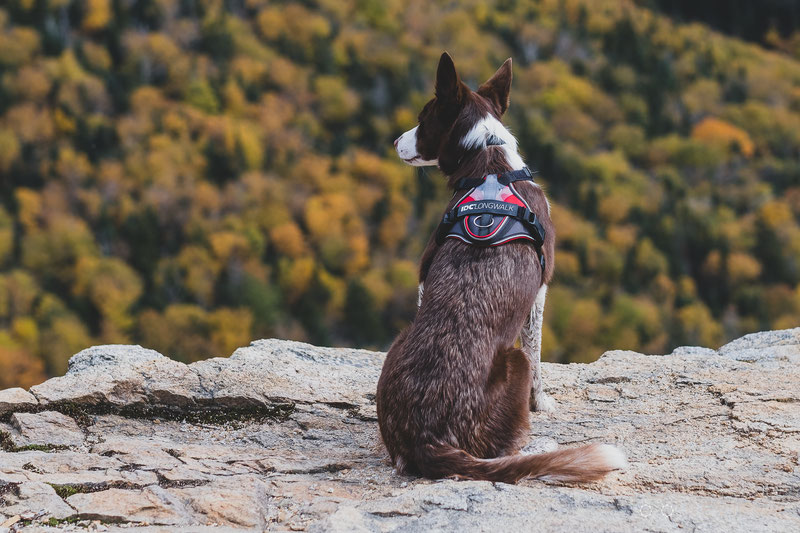 Non-Stop Dogwear Rock Harness
The Non-Stop Dogwear Rock Harness is an excellent choice for summer hikes due to its lightweight and breathable HexiVent material, allowing your dog to stay cool and comfortable during warm weather adventures and dry quickly after a swim.
The four adjustable straps and the padded chest and back piece ensure comfort and prevent chafing, even for dogs who sometimes pull into their harnesses.
If you are looking for a longer version of this harness - Non-stop Dofgwear just came out with its three-strapped version called Rock Harness Long.
You can check out our review of the Non-Stop Dogwear Rock Harness for more information, and the Rock Long review is also coming soon!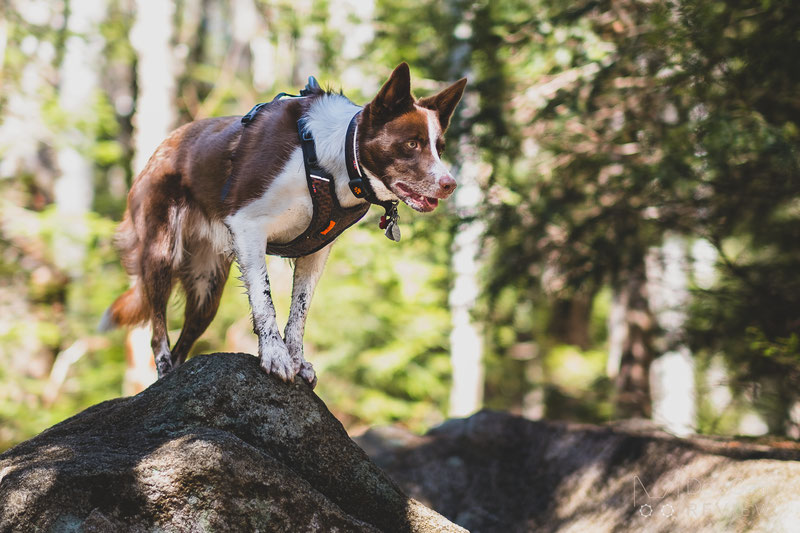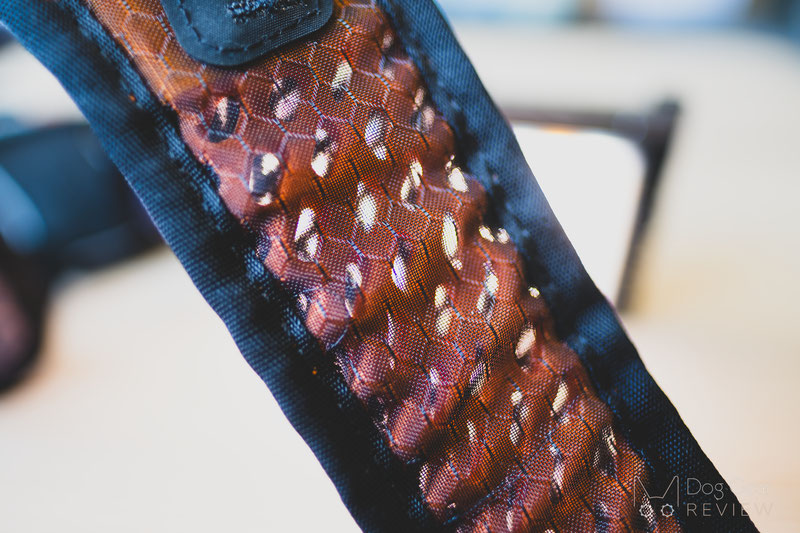 Blue-9 Balance Harness
The Blue-9 Balance Harness is designed with highly adjustable straps to create a custom fit even for dogs with unique proportions to prevent chafing and discomfort. On this harness, ALL straps are adjustable, including the back piece and the one between the front legs.
The minimalistic design also helps to keep the dogs cool and doesn't interfere with drying after a swim.
You can check out our review of the Blue-9 Balance Harness for more information.