What is a Coyote Vest? How does it protect a dog? Why would a dog need a coyote vest?
We have another article going into all these topics, but I wanted to have a summary here as well.
Coyotes typically stay away from people and dogs, but our town has a serious problem with coyotes who were born in the town and are not afraid of cars, people, or even big dogs. Over the summer, they killed multiple leashed dogs by their owners. They mainly attacked small dogs, but they also jumped a fence and attacked a lab in their backyard.
Since we frequently see them around our house, I wanted to find something that would add extra protection for the dogs while we walk on a leash in the dark.
The Coyote Vest - Body Armor has stab-resistant vests and offers different accessories to add more protection in the form of whiskers or spikes. You can also mix and match the vests with their spiked collars or harnesses to create a larger coverage if needed.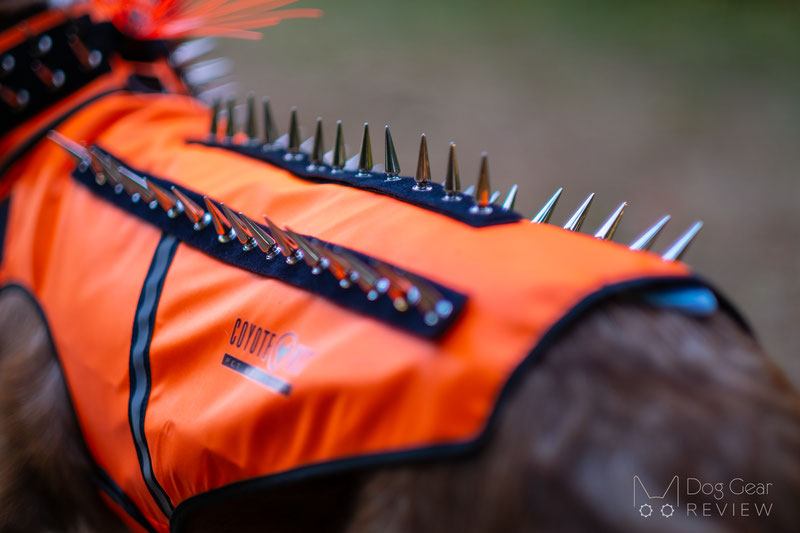 When choosing the vests for Zulu and Mia, I had a hard time deciding between their CoyoteVest vs. SpikeVest, so I wanted to write an article explaining the differences and helping others to make a decision!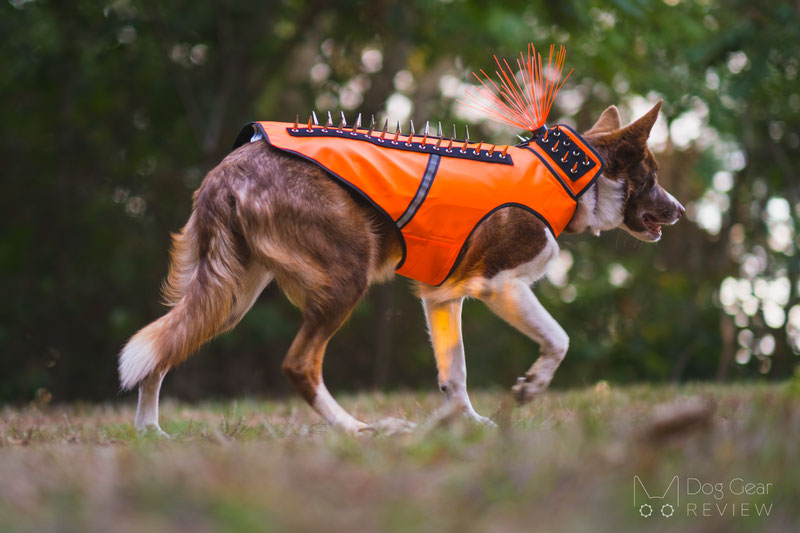 CoyoteVest
The CoyoteVest has two highly adjustable straps with plastic buckles. It is lightweight but stab resistant. It has Kevlar side panels and a collar, while the other parts are made of special weave Cordura. It comes in bright colors and has reflective stripes.
Since this design doesn't protect the throat and the chest/belly area, it's ideal for smaller dogs who are more likely to be attacked from the top.
It is easy to remove and ideal for hot days when you try to limit the coverage to prevent overheating but still need some protection on the dog. You can place it over a coat or fleece underlayer for colder days.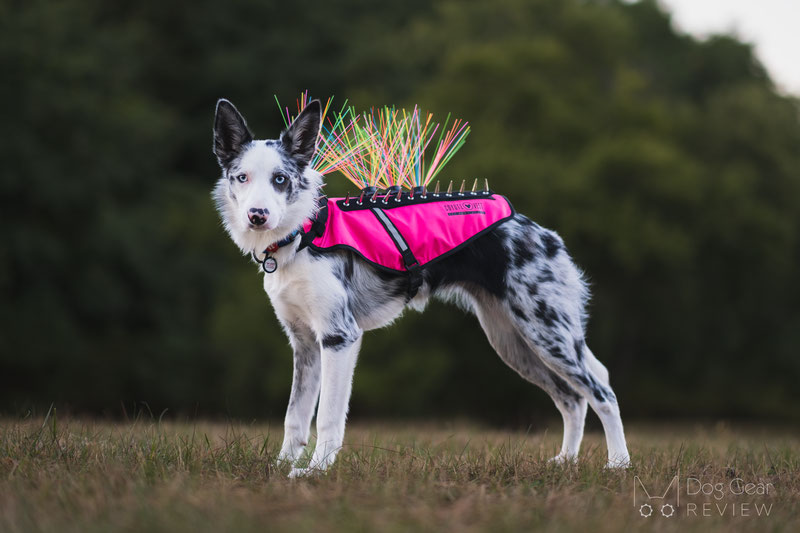 SpikeVest
The SpikeVest has all the same features but covers more of the throat and the chest area. Both the neck and the chest straps are secured with military-grade velcro. The bigger coverage also makes it a little heavier (approx 1 ounce depending on size), which might make a difference in the comfort of small dogs.
The vest is made of a combination of specially coated ballistic nylon (Cordura) and kevlar.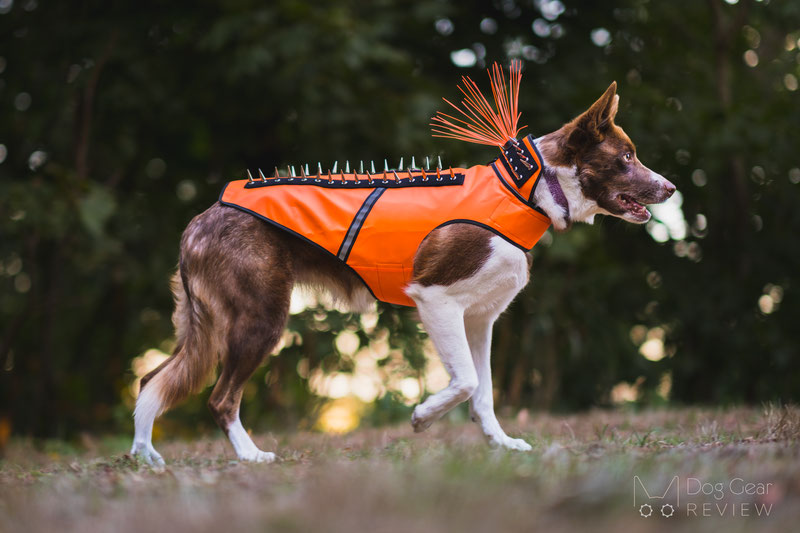 So, which vest is right for my dog?
The CoyoteVest is great for
smaller dogs,

for hot days,

for dogs who don't like the sound of velcro or the bigger, more rigid coverage of the SpikeVest

If the dog is still growing (high adjustability)

If you don't want to deal with cleaning the velcro.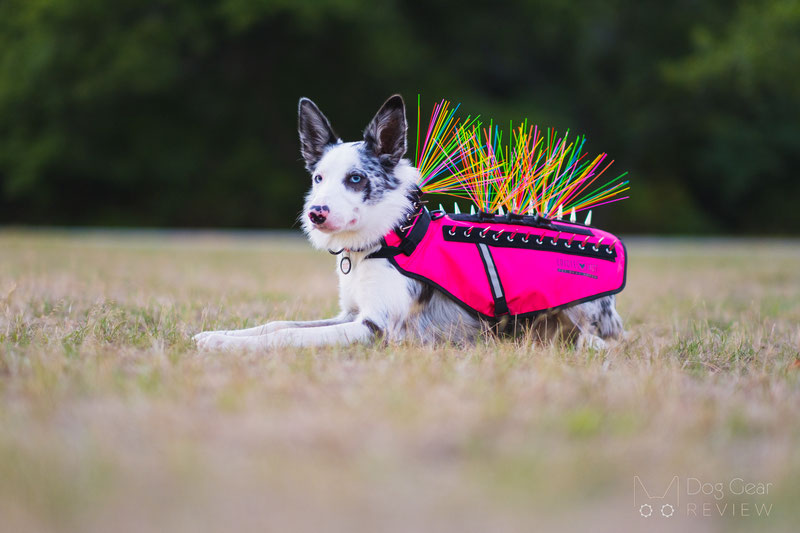 The SpikeVest is great for
Bigger dogs who have a higher likelihood of getting in a fight and being attacked on the neck/belly area (vs. just being picked up from the top like small dogs),

For cold, rainy days,

If you have trouble handling small plastic buckles.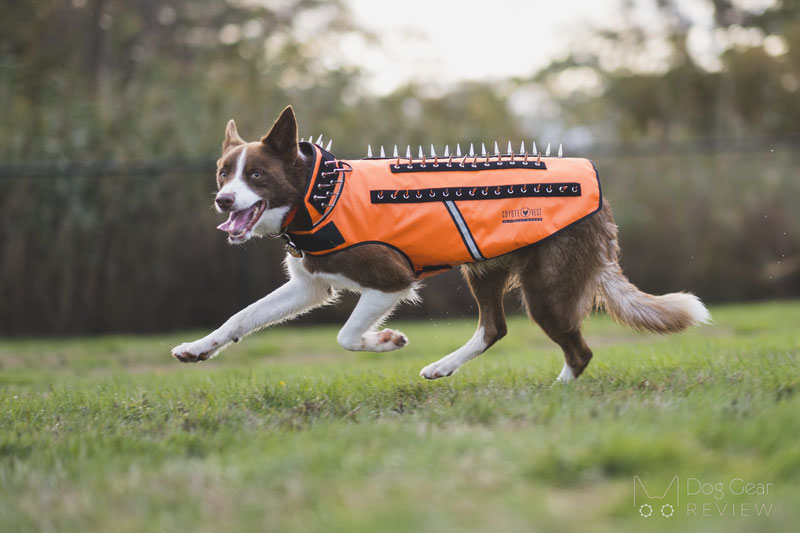 We are also working on individual, in-depth reviews for both of these vests!