The idea of this article came to me when I joined a Search and Rescue Team, and we started training with Mia. There are so many things to research and buy from clothing, through radios, GPS, etc., but while you can find excellent guides for most of these, it's very hard to figure out where to start with dog gear. Do I want a harness or a vest? Do I need anything extra for the dog? When should I invest in a GPS collar system? Can I just use the much cheaper and less bulky cellular trackers?
Since I couldn't find articles on these topics, I decided to write one!
Assumptions
Unfortunately, I can't give you an ultimate guide that you can follow for all search dogs in all areas. Many of these decisions will be based on your location, the typical environment you work in, and eventually, your preference and budget. Talking with other K9 SAR handlers in your area is always a good point to start!
There are also different SAR areas, and one needs different gear for tracking, air scenting, disaster search, etc. Mia is trained to be a Wilderness Air-scent dog, so she works off-leash deep in the woods. Most of our recommendations will be based on our experiences in this area.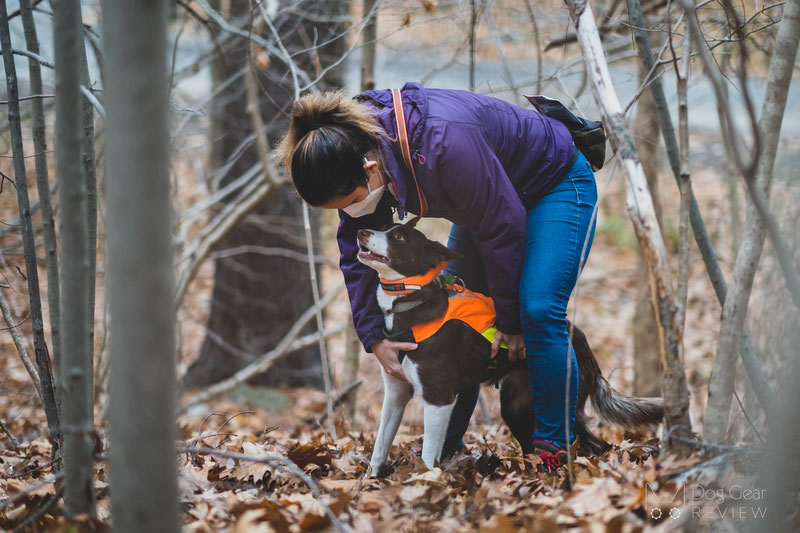 The different approaches of Searching "Naked" vs. having a "Christmas-tree"
Some handlers prefer to work their dogs with very minimal gear while others feel that if there is something out there that can protect the dog, we should use it. This goes back to understanding that there is no one way to do things. Someone searching in the desert will need very different gear than one going through dense forests. A dog that runs at full speed through the woods while searching can benefit from a kevlar chest protection, while a slower dog might not need that. If a dog works in the heat, you have to balance out the need for any protective gear and the risk of overheating. K9s working on rubble tend to be naked because getting stuck somewhere is a significant risk even though they are in an area covered with broken glass, debris, and potential toxins.
This article will talk about each gear category, but this is by no means a checklist that we think one needs to invest in. In general, I also prefer not to put something on the dog unless they are truly necessary. Even a harness or a vest can get stuck on something in the woods and result in injuries. Dogs are not Christmas trees that need to be covered from head to toe - even if they have visibility or protective purpose. There is a point when the "less is more" approach kicks in - that we actually discussed in another article before.
Never feel that it is less professional to work a dog with only a collar on, or even without that if that's what works for the day, for your dog, for the area that you are searching. We are only going through all categories to give you the pros and cons to start thinking about them.
K9 SAR Harness or Vest
Having a harness or a vest on the dog has multiple purposes. Firstly, it can provide visibility, which is especially important if the dog works off-leash in areas with hunters/poachers. A high-visibility vest also helps to keep track of the dog in dense areas or at dusk/dawn when they are farther away. Having a vest/harness with a "Search Dog" label can also help limiting the stress of the lost person when a dog runs up to them (assuming it is a live-find dog).
Another reason to use a vest or the harness is that one of the most common serious search dog injuries is on the front/chest area. When they run and jump over obstacles in the woods, they can hit a branch or other object, which can cause injuries.
Last but not least, many are using a designated vest or harness to mark when the dog starts and finishes work to separate longer searches from off-leash time. Dogs quickly learn that wearing that specific gear means working, so if this is your goal, choose a unique product that you will only use during searching.
Vest and Harness Recommendations
Below are short intros of products that we already tested and have properties that could make them a good option for SAR.
The Non-Stop Dogwear Protector Vest that we reviewed before is an excellent option for the fall and winter. This has a reasonably wide chest piece made of kevlar; the design leaves plenty of room for shoulder movement. It is a snug-fitting, low-profile vest, so I never had an issue with it getting stuck on anything. The sides are high-visibility orange and yellow.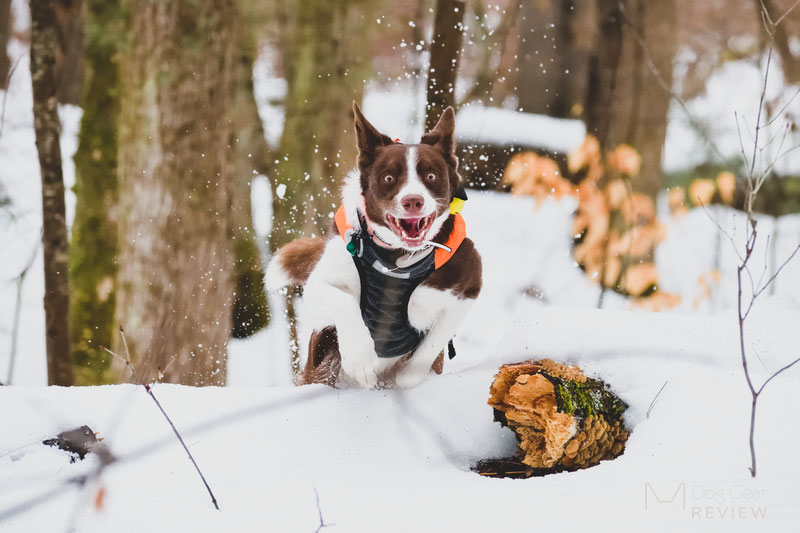 If you prefer to have a handle, the Duo Eclipse Adventure harness can be a good option as well. This has a ballistic nylon skid plate on the chest and is made of MilSpec Cordura fabric. The harness is durable and well-made and can easily handle running through dense bushes, although it doesn't have a velcro panel for texts, and it doesn't come in high-visibility colors.
If you want to read more on it, check out our review!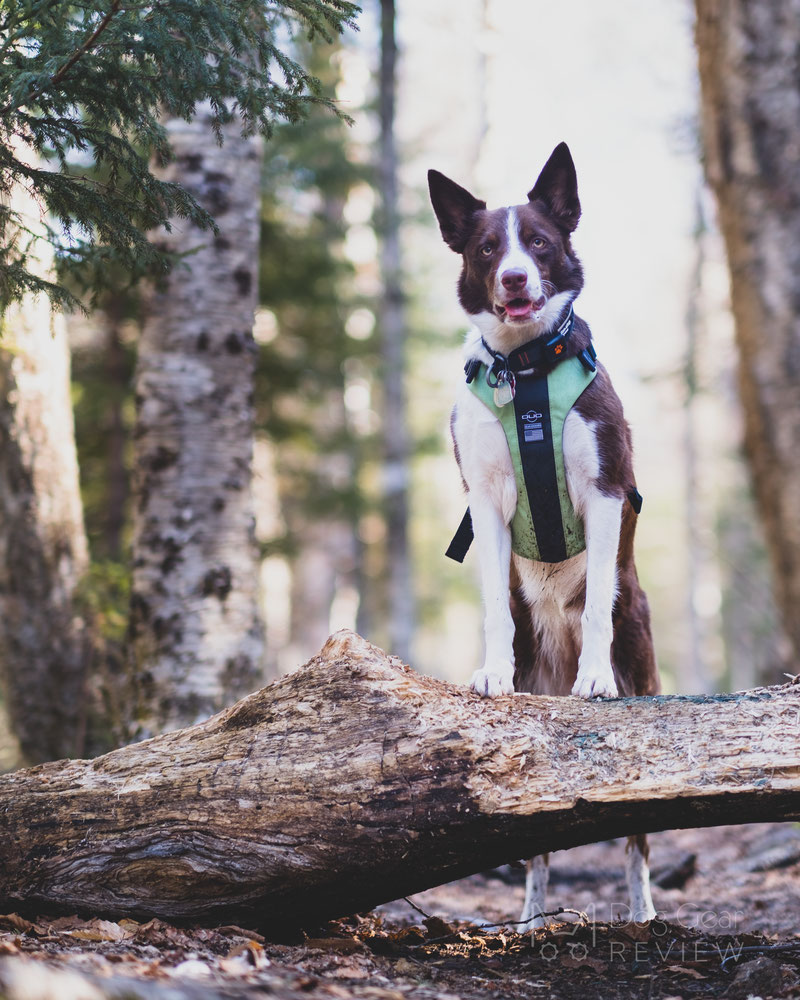 If having a velcro panel on the harness for visible patches is crucial to you, the Julius-K9 IDC Stealth Powerharness can be an excellent option. This harness was developed for law enforcement; it has a large velcro panel on the sides and even on the front, has a handle that lays flat, and an elastic loop on the back for adding a LED light.
Click here for the detailed review if you want to read more.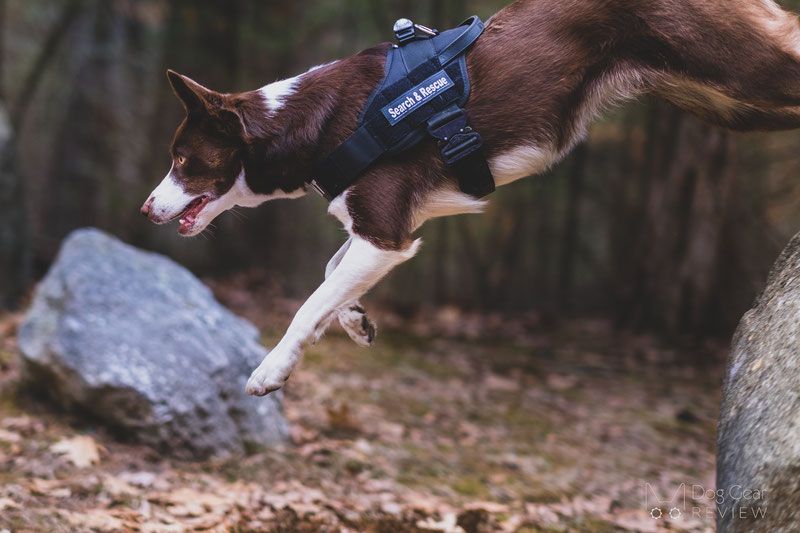 For hot or rainy days, the Julius-K9 Color and Gray harness is an excellent alternative. It also has a large velcro panel on the sides, but it's much lighter and covers less of the dog's back than the Stealth Powerharness. In addition, it is made of a durable material that doesn't soak in any water so it can be easily rinsed clean.
Click here for the detailed review if you want to read more.
If the topic of Norwegian-style harnesses (the one crossing the front) and shoulder restriction is a concern for you, we recommend checking out our article going through all available researches on the topic.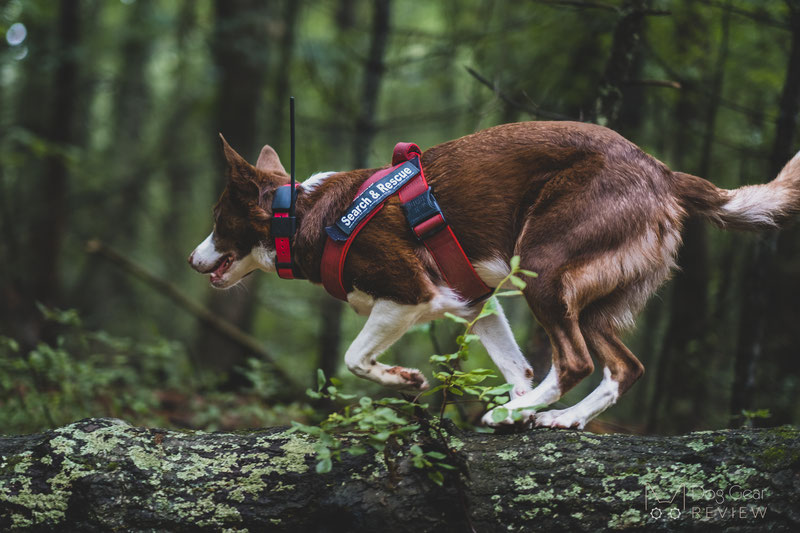 OneTigris is another company that has many different harness designs offering different levels of coverage while having velcro panels and reflective elements on most of them. We reviewed their Fire Watcher; Fire Tanker, and Gladiator Support harness already and are currently using the Goliath Training harness on search training!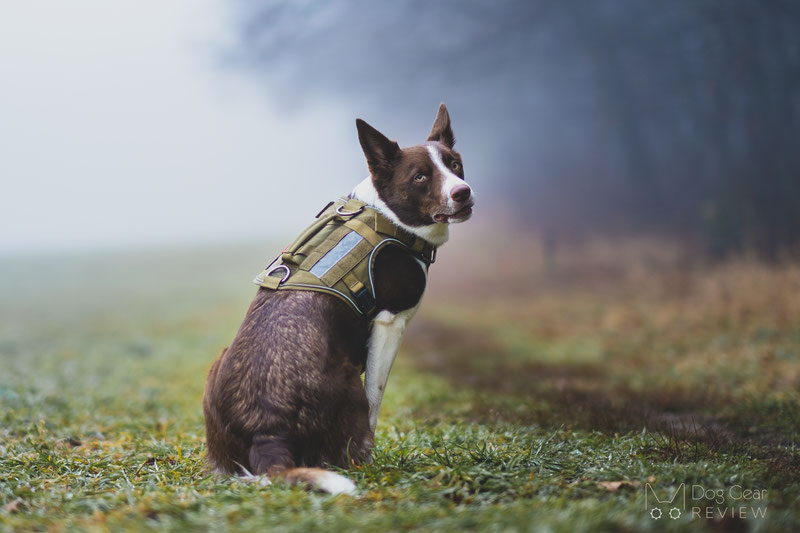 If you are in Europe, the Yutipet RnD Safety Harness can also be a good option for a SAR harness. It is a very visible harness with a round velcro panel for texts. They also offer custom patch graphics so you can have the team logo or anything else printed on it!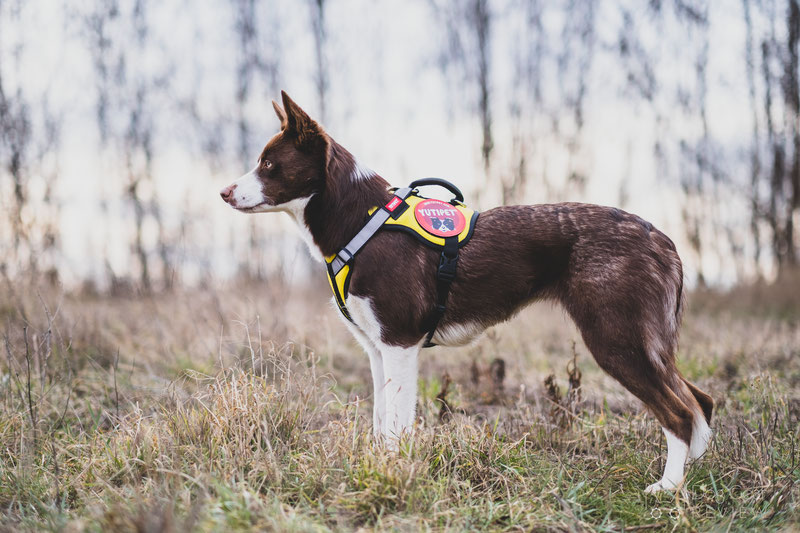 Mantrailing requires a whole different setup, but Julius-K9 has a harness for that as well. We reviewed their older design but received the updated model already and will update the review with that. This harness was designed with the collaboration of mantrailing teams and has fantastic features - like the elastic elements to eliminate micro tugging. In addition, it is highly adjustable, has room for a small velcro patch, and comes in high-visibility colors.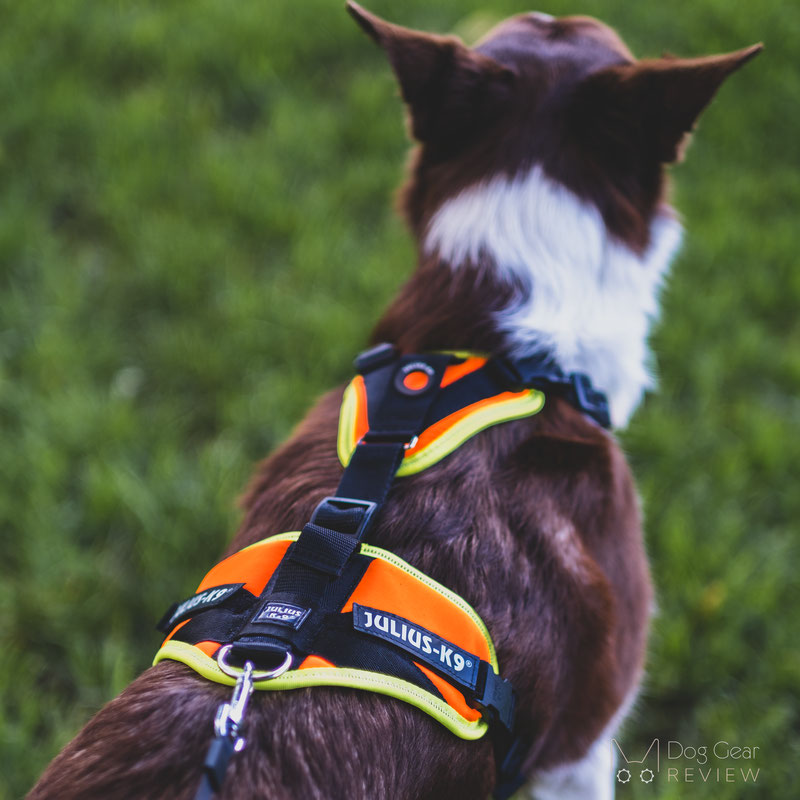 Visibility at Night
We train once a week in the evening, which is a great practice since actual searches also frequently happen in the dark. Having LED lights on Mia was especially helpful when she was a beginner. It was much easier to read her body language, change in speed, etc., when she was wearing the vest on the image below, which has three separate lights on both sides. This helped me see when she gets confused or sidetracked and needs a little help during her task. Lately, I just use a LED collar to make her more visible.
Click here for the detailed review of the Illumiseen LED vest on the photo below and here for reviews on their LED leash and collars.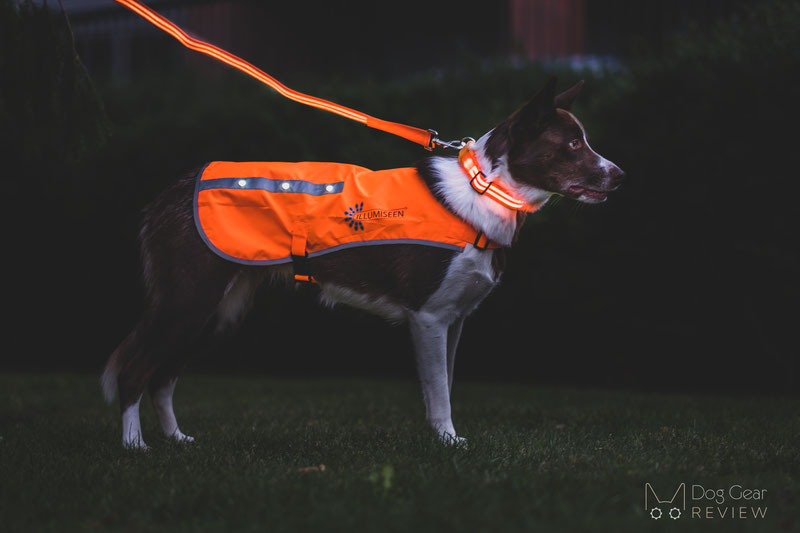 Bell vs. Beeper
Using a cowbell or bear bell also has multiple reasons. First, it helps to always unconsciously know where your dog is, how fast they are moving, and notice immediately if they stopped. It also helps them stay in the "working midset" because they learn that they are in the woods searching, not playing around when they wear the bell.
The biggest con of these bells is that you will not hear them when the dog starts ranging out farther from you. This is where a beeper comes into the picture.
Beeper collars use a motion sensor to determine what the dog is doing and "beep" based on the user's settings so the handler knows from far away what their dog is up to.
This is helpful because you can hear a moving dog from much farther away, and it also tells you when the dog stops moving. Latter can mean that the dog found something that they are investigating or that they are stuck/injured and cannot move. In the latter case, you want to get to them as soon as possible, and a beeper can help you find the exact location of the dog faster and more accurately than based on the GPS collar.
We are currently testing the SD Beep from SportDOG Brand, which has 9 tones and 3 modes. The modes let you set to make one beep every 5 or 10 seconds while the dog is moving and then changing to a beep every second when the dog stops. You can also choose a mode to only beep when the dog stops.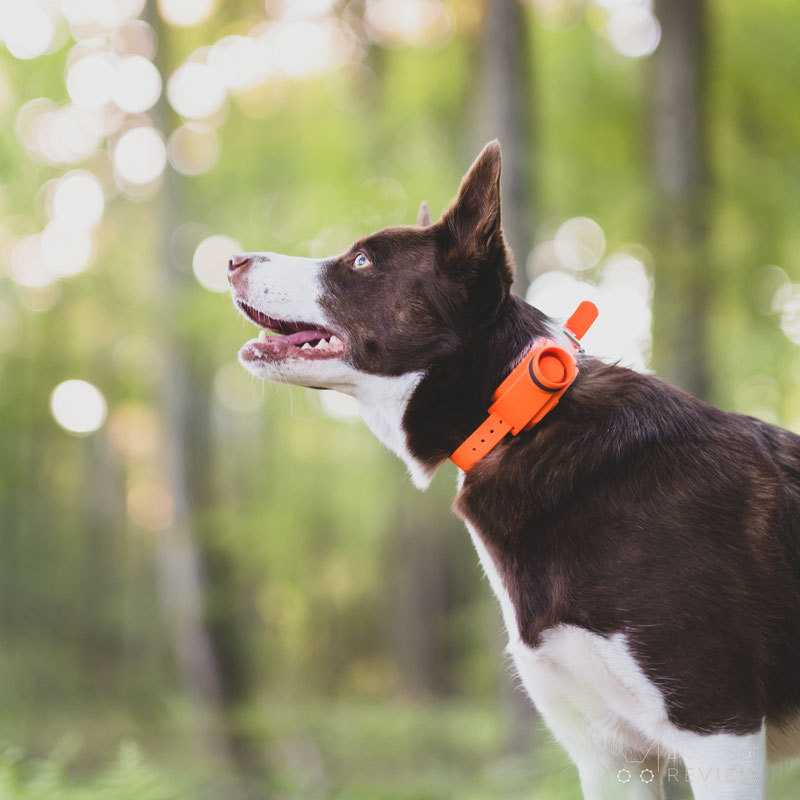 Keeping dogs warm
Training (and searching) in every season and weather probably means that your dog needs to deal with significant temperature differences. While dogs are usually good at handling cold while moving, most of them require some extra protection while waiting in the car for hours during the winter. You can add a thicker bed and a cover to the crate for extra insulation. Last winter, we thoroughly tested Canelana's wool beds and coats, which proved to be very helpful during the coldest period of the season. Adding a coat that covers the main muscle groups can also significantly decrease the risk of injuries by keeping the muscles warm.
Last winter, we checked 18 winter coats with a thermal camera to see how the different materials and designs influence the heat loss of Mia. Check out the article if you want to read more on this!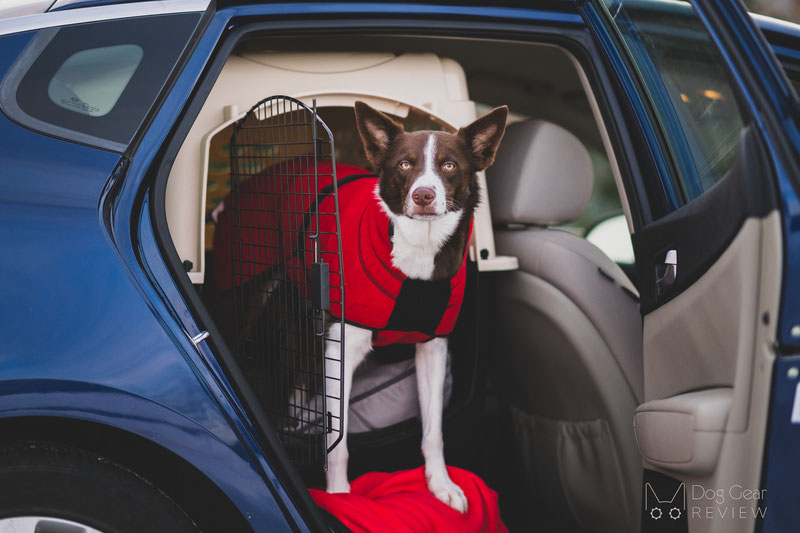 Keeping dogs cool
Over the last few summers, it seems that all dogs need some level of help to handle the temperature. This is especially true for SAR dogs who need to work on warmer days or wait in the car on a warm day before being deployed.
Having an Aluminet shade covering the car is a requirement if you cannot park in the shade. It might not be enough by itself, but nothing else will help if the vehicle constantly radiates heat on a summer day. A cooling mat, a cooling vest, a fan, and a ventilation lock can also be a big help. However, keep in mind that the cooling vest will do more harm than good on humid days and that the vent itself is not helpful when the temperature is high. (We go through all these in detail in our article on How to keep dogs cool over the summer)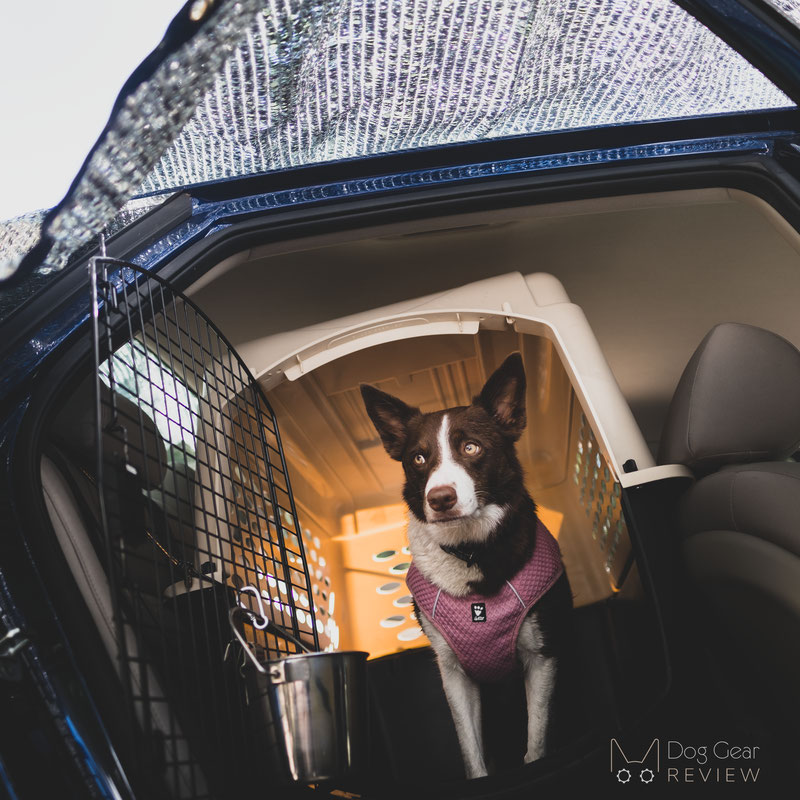 Hydration is crucial for all dogs, but it's especially important for search dogs because a wet nose works better than a dry one. Having a water bowl fixed on the crate door can significantly increase their comfort level, especially if you also have a dog who is too busy to drink when working.
Since keeping dogs cool is a long topic, we have a detailed article talking about all kinds of cooling products, electrolytes, their pros & cons, and limitations. It also has links to all products and a high-level review for each!
GPS Trackers vs Cellular-based Trackers
One of the most frequently asked questions is if a GPS collar is essential for search dogs. This is an expensive investment, but it's not one that you have to decide on any time soon when you start training in SAR. The need for a GPS collar also changes by area, dog, team, etc. Around us, it is mainly used, so you can download the dog's track after a search and hand it over to Command, so they have a record of the area that you covered. This is not a factor for mantrailing dogs or K9s working on rubble, as far as I know.
We received the SportDog TEK 2.0 system at the beginning of the spring and will have a detailed review of it when we had more time to test it out. This is a professional GPS and collar system which shows the dog's location with a 3-second update rate without needing the cell network. While it is not necessary to have a tracking system to train a search dog, it does help keep track of each task's stats, and it's great to see their direction and distance from you while on task. So far, the TEK system has never failed us during training.
The only con of the TEK system is that you cannot download the route from the handheld unit currently. You can save it and look it up later in the GPS with all the stats related to your and the dog's track, though.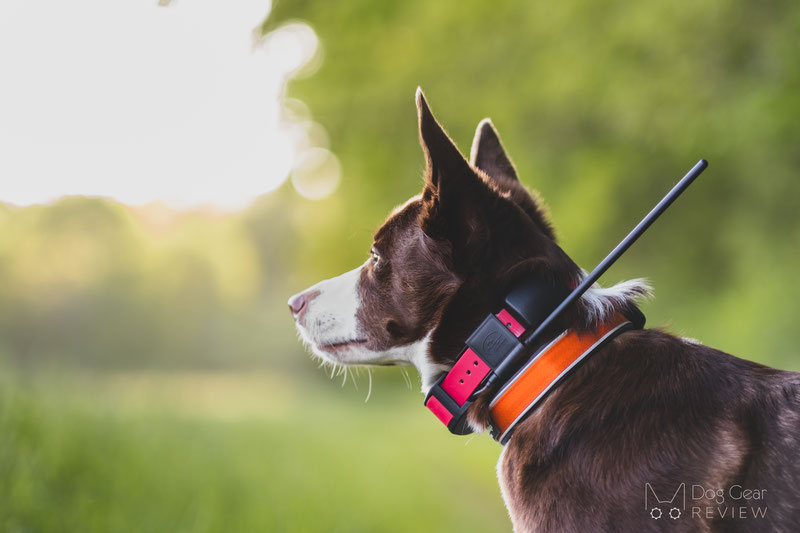 We also tested a few cellular-based trackers during search training to see how they perform, although they are not marketed and designed for this.
The Tractive tracker was an interesting solution among them. It determines the location using GPS satellites with 7.8 m (25 ft) accuracy at a 95% confidence level, but it uses the cell network to forward this information to your phone. An outstanding feature is that the tracker works on many different networks and uses the best available, which provides better coverage in spotty areas and also allows it to work in 150 countries worldwide.
A remarkable feature for SAR is that the premium package lets you download the tracks in .gpx through the desktop app, and you can just send it over to IC if they need it after a search. It also records the location every 2-3 seconds, so the track is pretty accurate.
If not having cell coverage is not a concern in your area, this could be a good and affordable solution instead of using professional GPS collar systems. I usually don't have coverage issues with my phones during training, but we run into plenty of spotty areas while testing these trackers, even in popular forests by big cities.
You can check out the Tractive review for more details!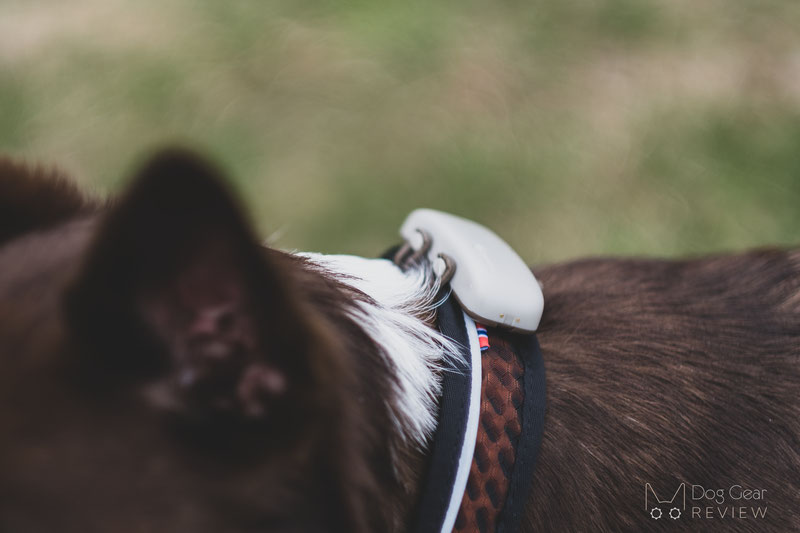 The Findster tracker works without a cell network, and it tracked our off-the-grid hikes perfectly as well! The only limitation is that it only works in a radius of up to 3 miles (5 km) from you - and you will not get that range most of the time. If the dog is ranging out far, this is not an ideal solution, but I never had an issue with it since Mia doesn't go too far. It sends the location every 10 seconds, which results in a less accurate tracking than the other two options mentioned above, but in return, it works anywhere around the globe.
You can check out the Findster review for more details!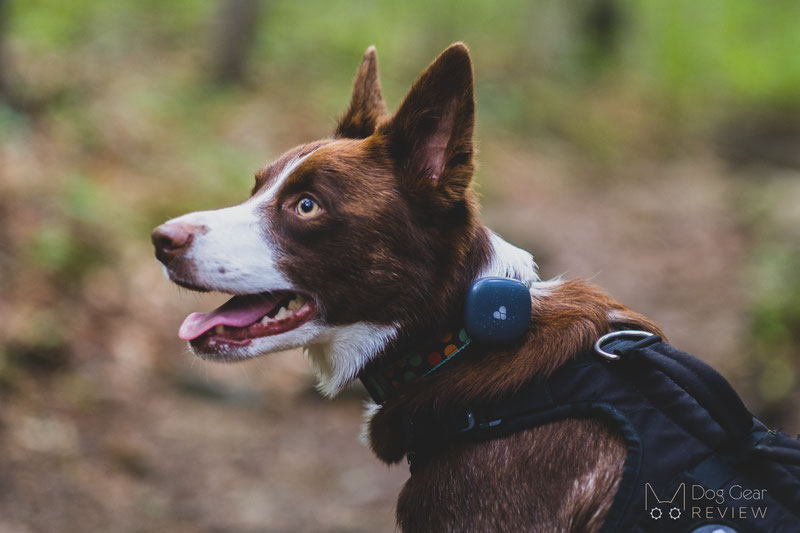 Goggles
Although it sounds weird first, there are many reasons why a dog can benefit from wearing goggles. In the SAR world, it's mainly used to protect the dogs' eyes from punctures or trauma when running through a dense forest.
As with any gear, there are always risks of getting caught on something in the forest, and while it protects the dog's eye, it can cause severe injuries if their head gets snagged back while running. However, I talked to a few handlers who use goggles on their search dogs, and they never had issues with this in real life. They made the point that the straps are snug, and the front of the goggle is streamlined, so while it's not impossible that it would get stuck on something, it is less likely than in the case of an average harness.
This is another subjective topic that everyone needs to consider based on the vegetation in their area and their dog's search style. We discussed these topics and Mia's eye injury in the Rex Specs Goggles review.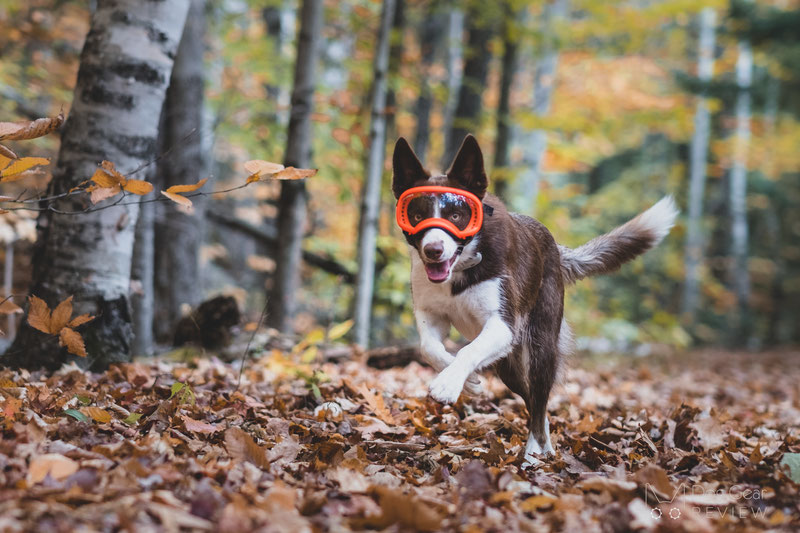 Boots
Most people think that dogs searching on rubble always wear paw protection, but that's usually not the case. Having boots on the dog on warm days has its risks, but losing traction is the most significant issue for search dogs. If one decides to use boots, the softer but rubberized designs usually provide better grip and balance to most dogs, like the Non-Stop Dogwear Protector bootie that we reviewed before. These are also lightweight, packable boots, so they are easy to carry in the ready Pack for emergencies.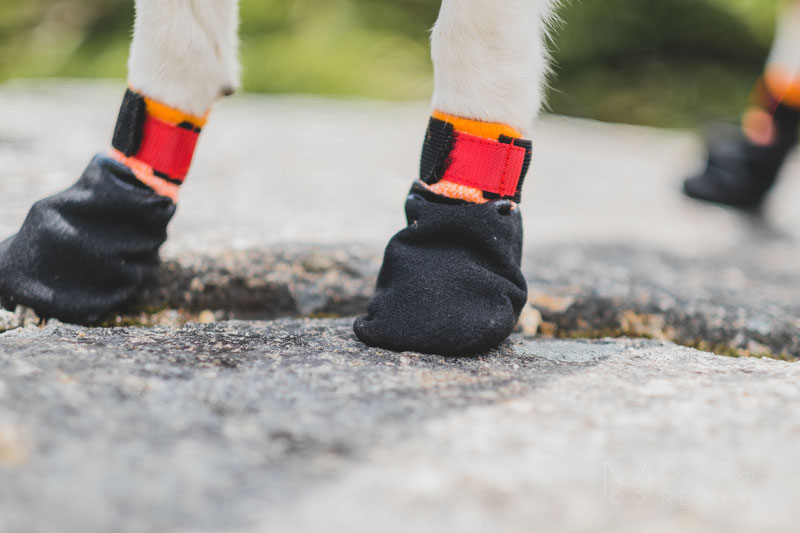 Summary
We hope you found this gear guide a good starting point to think about the different options on the market. If we missed any topics that you would like to read about or have any questions/comments, please reach out to us; we are always happy to chat!