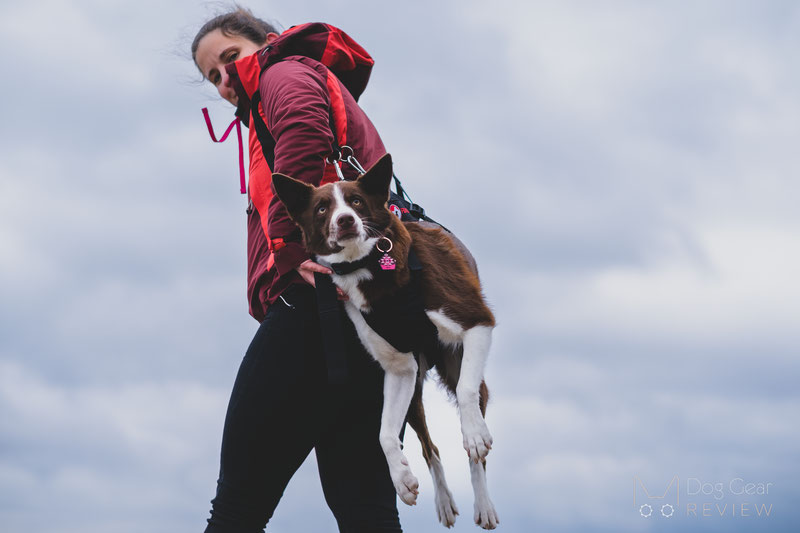 Emergency Dog Rescue Harnesses Comparison
I hike alone with Mia, so being able to carry her out in an emergency is crucial to me. Unfortunately, most dog owners don't consider the need for an emergency plan until it's too late, which is why I feel passionate about introducing and comparing the four best-known carry-out harnesses/slings.
I am working on a more detailed review on each of these, so here I will focus on the biggest differences and how they compare. Let's start with a short introduction of each.
Mountain Dogware: Pack-a-Paw Rescue Harness
The Mountain Dogware Pack-a-Paw Rescue Harness is a one-piece sling with four holes for the legs. It comes in two sizes that fit medium to large dogs.
The simplified design makes it very packable and lightweight, so you can easily keep it in the backpack. Among the four emergency carry-out systems we tested, this packs the smallest and weights the least: only 6.7 oz (medium) & 7.8 oz (large).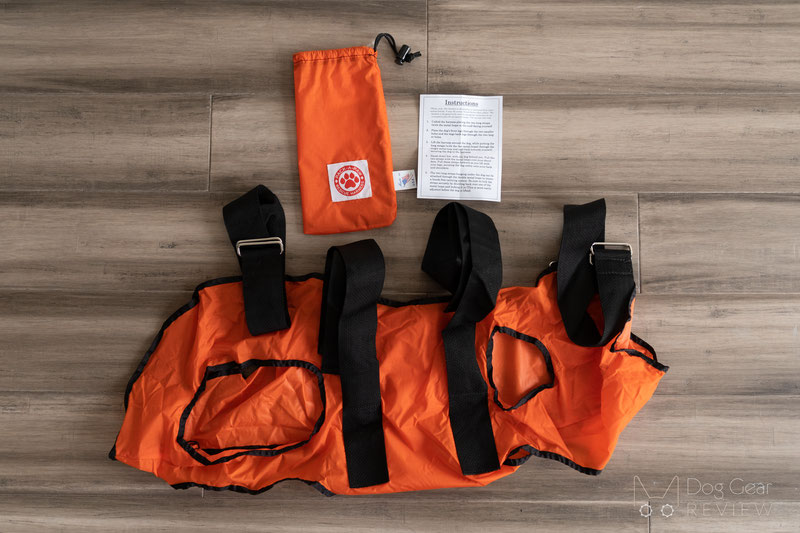 Pulling the straps through the metal hardware can get a little confusing if you don't have the instructions on hand but besides that, putting it on the dog is pretty simple as long as you put the back legs through the bigger holes. The one-piece design makes using it easier, but the lack of adjustment options around the dog can also potentially cause issues with circulation if it doesn't fit the dog well.
This one-piece design can also be hard to put on the dog if they are seriously injured or unable to stand up since you need to pull the legs through the holes. The straps slide freely through the metal hardware when lifting the dog, tightening the sling around the dog's body.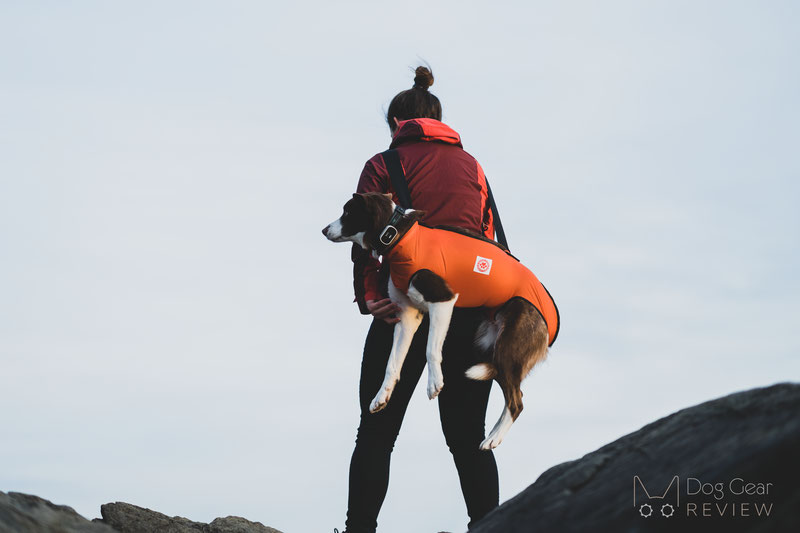 The Pack-A-Paw harnesses are made in NH, USA, and are patented.
Fido Pro: Airlift Emergency Dog Rescue Sling
The Fido Pro Airlift Emergency Dog Rescue Sling is very similar to the Pack-A-Paw design at first sight; the difference is in their unique V-strap system (which provide eight-points-of-contact), in the hardware, and sizing. The Airlift holds the US Utility Patent Number 10,932,438.
This packable and lightweight carry-out harness comes in a small stuff sack so you can easily keep it in your backpack. It comes in M, L, and XL size to fit medium and large dogs. The Airlift XL-2 Package includes accessories to convert the XL size Airlift into a two-person, assisted carry system for extra-large dogs. One person still needs to be the primary carrier, but the other can support them on steep terrain and take over some load when standing up.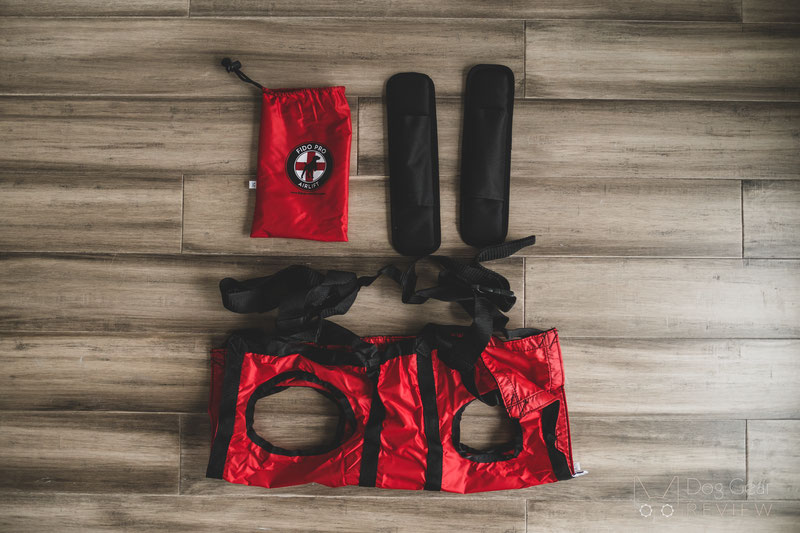 The Airlift was the easiest rescue harness to set up since there aren't many adjustment points all around, and the front/back, inside/outside is marked on the harness itself. On the other hand, this also means that there isn't much room to customize it - causing the same concerns mentioned above. Mia has a fairly long body which made the chest support sitting over her shoulders, making me feel that she is not completely stable in this design. We also received their bigger size (large) to check if that would fit her better, but that was too large to support her safely.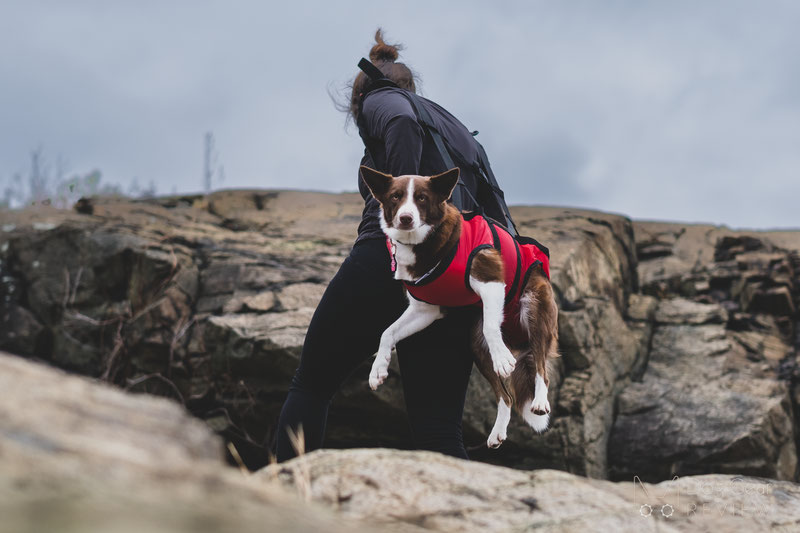 If you want to read it's in-depth review, check it out here!
Ruff Rescue Gear: The Back Country Rescue Harness
The Ruff Rescue The Back Country Rescue Harness is different from the previous two because it has multiple adjustment points to better fit dogs with different body shapes.
In addition, it comes in two sizes that fit medium to large dogs. The buckles and extra straps for adjustability add a little weight, but it's still reasonably packable and only weighs 10 oz (medium) & 12 oz (large). Being able to open buckles (vs. having a one-piece sling with leg holes) can come in handy if you have an injured dog who is in pain / unable to stand since you don't have to lift each leg.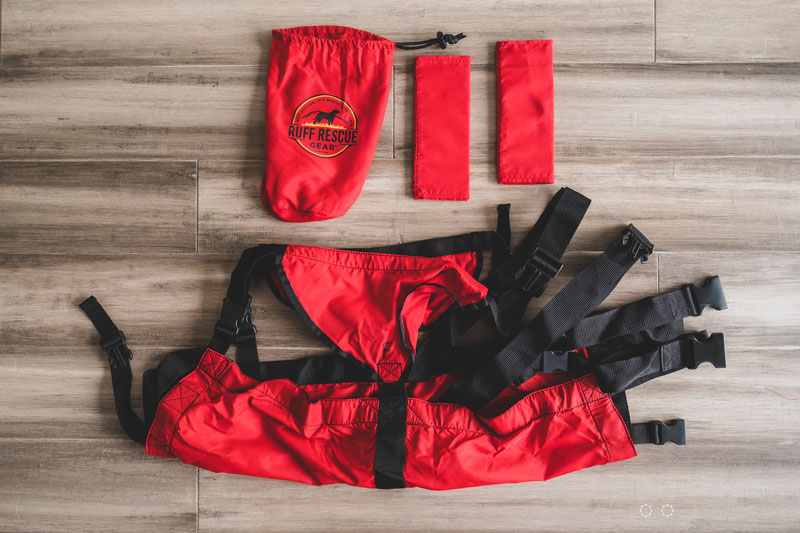 Having many adjustment points and buckles allows you to create an ideal fit for carrying your dog. It also enables to carry only one rescue harnesses for multiple dogs who are similarly sized but wouldn't fit in the same sling-style carry system. On the other hand, initially setting it up and figuring out the fit and adjustment of all the straps can get confusing.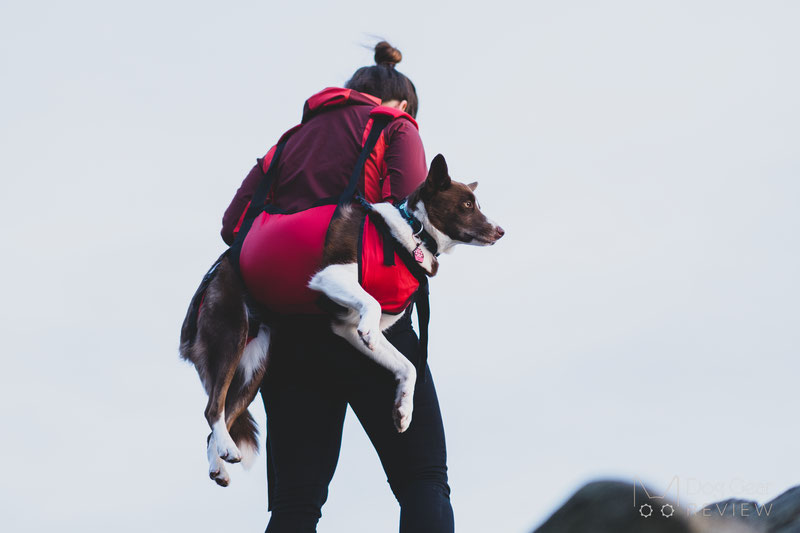 Fido Pro: The Panza Harness with Deployable Emergency Dog Rescue Sling
The Fido Pro Panza harness is a unique and innovative design compared to the other three options we already introduced. The Panza harness can be used as a regular, standalone harness that the dog wears - you can even add two Saddle Dry-Bags to its sides.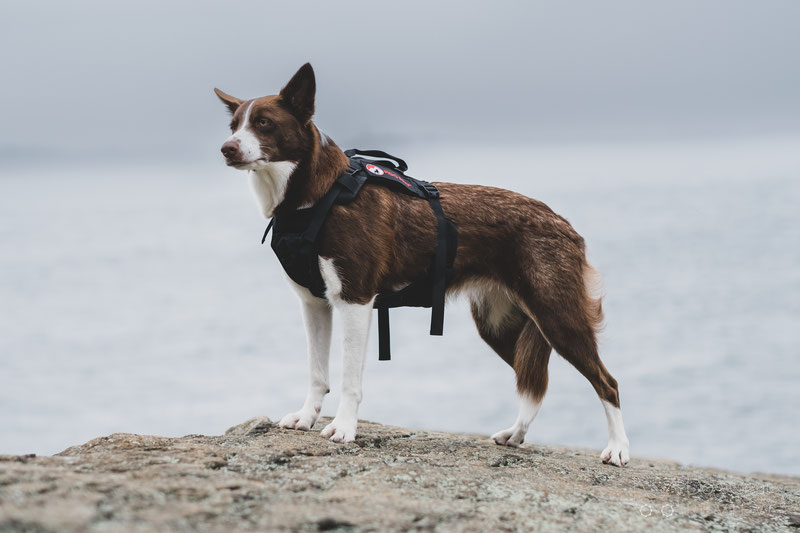 In an emergency, you can easily open the zippered upper and lower pockets to access the carry straps and the sling. This way, if something happens, they can be quickly deployed, and the harness transforms into a carry sling. It only comes in one size, which could fit dogs from 35 to 90 lbs. It has adjustable straps and metal hardware.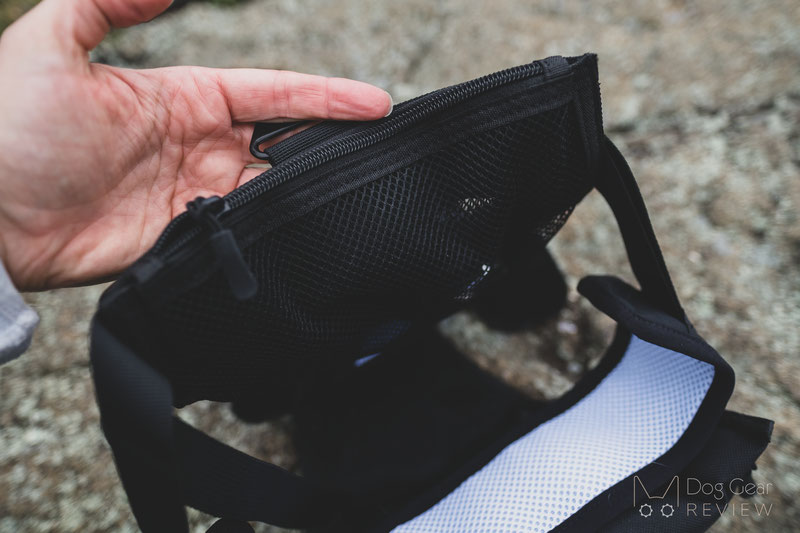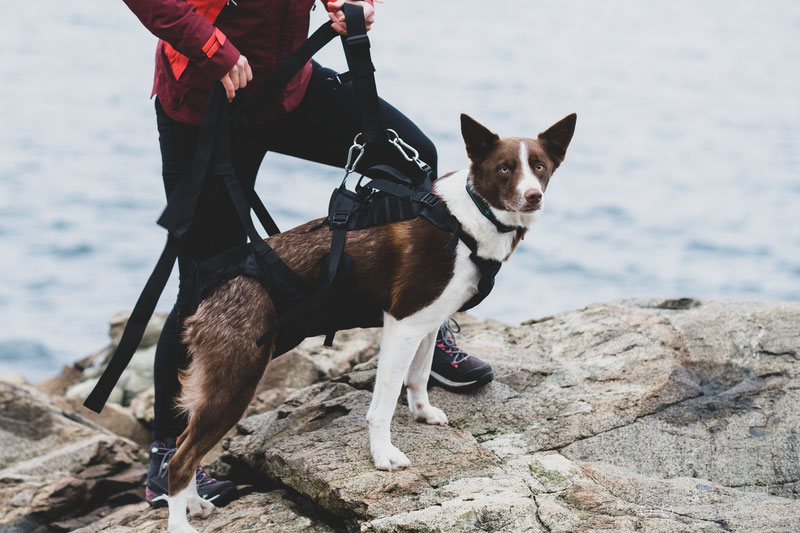 The Panza Harness could be a perfect solution for trail runners, cyclists, hikers, or skiers with minimal backpack space to carry dog gear. However, while it has multiple adjustment points, it will not fit all dogs the same way. While this is not a huge issue for emergency carry-out situations as long as the dog is safely secured and the circulation is not cut off, it can be a problem with a harness worn regularly over a longer period.
The design of the harness part leaves plenty of space behind the front legs, so there is no risk of armpit chafing. However, the broad chest piece (designed for ideal chest support when carrying) might rub the inside of the front legs on skinny chested dogs.
It is a well-made, sturdy harness that can handle all off-leash adventures. On the other hand, it could put pressure on the shoulder and stomach if the dog constantly pulls on the leash, and they also might be able to back out from it in leash walking situations.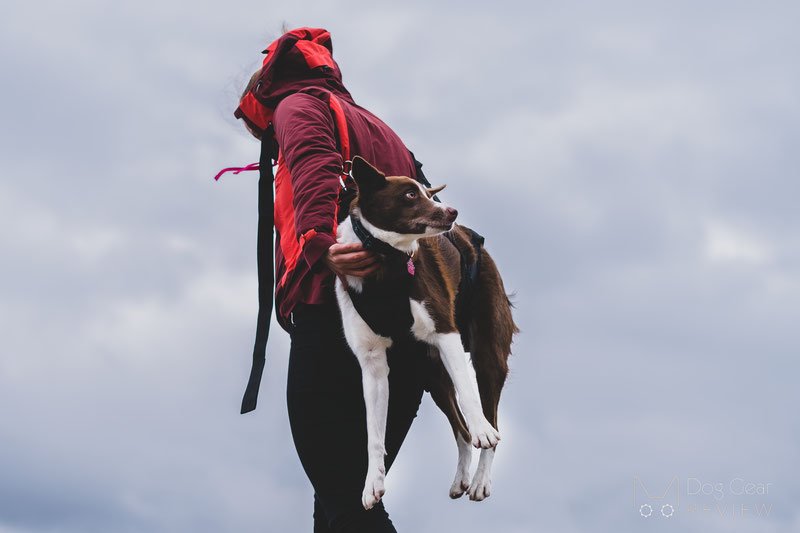 The design of the Panza harness has its Patent Pending at the moment. Fido Pro has offices in the US, Canada, Europe, and soon in Asia.
If you want to read it's in-depth review, check it out here!
How should a rescue harness fit a dog?
As far as I'm aware, there aren't any researches on the ideal weight support for dogs in these carry harnesses, so I asked Dr. Landry's input on the topic.
I was mainly concerned about the designs where the chest section was sitting low across Mia's shoulders. This would be a problem with regular harness designs, but Dr. Laundry wasn't concerned about it since the weight distribution is pretty even across the dog - most of the weight-bearing section being in the middle of the dog's body anyways. The role of the neck/shoulder section is primarily to stop the dog from sliding out.
Dr. Landry also raised an interesting point that I haven't considered before. Having the neck section fit high on the chest bone as we would recommend in case of a Y-harness could cut the circulation on the neck if the dog is unconscious or just hanging their head for any other reason. So from this perspective, a lower neck design could be better - again, as long as it is not cutting in anywhere.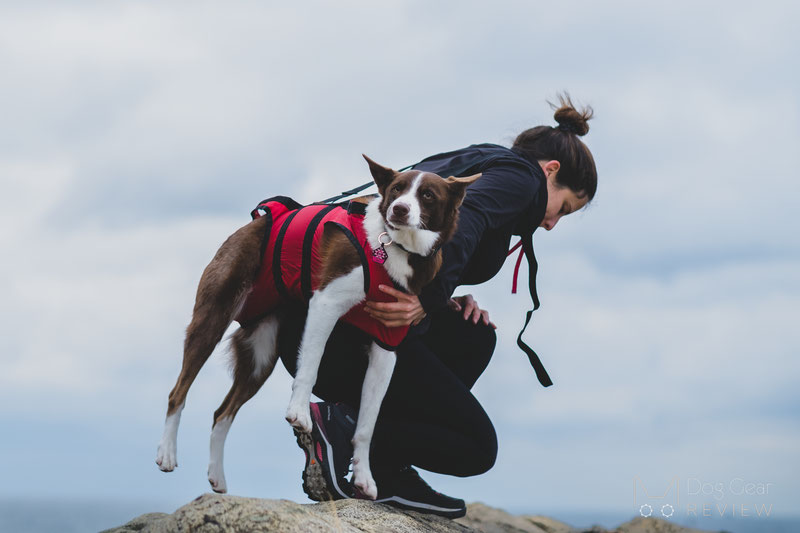 The Big Dog Emergency Harness Comparison
First of all, we will not pick a winner among these because so much depends on your and your dog's need. The safety and fit will also be individual since every dog has a different body shape.
None of these harnesses are terribly difficult to set up, but I highly recommend trying them out at home and getting familiar with their initial setup. I tested them on a windy and cold day, and even though I thought I had just read their guide before heading out, some steps were not straightforward, and I did not get them right for the first try. It's easy to imagine that figuring out all the straps in an emergency would be stressful.
The other reason to try them out at home is to get the dog used to hang from a harness on your back/front. This is not a natural position, and some dogs need more time to get used to it than others. Training them to be calm while being carried can remove unnecessary stress from an emergency.
We created a table showing all the details side-by-side to answer the most frequently asked questions.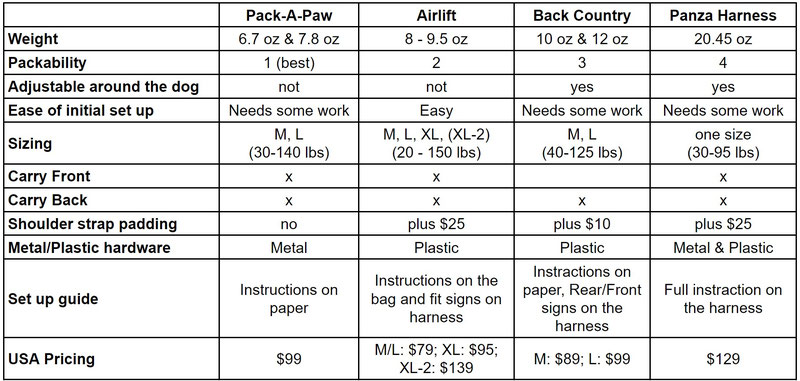 Here is a photo showing how they compare in their bags to put their packability in perspective. The Pack-A-Paw is a clear winner in this category, but the others are still packing down to a small enough bag.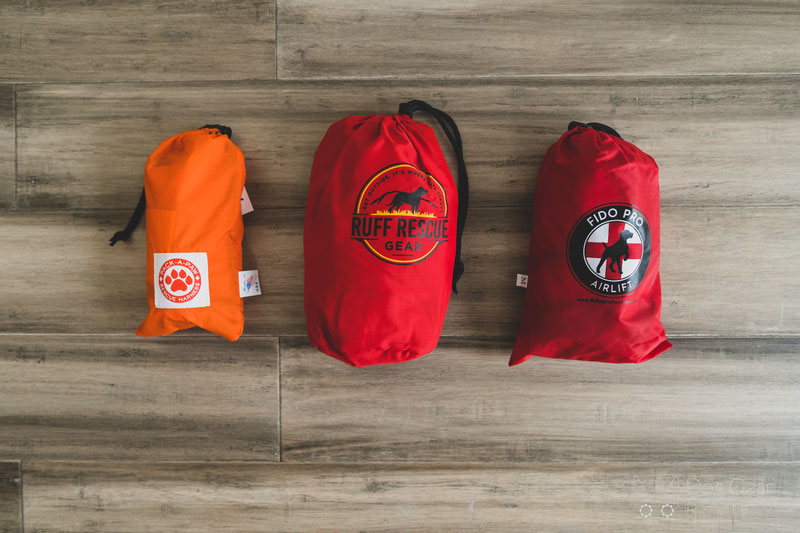 In general, there will be a trade-off between packability and the ability to adjust the fit. If you have one dog who fits perfectly in a Pack-A-Paw, that might be the perfect solution. At the same time, its limited adjustability and smaller leg holes make it less probable that it will fit a dog perfectly.
Also, if you have multiple dogs or one that's hard to fit, you are probably better off with an emergency harness with bigger leg holes and/or comes in more sizes and/or features adjustable straps. P
Packability is important, but the top priority is finding a design that reasonably fits the dog. No one wants to end up with an emergency harness that will not hold the dog safely or cut off the circulation somewhere. Unfortunately, this is the aspect of the rescue harnesses you will need to decide when seeing it on your dog.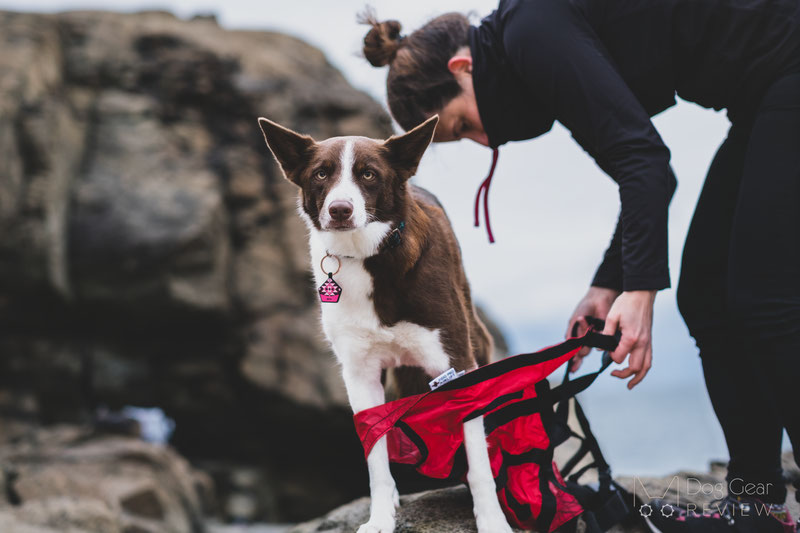 Many of you asked which one allows both front and back carry. I marked the products in the table as "front carry," which officially advertises that they can be used both ways. After trying all of them, I think all could be used both ways. As a disclaimer, I have only tried back-carrying because I would have a much harder time having Mia on the front - especially standing up with her that way from level ground.
If I used these in a real situation, I would set the straps to keep Mia a little higher up on my back to minimize her bumping around with every step. In general, you want the dog to be stable, but carrying them too high (as you would with a backpack) can prove to be hard and less comfortable. I adjusted the harnesses this way during testing because standing up was much easier for me, and I also had an easier time rewarding her at this height.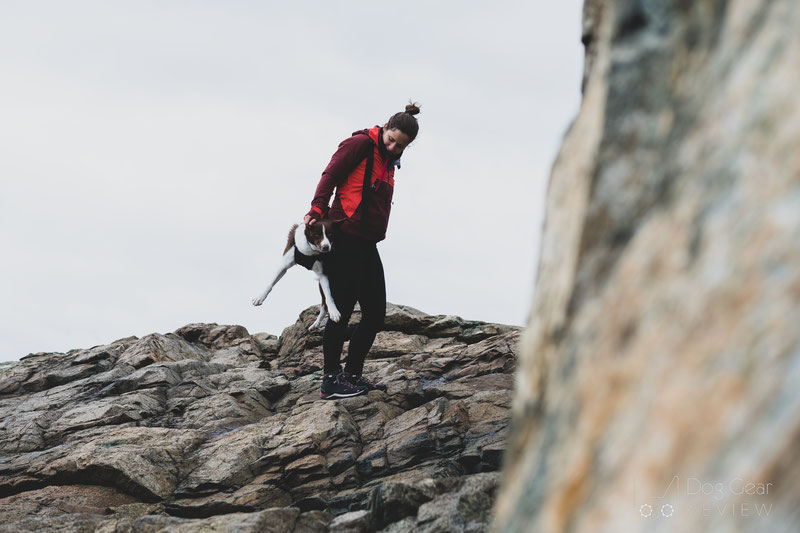 If you need to carry a large dog, I would consider buying or making padding for the shoulder straps a must. If the straps cut into your shoulders, carrying will get painful quickly - especially if you do it over the summer when you are wearing fewer layers. Pack-a-Paw is the only harness that doesn't offer shoulder padding, but they also have the widest straps to distribute the pressure. I haven't had an issue with carrying Mia with the Pack-a-Paw either, but I was layered up, and Mia is not too heavy (45 pounds/20kgs).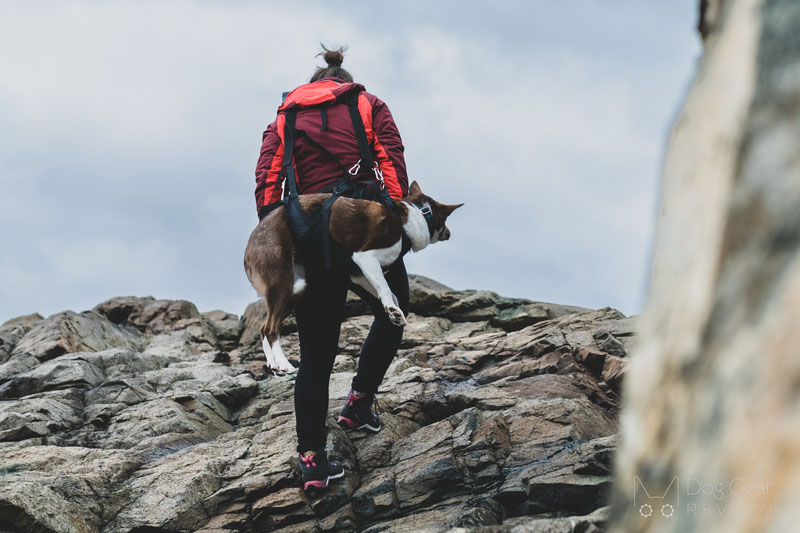 The last point I would like to highlight is the importance of having some guide packed with the harness. It seems clear which one is the inside/outside or back/front at home, but it's easy to get mixed up when trying to put it on the dog a few months later. All harnesses come with instructions on paper or right on the harness/sack. I found that having guides only on paper or on the sack was less practical since it's hard to hold the dog, the harness, and the paper/bag simultaneously - while the notes on the harnesses were very helpful.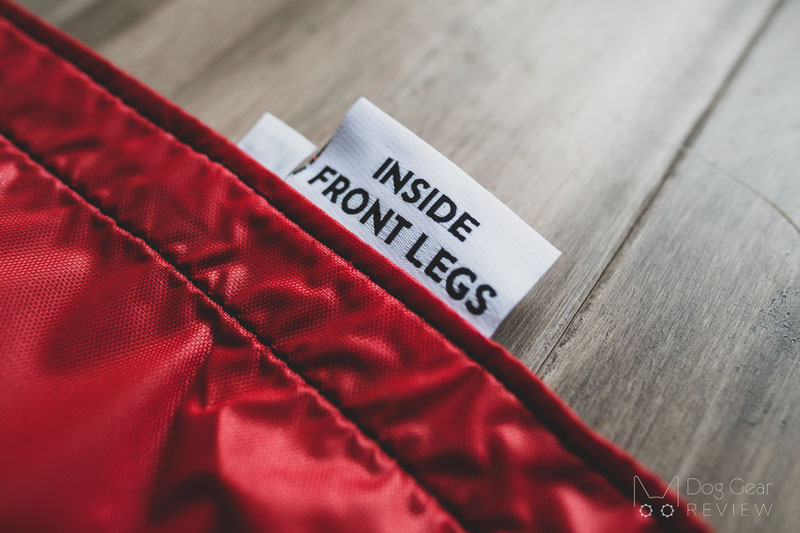 Summary
I hope this article helped give recommendations on what to look for in a harness and point out the main differences and similarities between the different options on the market.
If you would like to learn more about each of these carry-out systems, check back later to read their detailed review! Also, if there are any other emergency rescue harnesses (not rappelling harnesses) that we should check out, let us know!