Finally, our society moves away from muzzles that keep the dog's mouth closed. This is a great progress because for the longest time, no one was concerned about the risks of the dog's inability to pant while wearing these muzzles.
At the same time, it feels that somehow we immediately ended up on the other end of the spectrum, with muzzles bigger than the dog's head being the ONLY acceptable sizing approach. The side effect of this belief is that every other sizing is labeled irresponsible, and the owner gets bullied without knowing how, when, and why that muzzle is on the dog.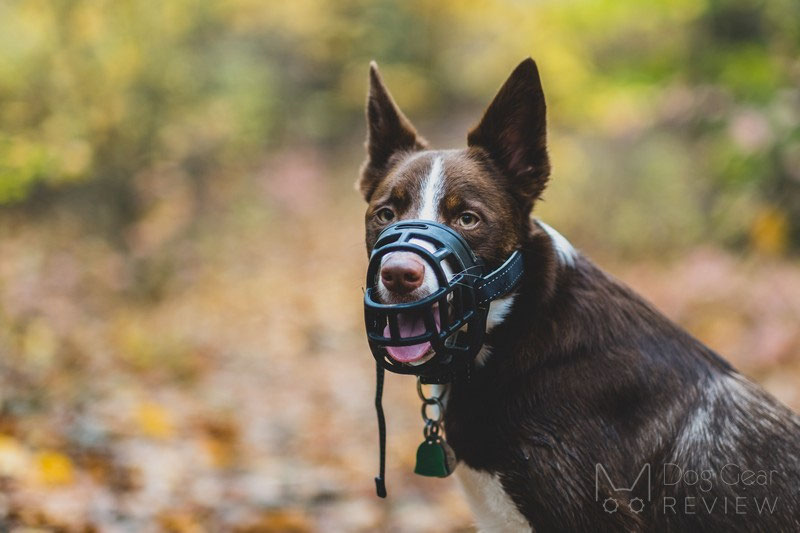 What's the Difference between a Free-Pant and a Full-Pant Muzzle?
Panting freely means that the dog can open their mouth, take treats, and have a half-pant while wearing the muzzle. On the other hand, full-pant means that the dog's mouth is not touching the bottom of the muzzle even when they heavily pant after exercising.
Pros and Cons of the Different Sizes
Allowing dogs to pant is crucial, especially for active dogs and especially during the warm months. Some dogs need to be muzzled over more extended periods because they eat up things that make them sick or are in training, and it's safer for everyone involved if they are muzzled. In this case, having a comfortable muzzle that doesn't limit panting is a good choice.
The only thing to keep in mind with full-pant muzzles is that they usually need to be secured with additional carabiners and/or a collar to ensure that the dog cannot get it off in a fight or when rubbing it against something. Adding an extra carabiner to the bottom can also prevent it from banging around on their face and obstructing their vision when they run. This is not a big deal if all the muzzle stays on the dog for a longer time, but it can get frustrating if you take off/ put on the muzzle multiple times during the walk or if you need to be able to quickly put the muzzle on safely.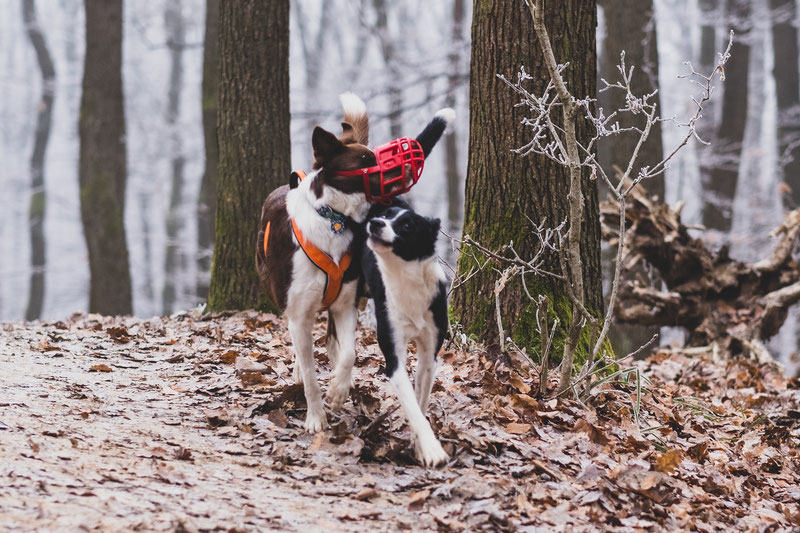 For some dogs, the muzzle is only used for short periods, like a vet visit, nail trimming, or other specific situations. While letting them pant in a stressful situation is essential, having a free-pant instead of a full-pant is fine in these cases. A smaller muzzle is easier to secure on the dog safely, which is especially useful if you have to remove it and put it back quickly to, e.g., allow the vet to check their mouth.
Many vets and trainers recommend smaller muzzles because in the case of a plastic muzzle (that most people use), a smaller size is safer since dogs have less room to fully open their mount and fold it in to bite through.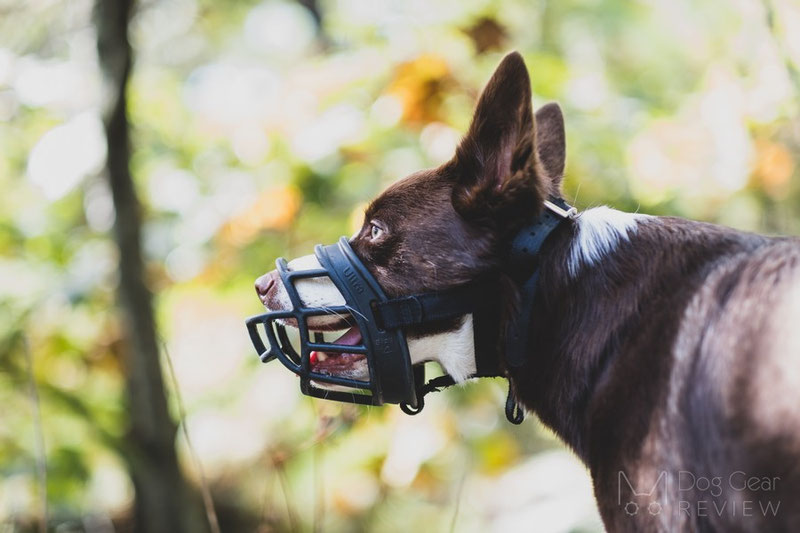 Some examples
Dean and Tyler, whose muzzle is in the photo below, asks buyers to not measure the dog with a ball in their mouth for sizing the muzzle which is commonly used to estimate the full-pant measurement. This resulted in a fair amount of backlash in the online communities.
Dean and Tyler openly speaks up against full-pant muzzles because their experience is that it compromises the safety of the muzzle, which is their primary responsibility, while upsizing is not necessarily more comfortable for the dogs either.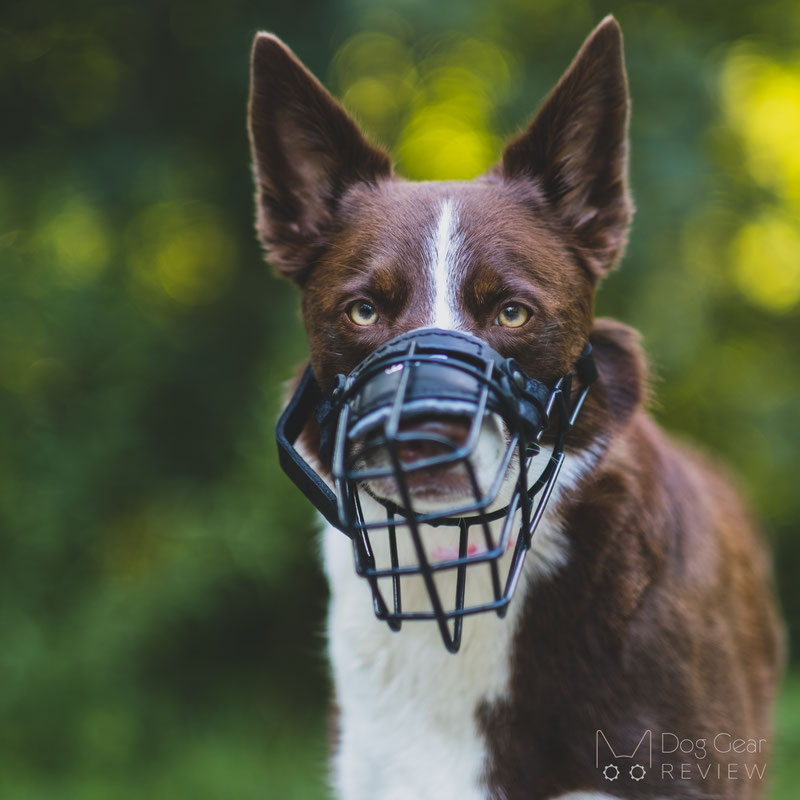 When reviewing muzzles, I don't want to "outsmart the system" and give modified measurements to companies. Instead, I send over the real closed month measurements and receive a muzzle based on the company's sizing guide or what their customer support team recommends to show what fit you can expect based on their recommendations.
With the DT Freedom Winter Muzzle, Mia was between two sizes. After discussing with them, we went with the slightly bigger one. As you see in the photo below, this is a little too long, but it is also taller in return. A common side effect of sizing up in most brands is that the muzzle also gets wider and longer, so it moves around a lot more on the dog's head.
Mia typically has a small pant, and although this muzzle doesn't provide enough room for a full-pant, so far, it has never limited her panting in the situations we used it.
Mia is only muzzled for a few minutes a day when leaving and entering our apartment complex because there are off-leash dogs inside our building who keep running up to her or cornering her in the elevator. This literally means a few minutes of use in an airconditioned environment, so I don't mind smaller sizing that provides more safety and less pantroom.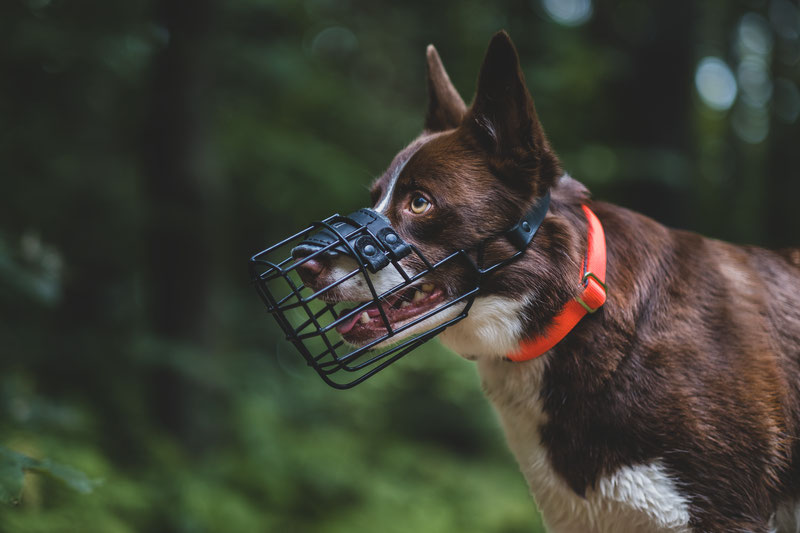 Our Trust Your Dog Biothane muzzle also only allows a small pant-room but similarly to the DT Freedom muzzle, we only used it for a few minutes at a time, so it wasn't a concern. Although Biothane is a softer material that isn't bite-proof, the smaller size and the closed, more rigid design make it harder for dogs to bite through it.
The other situation I use a muzzle is when I introduce Mia to new dogs because she can get stressed out initially. Most of the time, the muzzle is not needed at all, but having it on Mia gives me peace of mind, which helps Mia relax in these situations as well.
For these off-leash introductions, I use a lighter and bigger muzzle so she can comfortably pant while wearing it, and other dogs can read her facial expressions better than in a closed design.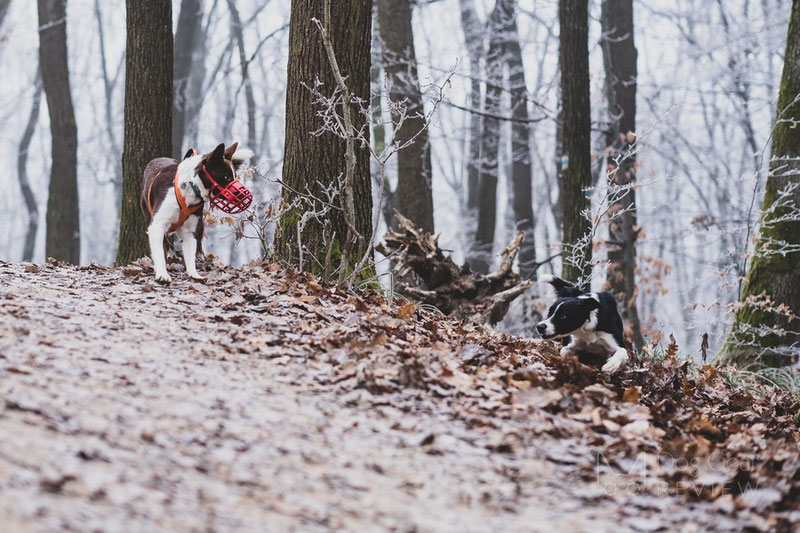 Summary
Long story short: different use cases require differently sized muzzles, and bigger is not necessarily better for every dog, owner, and situation.
Additional resources
If you want to learn more about muzzles, you can join amazing groups on Facebook, like Muzzle Up, Pup!, or follow The Muzzle Up Project. You can also check out the Muzzle Training and Tips website, browse our articles, where we discussed many muzzle-related topics.
You can check out the reviews of the muzzles in this post by clicking on the "Muzzle" filter on our Review page and can read more thoughts on muzzling under the Articles tab.