You decided to add a dog to your family, and now you are wondering what you actually need?
Even though I went through this process with Mia already, I was debating about everything before picking up Zulu. Now that she has been here for two months, I wanted to reflect on the must-haves that really helped us during the first period. :)
Disclaimer
Some of the links in this aricle contain affiliate links, which supports Dog Gear Review if you purchase the product after clicking on it without costing you anything extra. Using affiliate links will never compromise us writing unbiased, honest reviews!
A Carrier for bringing home the pup
Regardless if you drive or fly to pick up your dog, you want to think about the best way to do that ahead of time.
Even though you probably want to hold your pup for the car ride home, they are probably better off in a carrier or crate next to you, especially because they frequently get car sick or have accidents on the way home. If you fly, we have another article on what you need when flying with a pup.
Soft-sided Carrier
I flew home with Zulu, so we needed an airline-approved, soft-sided carrier. Many recommended the Mr. Peanut's carriers and their Gold Series Expandable Carrier had all the features I didn't even know I needed! It impressed me how well-made and thought-through every detail of this carrier was. You can read more about its details in the article linked above.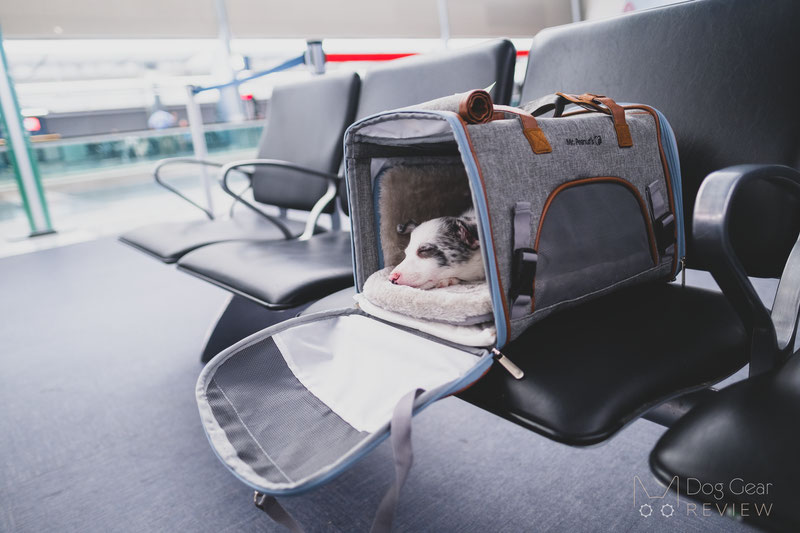 Crate
It's a personal preference if one uses a crate at home or in the car and how they utilize them but they can be a great way to provide a safe place for the pup. There are plenty of options on the market, from wire crates to high-end ones.
We received a Collapsible Crate from Impact Crates, and Zulu felt a lot safer in it than in the previous wire crate. The Impact Crates are made of aluminum and are stackable if you need multiple ones.
We received the Collapsible design, which folds down to just 8 inches, making it great for traveling. It is also IATA-approved so we can use it for flights if we need to fly again with the dogs. Their High Anxiety and Stationary crates are more suited for strong escape artists, but the Collapsible Crate's versatility fits our lifestyle and needs a lot better.
If you are interested in buying one, you get 15% OFF with the code "DOGGEARREVIEW15".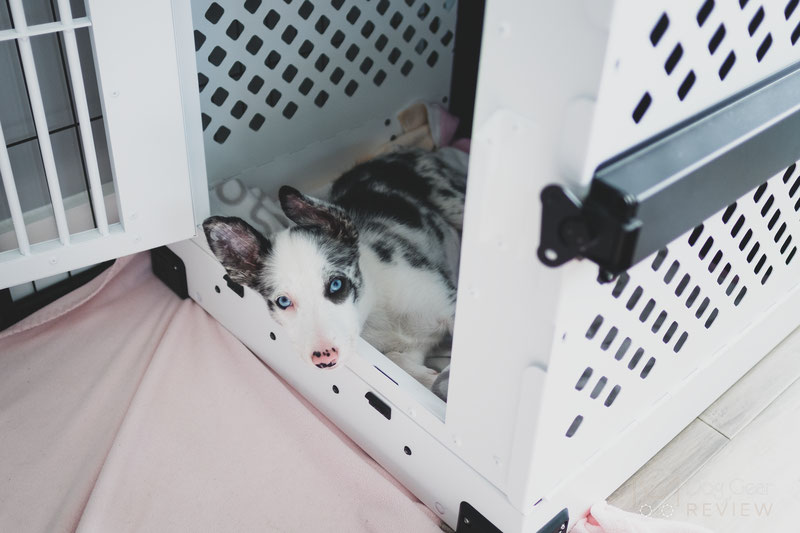 Toys
Having a set of different toys will not only help keep the pup busy and teach them what they can and cannot chew, but some can provide enrichment or be used to build handler focus and engagement.
There are many different toys on the market, and they are tailored towards different play styles and chew styles which is essential to keep in mind for safety, especially if the dog will have access to them when you are not supervising them. Hard chewers can destroy and potentially swallow most soft toys (and even rubber ones), leading to severe issues.
You can check out the articles linked above for more recommendations and details for each category, but I will mention Zulu's favorites here as well.
Tugs
This Zayma Bungee Mop Tug Ring is Zulu's favorite toy even today. It is a fantastic toy to introduce tugging to puppies or dogs with a lower drive. They love to catch the microfiber section that provides an excellent grip, while the bungee handle creates a more gentle, smooth tugging experience.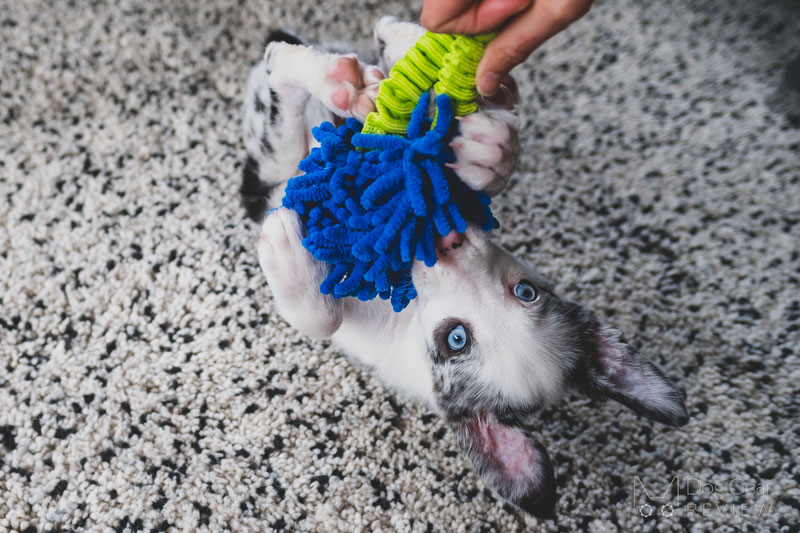 The other huge hit is the BullTug Tugtopus! The Tugtopus has some crinkly arms and some bungee arms for a fun tugging experience. The material is pretty durable, but once the pups ruin it, it also has a hidden spiky squeaker barrel inside that can be used as a standalone toy! The Tugtopus comes with a squeaky life ring that's great for tugging and chasing for soft chewers.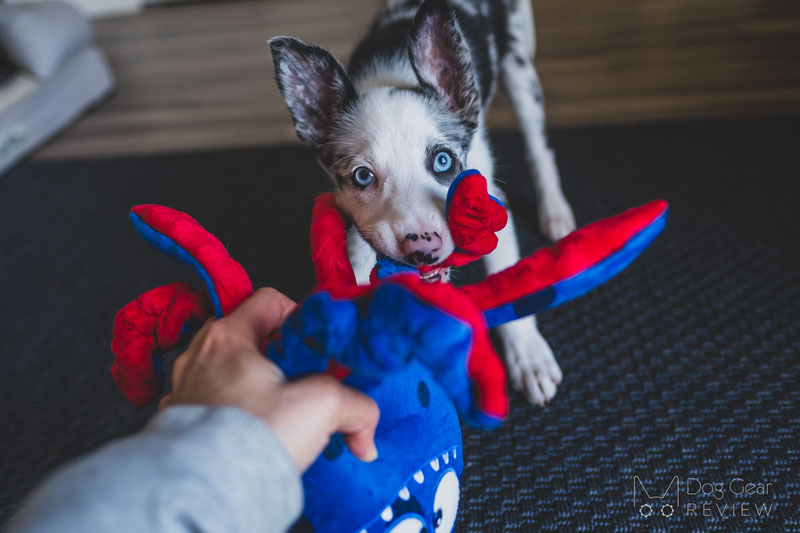 Enrichment toys
Lick mats are a great way to give the dogs something to do or to give their raw meals from it. You can use dog-safe peanut butter, yogurt, pumpkin puree, salmon creme, wet food, baby food (vegetable purees), apple sauce, and many more! If you have a dog who picks up the mat and chews on it, you can try to offer it on a small baking sheet, so they have a more challenging time getting a hold of the mat and are more likely to focus on licking it. However, it is also recommended to monitor them because these are not chew-proof.
This Honeycomb lick mat has deeper holes to entertain Zulu for a reasonably long time, especially if I freeze it.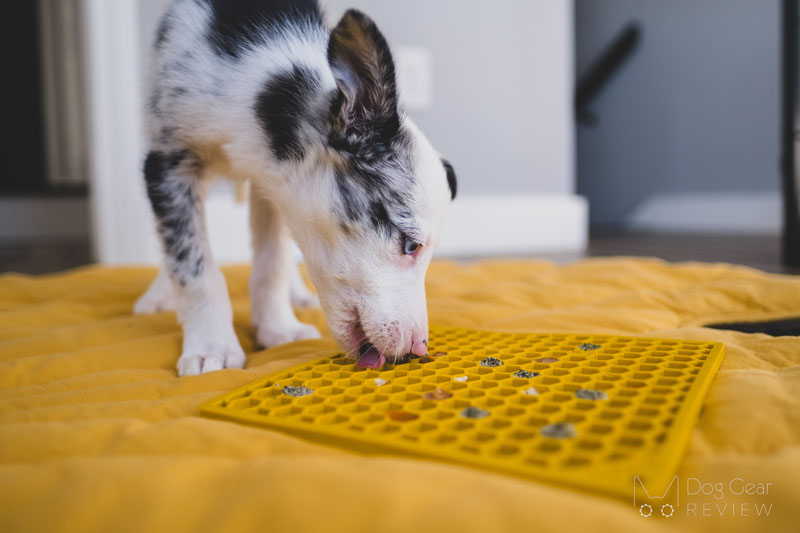 The Chase N Chomp Snake is a versatile toy that has become the favorite of both dogs quickly! It is made of thick rubber with an opening running along the bottom and a squeaker in the head. It keeps them entertained for a reasonably long time, and even though Mia chews on it every day (she is a medium chewer), there is still not a teeth mark on it.
It can be used as a toy or a food dispenser. Since the inside is a little hard to clean, it is better used for dry treats. It is "rigid" enough that it takes them a reasonably long time to get the food out!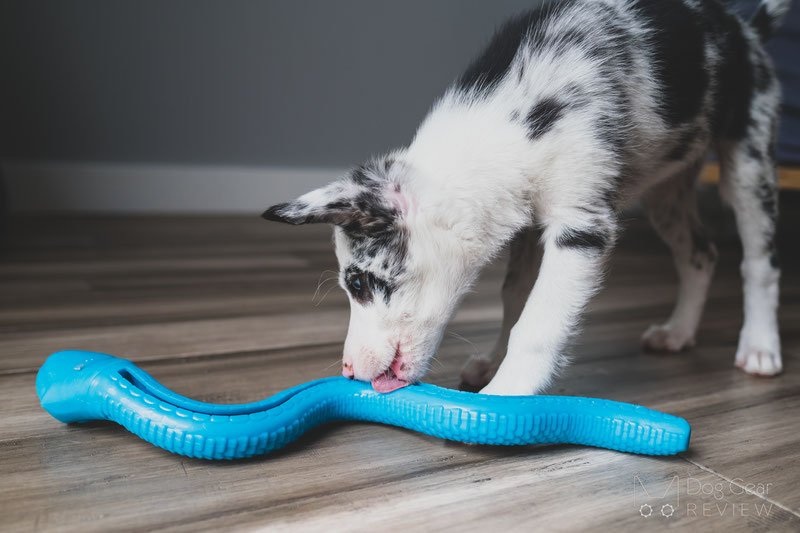 Snuffle Mats are another great way to provide some fun sniffing time to our dogs. You can hide dry treats between the fleece strips to get their noses to work while they locate each of them. This mat is on the heavier side (~ 3 lbs), so it stays in place reasonably well. This is not something you want your dog to play with unattended since they can easily chew up the fleece and the rubber bottom.
Cleanrun offers snuffle mats in many different designs and sizes.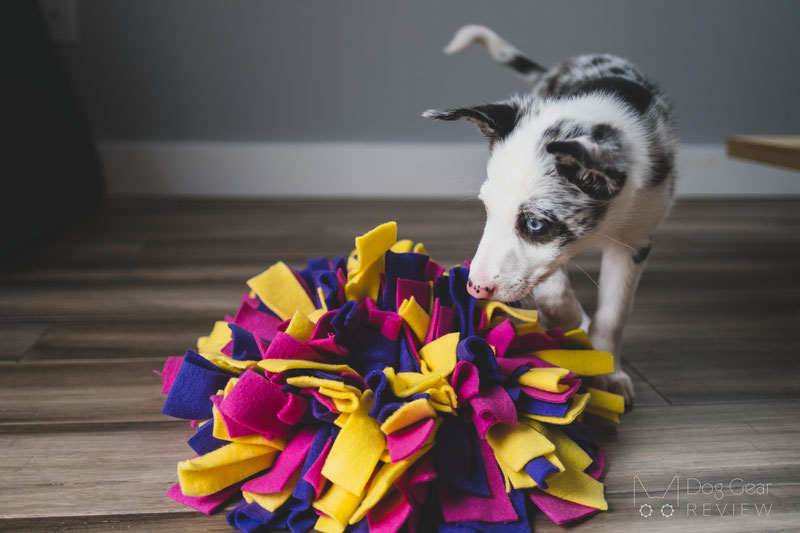 A Name Tag or Other ID
It's great to have a tag on hand already when you start taking your pup outside since they can get scared of something or just have too much fun and get lost while having zoomies.
Our beautiful tag was hand-stamped by Jakoba Shop! It is a 1" tag from aluminum with exquisite details that was still huge on Zulu initially! Try to find one small enough to fit your puppy and doesn't hang too low so they will not get stuck on something while running around. If needed, you can remove the big ring and attach the tag directly to the collar to make it hang less.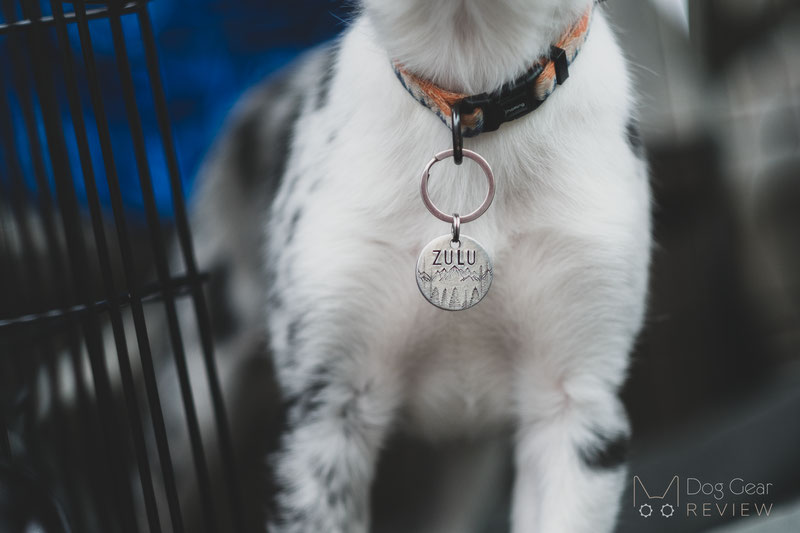 Play Pen
We received this pen from FXW, and it proved to be crucial for keeping everyone safe and sane when bringing Zulu home!
This playpen is big enough for her to be comfortable when we can't keep an eye on her. Since she only had one round of vaccines when we picked her up and we didn't have a yard, we used a litter box for potty training. This 9-panel pen easily fits a crate, a litter box while still leaving plenty of playing space.
I also used some of the panels to create barriers at the doors and the stairs to separate the two dogs while they were settling into our new life.
The pen is available in four heights (24"-50") and comes in 8, 16, 24, and 32-panel versions. The stakes connecting the panels can secure the pen outdoors. For indoor use, they just introduced accessories: floor protectors for the end of the stakes and the Muffler Tubes to reduce the sound of the rods shaking when the dog moves the pen. These make the pen a lot more convenient for indoor use!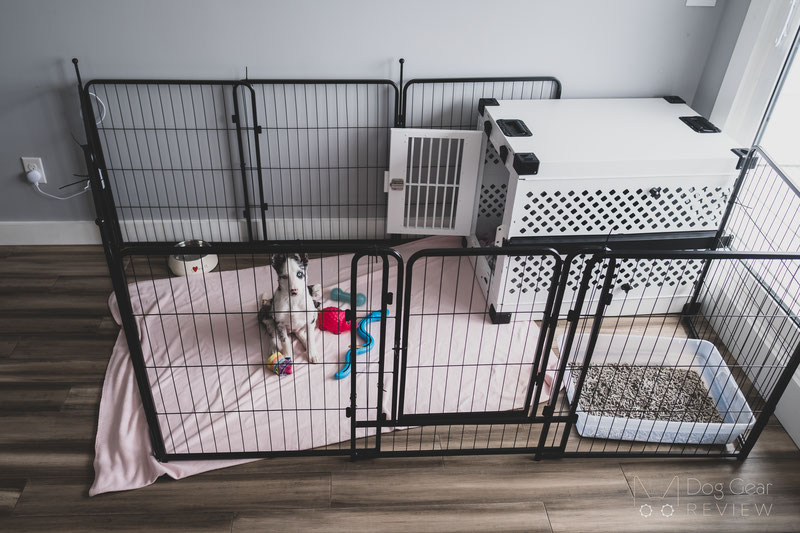 Shampoo
When we think about picking up the puppy, it's easy to forget how messy they can get! It is best to already have a shampoo on hand when you arrive home with your pup in case they have an accident on the way or just need a clean-up in general.
Zulu is not a fan of bath time for now, so I was glad that the Modern Beast's Pride + Groom Shampoo is easy to apply with one hand. I chose the Sensitive shampoo in case Zu would have any unknown allergies since I didn't want to risk making the first bath a bad experience.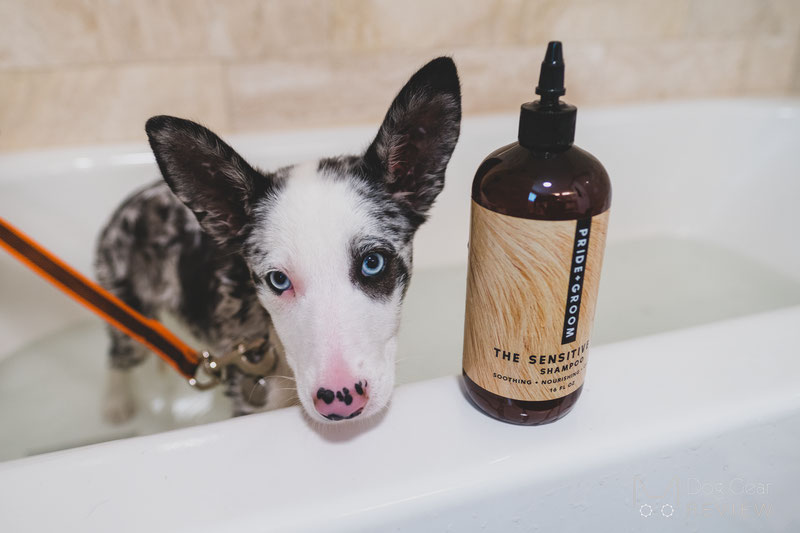 Adjustable Harness or Collar
When I picked up Zulu, she was so tiny that I had difficulty finding a collar that would fit her. They grow so fast at the beginning that it is hard to find a harness that will fit them well longer than a week or two.
We will have an article in the future on using a collar vs. a harness for a puppy, but the key point is to find one that fits well and is adjustable.
Once Zulu got bigger, we used PetDuro's Gold Buckle Gem Green Harness for a few weeks (until she grew out of it). This is a highly adjustable and soft harness: the upper layer is velvet, and the bottom layer is cotton. All the hardware is zinc alloy with gold plating, and you can buy a matching leash, collar, and poop bag as well.
It has a huge adjustment range, and even the length of the section between the front legs can be extended to give a puppy more armpit clearance as they grow. There is also an option to personalize the buckle and add your contact information there instead of having a tag!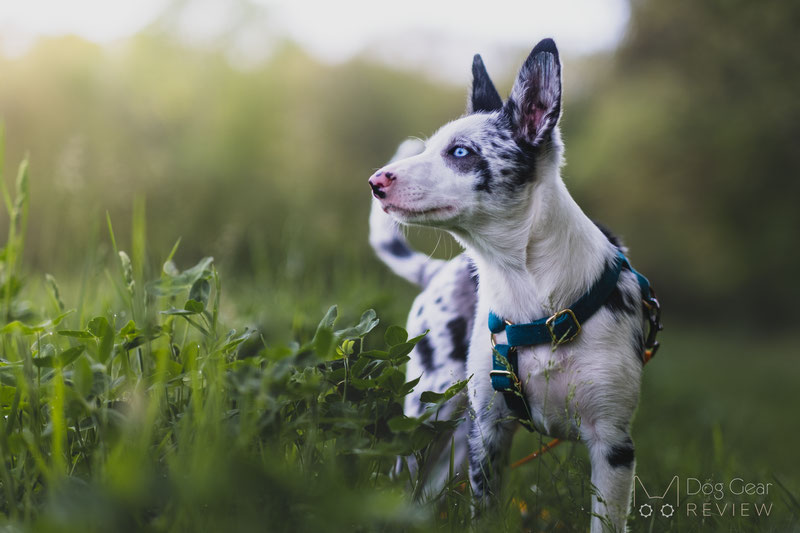 Long Line
We received our first ever Biothane Long Line from Henry and Sadie, and I love it a lot more than expected!
We use this a lot while working on recalling and retrieving toys. It is excellent to drag around because the Biothane material is durable, waterproof, and easy to clean. It doesn't have a handle, so it will not get stuck on everything!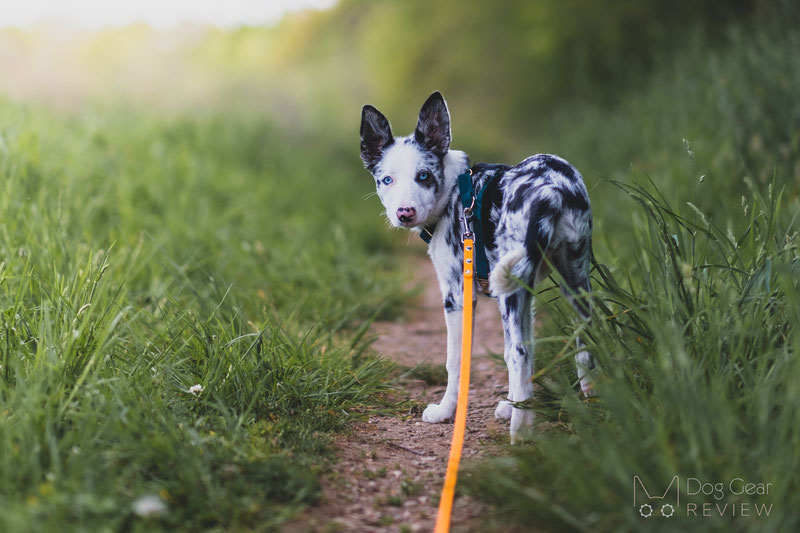 Connector Strap
The purpose of the connector strap is to attach the harness to the collar, so the dog doesn't get lost even if they slip the harness. Small dogs and puppies can be very wiggly, and if they really want to, they can back out of most harnesses, especially when scared, which can create dangerous situations.
This Biothane safety strap is 8 inches long with two stainless carabiners at the ends.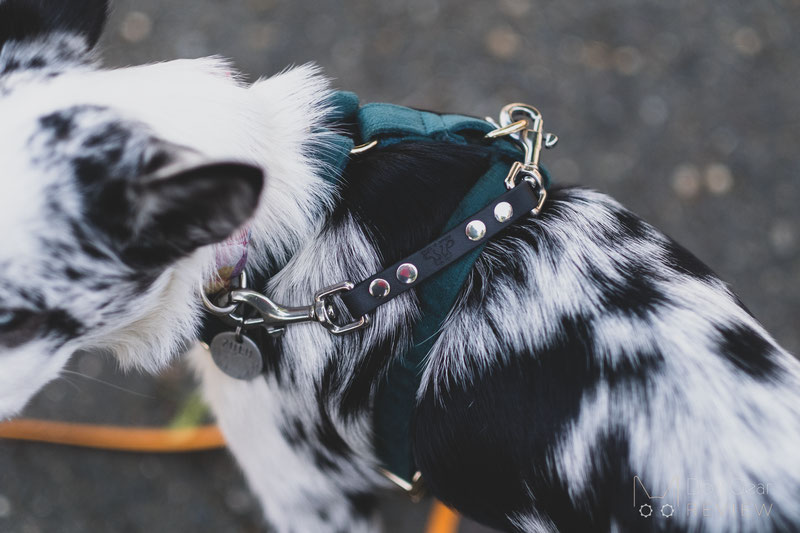 And What NOT TO BUY for a Puppy?
This might be even more important to discuss than the items above.
No muzzle
Believe it or not, many people buy a muzzle to deal with puppy bites and barking/crying when bringing home a new dog.
We have another article discussing why muzzling is not a good option to deal with excessive barking. Here I want to highlight that puppy play bites and aggressive bites are very different. Puppies bite and need to learn not to do that, but muzzling them is not a way to deal with this, even if it seems like a shortcut.
If you feel you are way over your head dealing with this, don't delay reaching out to a trainer who can help you out.
Be careful with beds
Buying a bed for a puppy is probably the worse investment ever because there is a good chance they will just destroy it very soon. Also, they could swallow the filling, the zipper, or other parts, resulting in an emergency vet visit.
I prefer to use old towels and blankets for puppies until they are well past the teething period, and I still didn't leave a bed with them unattended for a long time.
If you prefer to buy something for the pup to sleep on, you might have luck with something like the Deluxe Fleece Nonskid Dog Mat or the Deluxe Fleece Plush Double-Sided Crate Mats. Latter doesn't even have a rubberized bottom, so there are even fewer things the puppy can swallow, but they still might chew it up, so keep an eye on them.
Both of these are thick, soft mats made in the US. It is made of polyester fiber which is non-allergenic, non-toxic, non-irritant, anti-microbial, and machine washable. It provides excellent airflow and wicks away moisture from the top. It has a rubberized back that makes it stay in place nicely.