Why is Interactive Play with Our Dogs Important?
Tugs, chaser toys, and retrieve are great ways to engage with our dogs, build a relationship and teach many different skills and tricks through playing. These games can also tire them both mentally and physically in a short session. Spending time with actively playing with our dogs strengthens the bond between humans and dogs, which is the basis of any other training or sport in the future.
These toys are not meant to be left out since dogs can quickly destroy them. At the same time, they hold up well when used for fetch and tugging while supervised.
SodaPup Pull Tab Tug Toy
The SodaPup Pull Tab Tug is made of natural rubber which is FDA compliant, non-toxic, biodegradable and sustainably harvested. Zulu loves playing tug with this or just carrying it around and entertaining herself with it.
It's soft enough for her puppy teeth to hold onto it, while it is durable to handle plenty of tugging even with bigger dogs like Mia. It is not meant to be left out as a chew toy, though, and might not be suitable for dogs with a hard bite.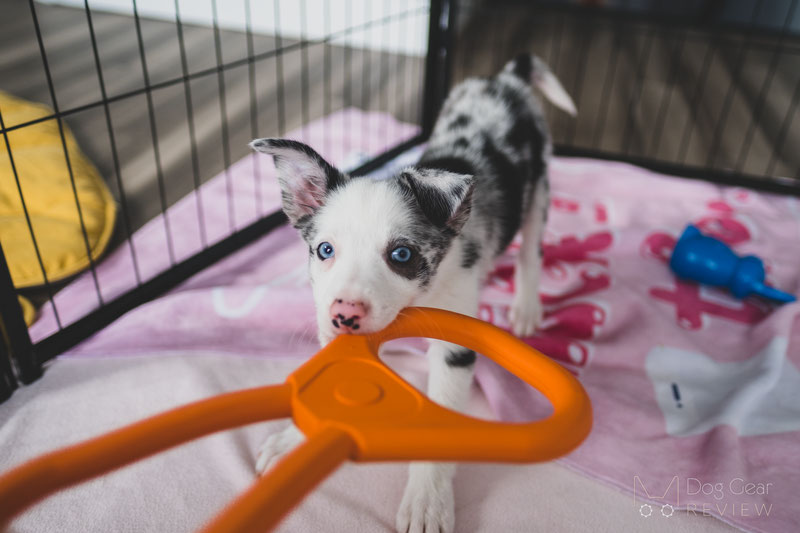 Zayma Bungee Mop Tug Ring
This Zayma Bungee Mop Tug Ring is a fantastic toy to introduce tugging to puppies or dogs with a lower drive. They love to catch the microfiber section that provides an excellent grip, while the bungee handle creates a more gentle, smooth tugging experience.
The mop bite area is 8" long, and the ring is 6" in diameter.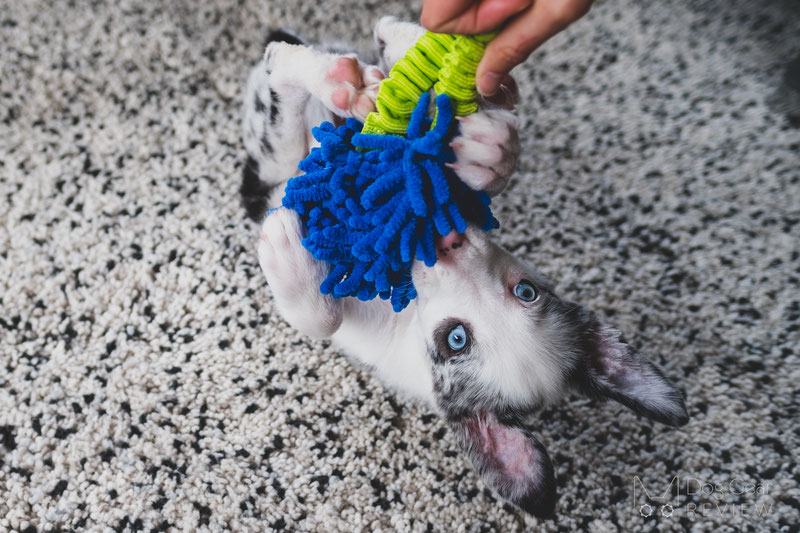 This braided plush tug
This Mini Braided Bunny Tug is made of narrow strips of soft fleece braided together with 3/8" nylon cord (for durability) and 3" of real bunny fur. It is a fantastic toy to get puppies and small dogs engaged, and it's small enough to start working on retrieving or playing fetch as well. Zulu gets really excited about the bunny hair and prefers this over many other tugs; however, she is also more inclined to run away and chew on it by herself instead of retrieving it.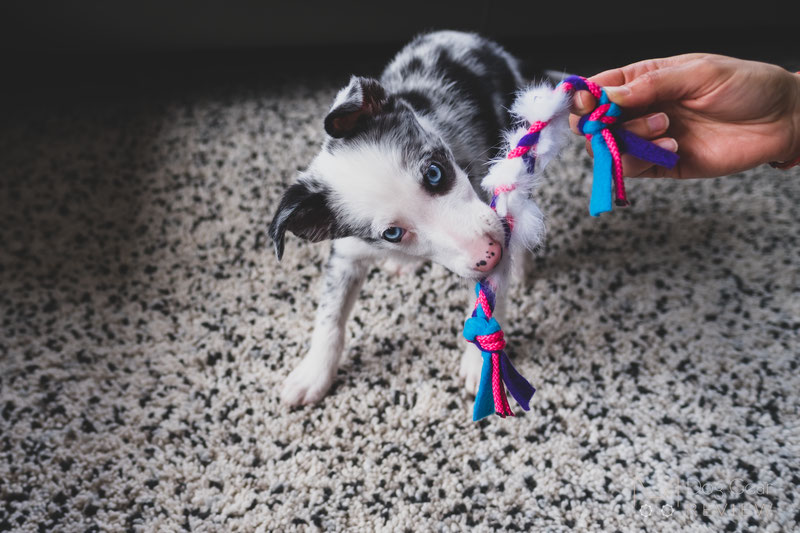 Skinneeez Stuffing-free Dog Toy
This Squirrel has been one of Zulu's favorite toys since day one. It has two squeakers on both ends, so if she happily squeaks with one, I can always grab the other end and press the other squeaker to get her attention.
She spent many-many hours running around and squeaking with this toy, and it is still in great shape even though the outer material is a silky plush material. It is excellent to start soft-mouthed dogs and puppies on tugging, and it is also machine washable!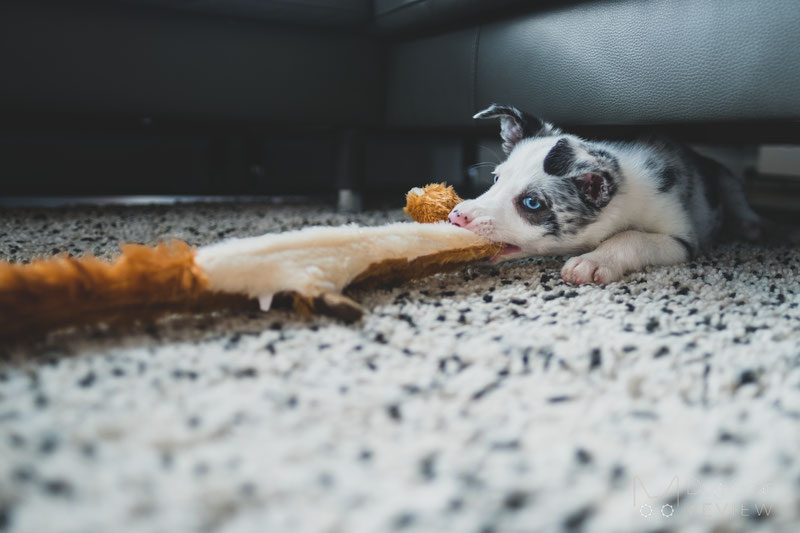 Hi-Drive Pocket Rocket Tug
I was looking for a cow milker/udder tug for a long time but couldn't find one in the US - until I went on CleanRun's website!
These udder tug toys are made from recycled "inflations," which are the rubber liners used in milking machines on farms. They are run through a dishwasher for cleaning and sanitization, but they still maintain their fresh-from-the-farm cow essence that dogs love! Don't think about something stinky; I cannot smell anything, but both dogs love them.
This Hi-Drive Pocket Rocket Tug is the perfect size to introduce udder tugs to puppies and small dogs. It is made with the top part of the inflation, so it's easy to hide the toy in your pocket. The bite area is 6" long and 3/4" in diameter, and the total length of the toy is 13". The nylon rope runs all the way through to make "fringes" on both ends to excite the dogs even more.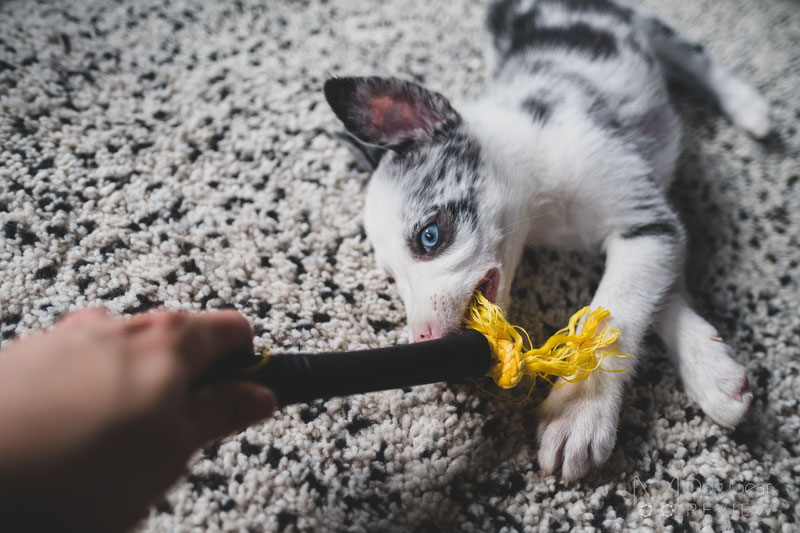 Hi-Drive Udder Tug with Fleece
The Hi-Drive Udder Tug is the bigger version of the previous toy with using fleece instead of a nylon rope. This is a great size toy for Mia, and she loves to tug with it and retrieve it.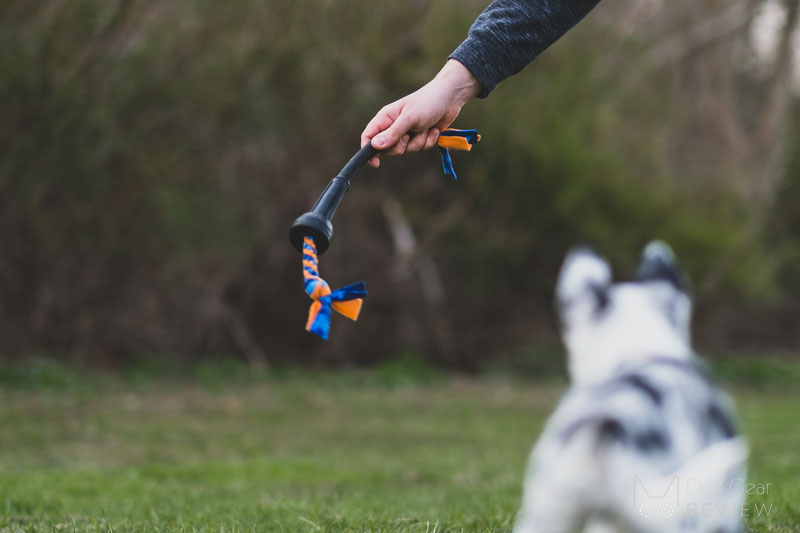 Trash N' Seek Puzzle Plush
The Trash N' Seek Puzzle Plush from BullTug is a great, versatile toy! It contains three little trash pandas (raccoons), which have puncture-proof squeakers and make crinkle sounds. One of the raccoons also has a hidden spiky ball inside as an extra toy!
The three raccoons are great to start teaching retrieve since you have three similar toys that can be used in rotation.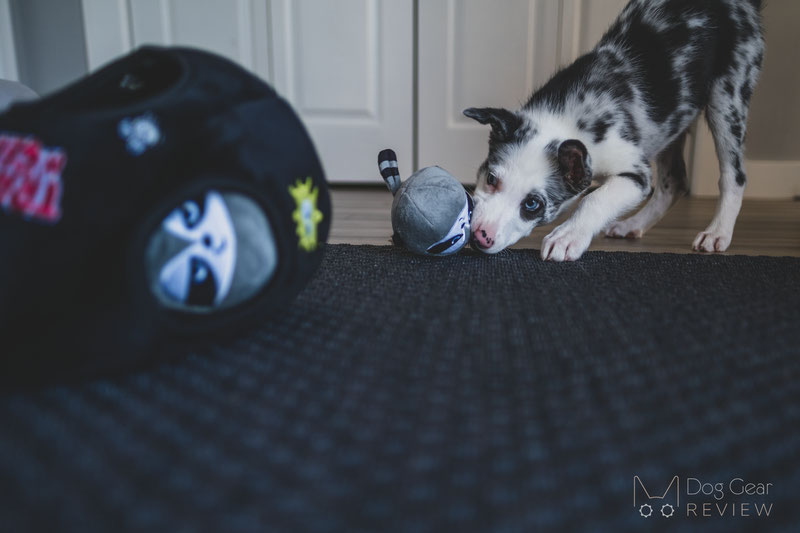 The raccoons come with their "house," which is great for tugging and as a puzzle toy as well while the raccoons are inside. It also has a large squeaker at the bottom for extra fun.
Both Mia and Zulu love this part of the toy! The material seems durable so far and has handled a fair amount of tugging already. Zulu loves to put her head in to push the squeaker that way, so I don't let her play with it unattended in case her head gets stuck in it.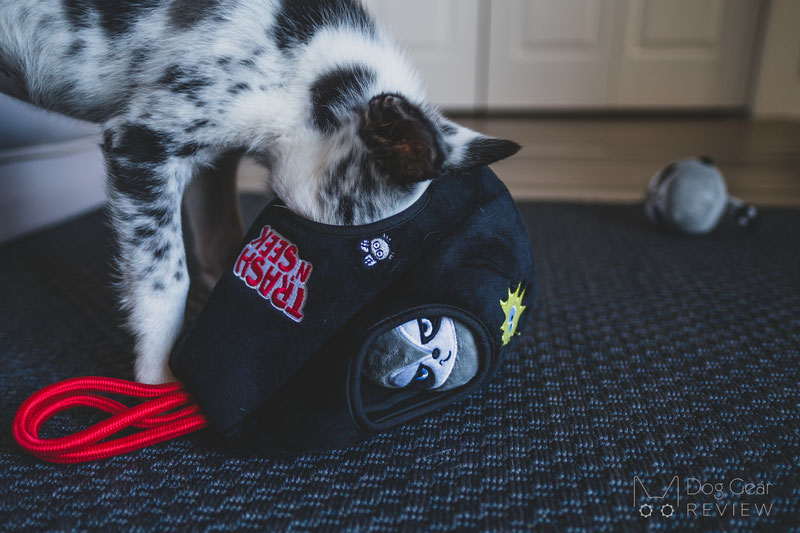 Tugtopus Squeaky Plush
The BullTug Tugtopus is another versatile toy. The Tugtopus has some crinkly arms and some bungee arms for a fun tugging experience. The material is pretty durable so far, but once the pups ruin it, it also has a hidden spiky squeaker barrel inside that can be used as a standalone toy!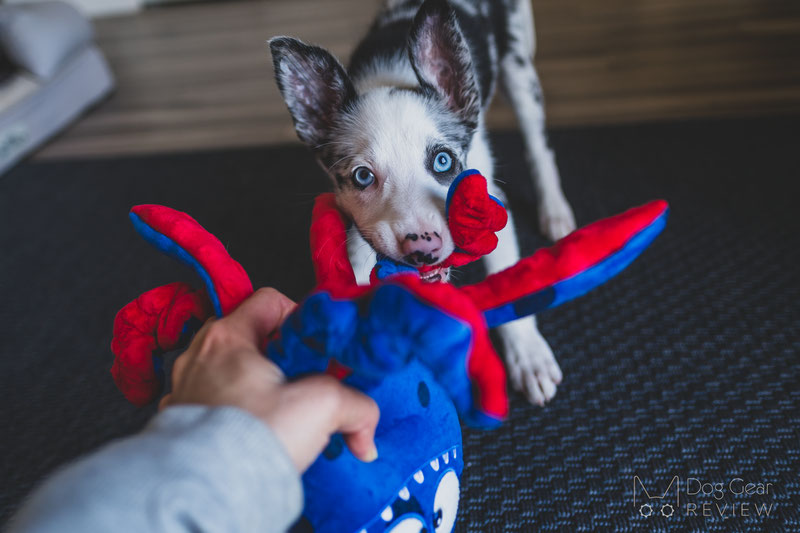 The Tugtopus comes with a squeaky life ring that's great for tugging and chasing for soft chewers. Mia fell in love with this ring and unfortunately destroyed it, which is all my fault since I forgot to put it away when we were done playing. The Tugtopus is still going strong, though!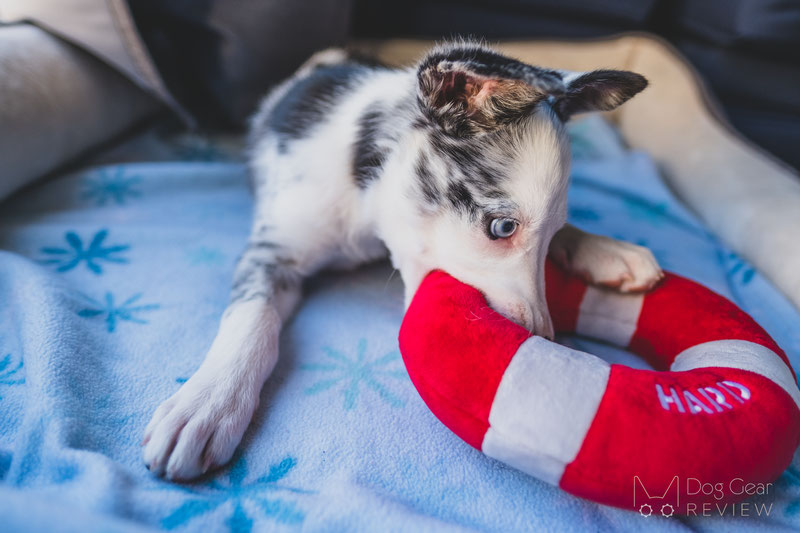 Zayma Bungee Mop Tug with Fleece
This Bungee Mop Tug not only drives Zulu crazy, but Mia loves it too! It has a microfiber bite area and lots of long fleece straps that wiggle when you move it. It has a 12" bungee handle that makes tugging with a bigger/stronger dog a lot more pleasant.
You can use it as a chase toy or as a tug; just be careful not to suddenly release the handle when a big dog is tugging since the bungee can hit their face.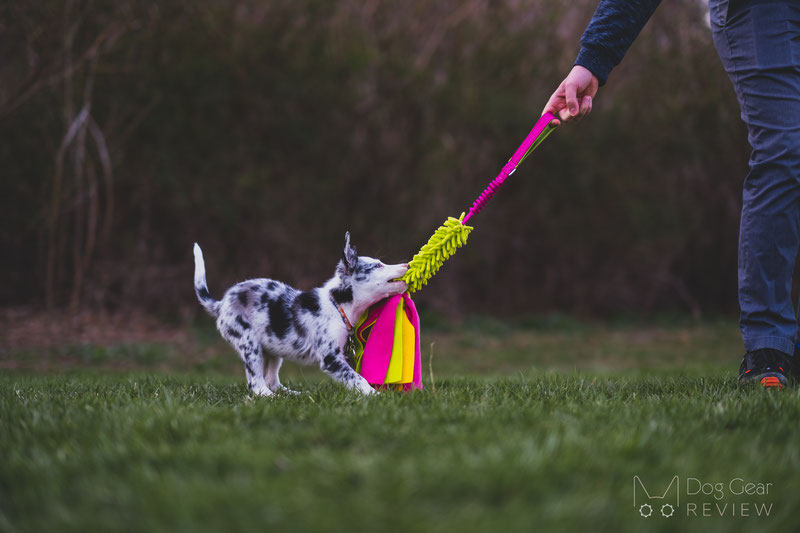 Chewbacca Sheepskin Chaser
This Chewbacca Sheepskin Chaser is made of single-pelt sheepskin rugs, so they are soft and fluffy, which drives dogs crazy. Even Mia gets hyped up and super motivated to work when I grab this tug; it is very easy to destroy if you have a tough tugger. I would also not recommend using it on a rainy, muddy day.
It is great for puppies, soft dogs, or lower drive dogs to build motivation and encourage tugging.
The sheepskin strips are 10" to 12" in length, and the handle is 21" long.