Different Types of Enrichments
Enrichment activities address different instinctual needs, like chewing, sniffing, and digging to reduce stress and make the dogs happier. Enrichment can be training new tricks or starting a new sport, walking in a different environment, letting them sniff in a park, or walking on different surfaces.
What are enrichment toys? Why are they good?
Enrichment toys keep dogs busy and provide different stimuli that are easy to incorporate into the daily routine to make downtime fun. These toys also encourage sniffing and licking, which helps dogs calm down after a walk or exercise and help anxious dogs decompress and relax. They can also be handy after a surgery when the dog needs to stay put or at the vet to keep the pup focused on something while they get checked out.
There are many DIY enrichment ideas that you can find online, but here we will review a few readily available options.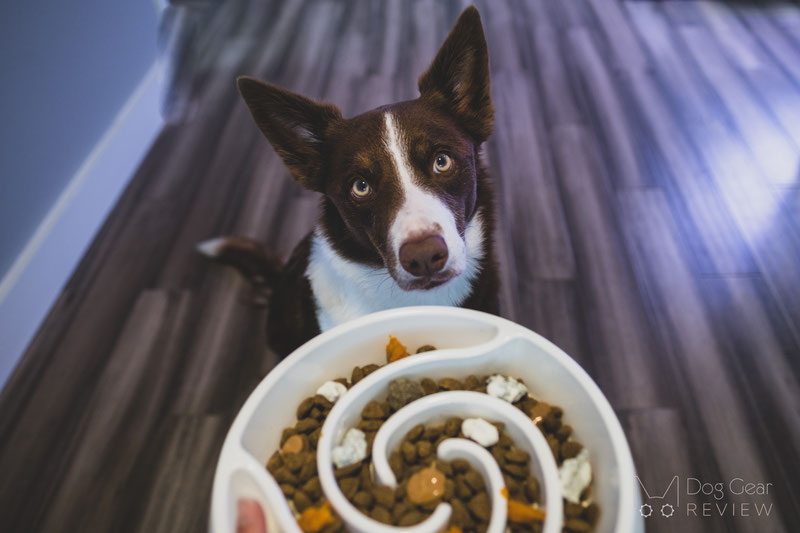 Safety First
Whether you go with an existing product or make one at home, keep your dog's safety in mind, especially if they will use the toys when you are not supervising them 100%. Hard chewers can destroy and potentially swallow most rubber toys, leading to severe issues. It's always recommended to remove the toys once the dog is done with the food to prevent them from being chewed up.
SodaPup Ice Cream Cone Rubber Chew Toy and Treat Dispenser
This Ice Cream Cone Rubber toy is ideal for hiding treats inside and sticking in a bully stick or similar chew.
The toy is safe to chew on but might not be durable enough for super chewers.
It has a hole at the bottom so the dog's tongue cannot get stuck in it from the pressure while chewing on it, which is a feature you want to look for when choosing a softer rubber toy. The opening is small enough to take a long time to get the food out, but this also means the inside is almost impossible to clean, so avoid filling it with wet food or something perishable.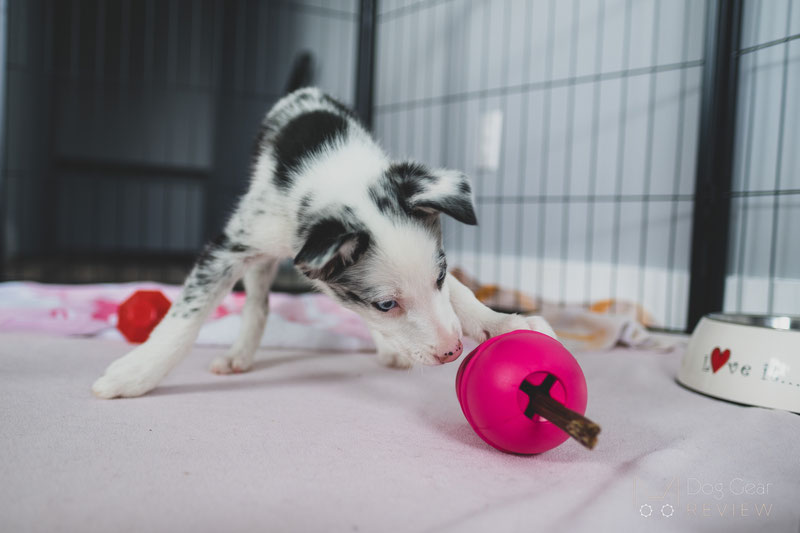 SodaPup Nylon Bunny Chew and Enrichment Toy
This FDA compliant, non-toxic nylon toy is hard, so it can withstand power chewers; however, it might be too hard for most dogs' teeth. It has a big hole to fill it with soft foods that you can also freeze, so it takes longer to get it out. I use it for Zulu, who doesn't chew on these toys yet only tries to lick out the filling.
Since it has a narrow and long hole, it can get hard cleaning it out if you add anything than kibble to the bottom.
You can buy it on SodaPups' website or through Amazon.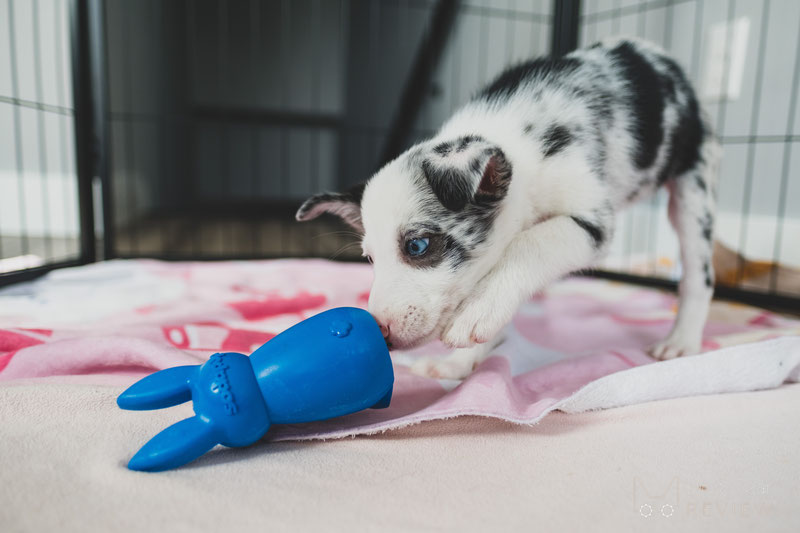 PetDuro Slow Feeder Bowl
Slow Feeder bowls are an easy way to keep a dog entertained around mealtime! It also helps dogs who eat too fast and gets sick from "inhaling" the food within seconds.
The Petduro bowl is heavy-duty, free of BPA, PVC, Phthalate, and dishwasher safe. This is a sturdy bowl with a non-skid bottom, weighing 1.4 pounds, and can accommodate 4 cups of kibble. Due to its design and the materials, it is unlikely the dog would be able to pick it up or flip it to scatter the food.
The bowl is available on Petduro's website and through Amazon.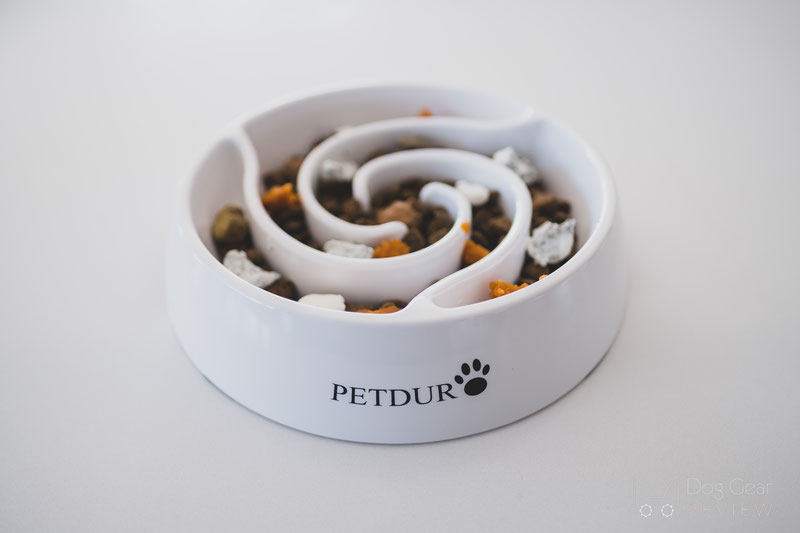 SodaPup Honeycomb Lick Mat
Lick mats are a great way to give the dogs something to do or to give their raw meals from it. You can use dog-safe peanut butter, yogurt, pumpkin puree, salmon creme, wet food, baby food (vegetable purees), apple sauce, and many more! If you have a dog who picks up the mat and chews on it, you can try to offer it on a small baking sheet, so they have a harder time getting a hold of the mat and are more likely to focus on licking it. However, it is also recommended to monitor them because these are not chew-proof.
This Honeycomb lick mat has deeper holes to entertain Zulu for a reasonably long time, especially if I freeze it.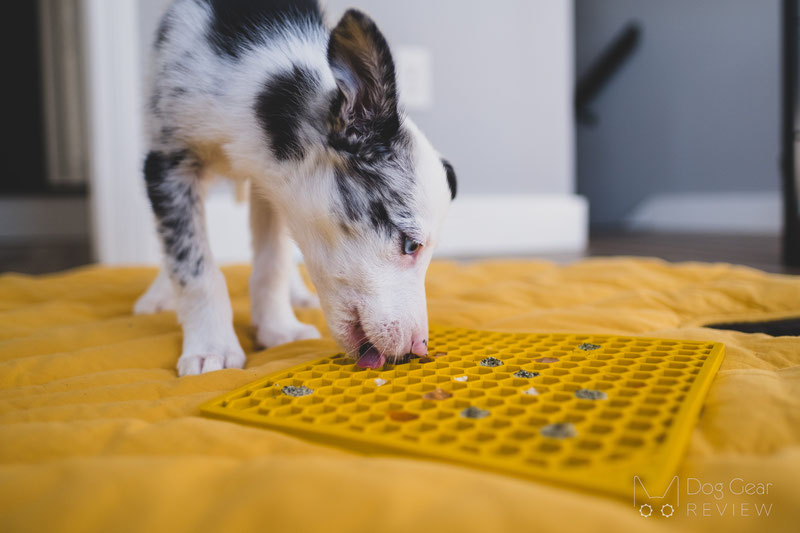 LickiMat Wobble
If you want to mix up the lick mat experience, try this Wobble Mat! It moves around as the dog licks it, making it a little more challenging to get the food out. You can also turn it inside out to provide a different experience.
It is dishwasher, freezer, and microwave safe so you can use it in many different ways!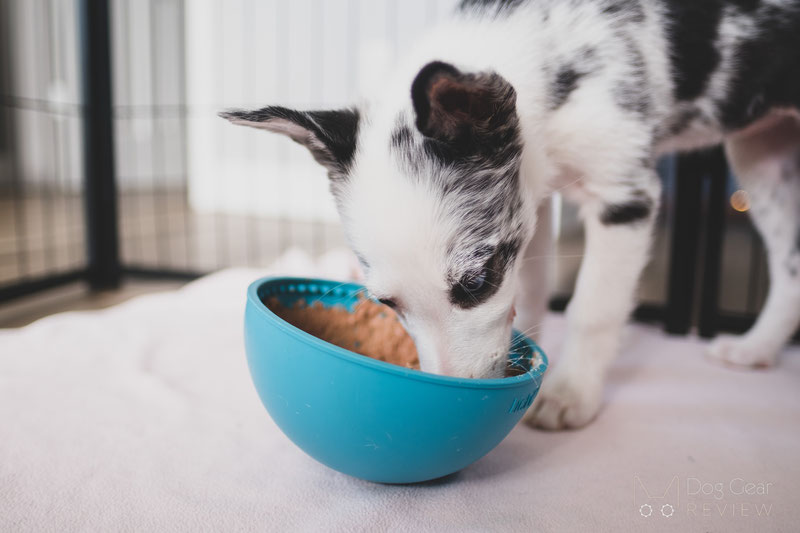 West Paw Toppl
Toppls come in different sizes, and the small and large can also be locked together (like in the photo) to create a treat dispenser! When used as a standalone enrichment toy, they have a wide opening making it easy to stuff with any food and easily clean after.
Toppls are recyclable, made in the USA, durable, non-toxic, latex-free, BPA and phthalate-free, FDA compliant, and dishwasher safe.
You can buy them from CleanRun's website,from West Paw and find them through many distributors.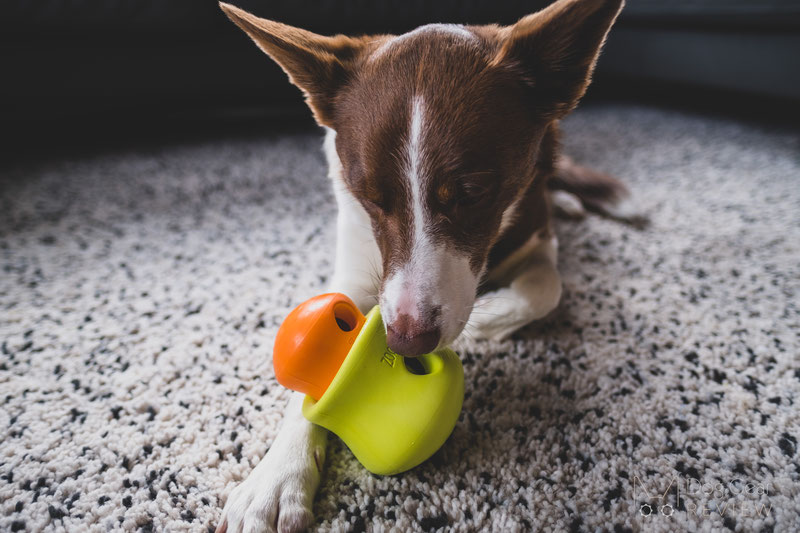 Chase N Chomp Squeaking Treat Snake
This snake is a versatile toy that became the favorite of both dogs quickly! It is made of thick rubber with an opening running along the bottom and a squeaker in the head. It keeps them entertained for a reasonably long time, and even though Mia chews on it every day (she is a medium chewer), there is still not a teeth mark on it.
It can be used as a toy or a food dispenser. Since the inside is a little hard to clean, it is better used for dry treats.
The Chase N Chomp Snake is available from CleanRun.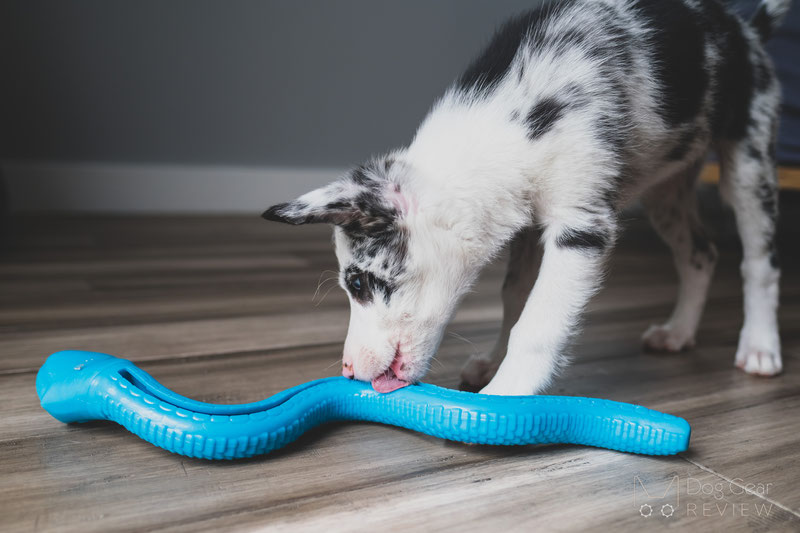 CleanRun Snuffle Mat
Snuffle Mats are another great way to provide some fun sniffing time to our dogs. You can hide dry treats between the fleece strips to get their noses to work while they locate each of them. This mat is on the heavier side (~ 3 lbs), so it stays in place reasonably well. This is not something you want your dog to play with unattended since they can easily chew up the fleece and the rubber bottom.
Cleanrun offers snuffle mats in many different designs and sizes.