Dog puzzle toys are here to entertain and challenge our dogs, but they are meant to be used with supervision. Many articles confuse them with treat dispensers that can be used while the dog is left alone.
For example, a Kong or similar hard rubber toy that can be stuffed with treats is an enrichment toy but not a puzzle toy.
Puzzle toys are meant to provide mental stimulation and can be used to redirect the dog's attention when they are stressing about a thunderstorm or need to be on crate rest after surgery. The most challenging puzzles usually require some initial support from the owner to show the dog how to approach the problem. This is a unique way to build the relationship and learn to communicate detailed, precise steps.
Level 1: Snuffle Mat
Snuffle mats are entry-level puzzle toys - bridging the categories of enrichment toys and food puzzles. It doesn't require much thinking to get to the food, but it's a great way to introduce the activity of sniffing out harder-to-access treats.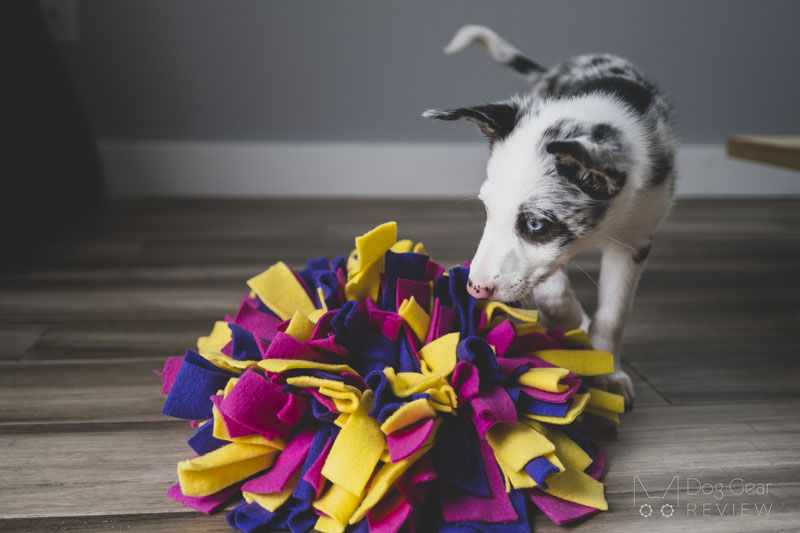 Snuffle Mats are a great way to provide fun sniffing time for our dogs by hiding dry treats between the fleece strips to get their noses to work.
Our mat is on the heavier side (~ 3 lbs), so it stays it doesn't slide around easily as many others do. Cleanrun offers many other snuffle mats in different designs and sizes. These mats are not chew-proof, so always supervise your dog and encourage sniffing instead of chewing.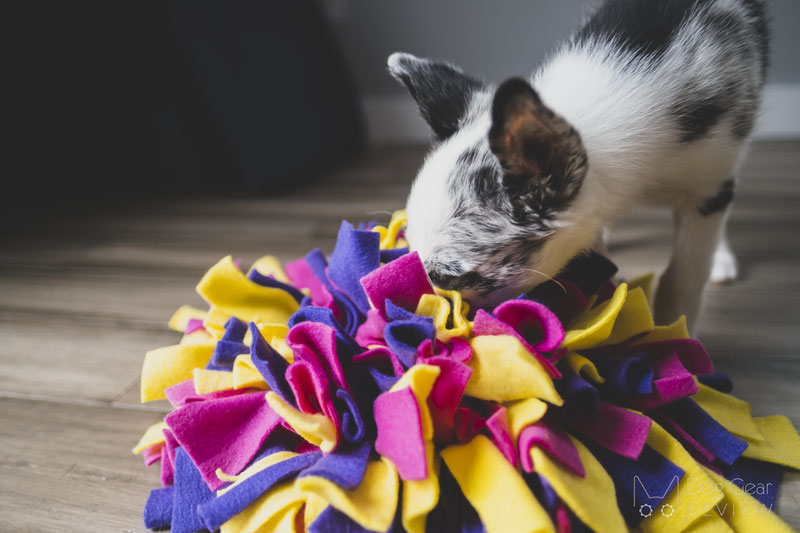 Level 2: Sliders
The next level of food puzzles is when the dog needs to take one step before reaching the treats. These are usually some type of sliders that they learn to push with their nose or paws. Some dogs solve this very naturally (like Zulu), while others (Mia) need a lot more encouragement to work on it instead of waiting for the owner to solve the problem for them. Be sure to keep it positive and support the dog by guiding them in the right direction to avoid frustration.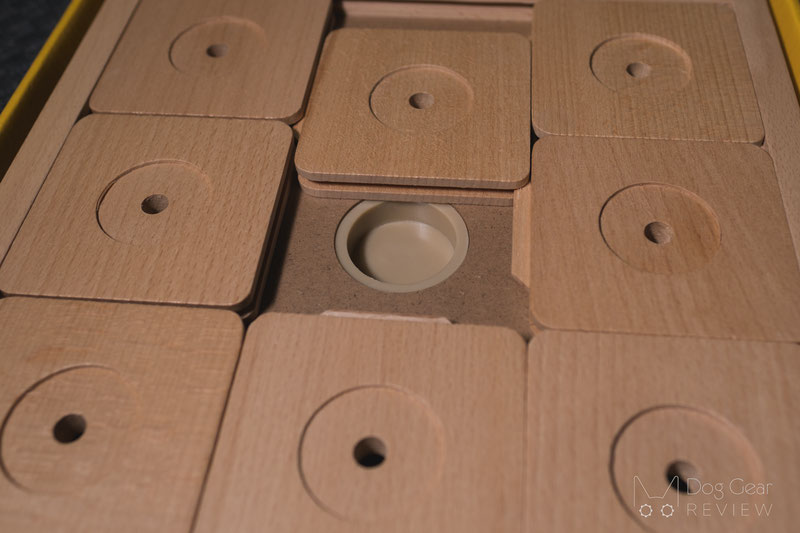 In the case of the My Intelligent Pets Dog Sudoku Expert they also need to learn that they can only slide the tiles around the open section and get to the corners by moving the tiles in order.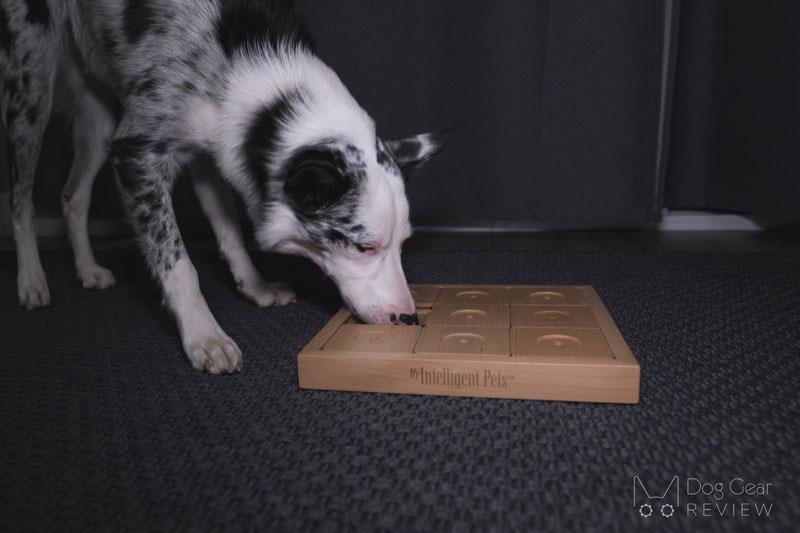 Level 3: Complex Puzzles
Level three puzzles involve two steps to reach a treat, requiring systematic thinking.
In the case of the My Intelligent Pets Birthday Cake Puzzle, they first need to lift out the yellow "candles," then grab the strings on the side drawers to pull out the little box to reach the treats.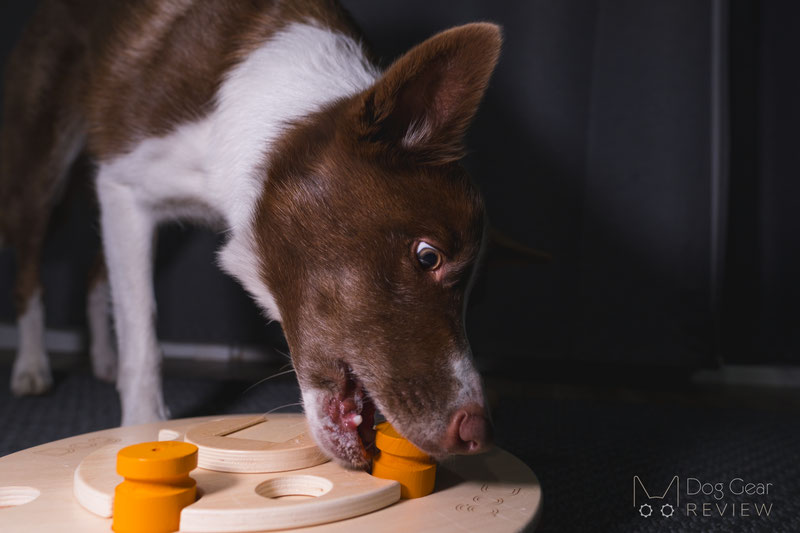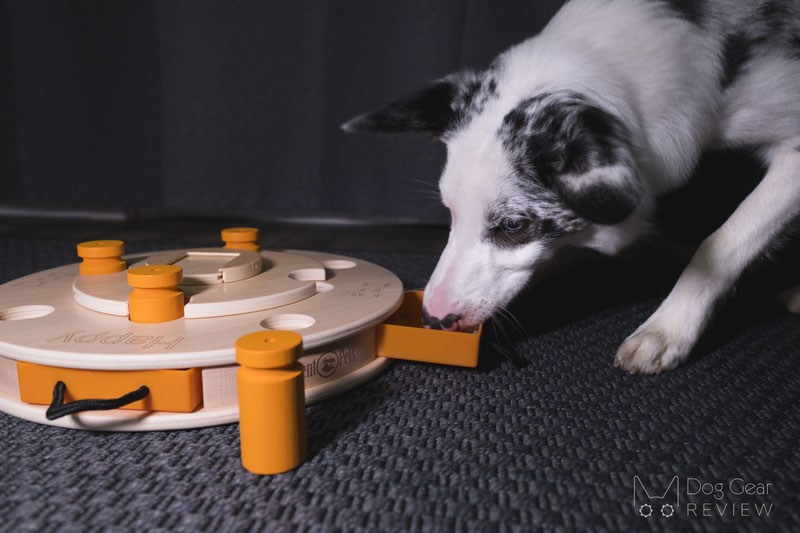 It also features a few sliders and covers, providing multiple levels to hide the treats!