Coyotes vs. Dogs
Typically coyotes are shy and avoid people whenever possible, so most people don't need to worry about them. Unfortunately, we are having severe coyote problems in our town. These coyotes were born in town; they are not afraid of people, cars, or sounds. They attacked on-leash dogs and even killed and took dogs from a leash over the summer.
They are mixed with wolves and dogs in our area, so most of them are Mia's size. They killed our neighbor's dog, and we regularly see them walking around our house, which makes late-night bathroom breaks scary. We had a few close calls when they chased us home, so I got a loud alarm on me every walk to hopefully prevent an attack. However, they can run in so fast, and it can get chaotic to handle them with two dogs on leash, so I wanted some additional protection for the dogs.
Soon it will get dark earlier, and we will have to walk more in the dark, which makes me worried for the dogs, especially Zulu, who is still small.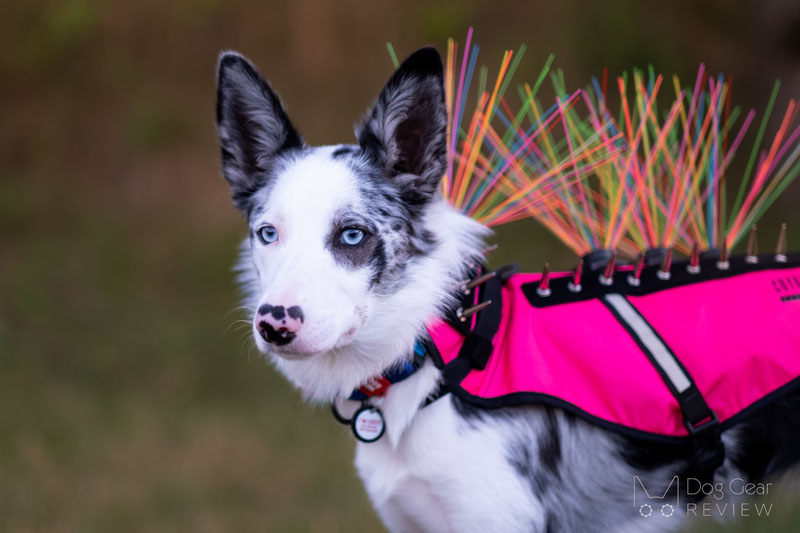 CoyoteVest - Pet Body Armor
We contacted the small family company Coyote Vest, who started designing and selling their vests after their dog, Buffy, was killed by a coyote.
Their mission is to create vests and accessories that help keep pets safe. I was very excited when they sent a Coyote Vest for Zulu and a Spike Vest for Mia.
We compared these two in a separate article; here, we wanted to discuss how any of these vests can save a pet!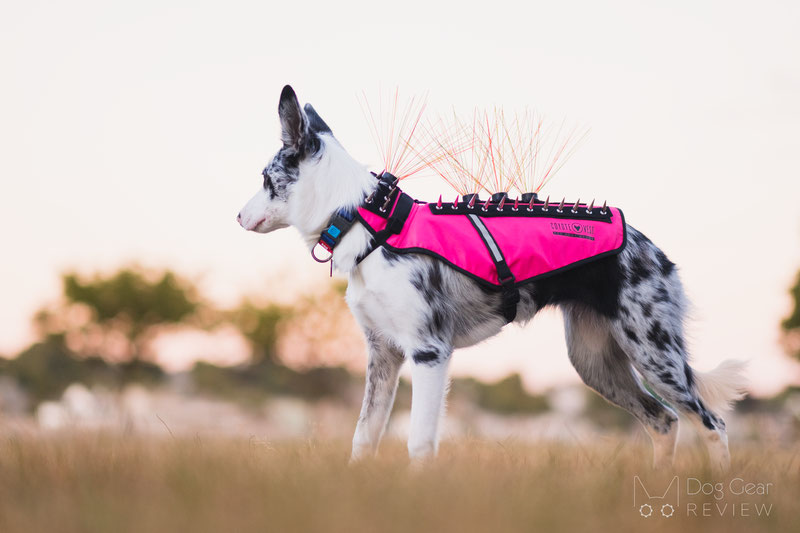 How does a coyote vest protect the dog?
These puncture-resistant vests are reinforced with kevlar, spikes, and whiskers and cover the main areas where coyotes tend to grab dogs during a quick surprise attack. All the items on the vest are modular: you can decide to put more whiskers along the spine instead of using spikes (like I did for Zulu) and can remove all accessories before hand washing it.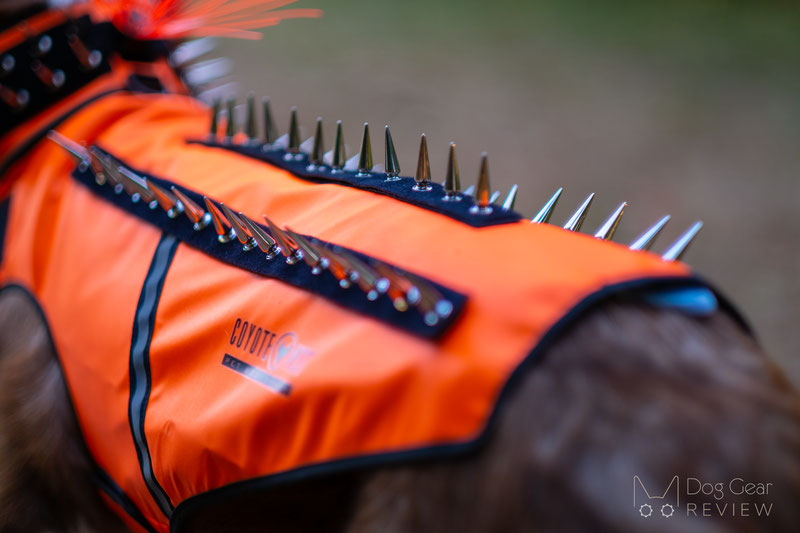 The accessories have a dual purpose: they make the dog look scarier and bigger, which is meant to discourage an attack, and they, of course, make a bite uncomfortable. Neither the spikes nor the whiskers are sharp, but they make the animal release the dog quickly.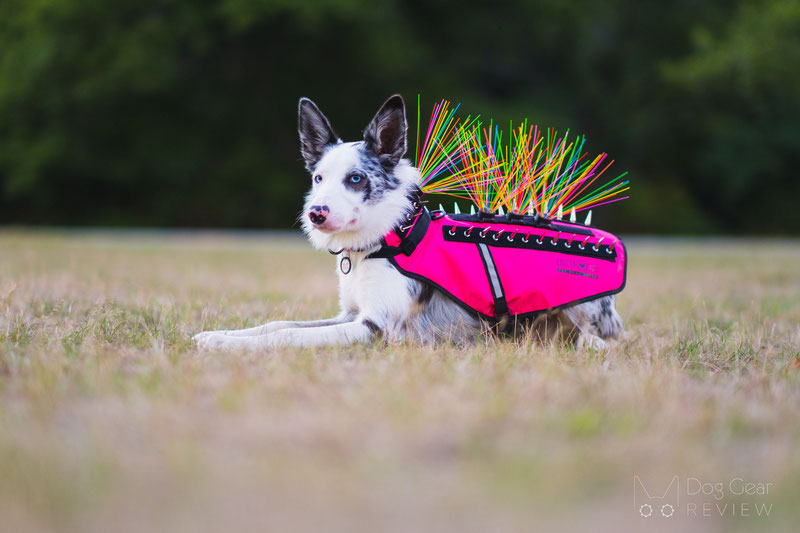 To test the protection provided by the Kevlar material, they used a police K9 to "attack" a bite sleeve covered with the vest. You can check out the video showing that the dog could not puncture the material. Of course, a smaller dog could still get injuries from the force of a bite even if the coyote's teeth are not piercing through, but that's why there are different accessories that both discourage the bite and make the predator release the pet quickly.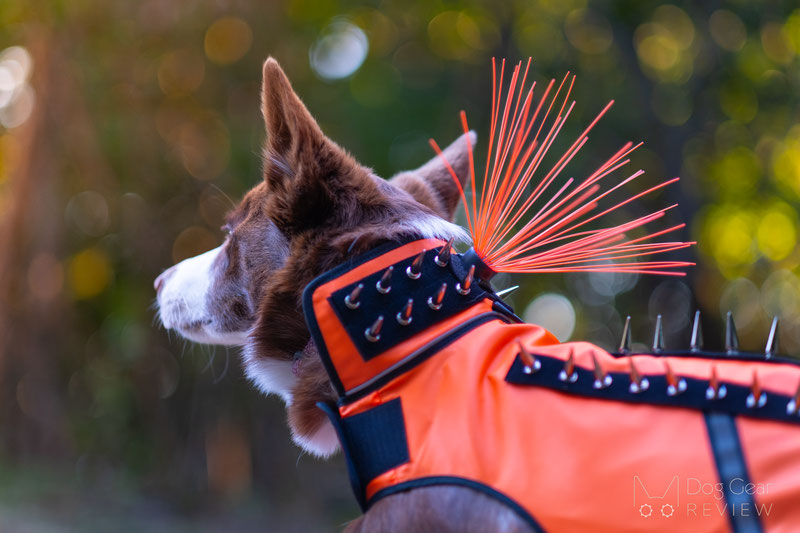 Summary
Although the vest can save your pet's life during an attack, it is primarily designed to buy you time to get away, interrupt the predator, or pick up your pet. If you let the dog out alone, they can still get in trouble even with the vest on since they don't cover their whole body. These vests provide reasonable protection against the quick surprise attack of a coyote when they hope to grab the pet and run with it.
They leave the stomach area unprotected, and some designs don't protect the underside of the neck. What I like about CoyoteVest is that they have different designs and accessories that you can mix and match to work for different seasons/situations. They have "harness" designs that focus more on the chest/neck area that you can use as a standalone solution or pair with a Bully Vest. They also have a few different protective collars, and you can pick what you want to add on top of the vest (lights, spikes, whiskers, etc.). Creating a comfortable fit for longer or warmer walks vs. providing more safety is always a trade-off, and it's great that this way, everyone can choose what works for them.
Knowing that my dogs have a protective layer when I take them out on a leash in the dark gives me peace of mind since a fetal attack can happen so quickly.
If you want to read more about coyote vests, you can check out our review of the CoyoteVest and the SpikeVest featured here or our other article comparing the two.