Muzzles can be used for many reasons; the dog being a bite risk is just one of them. At the same time, one would expect a muzzle to be a safe choice if there is a chance the dog bites, but in many cases, they do not provide the protection we expect from them.
Let's go through the different types of muzzles and discuss if they are a good option for a bite-risk dog.
Fabric/Grooming Muzzles
We wrote another article discussing why grooming muzzles have a minimal use case. They can be used for short periods (few minutes) like a vet visit or a nail trim, and in emergencies, but they are not great for that situation either. It minimizes the chances of a bite, but dogs can still nip while wearing them - even if they seem tight around the snout (preventing panting and cooling down, which is crucial if the dog is stressing).
If you can't imagine a dog biting while wearing this, you can check out the Company of Animals' video for an example.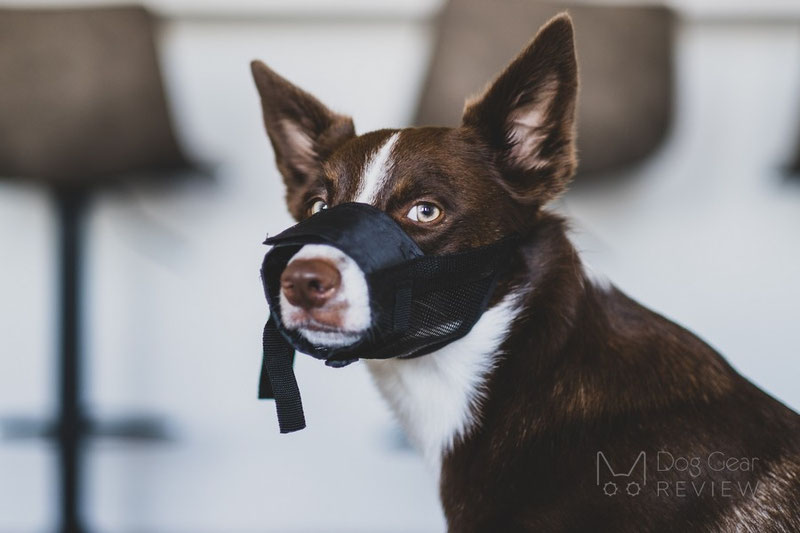 Soft Silicone Muzzles
Silicone muzzles are soft and foldable, making them comfortable for the dog since it doesn't rub the top of their snout. But, on the other hand, even a nipping dog can easily fold the material and bite through the ones with a more open front.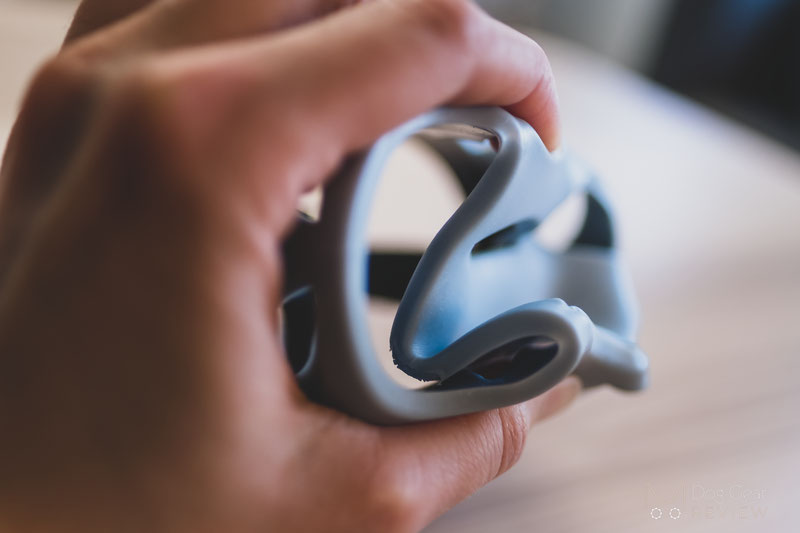 This is especially true if you size up to provide more than a minimal pant room. With a more snugly fitting silicone muzzle, dogs might not have enough space to open their mouth wide enough and fold in the material and bite, but they would still not be a safe choice even for emergency use.
You can see a great example of this in the same video from the Company of Animals. The photo below is a screenshot from their video.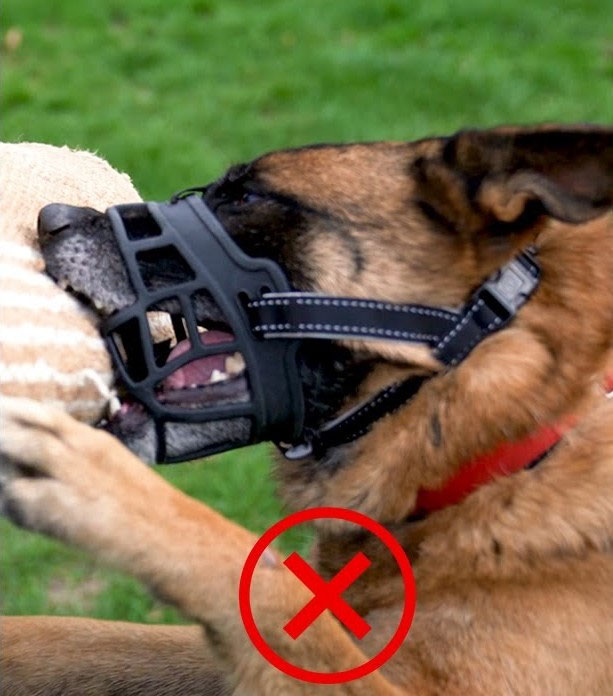 Another photo for illustration below by Speak Dog with Ruth Haynes.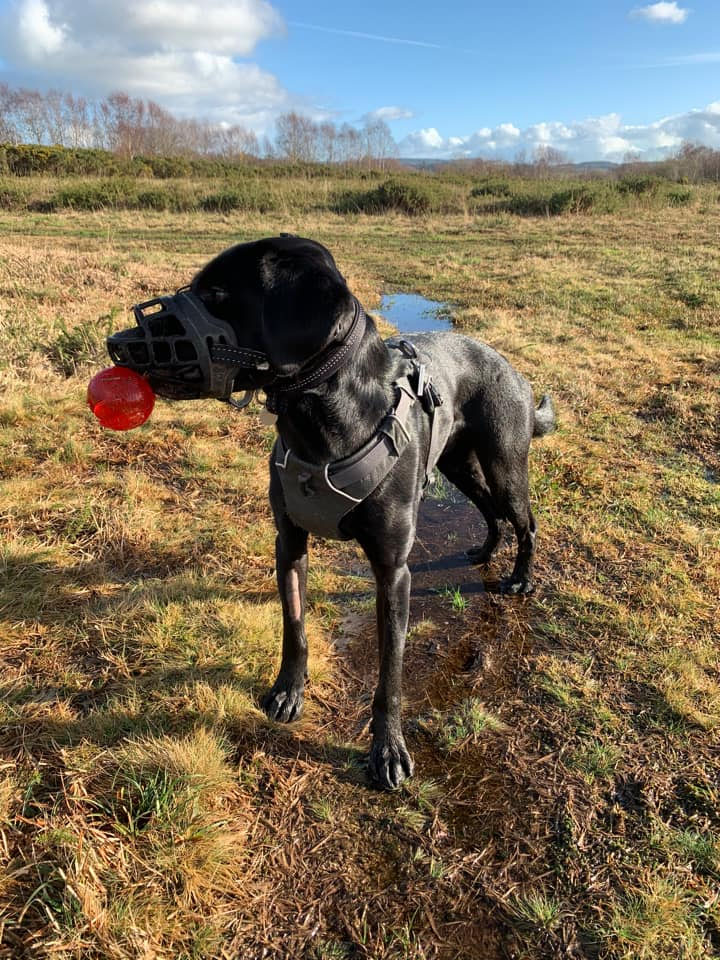 Hard Plastic and Thicker Plastic Greyhound Muzzles
Hard(!) plastic muzzles and more solid Greyhound muzzles are rigid, so most dogs cannot fold them, making them safer than silicone muzzles. At the same time, they are still not recommended for determined biters because of the big gaps all around.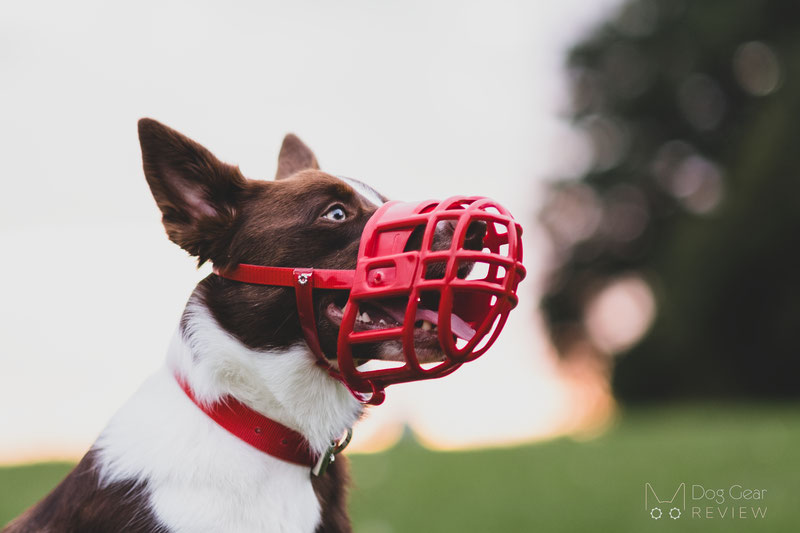 They are usually sufficient to prevent a nip and minimize the injury if the dog ends up biting through it, but there is always the risk of them getting hold of someone's finger, another dog's fur/ear through the gaps on the front and sides.
Photo for illustration below by Heather Lane below.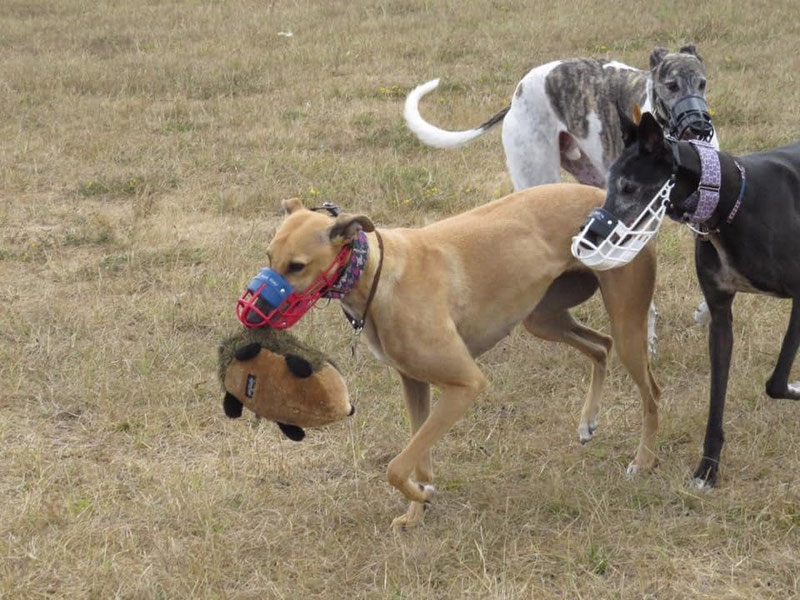 Another example shown below by Kristin O'Sullivan.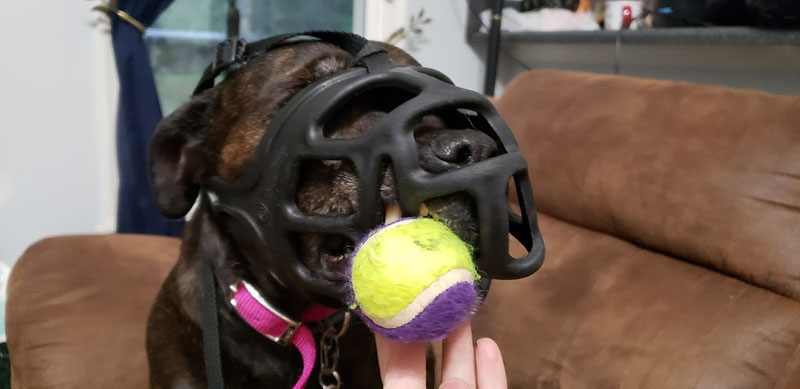 Wire Greyhound Racing Muzzles
These muzzles tend to be made of thinner wires to make them super lightweight for racing dogs. These are usually enough to prevent a quick nip while racing but can be bent and folded so a determined dog can bite through it easily.
Photo by Erin Jones & Scrumpy Wolves.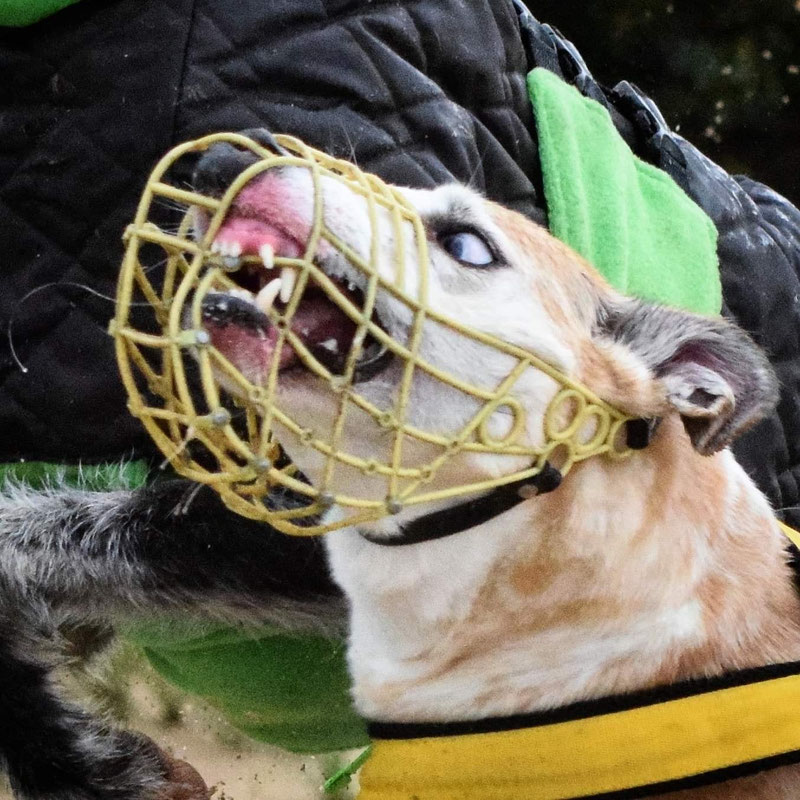 Adding a Stool Guard to Basket/Greyhound Muzzles
A great option to make basket muzzles safer is to implement something like Birdwell's Stool Guard. This plastic piece can be attached to the outside of their medium muzzle or the inside of their large size. This adds additional security for a high-bite risk dog or a scavenger.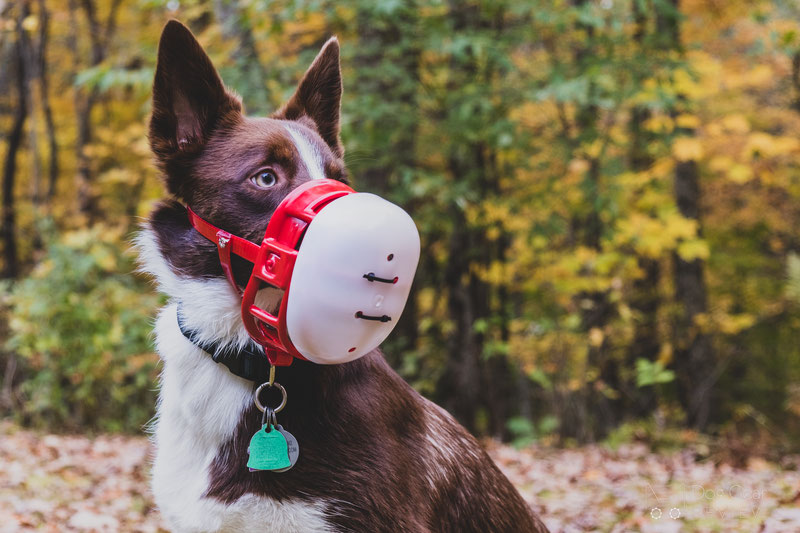 Vinyl Muzzles
As far as we know, only Jafco, Ray Allen, and Trust Your Dog offer vinyl muzzles at the moment.
These are made of reasonably hard and thick vinyl with big holes on them for ventilation. The material is rigid enough that dogs cannot fold it and bite through it, and the closed design prevents them from getting hold of something through the muzzle. As a result, these are one of the safest options for bite-risk dogs.
Photo below from Pilot and Melanie.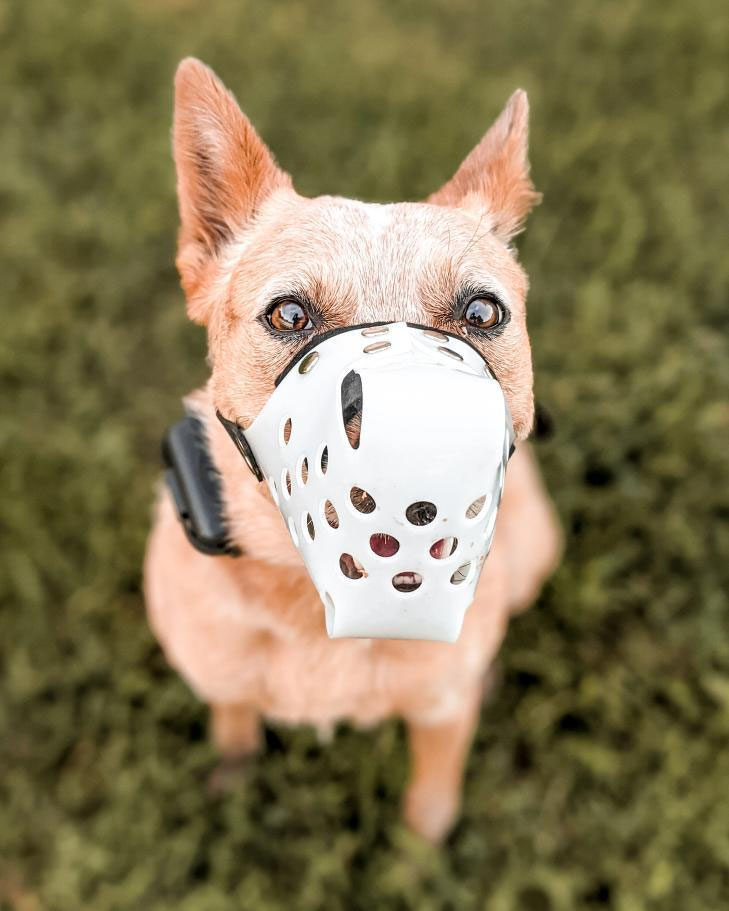 Biothane Muzzles
Biothane muzzles come in many different shapes. The ones that only have a few straps going around the snout-like in the case of the basket muzzles are not bite-proof at all. This is a soft material that's very easy to fold.
A perfect example is below by Kristin O'Sullivan.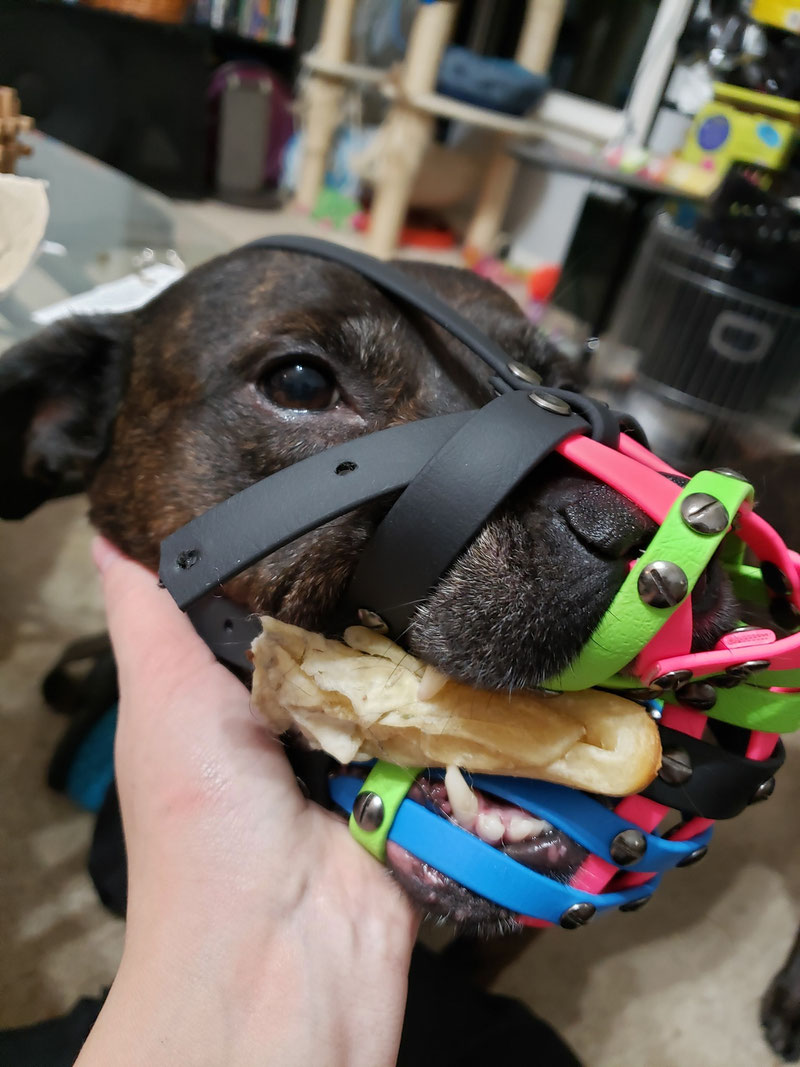 We received one from Trust Your Dog with extra straps both on the front and around the snout to create a more closed design. This was enough to prevent a nip, mainly because it was a half-pant fitting instead of a full-pant because we only used this for a few minutes at a time.
However, regardless of the number of straps and the design, a determined dog can always bite through a Biothane muzzle, especially if it allows a full pant. Some people tried to reinforce the inside of a Biothene muzzle with wires which might be an excellent way to combine the advantages of both styles, but we don't know about a company selling this solution.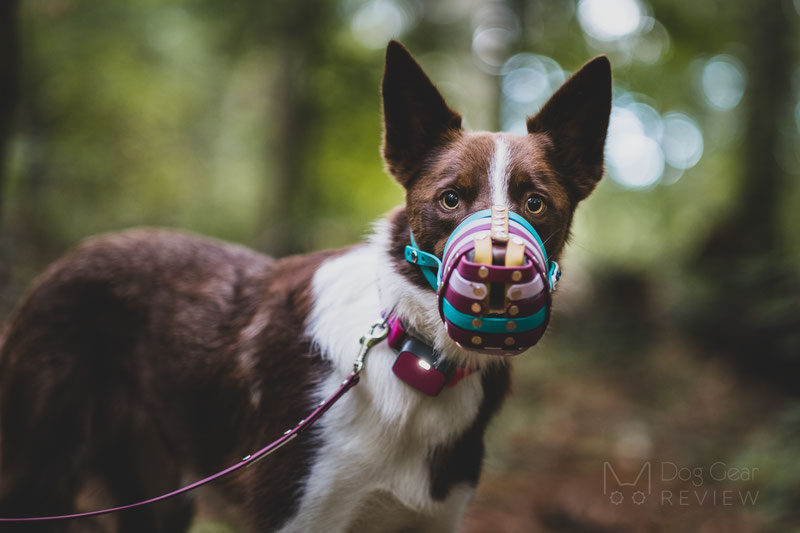 Wire Basket Muzzles
Wire basket muzzles can't be folded, so they are relatively safe, but most of them have big gaps that let the dog get a hold of something. Still, dogs have a hard time doing significant damage through a rigid wire muzzle, so these are usually recommended for bite-risk dogs.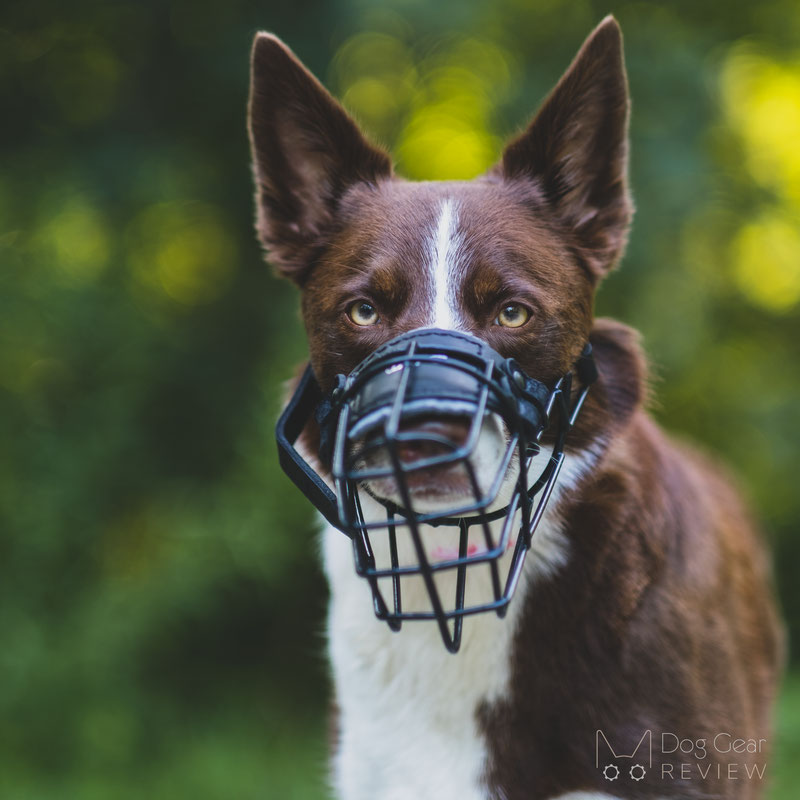 Summary
It's important to understand that not all muzzles are bite-proof, even though all of them are marketed that way. We collected all the photos for this article to help people understand how dogs can still bite while wearing one. So if you already decided that the dog needs to be muzzled, let's make sure the muzzle will actually provide the protection you expect!
A vinyl muzzle, a hard(!) plastic muzzle, or a wire muzzle can be safe options for a bite-risk dog. If we are talking about a determined biter or one is concerned about the gaps of a wire/hard plastic muzzle, they can always add something similar to the Stool Guard to block the front of the muzzle while still leaving room for ventilation on the sides.